Father's Day Hampers For Dads Who Don't Drink
Author: Michelle Richards Date Posted:27 July 2022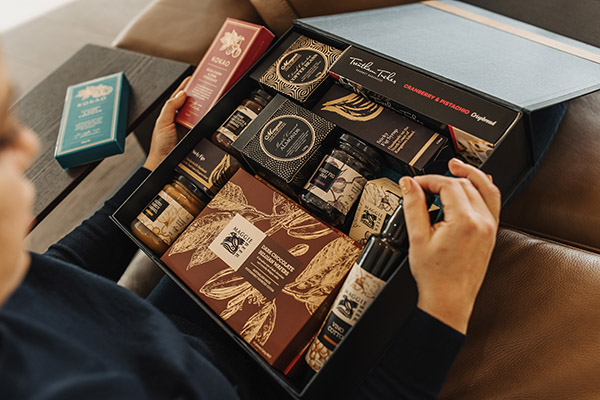 Non-alcoholic gifts he will adore this Father's Day
Are you on a hunt for Father's Day gift inspiration? Worry not as The Hamper Emporium is here to help with some fabulous gift ideas for dad and luxurious pampering hampers! While we're known for our food gifts with wine, beer, or spirits, we also have a wonderful range of non-alcoholic hampers for Father's Day for a dad who doesn't drink.
Spoiling your dad on Father's Day and showing him how much you adore him is an absolute must. This means finding a gift that expresses his personality and your relationship. There's a huge variety of Father's Day gift ideas to choose from, but if you want a really memorable day, then opt for a fabulous gift hamper.
We have a great range of Father's Day hampers, but this guide makes it easier to find ideas for non-alcoholic gifts, specifically for dad's who don't drink. Yes, they do exist, and some of them don't like BBQing or wearing kitschy beer aprons either! Non-alcoholic gift hampers packed full of mouth-watering gourmet food or indulgent items for health and wellness are top of our list, but we've also come up with some fun and stylish ideas for personalised items to show you care this Father's Day.
What to get a dad who doesn't drink?
There are so many great things you can buy as Father's Day gifts that's not alcohol depending on what type of dad are you shopping for. Here are six thoughtful and personal gifts for dads who don't drink:
1. The classy dad
If dad likes looking dapper and appreciates the finer things in life, then personalised gifts will ensure he celebrates the day in style. You know him best, so choose an item of clothing, accessories or hobby extras that suit his personality and have them tastefully personalised. Monogram the gift with his initials, his last name, or a special thought between the two of you. We love the Gifts Australia range of leather wallets for Father's Day gifts for a classy dad.
2. The outdoor dad
For the dad who stays young at heart and still loves an adventure, outdoor equipment is the answer. Find out what he's planning to explore next and gift something he can use. Try to make it unique and creative, like high-quality camping or hiking accessories, or route mapping technology. Whatever you choose, you will not go wrong with outdoor goods for the dad who values new experiences and adventure.
3. The sporty dad
When your dad spends his free time on the golf course or watching football, then you know memorabilia will not go amiss. Search for signed items from his team, the latest kit or photographs and sports memorabilia. Otherwise you could treat him to a day out to remember with tickets to his favourite competition. Whatever his sporting pastime is, he will always appreciate and treasure collectables and keepsakes.
4. The green thumb dad
Most dads love pottering about in their gardens and greenhouses. If that's your dad, he can never have enough gardening supplies. Surprise him with a personalised herb garden, quirky garden signs, a mini beehive or his very own named rose. It's a thoughtful way for him to spend even more time enjoying himself and keeping the garden pristine for those awesome summer get togethers!
5. The playful dad
Of course, some dads love nothing more than staying home and enjoying family fun. Here, you can never go wrong with interesting books, brainteasers, puzzles or board games. He will love a classic game or limited edition just as much as any new release. Best of all, it's an activity the whole family can enjoy together on the day with hours of laughter to share.
6. The tech dad
Many dads today are well into their technology and spend hours surfing the internet or playing with the latest gadgets. There are so many cool high tech products out there you will be spoilt for choice this Father's Day. There are multiple gadgets to improve the way we live and gizmos to add to laptops or mobiles. Treat him to something useful like a fitness tracker, smartwatch or a digital picture frame. It will keep him busy all day!
Amazing Father's Day Food Gifts For Foodie Dads
So you thought gift hampers were just about fine wine, sparkling champagne and heady spirits? Think again! Here at The Hamper Emporium, we specialise in non-alcoholic gifts too, with hampers packed full of delicious gourmet treats from world-renowned suppliers. We also have men's pamper and relaxation gifts to spoil a hard-working dad who doesn't drink. Gifts that will bring sumptuous luxury and full-flavoured enjoyment to a special Father's Day.
There are plenty of fantastic Father's Day gift hampers without alcohol that will make Dad's day. Our range has been carefully curated to please every kind of recipient, so you're bound to find the perfect present for him below.
Lavish luxury gift hampers for sweet-tooth dads who love treats
From wonderful tastes and aromas to incredible pampering gifts, you will find everything you need to show your love. Our enticing Father's Day sweet hampers without alcohol will bring a basket of joy to dads everywhere when they arrive on the doorstep, beautifully packaged. Even better, they are made for sharing!
A sweet tooth dad will love our non-alcoholic hampers with decadent chocolates, nuts, and sweet treats. If your dad is a chocoholic, there's no better gift hamper with choccie treats than our Sweet Bites Hamper with biscuits, caramel, and a whole range of chocolates.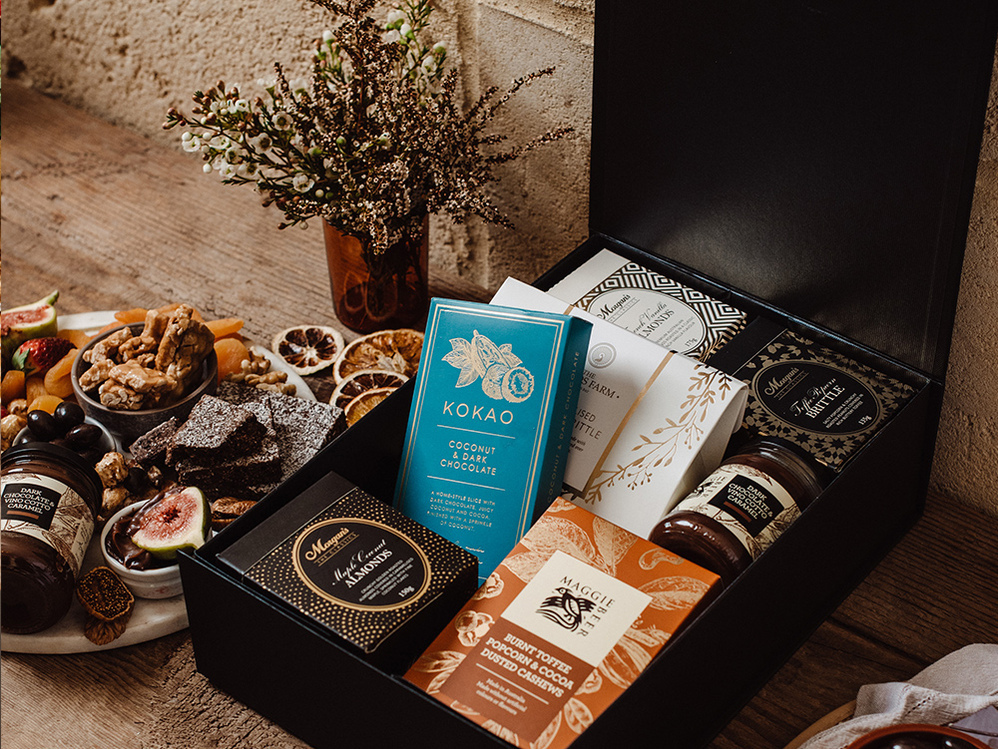 Indulgent luxury pamper hampers for dad
If your lovely dad is desperately in need of some TLC or R&R, then our gorgeous pampering Father's Day gift boxes will save the day. Forget about practical and useful gifts and prescribe some time off work and some little indulgences. For any stressed-out dad, it will be a lifesaver and something he can truly enjoy. Let him know that he is valued for his hard work and that it's ok to take some time out and relax.
Indulge him with a decadent and pampering Men's Relax and Indulge hamper. Your dad will love the stylish bathrobe, shaving set and toiletries bag paired with rich dark chocolate treats. Our men's pamper range has a variety of soothing health items too, with masculine fragrances that blend cedarwood, mandarin and leather. They are sure to invigorate his tired body and leave him full of energy to enjoy the rest of his Father's Day!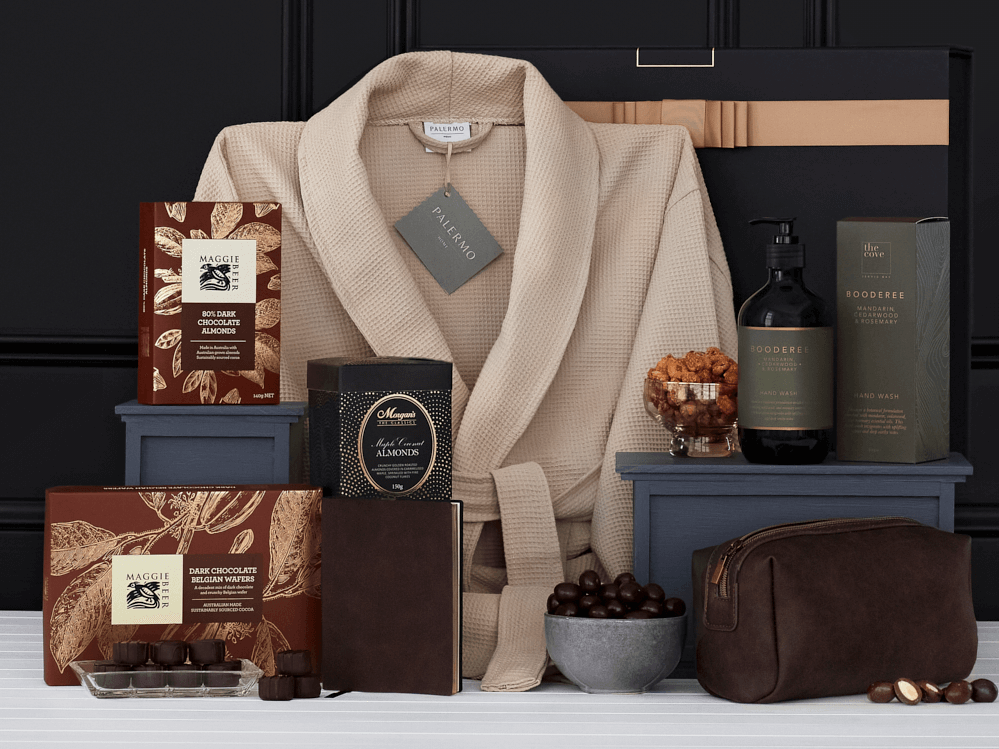 Decadent gourmet food hampers for dad
Food is always the way to any man's heart, and we're sure your dad is no different. Our gorgeous gourmet food hampers are bursting with smooth chocolate, sweet delights and delicious savoury titbits. If he's a foodie, he will adore the carefully chosen brands and favourite flavours, from Kangaroo Island popcorn to Morgan's crunchy nuts and decadent Maggie Beer treats. Tempt his taste buds with our delicious Gourmet Nibbles Hamper brimming with goodies!
If he loves to share his day, then go all out with the exquisite Ultimate Foodies Hamper so he can share his delicious non-alcoholic gifts and treats too! Whichever one you choose, it's guaranteed to make him feel cherished and add a sparkle to the day's events. Presented in a beautiful keepsake black gift box with a gold ribbon, you can even add a personal message to really bring a smile to his face this Father's Day!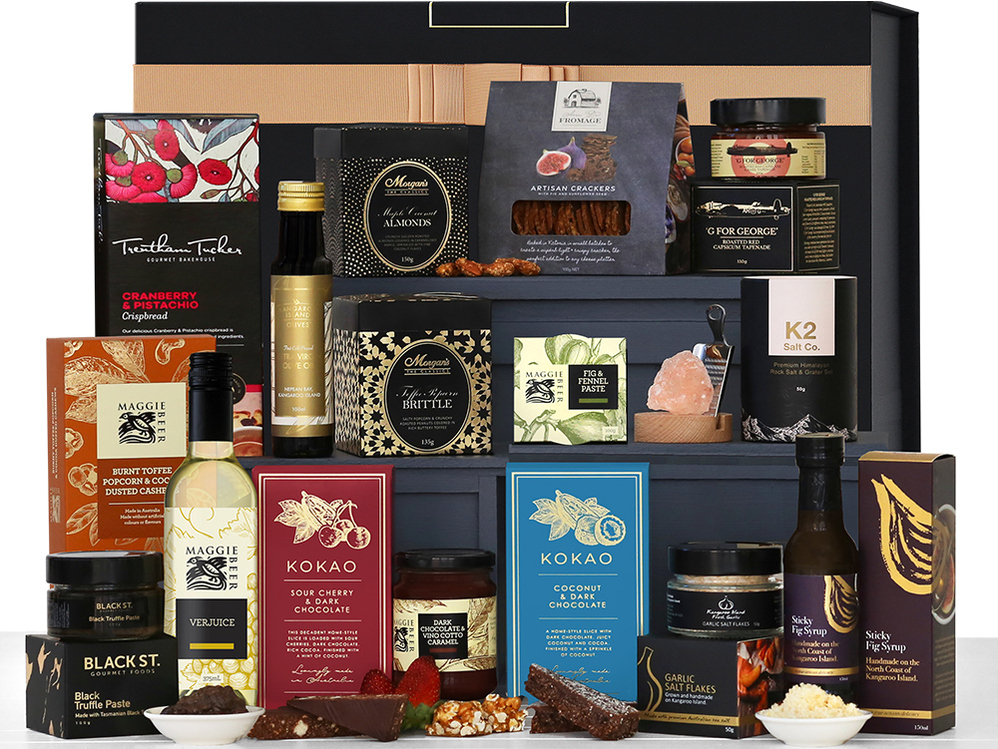 Send Dad a cheese delivery
For a unique Father's Day gift for a dad who doesn't drink, send him a cheese hamper full of gourmet treats. Our range even includes entertaining hampers with a gorgeous timber cheeseboard and paired nibbles that a cheese lover dad will really enjoy. Plan a picnic or BBQ to enjoy on Father's Day with all the family with indulgent food for your dad. Browse our range to find more ideas for Father's Day gifts not alcohol related with sweet and savoury foods, and men's pamper products.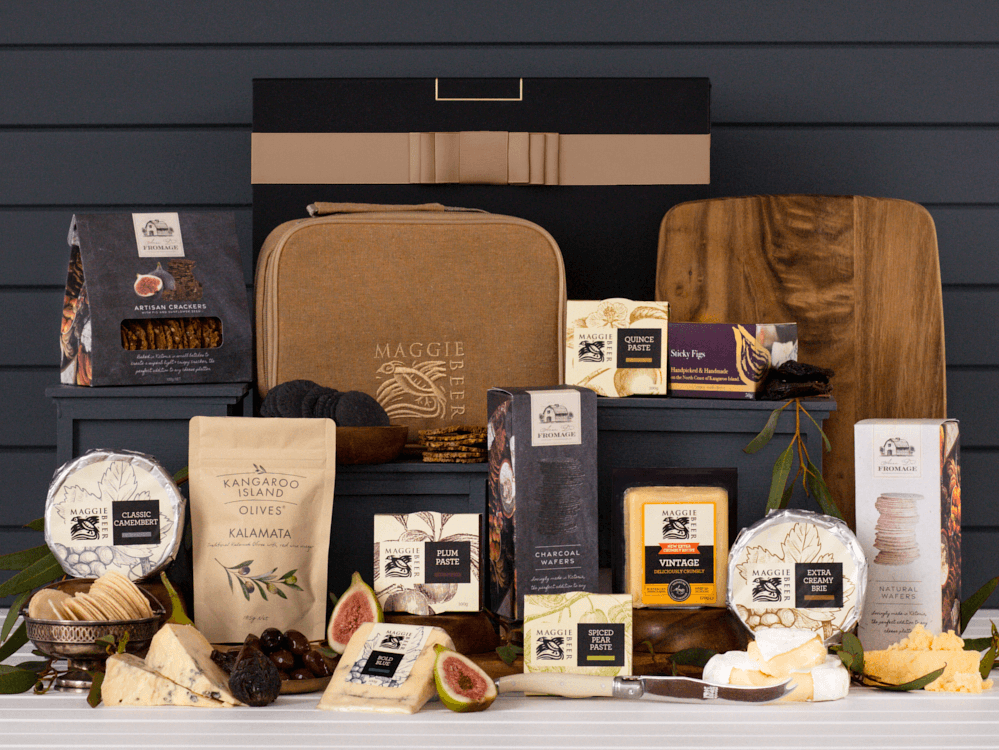 When you browse our range of Father's Day hampers, just select the easy "no alcohol" filter on the menu to show only hampers without alcohol for the perfect gift delivery for a dad who doesn't drink.