Favourite Warm Winter Alcoholic Beverages
Author: Michelle Richards Date Posted:2 June 2022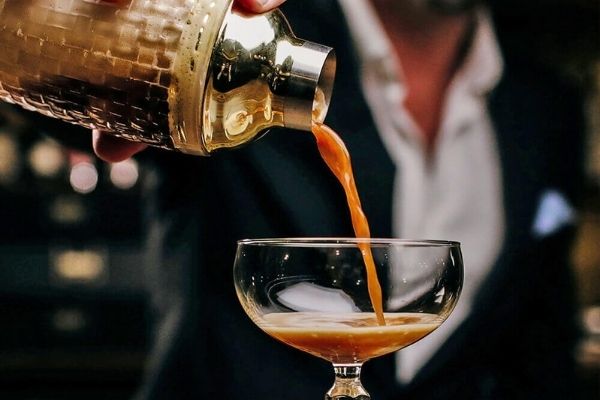 Warming Spirits, Winter Cocktails & Mulled Wine Recipes
Winter is the perfect time to mix things up when it comes to entertaining and weekend drinks with friends. As the weather cools down it's nice to pack away the swimmers and bring out the warm winter beanies and scarves, even if it's only for a few months. Instead of beach barbeques and late evenings by the pool, it's time for bonfires and cosy gatherings to share a meal. Instead of an ice-cold beer, it's time to reach for a favourite warm winter alcoholic beverage.
The best warm alcoholic drinks for cold weather will leave you feeling cosy on the inside. There's nothing nicer than sipping a fine port, whiskey, or cognac on a chilly night after a good meal with friends. Bring out a bottle of the good stuff, and pass the evening under the stars for a relaxed night at home.
The Best Winter Time Alcoholic Drinks
Both our Penfold's Port Hamper and our Glenmorangie Quinta Ruban Whisky Hamper have the makings for a perfect evening to share. Keep it simple and host a winter gathering with gourmet nibbles. Enjoy a sweet dessert wine with a bottle of 10-year-old classic Penfold's Grand Tawny Port. Or, for a special occasion, treat yourself to a bottle of the finest 12-year-old Glenmorangie Quinta Ruban Scotch Whisky.
If spirits aren't your first choice for winter alcoholic beverages, there are plenty of options for warming cocktails or an alcoholic winter punch. Good alcoholic drinks for winter are those that can be enjoyed warm. So, invite your friends around for warm winter cocktails made from our range of spirits hampers, or snuggle up with your other half and keep your spirits high with a warming glass of mulled wine.
Even a simple hot chocolate with a dash of rum or cognac is a wonderful way to warm up. A cognac hot chocolate made with cream and spices is a fabulous after dinner treat. If you haven't tried one before, you don't know what you're missing out on!
Winter cocktail recipe inspiration
If you need ideas for the best warm alcoholic drinks to serve at a party, we'll share our favourite winter alcoholic drink recipes.
Hennessey Hot Chocolate
4 cups of milk

300ml thickened cream

1/3 cup cocoa powder

½ tsp cinnamon

½ tsp nutmeg

2 tablespoons brown sugar

1 teaspoon vanilla extract

1 cup VSOP Hennessey cognac

100g roughly chopped milk chocolate

Grated dark chocolate, for garnish
Directions:
Add all ingredients, except the chocolate and cognac, to a large saucepan. Heat on medium until just below the simmering point. Do not allow the milk to simmer or boil. Remove from the heat and add the roughly chopped chocolate. Stir well, or whisk, until chocolate is melted. Add the cognac and gently reheat on medium. Serve while hot with a generous garnish of grated chocolate (or even some whipped cream if you're feeling decadent).
If you're planning to create an occasion, order our luxury Hennessy Cognac Celebration Hamper for a complete winter gourmet experience. The mix of sweet nuts and toffee brittle makes the absolute perfect accompaniment to a Hennessey Hot Chocolate for an after dinner treat to enjoy fireside.
Top Red Wines For Winter
With colder weather, it's the perfect time to expand your red wine collection. While you can enjoy red wine any time of year, there's something special about a good glass of red on a cold evening. Full bodied shiraz and cab savs are perfect for sipping fireside or to enjoy with a hearty meal. Bold red fruits with a peppery tannin bite enhance any winter roast or rich pasta sauce. If you're looking for something different, you should try making your own spiced mulled wine. Winter is the one time of year in Australia when we can really enjoy a good mulled wine.
If you don't know how to make mulled wine, or you've only ever tried a warmed spiced wine at a party or restaurant, it's time to learn how to make your own this winter. It's the perfect year for quiet gatherings with friends, and a delicious meal served with your own mulled wine is a great way to spend an evening at home.
It's incredibly easy to make your own mulled wine. Any bottle of wine will work, and you probably even have all the ingredients in your pantry. There's a range of different mulled wine recipes, so experiment a little to find your favourite to suit your personal tastes and the red wine you use as a base. A modern mulled wine is generally sweeter than the traditional 'spiced wine', but both are wonderful to enjoy warmed over winter. If you want a light, sweet mulled wine, start with a merlot or zinfandel. For jammy, dark fruits full of earthy spiced flavour, a cab sav or shiraz are ideal varietals for a rich and cosy mulled wine.
Modern Mulled Wine Recipe
1 fresh orange, sliced into rounds

3 cinnamon sticks (it's worth buying cinnamon sticks, but cinnamon powder will do in a pinch)

3 whole cloves

2 star anise

1 vanilla pod, split in half

1/4 cup honey

1/4 cup brandy (or orange juice if you prefer)

1 bottle red wine
Directions:
Place all ingredients, except the wine, in a heavy bottom saucepan over medium heat. Stirring often, bring to a very gentle simmer. Without allowing the spiced honey mixture to boil, keep it on the simmer for at least 10 minutes. Reduce to low heat, add the wine, and gently heat until the wine is warm and delicious.
You can take the mulled wine off the heat, cover with a lid, and leave it to infuse for anywhere from 10 minutes to an hour. Strain through a fine mesh strainer, and serve while warm. Add a thin slice of orange, star anise, or a fresh cinnamon stick to garnish for a little extra flair.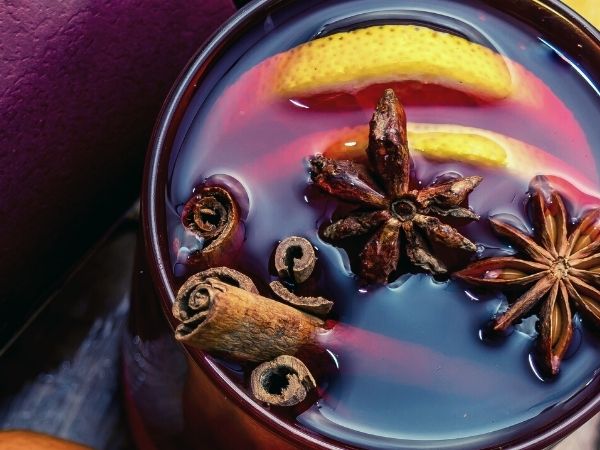 Spiced Mulled Wine Recipe
4 cinnamon sticks

6 whole cloves

3 star anise

3 green cardamom pods

1/3 cup brown sugar

1/4 cup brandy

1 tsp fresh nutmeg

1 fresh orange, peeled, and then sliced into rounds

1 bottle dry red wine
Directions:
In a dry, heavy bottom saucepan heat the cinnamon sticks, cloves, star anise, and cardamom pods over medium heat, stirring often, for 1 minute or until fragrant. Be careful not to allow the spices to burn.
Reduce the heat and add the brown sugar, brandy, nutmeg, orange slices, and several pieces of orange peel. Bring this syrupy mix to a very gentle simmer for 3-4 minutes, just long enough to ensure the sugar has fully dissolved. Add the bottle of red wine and allow it to heat through for 5 minutes. Remove from the heat, and cover with a lid allow the mulled wine to steep for 15 minutes. Strain through a fine mesh strainer, and serve immediately while still hot.
The Perfect Winter Gift Hampers With Alcohol
There's a cosy gift hamper to warm their heart for every occasion at The Hamper Emporium. Create an occasion to remember with a gift to share when you celebrate a winter wedding anniversary. Or, if you're looking for gift ideas for a winter birthday, especially an 18th, 21st, or other milestone birthday, get creative and buy them a gift that will let them try out a few winter drinks recipes. The perfect party pleaser! Explore the range of hampers just perfect for a winter birthday gift or other special occasion.