Feel Good Gifts For A Friend Feeling Down
Author: Michelle Richards Date Posted:12 April 2022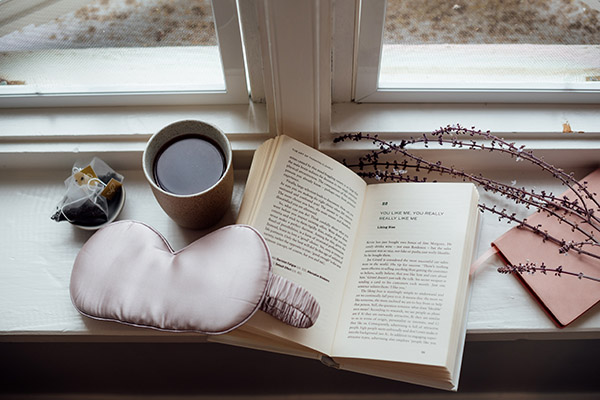 Wellness Gift Ideas To Help Them Feel Better
When a loved one is going through a tough time, dealing with loss, or feeling exhausted by the world around them, it's important to step in and help in any way you can. It may be challenging to know the right things to say or do, but your support is invaluable. Even the smallest act of kindness can make things a little better for them.
While sending a gift won't pull them out of the depth of despair, it will cheer them up. Knowing they're in your thoughts and you care enough to send a beautiful feel better soon gift shows them they're not alone.
The right gift can sometimes give you the opportunity to offer ideas for strategies that might help a friend feeling down. So, surprise them with something comforting, thoughtful, soothing, or even silly whenever you can. Wellness gifts are the ultimate gesture of empathy and love.
It's worth exploring some of the ways you can give your attention and help a friend who's feeling down in any way possible. While offering practical assistance and a friendly ear is vital, small wellness gift ideas can also go a long way. Feel better boxes, mindfulness gifts, anxiety boxes, and wellness hampers all have a role to play in bringing small rays of sunshine back into their lives.
What Do You Put In A Mindfulness Box?
Mindfulness is about reflection and focusing on being deeply aware of your feelings and senses at that moment. It involves deep breathing and trying to relax your mind and body to help reduce stress. It's something we can all practice every day with a few simple techniques.
Be attentive - take time to fully experience your surroundings with all five senses of sound, touch, smell, taste and sight. For instance, when you're eating, savour every mouthful and really enjoy each small bite.




Stay in the moment - try to pay close attention to everything you do without letting your mind wander. Find comfort in simple things and joy in small pleasures, from completing a task to watching a beautiful sunset.




Love yourself - accept that you're not perfect, and treat yourself like a good friend. This includes pressing the 'pause' button for a while and pampering yourself so you can relax and unwind in whatever way you enjoy.
The concept of a mindfulness box is that it's filled with all the feel good gifts you need to encourage these moments of mindfulness. The contents should ideally reflect your loved one's personality and their likes and dislikes. You could choose useful items, some favourite things, or stress relief treats. For example, a scented candle aids relaxation, a beloved book encourages them to take time out, sipping a warm cup of tea can be centring, and some delicious chocolate makes for a mindful foodie moment. Anything that de-stresses is perfect, and you can be as creative as you want!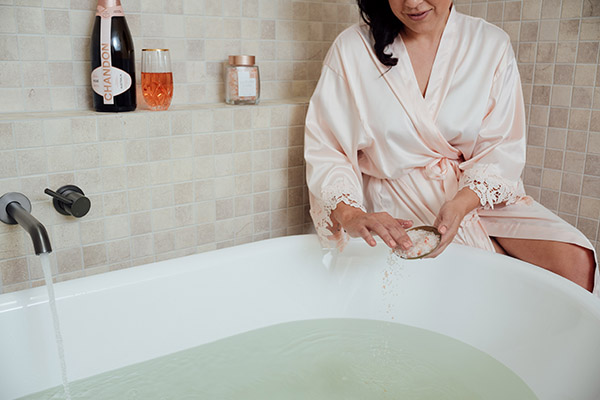 What Is A Good Gift For Someone With Anxiety?
A comforting anxiety box can be an instant first aid kit for moods and emotions. You can fill it with things that ground you and help reduce symptoms of panic, feeling overwhelmed or emotional distress. A distraction box or anxiety box could include sensory items to help you focus, relaxation gifts for a change of mental pace, or things to make you feel better in the moment.
Soothing teas, scented gifts, bite-sized snacks, family or pet photos, a journal, affirmations and positive quotes (from others or yourself) are all great ideas for things to include in an anxiety box. If you are sending a wellness gift to help a friend feel better, write your own positive affirmations on their gift card so they can keep your message close to hand for when they are feeling anxious.
What To Send A Friend Who Is Feeling Down?
Mindfulness and wellness gifts will always bring comfort to anyone who is feeling down and struggling with life. Consider choosing practical gifts, items that engage the senses, and inspiring artwork, quotes and books. Remember, too; there is never a wrong time to send thoughtful cards and letters or friendly texts that don't require any response.
Here are just a few of our uplifting gift ideas for someone going through a hard time:
Add sunshine to their day
Nothing raises a smile like treasured memories or your favourite things. Gift them happy moments with a framed photo or album. Treat them to anything they love, from music and books, to chocolate and candles, or a pamper hamper.
Promote mindfulness & self-care
A thoughtful care package or wellness beauty box is guaranteed to nourish, calm and de-stress. It will encourage them to take that mindful moment and focus on themselves. Choose small indulgences and a variety of their favourite little luxuries to create a self-care gift basket.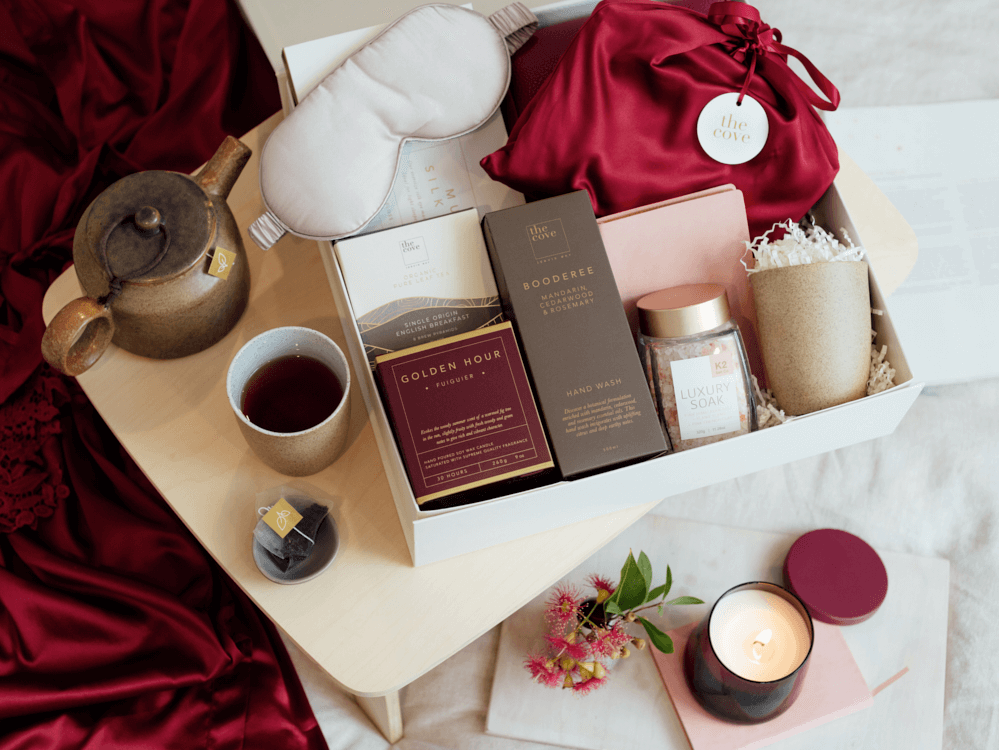 Get cosy with comfort foods
Offer to bring homemade meals during these difficult times or suggest cooking lunch together if they want the company. Help stock up the pantry with delicious condiments or surprise them with a gourmet food hamper for a taste of luxury.
Help them rest & recuperate
A good night's sleep can be hard to achieve, so something that helps relaxation is a great idea. Calming pillow sprays, peaceful music, silky eye masks, body-soothing bath soaks, and anything pampering is perfect for a get well hamper to feel better. Plus, you can't go wrong with something to cuddle!
Shine a beautiful bright light
Candles are a lovely thought at any time, but they make ideal wellness gifts to help a friend feel better. Candle hampers instantly create a warm, welcoming atmosphere, smell gorgeous and look divine. For those coping with grief, they're also a lovely symbolic item.
Send flowers and gifts
Being surrounded by beautiful things can help promote a feeling of wellbeing. Brighten up their space with a gorgeous preserved floral arrangement from our flowers and gifts range. Dried flowers are great because their beauty doesn't fade, and they are safe for people with allergies or fragrance sensitivities.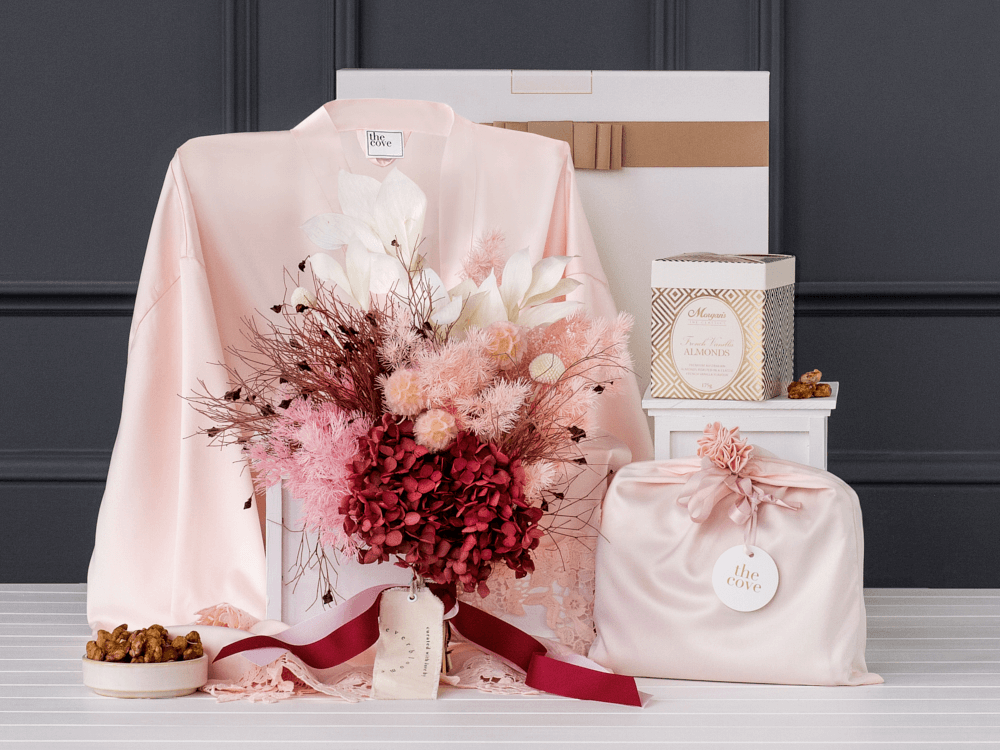 Motivate with journalling
Making slow, small changes to our daily life is a natural healing process when you're feeling down. Help loved ones to start the process of self reflection and journalling to encourage change by gifting them a blank journal or choosing a guided mindfulness journal to inspire them every day.
Join them for drinks
Friendly company and a glass of fine wine or beer can often be a healing feel good gift. However awful things get, talking and sipping with loved ones will be looked back on with fondness. You might want to treat them to some tissues, too.
Send Wellness In A Box From The Hamper Emporium
Whether you want to help give loved ones a boost or treat yourself to the gift of healing, you are in the right place. Our feel better boxes and luxury wellness gifts are lovingly created to cherish all the senses. Help them take a mindful moment and enjoy a little of what they love. You'll find pampering wellness hampers, gorgeous gift ideas and an array of sweet treats. If you want to send something truly memorable, join together with friends and send a group hug to their doorstep.