Festive Tips For The Perfect Grazing Board
Author: Nikki Barnett Date Posted:1 September 2020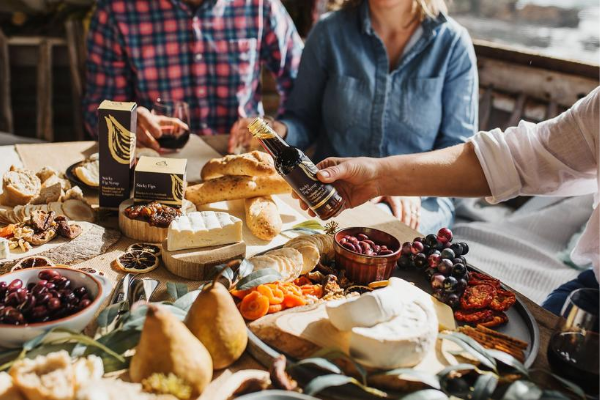 Say 'hello' to spring with a cheerful platter
There is nothing quite like an indulgent grazing board. You may associate them with extravagant events like weddings or Christmas, but did you know it's easy to make your own at home? Whether you're treating the family, having guests over, or just practicing your curation skills, a delicious platter adds a splash of happiness to any day.
When entertaining and feeding any number of guests, they are easily prepared in advance and look absolutely incredible. Your table will be stacked with fresh and delicious goodies that family or friends can nibble all day. Plus, preparation and presentation can be as simple as you like with wooden chopping boards and brown paper.
Here at The Hamper Emporium, we've compiled some tips on creating a fabulous grazing board that will certainly wow everyone and make them smile. If you can't be together in person, then share the fun on Zoom, relax with a glass of wine and compare your artistry!
How to make a grazing board look amazing
The world loves a classic cheese board. It's packed with contrast, variety, texture and mouth-watering experiences. With a few straightforward tweaks and tips, it can be reinvented into a gastronomic delight with a festive twist at any time of the year. If you're short on time, then add in one of our fabulous gourmet food and wine gift hampers that come overflowing with artisan treats and nibbles.
Create colourful visual interest
Forget traditional plates and create your display using other handy items from wooden chopping boards to bamboo bowls. Use colourful dishes and pots as dipping or fruit bowls, and get inventive. Even champagne or martini glasses can look stunning filled with small berries or nuts on your board! Try to choose two or three colours, keeping them in mind for food items too, so the overall look pulls together. Add in some beautiful cheese knives and irresistible wines, and you're ready to start!
Raise the bar on your display
Grazing boards always spread onto the table in beautiful chaos, so create various levels to add to the spectacle. Raise some of the food above others to create an incredible landscape of culinary delight. You can use cake stands, overturned tins or wicker baskets; whatever you have to hand. It will also help separate different foods into distinct sections and colours and will look divine.
Use greenery for cohesion
By the time you've finished, your grazing board will look like a spectacular farmer's market with connoisseur additions. This luscious spread needs something to bind all the texture and colour together. What better than some fresh greenery to frame the display? Use small vases and pots and decorate the food or lay it on large leaves. When choosing, think traditional like bunches of eucalyptus, small flowers or pine cones!
Impressing your guests with mouth-watering ingredients
One of the best things about grazing boards is that they don't take a lot of time and effort to put together. But you do want to think about ingredients and have it brimming with quality titbits and fresh seasonal produce. Delectable sliced cheeses and spiced meats, tasty dips and opulent fruits all have their place. The combination of a selection of everything is what makes it simply irresistible!
Cheese is the king of the castle
A selection of highly flavoured and mild cheeses is probably the most important part of the platter. Choose both hard and soft varieties and distribute them evenly around the board. Crowd-pleasing tastes and textures form the basis of any distinctive platter, and you can place some portions on their side and some upright to showcase them. Use different shapes and sizes and sprinkle them with blueberries, apricots or sliced almonds.
Add charcuterie and cute ramekins
Fill some of the larger gaps with succulent roasted meats and gourmet charcuterie. Then distribute your small pots and glasses around the board, filled with delicious dips. Olives, hummus, pesto, relishes and chutneys all add to the taste explosion. The sweetness of honey combines well with other flavours too. They should all complement and contrast, add colour and bring your grazing board to life!
Pile on the artisan crackers
Selecting a variety of mild and strong cheeses mean they will go well with most types of cracker and biscuits. Crispy artisan crackers and smooth, creamy cheese are a match made in heaven! Choose several varieties from plain to sesame seed-topped and add in some delicious speciality bread too. Try sweet fig and walnut, crunchy fruit rolls, warm sliced baguettes or soft pita bread.
Fill in the spaces
When you've finished assembling the main showpiece, there will still be small spaces around the grazing board. Now it's time to fill these with other enticing ingredients like avocado, dried fruits, pretzels, and wedges of juicy fresh fruits. To celebrate warmer weather, you could include seasonal titbits like roasted nuts and summer berries—they're both just perfect with cheese!
A vibrant grazing board needs a dash of colour
Think in terms of contrast. Deep dark colours reflect the festive mood, so use cherries, strawberries, dried apricots and red grapes for elegant garnishes. Forage in the garden for the earthy tones of fresh herbs and add warmth with tomatoes, red peppers and radishes.
Get decadent and check out our range of heavenly gourmet food and wine luxury hampers. They're ideal for smaller gatherings (just add the cheese!) and a fabulous addition to any get-together. When you want to impress with exquisite products and heavenly flavours, sensational luxury hampers are the ultimate culinary weapon. Many even include a bottle of bubbles to toast to health and success. Your grazing board is sure to be a showstopper!