5 Minutes With Ricky Ponting & His Family
Author: Nikki Barnett Date Posted:6 August 2020
Father's Day Gifting that will stand the test of time
With Father's Day inching closer on the calendar, we're thrilled to unveil our latest partnership with Ponting Wines. Together we've curated an exclusive range of six gourmet food and wine hampers that will make gifting to Dad simple.
Ricky Ponting is one of Australia's most celebrated modern-day cricketers and also a secret vigneron. In a new-chapter venture, he's teamed up with award-winning winemaker Ben Riggs to bring Australians a reserve of delectable drops.
Forget the socks and avoid the last-minute shopping dash this year. For the Dad that loves a bit of backyard cricket and a glass of red, this could be the perfect Father's Day treat, or a delicious 'just because' gift for the vino buffs in your world.
Each wine of the eponymous label reflects Ricky's life, allowing your giftee to have a nostalgic moment as you reflect on days at the Boxing Day test or cricket training mornings as a kid.
The wines have been lovingly crafted under Ben's wise lead to boast body, flavour and complexity of a spectacular degree.
'The Pinnacle' Shiraz is one of the collection's hero sips. It was inspired by the Ashes, a famous cricket battle that Ricky always considered the pinnacle of cricket. He played 35 tests, captained 18, scored 8 centuries and 2,476 test runs.
It's only natural that such an iconic career would be commemorated by a big wine—the palate flaunts rich berry fruits, black pepper, cloves, and nutmeg. This one will surely stand the test of time.
Other all-rounder wines from the series include the 'Close of Play' Cabernet Sauvignon hailing from Langhorne Creek and the 'First Session' Sauvignon Blanc from the pristine Adelaide Hills.
The Hamper Emporium team sat down for a chat with Ricky to explore the new wine vault, his inspiration behind the line, the ins and outs of dad life and some of his go-to food pairings with a sensational tipple. We also had the chance to hear from his kids about what makes Dad so special. Sit down, get comfortable and pour yourself something fantastic.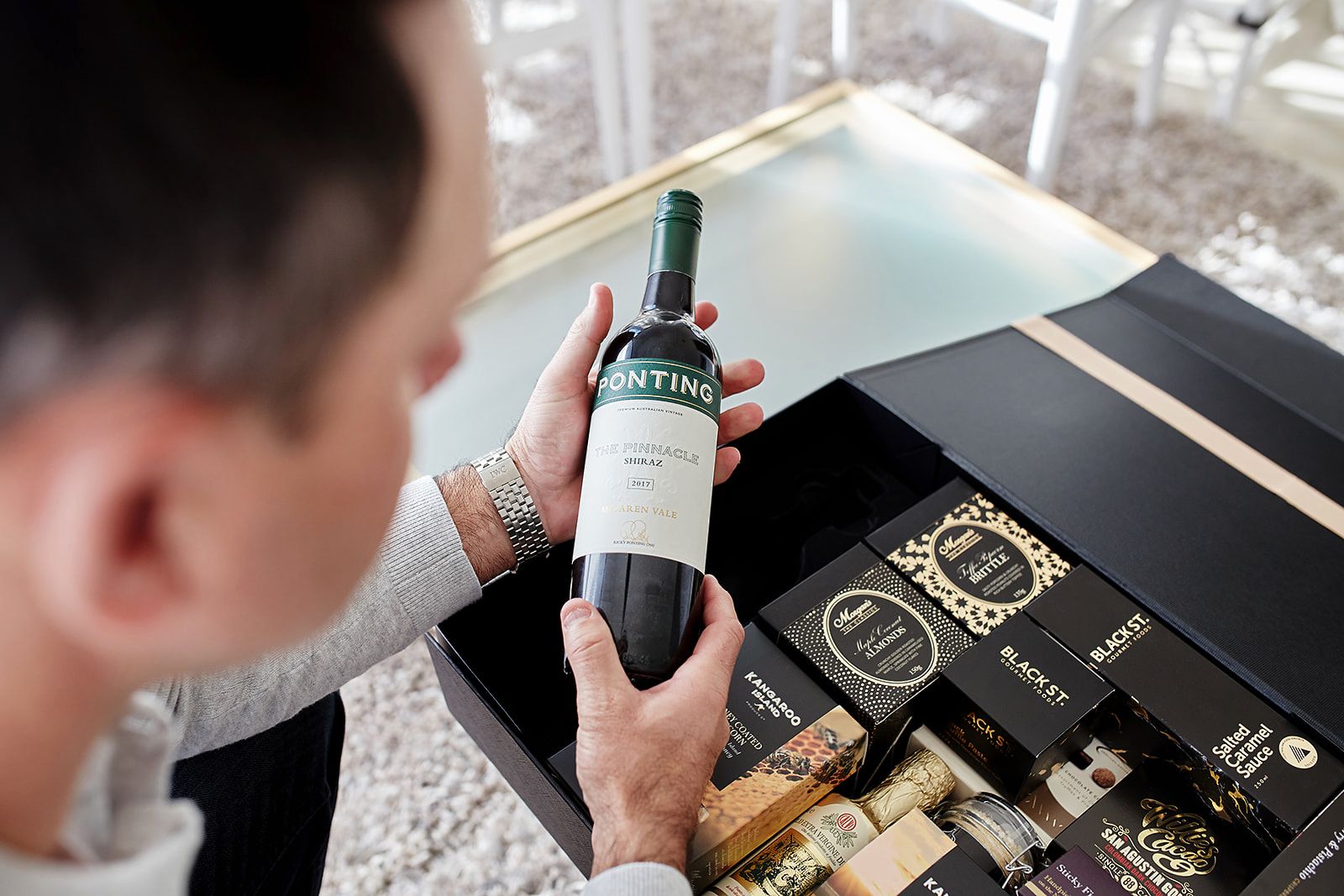 Why did you want to start your own wine label?
Wine was never really a part of my life until pretty much the end of my career, and since I retired it's become a pretty big part of Rianna and I's lifestyle. Then an opportunity came up with some guys who had worked in the alcohol industry for a long time. They asked me what I thought about starting my own label and my own brand, Rianna and I thought about it for five minutes and thought 'yeah, why not? It would be a great opportunity.' It's been about 18 months in the works and the wines have been out there for 4 or 5 months. It's been something that we've really loved working on together. It's been unusual to have our own business thing that we can work on together. It's been a lot of fun and so far the brand is going really well so it's really exciting for us.
What do you love about being a Dad?
Getting spoilt on Father's Day is obviously a nice part about being a dad. Even when I was playing, as soon as the kids came along it didn't matter if you had a good day or a bad day on or off the field. Just to see their smiling faces every morning, afternoon and night, and being able to spend as much time as I have with them over the last five or six years since I've retired has been what life is really all about. I think life is all about family. I obviously had a long cricket career but now that that's done it's all about being the best husband I can be and the best father I can be. If you ask the kids any questions hopefully they'll say that I've done a reasonable job at that so far.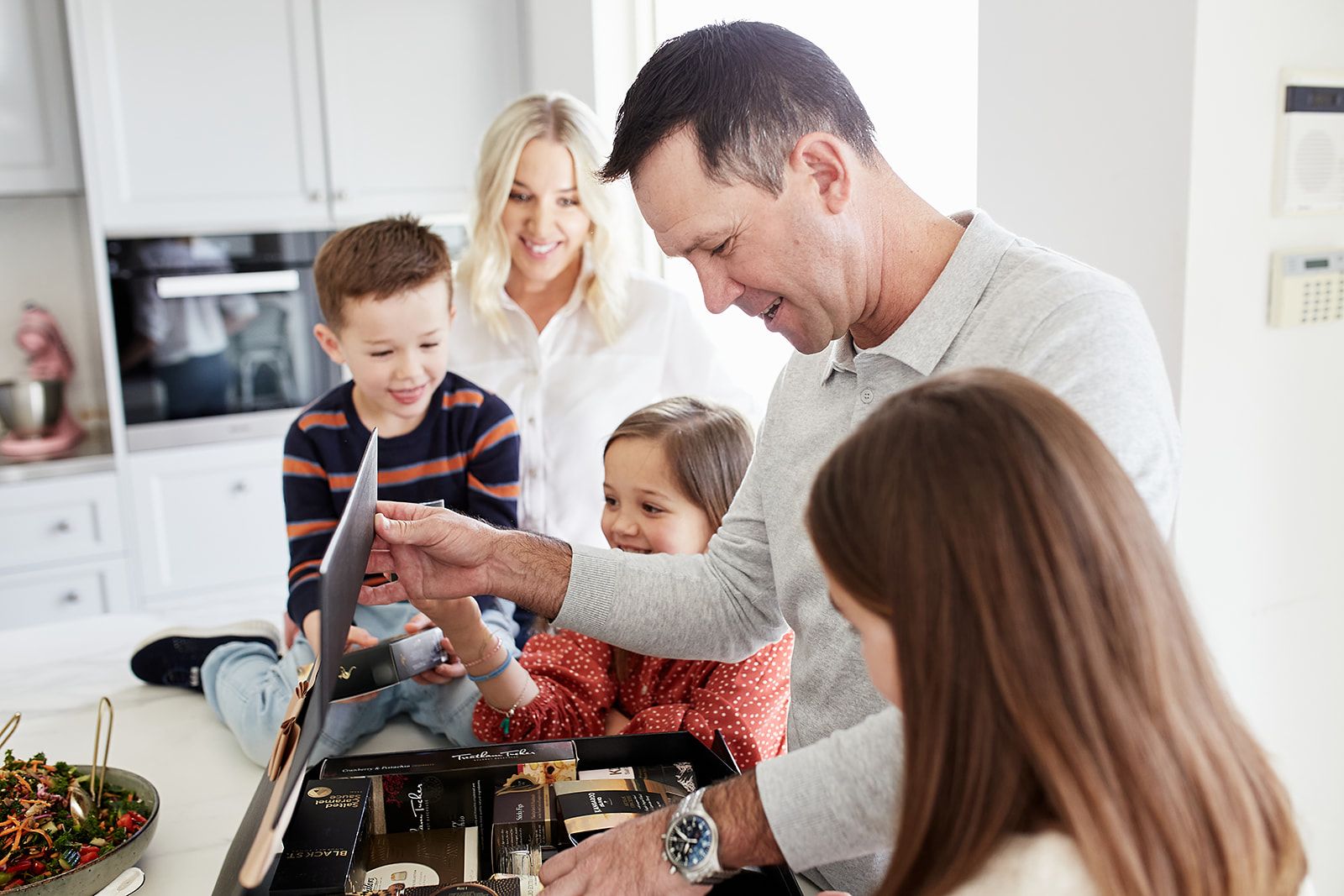 How do you and the family spend Father's Day?
Father's Day for me is generally a bit of a sleep in. I'll usually get breakfast in bed and the kids have normally brought me something home from the Father's Day stall at school so I'll probably get a couple of pairs of socks or some aftershave or something like that. Then it's sit down to a nice chilled Sunday afternoon lunch, usually a BBQ or something like that, which unfortunately even though it's Father's Day I've still got to be in charge of that. I do get spoiled, and we make sure to do the same thing for Mum on Mother's Day.
Why do you love the 'Close of Play' Cabernet Sauvignon?
I love the Close of Play Cab Sauv because Ben Riggs is obviously a master of his craft and he's our head winemaker, but even before I started my own brand the two varietals of red wine that I really loved were Cabernet Sauvignon and Shiraz. Ben has been able to craft a beautifully soft and silky, beautifully balanced Cabernet Sauvignon with lots of taste of berry fruits through the wine, and it actually pairs up beautifully with the steak off the BBQ that I mentioned earlier. That's sort of my lifestyle, a steak off the barbie and a glass of red wine, and the Cab Sauv certainly goes beautifully with that.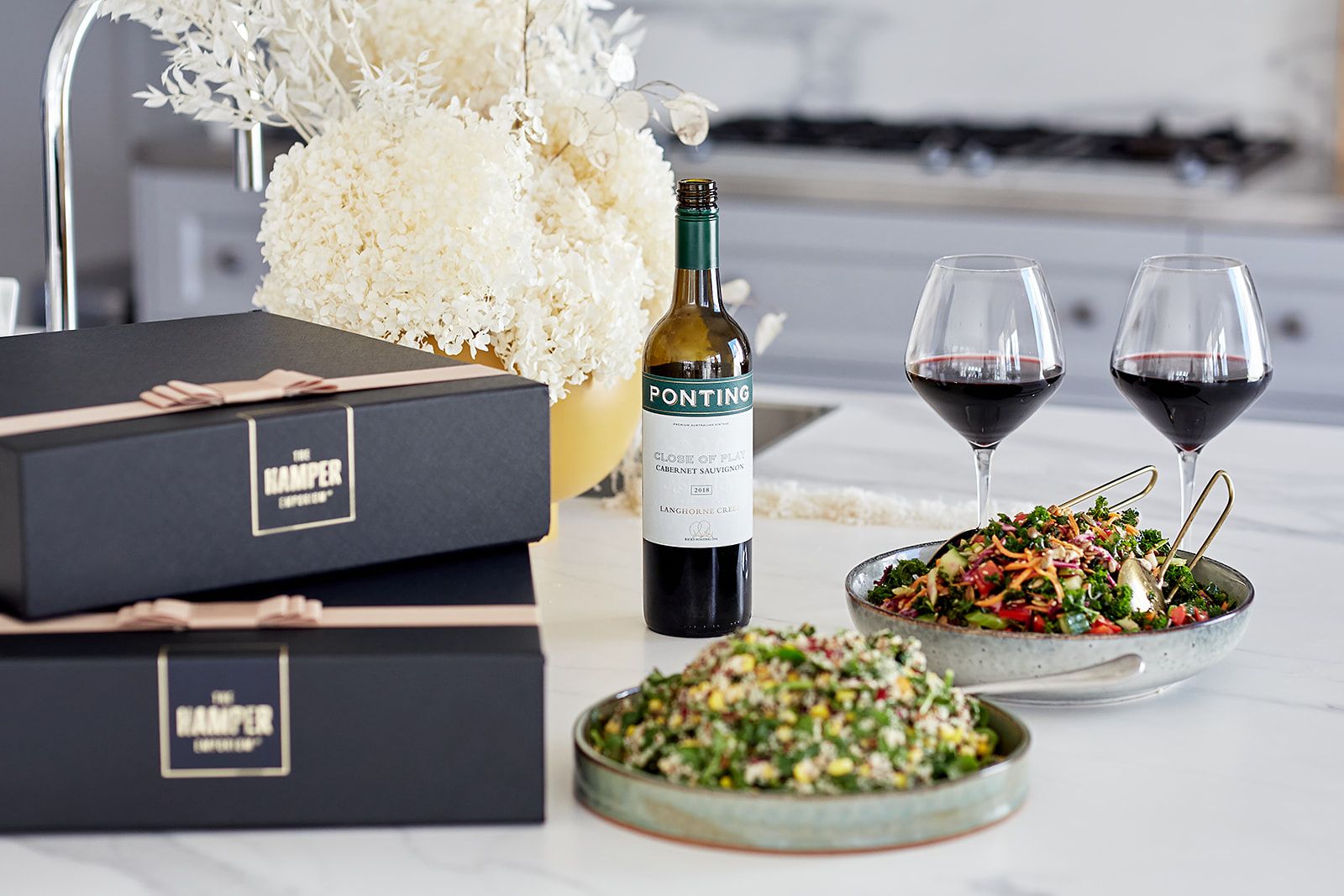 Why do you love 'The Pinnacle' Shiraz?
The Pinnacle Shiraz from McLaren Vale in South Australia was crafted by Mr. Ben Riggs, a master of his craft. Once again, it contains those rich berry fruits and also that really black peppery taste that is also renowned for the area and renowned for Shiraz from McLaren Vale. It's probably Rianna and I's choice out of the whole range. We really enjoy sitting down and having a glass of Shiraz at the end of the day.
What's your all-time favourite meal to pair with a glass of wine?
It's pretty hard to go past Rianna's roast pork as far as my all-time favourite meal to pair a glass of wine with, whether that be a glass of white wine or a glass of the three varieties of red wine we have in the range. She does a magnificent roast pork. But the other thing I keep coming back to is that it's pretty hard to beat a nice steak straight off the BBQ to sit down with a glass of our red wine. I would have gotten in trouble if I didn't say the roast pork, but I think it's on par with a beautiful steak.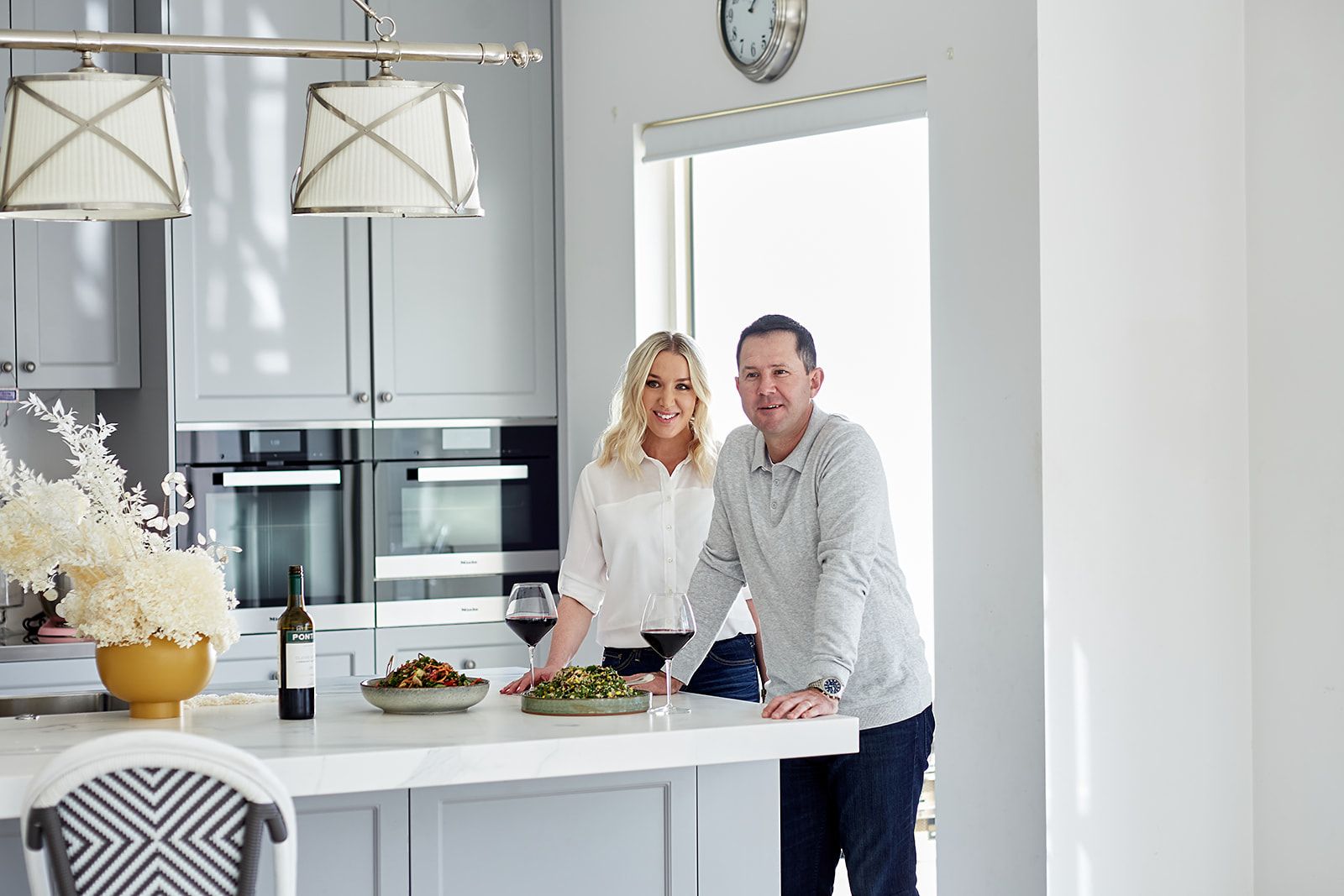 Emmy, what do you love about Dad?
Something I love about Dad is he's always there to listen if you're upset, and he's always up to play a game of cricket or tennis with us. He's always wanting to be with us, he's never wanting to be away from us.
Matisse, what do you love about Dad?
What I love about Dad is that he's always really nice and when I'm sad he hugs me until I'm better.
Fletcher, what do you love about Dad?
I like driving the golf cart with him.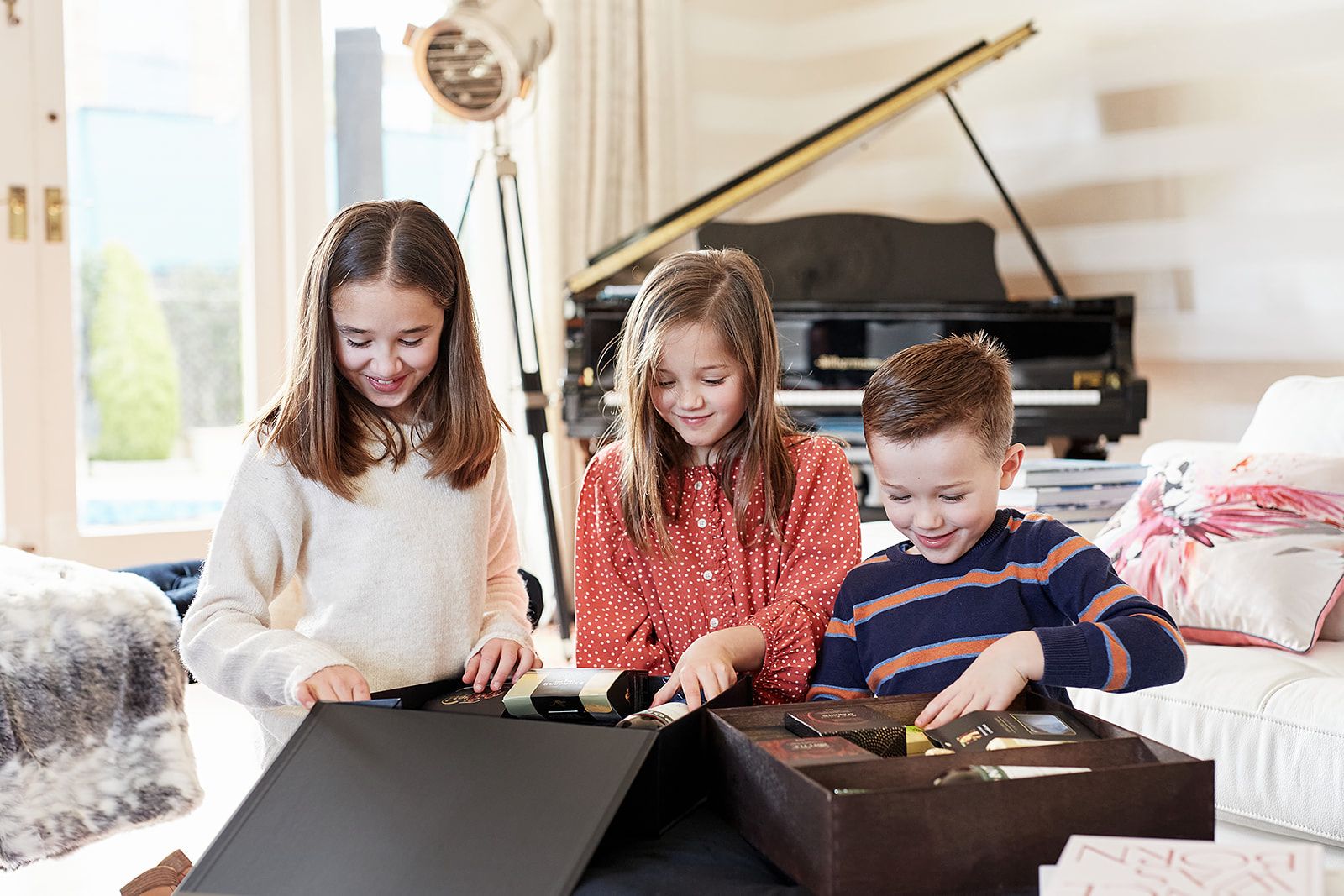 Browse our range of gourmet hampers featuring Ponting Wines today.