Five Ways To Drink Whiskey
Author: Nikki Barnett Date Posted:23 July 2021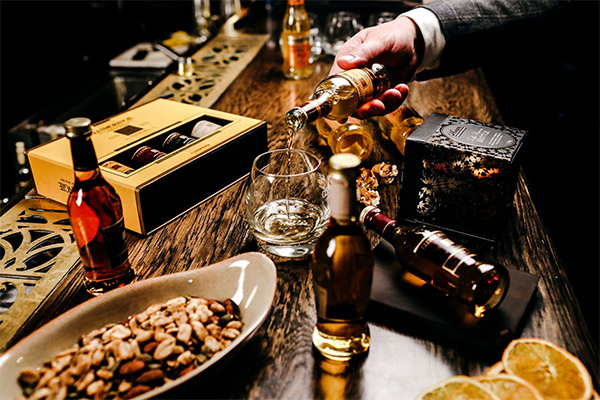 A Whiskey Drinking Guide For Beginners
Do you love the fiery amber glow and full flavour of whiskey? You are in good company as many famous men and women have enjoyed a sip throughout history. It's even attracted fabulous quotes like "Whiskey is liquid sunshine" and "Whiskey, like a beautiful woman, demands appreciation."
From your first whiskey tasting, you'll be hooked and will want to know how to drink whisky like a pro. Whiskey is a timeless drink, perfect for sharing with friends - and like any great relationship, it's fun to get acquainted!
What's the best way to drink whiskey? Well, we think the answer to that is how you enjoy it the most! Neat, on the rocks, in a cocktail, as a chaser, sipped and savoured or thrown back. There are many different ways to drink and enjoy this "wee dram". So, join us in exploring just some of the most popular ways to drink whiskey along with our favourite foods to pair with whiskey!
A Brief Guide To Choosing Whiskey For Beginners
Whiskey can be any distilled liquor made from a mash of cereal grains fermented and aged in wooden casks, usually constructed of oak. The most common grains used are corn, rye, barley, malt and wheat. The mix used will produce slightly different and distinctive smoky, deep flavours. Scotch, Bourbon, Rye and Malt are all popular and fun types of whiskey to try. The difference is indicated by three main factors:
Content
Bourbon should be 51% corn, and rye whiskey should be 51% rye. The subtle difference between whiskey and Scotch whisky is geographic, but they are both made from malted barley. There can also be local varieties, like the Irish made whiskey Poitin, made with the addition of potatoes!
The Law
Most of us know that moonshine, or making your own whiskey, is illegal without a licence but different countries can have their own laws - even down to the spelling of whiskey or whisky! For example, in Australia, whiskey alongside rum and brandy must be aged in wood for no less than two years.
Geography
For enthusiasts, the best whiskey can often be selected by the area where it's distilled. Famous Scottish whisky distilleries like Glenmorangie and Glenfiddich produce some of the world's best whisky. And Australia has now been added to the upper echelon, with some fantastic breweries evolving over the past few years. Try Sullivan's Cove, Tasmania's Lark Distillery and Victoria's New World Distillery.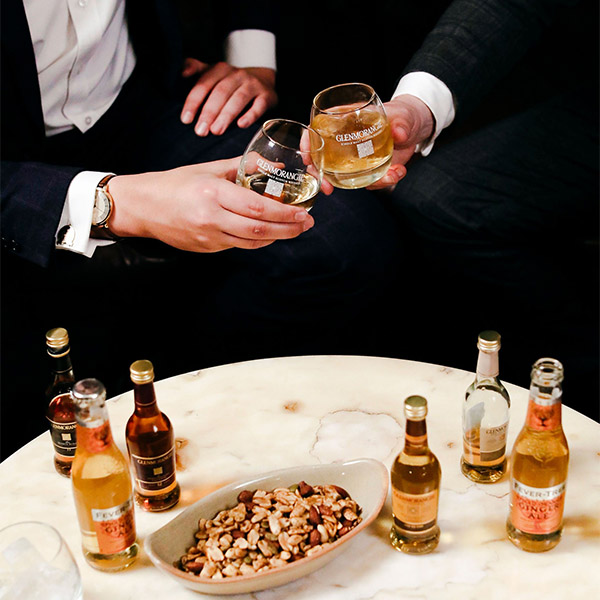 Trying Whiskey Sampling For The Very First Time
How do beginners drink whiskey? It's great fun to host your own whiskey tasting party for friends or even buy some small samples and go solo. Here are just a few fun pointers to get you started:
How the whiskey looks - as a rule of thumb, the darker or deeper the colour of the whiskey, the more mature it is. It can also be an indicator that it contains some additives.
How the whiskey smells - a punchy alcohol smell belongs to the younger whiskeys. Treat yourself to a flavour tasting and aroma wheel to help you identify all the various aromas!
How the whiskey tastes - whiskeys taste different from floral or peaty notes to specific tastes like lemon sherbet. Everyone's taste buds vary too, so not everyone experiences the same flavours.
As any experienced whiskey lover will tell you, "start as you mean to go on." Many seasoned whiskey drinkers would argue the best way to try whiskey is the simplest way - neat. Water helps develop the flavour of the whiskey, so you can add a few drops, swirl your glass, then try. Keep adding water until you find the taste you like best.
Before you take a sip of whiskey, remember to breathe in the beautiful aroma. Then take a small breath, keeping your mouth slightly open, but do not take too deep a breath. Take a small sip, let it sit on your tongue, then swirl it around in your mouth before swallowing. This is how to drink whiskey without burning your nose and throat!
5 Ways To Savour The Flavour For A Magical Experience
Drinking whiskey over ice
Another debate that whiskey purists pursue is whether to add ice, known as whiskey on the rocks. If you like your drinks cold, go for it! When you want to develop the whiskey's flavour, ice is not the way to control the amount of water you are adding. If you're wondering how to drink whiskey with ice, go for larger chunks rather than smaller pieces or water-free whiskey stones.
Drinking whiskey with mixers
Is it better to drink whiskey straight or mixed? This is a personal choice, although some purists would be appalled at adding anything to a well-aged glass of malt! Drink it how you enjoy it and experiment with different mixers like soda, apple cider, lime or lemonade. Many people love whiskey added to coffee, and hot tea with honey and lemon makes the infamous "hot toddy".
Drinking whiskey as a highball
The world of the whiskey drinker is an ever-expanding one, but one of the simple, classic recipes remains the highball. This tall mixed drink is a really refreshing way to enjoy any whiskey, and ginger ale or ginger beer is the favourite mixer used today. It adds notes of sweetness to balance out the spicy whiskey, and you can top it off with lemon or orange slices.
Drinking whiskey classic cocktails
Many cocktails carry some history and remain popular like the fashionable Manhattan. It is one of the most famous cocktails in the world and is a tasty and timeless reminder of what a great cocktail should be. The flavours of sweet vermouth and Angostura bitters are brought together with a dash of orange bitters, and a cherry garnish adds a touch of sweetness.
Drinking whiskey the modern way
With mixologists continuing to tantalise and excite our taste buds, there's always a new receipt to try out. One of our all-time favourites is the Rusty Nail which can be served in a classic glass neat, on the rocks, or in a tall stemmed glass. Combining Scotch and Drambuie for a double whammy of whiskey flavours, mix to your own taste for a sophisticated, slow-sipping drink.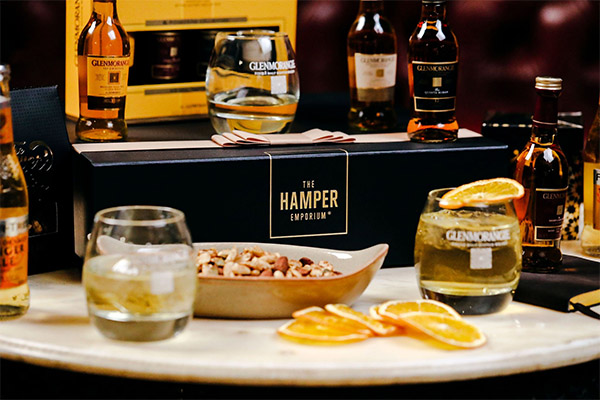 What Foods Pair Well With Whiskey? Anything From The Hamper Emporium!
While you're trying out all your new whiskey drink discoveries, you'll want to find some tasty combinations that complement. While popular mainly as an after-dinner snifter, several different main courses go well with whiskey. Our top snacks and foods to pair with whiskey include savoury nuts, smoked salmon, cheeses, and apple pie. For a meal to pair with whiskey, we love anything from grilled steak to sushi! Go on, try them!
At The Hamper Emporium, you will discover we have the perfect selection of finger foods and nibbles to tempt your tastebuds and pair with whiskey. They are perfect for a night in with friends or planning how to host a whiskey tasting party. You might also like to check out the special whisky hampers we have put together, including tempting whisky tasting selections and an exciting Glenmorangie cocktail kit! Whisky hampers make the perfect gift for Father's Day. For dads young and old, or even for your grandpa, delight him with a gift delivery this Father's Day with a premium whiskey drinking experience.