Footy Food Hampers That He's Guaranteed To Love
Author: Loreena Walsh Date Posted:21 June 2019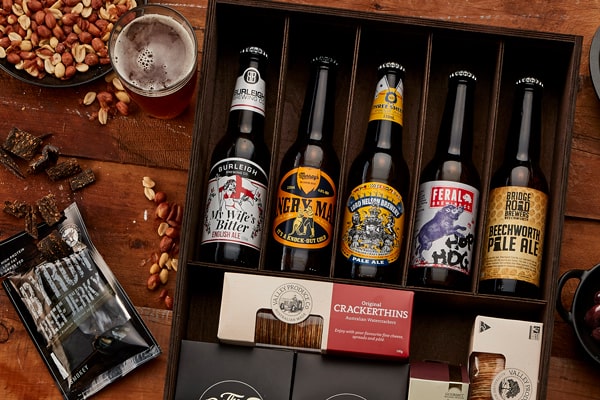 It's State Of Origin Season 2019 And We're Excited!
You can't have the ultimate footy battle happening on your tv, without having the ultimate snacks and nibbles to eat! Make catering for a footy night in easy with our range of food hampers that are perfectly curated to make your loungeroom the most well-catered footy venue in town!
Blue or Maroon? If you're a QLD or NSW Native that was the question that everyone wanted to know this past weekend. Why? It's State Of Origin season of course! We gathered our winter woollies, settled by the TV and waiting for all the action to play out on our screens. So which of our delicious gourmet hampers did our team choose to complement the action? Here's our favourites.
If you're looking for the ultimate gourmet gift for men, spoil him for the State of Origin final with his very own footy food hamper, we've got options for every budget!
Beer Hampers For The Football
The perfect blend of Australian beer and a range of snacks and nibbles that are must have treats for the footy. This is the ultimate gift hamper for his State of Origin celebrations.
Whether he's team Blue or team Maroon, a beer hamper is the perfect way to help him make the most of this once a year football celebration with his mates.
If you're looking for State Of Origin food and drinks then the James Squire Ale Hamper is the perfect choice. James Squire beer is the original Australian brew, and it's a favourite of our team and our customers.
As Australia's first brewer, James Squire's legacy continues today over a century later with a range of craft beers to enjoy. Whether they love a craft ale or a craft lager, there's a James Squire brew for all tastes.
We've paired a selection of James Squire brews with some of the most delicious nibbles and treats that are just perfect for sharing with mates for the footy. This amazing men's gift hamper contains a range of Australia's finest nuts, fresh and crunchy with the perfect blend of seasoning. There's also delicious beef jerky, delicious crackers and Australia's finest olives from Kangaroo Island.
Whisky Gifts For The Perfect Party With Mates
With one State of Origin down and another State of Origin 2019 game to go, there's still another opportunity to gather friends and family and have an amazing time. If you're looking to spoil your mates, your husband or just want an excuse to enjoy luxurious gourmet treats; then our Glenmorangie Whisky Tasting Hamper is the perfect football gift.
Buying gifts for football lovers year round is easy with our range of party hampers. Our gourmet hampers are packed full of delicious treats and nibbles that will make the game even better!
Our Glenmorangie Whisky Tasting Hamper features a Glenmorangie tasting pack to take him on a journey of whisky luxury. Only the finest Scotch is produced by Glenmorangie and so of course we've paired this spectacular tasting pack with the finest nibbles.
With delicious cookies from Byron Bay Cookies, a range of artisan crackers, fresh, crunchy nuts, and flavour-filled tapenade. Gather the mates, gather the food, and watch this year's most important game of footy together!
Of course, it's not just football season that's perfect for sharing a gourmet hamper. No matter their favourite sport, whether it's cricket finals, rugby union or AFL, celebrating sport always deserves the best quality.

The Ultimate Party Food Hampers For Football Season 2019
Football parties are just about beer and whisky of course, because our favourite of favourite gift hampers here at The Hamper Emporium are packed full of the world's finest gourmet food.
If you're looking for the easy way to entertain for special events and occasions, then why not order one of our Ultimate Foodies Hampers.
We've sourced some of the world's finest nibbles from artisan producers to ensure the most flavour-filled, fantastic celebrations no matter the occasion.
There's sweet, savoury, crisp and crunchy, there's Australian artisan treats and delights from across the world. We've got the ultimate in hand-made luxury from Willie's Cacao, the finest in artisan chocolate from Butler's, crunchy crispy nuts and nibbles, delicious caramel sauce and there's a range of savoury treats to delight.
It's not just football season that's a great time for gathering friends and family with delicious food, our hampers are the ultimate Origin feast, and just as great for birthdays, anniversaries and more!
Whether you're a NSW or a QLD supporter this is the perfect game to go all-in with celebrations. The 2019 State of Origin is anyone's series. Whoever wins this coming third Origin game, wins the title. We'll be right there in your home celebrating along with you no matter which team is your favourite with our delicious luxury hampers delivered right to your door with free delivery.
What Were The Results Of State Of Origin 2019 Game Two?
Did you miss the second State of Origin game? We're super keen to see the results of number 3 because it's a decider! State of Origin game one was won by Queensland, State of Origin game two was won by New South Wales!
That means of course... Game Three is the State Of Origin 2019 Decider Match!
If you weren't able to watch game two this video is the perfect catch up you need.
So when does the State of Origin decider take place? It's right here in Sydney on Wednesday July 10, 2019.