Gift Ideas For Your Entire Wedding Party
Author: Michelle Richards Date Posted:8 July 2021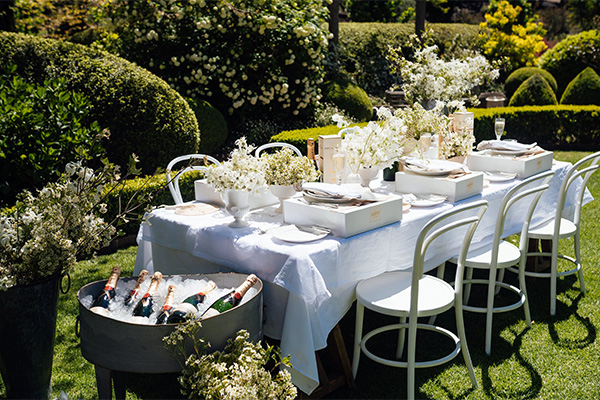 The Best Thank You Gift Ideas For Bridal Party
Finding the right gifts to truly show your appreciation to your entire bridal party can be difficult, especially on top of everything else you need to plan for your wedding. This is a special moment for you all, so it's worth putting some time into finding gift ideas that suit each wedding attendant individually.
Bridal party gift ideas that are a unique expression of your love and friendship will be treasured for a lifetime, so it's important to choose something they will love. There are a range of different ideas for thoughtful wedding party gifts or unique ways to say thank you to your crew. We'll share our favourites in this gift guide for the entire wedding party.
Plan how you want to present your gifts well in advance so you make a gesture that really shows how much you value each and every member of your wedding party.
Who gets a gift from the bride and groom?
Typically, the bride will give a gift to her bridesmaids in the lead up to the wedding. This may be as a bridesmaid proposal box or a token of thanks at the bridal shower. Similarly, the groom will give a gift to his groomsmen either at his bachelor party or as a groomsmen proposal box when asking them to stand by his side at his wedding. When to give these bridal party gifts will depend on which pre-wedding events you will have and the sort of wedding you are planning.
Together, the bride and groom will give thank you gifts to the maid of honour, best man, bridesmaids and groomsmen, mother of the bride, father of the bride, mother of the groom, father of the groom, and each of the wedding attendants including the flower girls, ring bearer, and ushers. You should also put together some small gift ideas for anyone who has a special role on your wedding day. These presents are usually given at the rehearsal dinner.
So that no one is forgotten, we suggest making a list of everyone you need to thank for their support and all they have done for you in planning the wedding of your dreams. In addition to buying a present for everyone in your wedding party, it's good etiquette to acknowledge them in your speech at the wedding reception or rehearsal dinner.
How much should you spend on wedding party gifts?
Your bridesmaids, groomsmen, and parents are some of the most important people in your life. In the lead up to your wedding, and on the special day itself, you will be calling on them not only for emotional support but also for a considerable investment from them in both time and money. While your gifts to your bridal party are firstly a symbol of your love and appreciation for all that they have done for you and your fiancé, they must also reflect the fact that being in a wedding party can be expensive. Bridesmaids and groomsmen typically spend hundreds of dollars on their bridesmaid dresses or suits, new shoes, and planning your bachelor/bachelorette parties. In return, it is good etiquette to give every member of your wedding party a suitable gift.
How much you spend on your bridesmaid and groomsmen gifts should be a reflection of the overall budget for your wedding. If you're having a small, backyard wedding and the bridal party have minimal out-of-pocket costs, then around $100 would be the average price point for a bridesmaid gift or groomsmen gift. You should budget a little more for the parents of the bride, best man, and maid of honour.
If your wedding is a five-star affair, your bridal party gift ideas should be similarly luxurious. If any of your wedding party will be expected to travel any distance to attend the wedding, buy their own outfit for the wedding, or plan your bridal shower prior to the wedding, you should thank them with a more generous gift. In these situations, you should be spending upwards of $200 for bridesmaid and groomsmen gifts for each member of the bridal party. Your maid of honour gifts from the bride, best man gifts from the groom, and presents to honour the parents of the bride should reflect their special roles at your wedding.
What do you buy for a bridal party gift?
With so much on your mind, it might be tempting to put buying nice gifts for your bridal party in the too-hard basket! Because you'll need inspiration for unique gift ideas for bridesmaids, groomsmen, and parents, all with different interests and personalities, not to mention different ages, the best idea is not to overcomplicate things! An engraved champagne glass or personalised wedding party gifts are traditional gift ideas for both bridesmaids and groomsmen. Other unique and thoughtful bridesmaid gifts include personalised jewellery and, for groomsmen, matching cufflinks. For something more luxurious that they'll love to receive, individual gift baskets tailored to their personality are easy gifts to organise.
Gifts for bridesmaids
Luxury bridesmaid gift baskets are a fabulous way to treat your leading ladies. You can personalise them so each is a little different to suit their tastes, while still keeping the price the same. A celebratory bottle of bubbles hamper with chocolates, skincare, and a luxurious robe is just a perfect bridesmaid gift idea to give to each of your besties in the lead-up to the wedding or to give as bridesmaid boxes for a proposal. Or, for a summer destination wedding, our Veuve Clicquot 'In the Sun' Hamper is a gorgeous bridesmaid gift idea.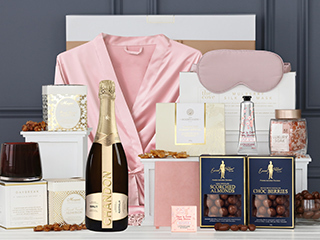 Gift for the maid of honour
Your maid of honour is probably your sister or your closest friend. In addition to helping you every step of the way as you plan your wedding, she's been your sounding board, your closest confidante, and your bestie through thick and thin. It's important to honour her with a meaningful gift to spoil and delight her. It's common to spend a little extra on your maid of honour. This might be with a more luxurious bridesmaid hamper, or with an additional personalised gift as a memento.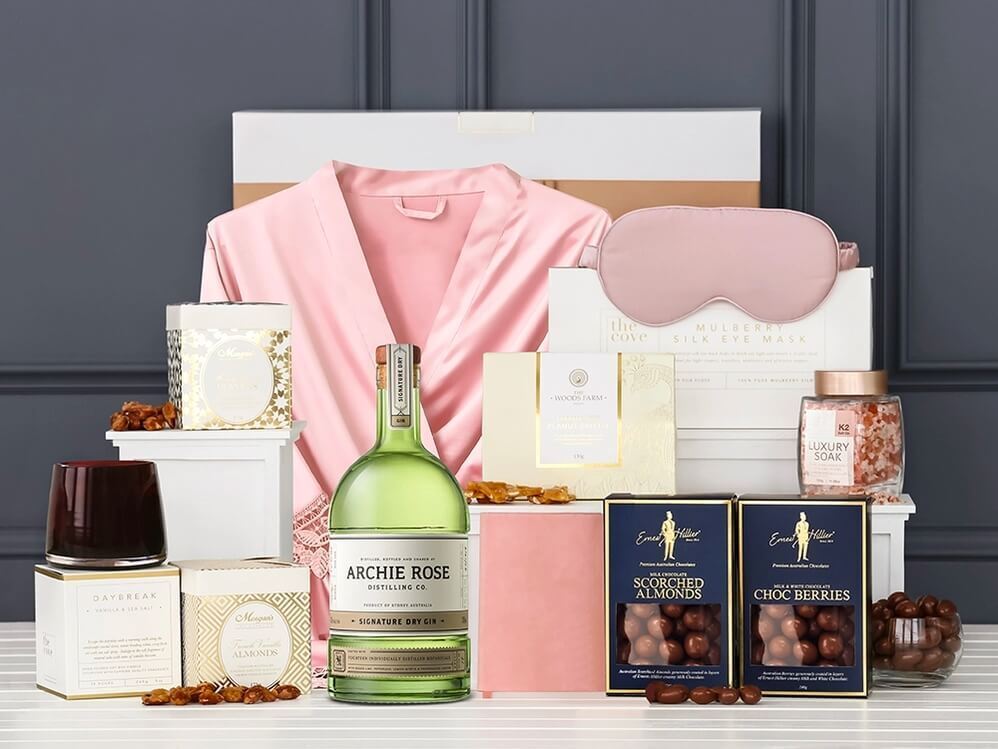 Gifts for groomsmen
Your groomsmen will love nothing more than any excuse for a party in the lead up to your wedding. Say thank you with something close to their heart. A selection of beer and nibbles hampers will provide everything they need to feel well appreciated. Groomsmen boxes make the perfect excuse for another party.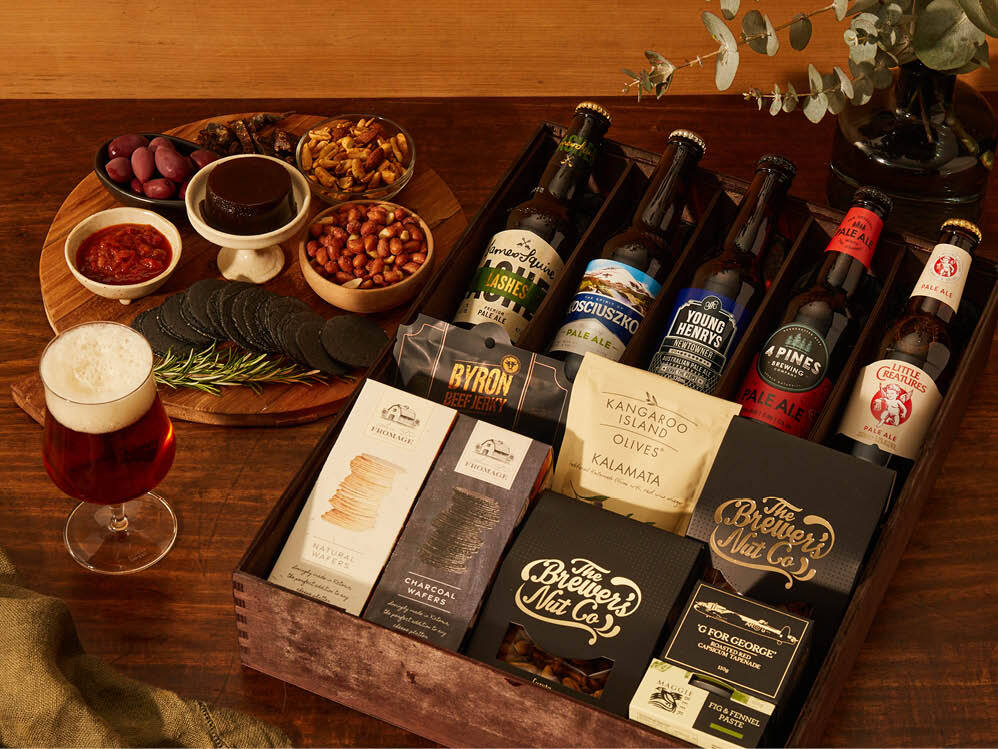 Gift ideas for the best man
For your closest mate who you will be standing beside you as you marry the love of your life, something a little more special is required. A gift for the best man should be something he wouldn't ususally splurge on for himself. A whiskey tasting hamper or premium cocktail hamper is the perfect idea.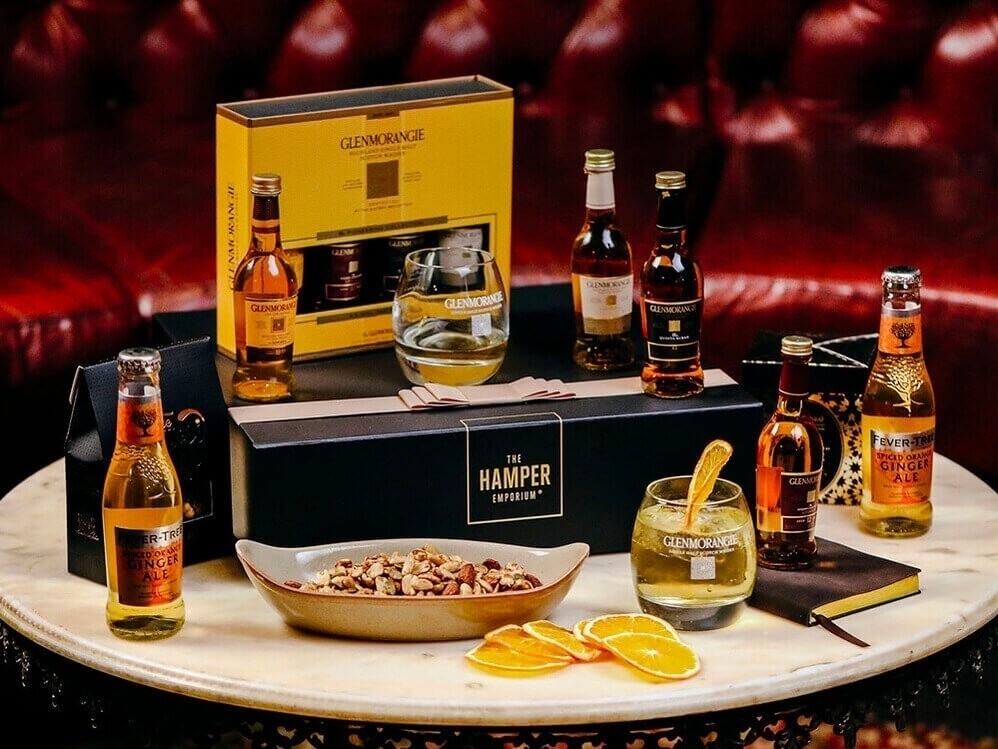 Gift idea for the mother of the bride
This is a big day for bride's mother, and deserves an extra special gift. The Jurlique Rosewater & Moët Rosé Hamper includes the essential bottle of champagne as well as relaxing bath soak, hydrating antioxidant mist, eye mask, sweet nibbles, scented candle and more. It's the perfect balance of cheerful celebration and little pick-me-ups she'll need after a good cry the night before her little girl gets married.
Gift idea for the father of the bride
What to give the father of the bride as a wedding gift to express your love and gratitude? This is a momentous day for him as well. In addition to being your rock and calming voice throughout all the wedding preparation, he's likely going to be walking you down the aisle, making a speech to all of your guests, and sharing a dance at your wedding reception. Only the finest vintage champagne will do as a gift for the father of the bride.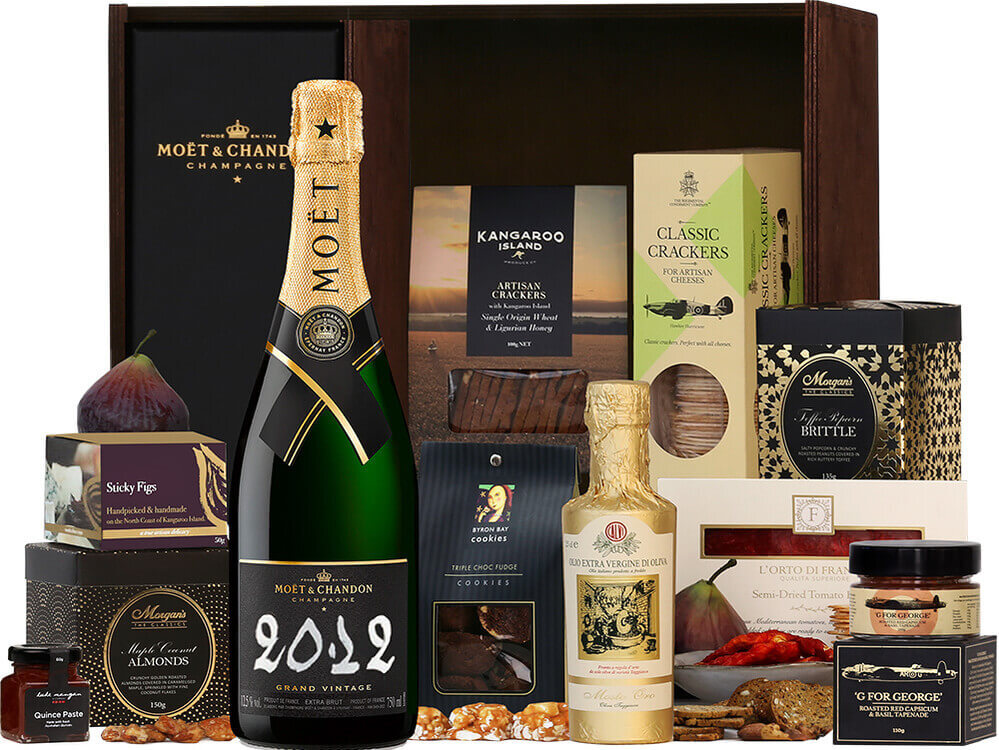 Gift idea for the mother of the groom
Traditionally, the mother of the groom has fewer roles to play at the wedding compared to those of the bride's parent, so she may feel a little left out. It takes no effort at all to make sure you involve her in the planning process and thank her for her support. These days, the groom's parents, and in particular his mother, may take on the responsibility of organising and hosting the rehearsal dinner. The Moët Rosé Impérial & Gourmet Nibbles includes champagne and gourmet gifts that will make any mother of the groom feel well loved.
Gift for the father of the groom
The father of the groom tends to be the trouble-shooter whose role it is to get his son ready for the big day and make sure everything goes smoothly. He will probably also be tasked with giving a speech at the wedding welcoming the bride into the family. A premium scotch whisky hamper packed full of delicious nibbles is a great gift idea for the father of the groom. Best of all, there's plenty for father and son to share for a late evening tipple before the big day.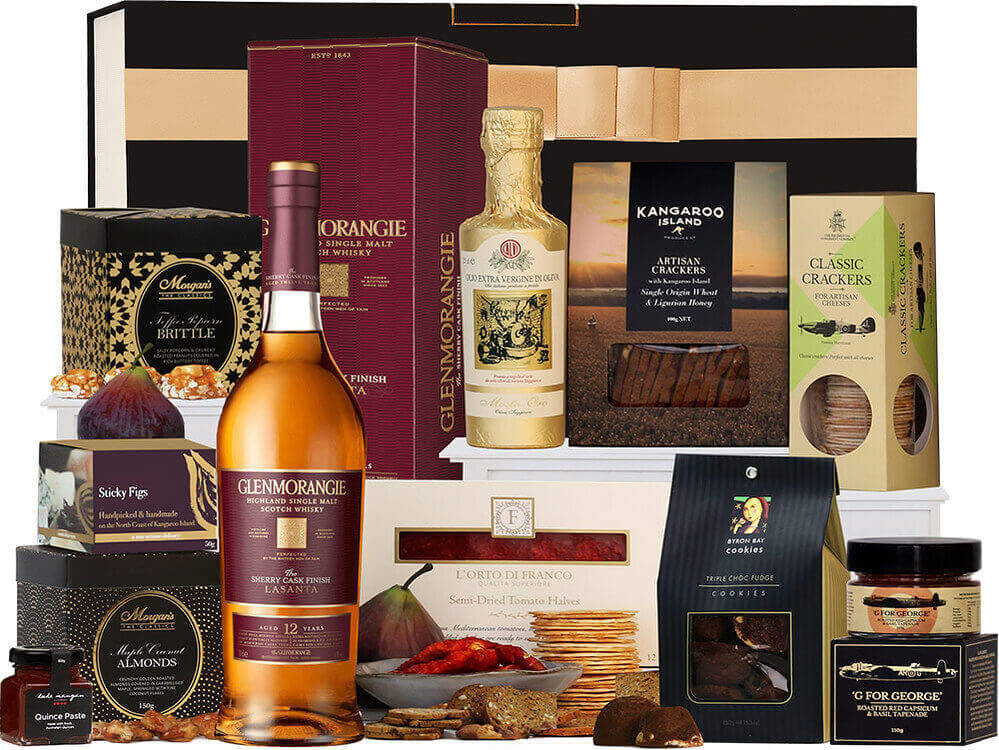 Small gift ideas for wedding attendants
For a small wedding gift that makes the best impression, luxury hampers sum up your feelings in all the best ways possible. Choose a wine gift, or chocolates with a scented candle, or savoury nibbles for an inexpensive bridal party gift idea that will let them know how much you appreciate them. For teenagers, ushers, or even for a grown-up gift for the younger members of your wedding party, delight them with the sweetest bridal party thank you gift ever. A chocolate gift basket full of treats will have them grinning from ear to ear.
No matter what you choose to give as a gift to each and every member of your bridal party, make sure to include a heartfelt card. A few simple words from the heart is all you need to let them know how much you appreciate everything they have done to bring you to this most important day—your wedding day.