Gift Ideas To Win Over Every Wine Lover's Heart
Author: Nikki Barnett Date Posted:12 June 2020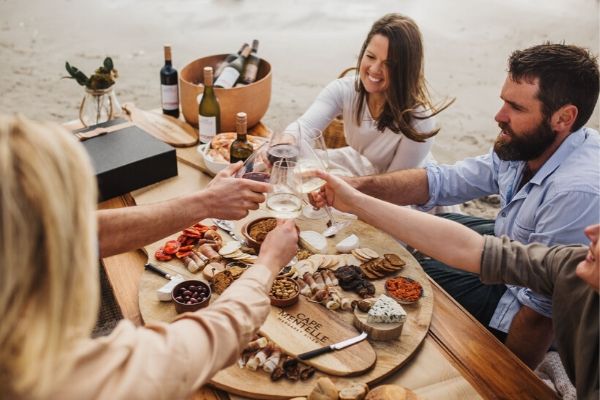 The worldwide language of wine
The earliest evidence of a rice and grape mixed based fermented drink was found in China as early as 7000 BC. After that, it was spread all over Europe by the Greeks and more importantly the Romans. After being adopted as part of the native culture all over the Old World, it quickly gained in popularity everywhere in the New World.
Nowadays wine can be found all around the globe. The Spanish and Italians call it 'vino', the Germans named it 'wein', the Portugese call for 'vinho' and the top producing wine region of the world, France, adores their 'vin'.
The language of wine is universal. That's one of the things that makes wine so special: no matter your age, your nationality, or even your wine preferences, sharing a glass or a bottle always invites mutual pleasure and friendship.
Wine can help to connect and re-connect. Sharing a glass can be a conversation starter or a wonderful tradition between friends.
What gift should I get a wine lover?
An equivalent of 36 billion bottles of wine are produced worldwide each year. Apart from gifting a loved one another bottle of red or white, how else can you win over a wine lover's heart? Everyone is so different. It is important that you choose a present that reflects their personality as much as their style and taste.
Here are some inspirations to help you pick the perfect gift for anyone who likes a good glass (or three) of wine.
Enjoying your vino at home
If the special someone in your life enjoys a few glasses of wine in their own four walls, homewares and decorative items will definitely be appreciated. Gifting beautifully crafted wooden cutting boards, heavyweight bottle stoppers or even an insider guide of wine history will be a winner.
Stylish wine carafes or decanters will add to the glamour in their home and are an elegant and timeless gift idea. Choose a unique wine rack to gift to your connoisseur so they can showcase the variety of wine they love.
Personalised accessories are always adored, especially a box of stemless wine glasses with the gift recipient's initials branded on it. The range of intimate and personalised gift ideas is wide, take your pick from engraved bottle openers to wine lover necklaces, aprons or tote bags.
Add a splash of humour to your friend's household by gifting a quirky bath and shower wine holder. That way a drink can be enjoyed no matter where they are relaxing in their home.
Enjoying your vin on the road
If you need help choosing a perfect gift for those outdoor-loving wine fans, you might have to think outside the wine barrel. Bicycle wine bottle holders, a picnic table for 2 (plus wine) or freezable glasses are just a few ideas to never miss out on a wine in the ideal setting and at the perfect temperature.
Enjoying your wein with a guide
An experience gift is a unique idea for the wine enthusiast that wants to keep learning. Sharing a gift voucher for a wine and food tour or taking a close friend or partner on a region's wine trail shows great intention and interest.
If you know the recipient's partner equally loves the quality of a good wine, send them both off with a gift voucher to the best winery restaurant in their hometown.
Enjoying a collector's vinho item
Understanding and supporting someone else's passion shows love and appreciation. Giving a present of great collector's value can be attractively displayed and will be remembered for a long time. Many of these can suit any size wallet. From an elegant wooden wine box, engraved set of coasters to a wine lovers' clock or a wine journal, these show great attention to detail and interest.
Wine is for sharing
In the end, the very best gift to give a wine lover is good company to enjoy a glass with. Swirl the glass, sniff the wine, taste it together and master your wine drinking skills by practicing a little. Celebrate any special day with a beautiful gift basket full of love and yummy treats.
Here at The Hamper Emporium we love being part of the important moments in your life. We all share the timeless passion for wine and have therefore created a wide range of beautiful wine hampers that suit anyone's taste. The Hamper Emporium delivers Australia wide and offers free delivery for our gourmet food and wine gift baskets.
Browse the gift hamper selection to find one that is perfectly suited to your palate or the one you'd love to surprise and spoil today. We are sure you will find an irresistible gift for the wine lover closest to you.