Gifts For Grandparents Who Have Everything
Author: Michelle Richards Date Posted:27 October 2021
Celebrating Our Wonderful Grandparents All Year Round
Grandparents are simply the best! At their age, they've seen and experienced every aspect of life as individuals, parents and caregivers. Their beautiful souls overflow with the wisdom and understanding that can only come with age. We'd certainly be lost without them in our lives, helping us come to terms with day-to-day experiences, whether joyous or painful.
Unlike parents, grandparents tend to be more tolerant and gentle in many situations. Perhaps that's why they always leave an impression whenever they impart advice, no matter how brief. This unique quality is what makes the older members of society worth treasuring. Whether you're related by blood or not, you will feel an instant connection when you're in their presence.
So, with Grandparents Day 2021 on the horizon, join the team at The Hamper Emporium in a celebration of luxury hampers and gifts for grandparents to remind them of their important role and our abiding love!
Why You Should Gift Your Grandparents With Love
So, how can you show appreciation to older people who have a place in your heart? Depending on the kind of connection you have, there are plenty of ways to show your appreciation and love. From small gifts to fun celebrations and get-togethers, it's all about making them feel extra-special!
Never miss an occasion
A birthday, anniversary or seasonal holiday is always a great excuse to get everyone together and celebrate. Don't worry so much about what to get grandma for her birthday or Christmas; she'll be over the moon spending time with loved ones. Besides festivities, grandparents adore interactions with people, so be sure to invite their friends, neighbours and grandkids.
Revel in Grandparents Day
Remember to add Grandparents Day to your annual family party calendar. Different countries celebrate at different times, but for Aussies since 2010, it's marked on the last Sunday of October. It's a way to remind us that gifts for Grandparents Day celebrate all the great things the elderly in our communities have done, and continue to do, even in their ripe old age.
Celebrate fun milestones
Rather than waiting to organise yearly get-togethers, make up your own special surprise events. Arrange a celebration after your grandma joins Instagram, or grandpa gets a new haircut! You can find plenty of creative, fun ways to keep celebrating their lives. And when you can't be there in person, sending a celebratory hamper will still have the same loving impact.
Make Their Day Perfect By Setting The Scene
Make the festivities you plan even more special by choosing venues they will love. As much as hosting at home makes things comfortable, try celebrating in varied, exciting environments more often. As thoughtful gifts for grandparents go, it'll show just how much effort you put into ensuring they have a truly memorable day.
For nature lovers, plan a day at an outdoor venue, from a campsite to a national park. Treat them to afternoon tea and a short country hike or visit their favourite beach. Just ensure there are amenities nearby, so your day goes without a hitch!

For thrill-seekers, your venue could be an amusement or waterpark. You're sure to come across a few rides they're still willing to try. If they love sports, an action-packed event would be another good option before the day's celebrations begin.

For homely grandparents who don't like too much pomp or fuss, keep things simple and low-key. Make lunch reservations at a classy restaurant or order their favourite gourmet foods to share. That'll provide enough glamour to keep things intimate and cheery.

For those who can't head out to celebrate, no problem, you can always bring the party to them. Pick a fun theme they'll adore and decorate their home! You can even get everyone to dress up, serving food and drinks that complement the occasion.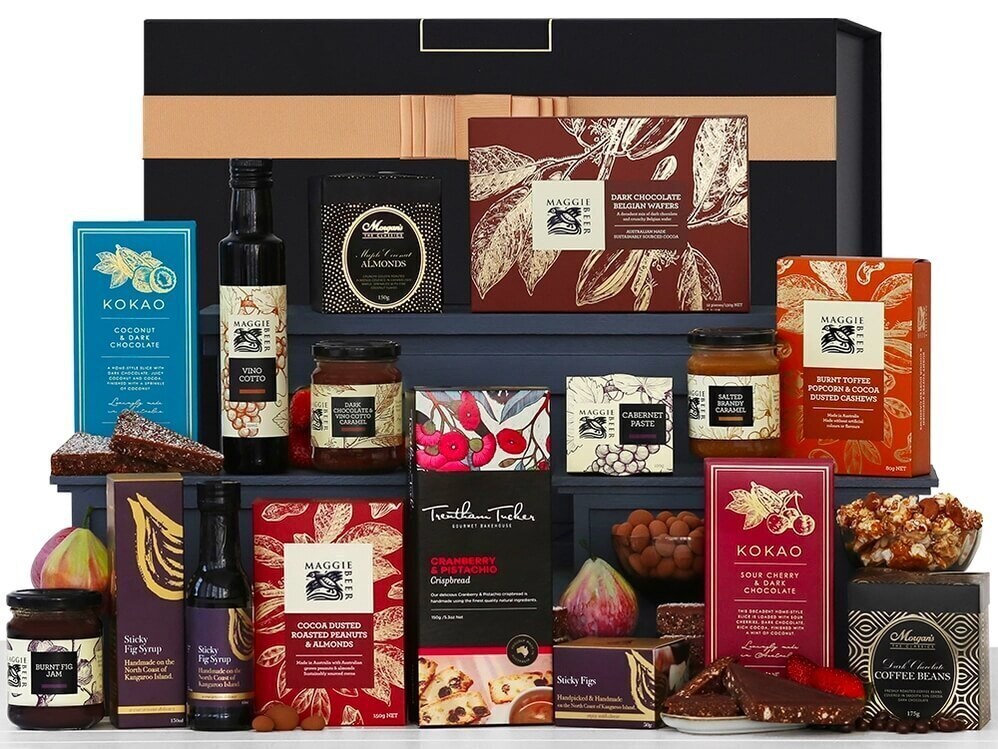 Little Luxury Gifts For Grandma And Grandpa
While organising these lovely events, it's nice to add a few surprise gifts to mark the occasion. This is where things can get a bit tricky since many grandparents have collected a lifetime's worth of present options. But don't despair; it just means getting a little creative!
Sentimental Gifts
Gifts from the heart will definitely earn you brownie points with the older generation. Instead of overthinking about the perfect birthday gifts for grandpa or grandma, take a different approach. Give something personal and homemade, frame favourite photos, or wrap handcrafted cards from their grandkids. They're sure to take pride-of-place at their home for visitors to see.
Foodie Gifts
Gifting food is sharing your love. You could give them a culinary treat by making one of their favourite meals or cakes. If you can't cook, ask them for guidance and have some fun together in the kitchen. Treats of any kind, from chocolates to champagne, are perfect last-minute gifts for grandma or grandpa, especially if they arrive in a gorgeous luxury hamper.
Practical Gifts
For many, being self-sufficient and independent is something they continue to strive for even as they age. If your grandparents fall into this category, something on-trend and practical is worth considering. Options like gadgets or tech gifts that make life easier in any way will get a warm reception. Help keep them on track and make it easier for them to stay in touch with loved ones.
Hobby Gifts
Handy home appliances, DIY kits, books, and tools are all items that anyone with a favourite pastime will love. Anything they enjoy doing with their days, like gardening, cooking or birdwatching, always needs more handy accessories. You could even personalise the items you choose and ensure you're always on their mind whenever they're having fun.
Quirky Gifts
For grandparents that have a great sense of humour and believe in living life to the fullest, your gift options are numerous. It's just about tickling their fancy and their giggle bones with something fun to share. From life-changing experience gifts to practical gag presents, there's something for every personality. You'll celebrate the special day by giving them a good laugh!
Getting Together With The Hamper Emporium
It goes without saying that the older generation is more than worth the effort it takes to appreciate them. They may not be able to run a mile as they did in their youth, but celebrating is something they excel at. Above all else, whenever possible, treat them and spend time with them. Gifts like our luxury hampers are thoroughly enjoyed because they're made to be shared with those we hold dear. Browse our full collection to find pampering care packages for grandma Australia or decadent gifts for grandad Australia. We'll make sure you get together to celebrate life!