Gifts For Pregnant Friends Who Deserve A Little Pampering
Author: Michelle Richards Date Posted:14 December 2021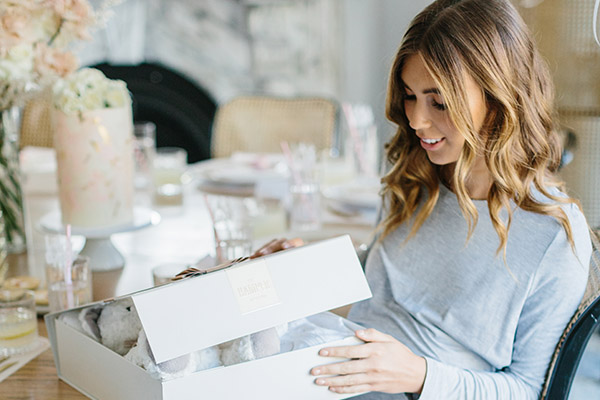 Pregnancy Gifts To Celebrate Life And Love
There's so much to celebrate when there's a little bundle of joy on the way! Wetting the baby's head with a toast to celebrate after baby arrives goes without saying, but there's a long nine month journey in store for your pregnant friend before they meet their little one.
If you're celebrating the pregnancy of a friend or family member, you'll want to shower them with support, smiles and love. And, of course, the perfect pampering congratulations pregnancy gift.
Whether they're a first time mum or expecting baby number five, caring for a tiny new life around-the-clock can be physically and mentally exhausting. Before that happens, you'll want to treat them to life's little luxuries that help a pregnant friend relax and take a minute for themselves. The best pregnancy gifts are ones that are specifically a present for the pregnant friend and not for baby. So, check out these fabulous ideas for beautiful pregnancy hampers and gifts from the team at The Hamper Emporium.
There's something totally indulgent for everyone from gifts to celebrate a pregnancy announcement to ways to pamper a pregnant friend. Get ideas for what to include in a gift basket for newly pregnant friend, luxury gifts for first time expectant mums, excited dads, and those just days away from holding baby in their arms. From small keepsakes to luxury pregnancy gift baskets, these are all thoughtful ideas they'll love.
Favourite Congratulations Gifts For Pregnant Friends
Finding foolproof gifts for a pregnant friend depends very much on the timing and occasion. If they've just announced their pregnancy, beautiful gift baskets are fabulous gift ideas for the first trimester. If it's for a baby shower, bundles for mum and bub are guaranteed to be a hit. If you want the best present for a pregnant friend, not for baby, then practical gifts, gadgets, or luxe homewares will make their lives a little easier.
Mums-in-the-making can often forget to take care of themselves, so sleep, skin, and hydration can all suffer. One of the best gifts for a pregnant woman is pampering, soothing beauty products of any kind. If you'd rather treat her to something simple and gorgeous like a silky dressing gown, that's perfect too. From luxurious items packed in an elegant gift basket to a small sentimental gift to treasure, future mums will be smiling.
10 Thoughtful Ways To Pamper A Pregnant Friend
Pregnancy is an exciting journey of discovery, and sometimes new parents need a little bit of encouragement. In this case, gift ideas for expecting mothers send a big hug and let them know they have your ongoing support. So we've selected the most thoughtful pregnancy gifts, from fun to practical, guaranteed to comfort, soothe and delight.
1. Pregnancy Craving Hampers
What could be nicer than a gift basket full of favourite snacks? You can keep it simple with a supply of all the foods they're craving like crazy, or treat them to a delicious picnic. Take your gift up a level by delivering a selection of gorgeous gourmet foods in a beautiful box they can reuse.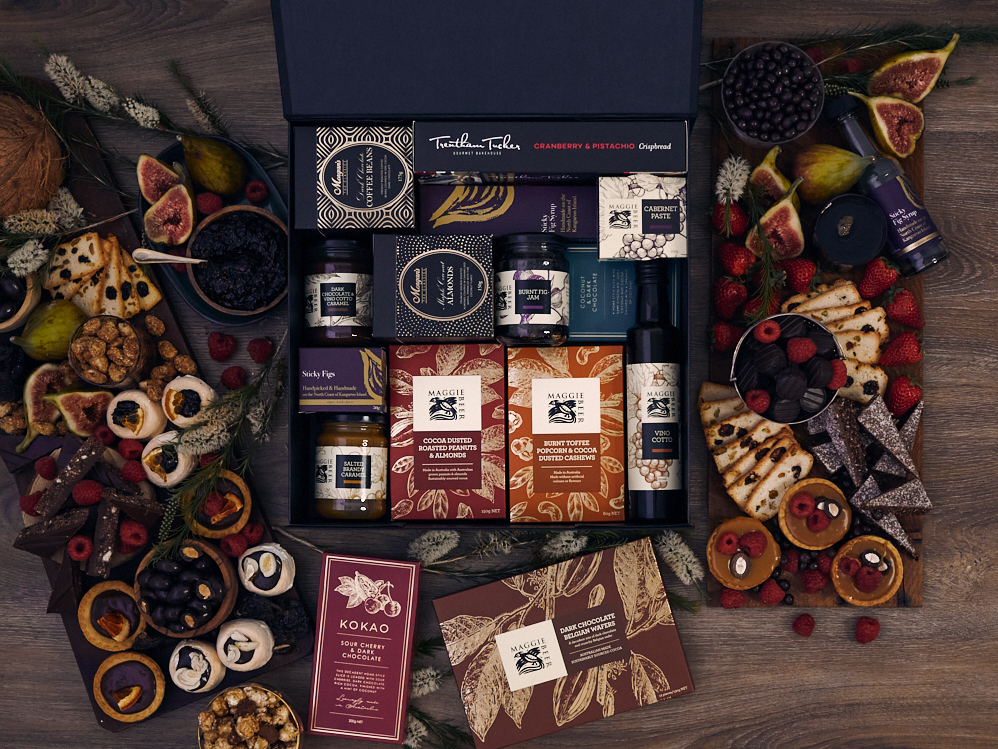 2. Soothing Spa Products For Late Pregnancy
Any mum-to-be will relish the thought of a spa day to soothe her aching muscles. If she'd rather experience the real thing later, then bring a home spa day to her door. Bath salts and soaks, creams and potions, scented soaps, and silky eye masks are all great pampering, thoughtful gifts for pregnant mothers.
3. Something Sentimental for a First Time Pregnancy Gift
Sentimental keepsakes are really thoughtful gifts for a pregnant friend and will be cherished for a lifetime. Choose something beautiful that expresses your love and suits their personality. It could be a unique piece of jewellery, a fun maternity photoshoot, or a gorgeous baby book.
4. Mocktails & Cocktails
Are you asking yourself, how do I make my pregnant friend feel special? Show them they can still enjoy things they're missing! If Saturdays are no fun without mixing and shaking, treat them to ingredients for mocktails they can enjoy while pregnant like flavoured cordials, juices, and fruity spritzers. Or choose a chic cocktail hamper they can save for the big day!
5. The Gift Of Time
Time is precious for pregnant friends, so practical or time-saving gifts can make life less complicated. Give them your own time, bring in cleaning services, or buy them something useful. Anything from a homemade meal to a trendy new slow cooker is sure to be appreciated, especially if they are expecting baby number two or more.
6. Pampering Skincare For A Pregnant Wife
Pregnancy pamper gifts are a wonderful way to help your wife relax and indulge in self-care with soothing maternity skincare products. You can choose their favourites or go for a well-known luxury brand. Add in a richly scented candle and luxurious satin bathrobe, and it's the ideal gift for a pregnant wife from her husband too. Make sure to include a foot rub.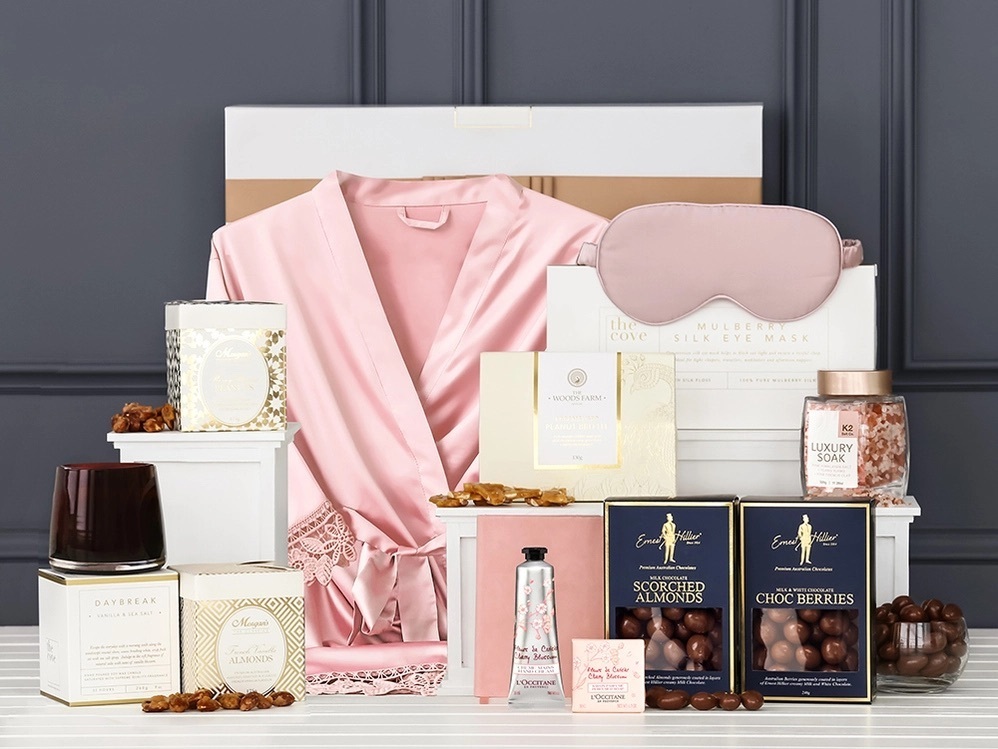 7. Rest & Relaxation During Pregnancy
Fatigue, stress and insomnia can often make pregnancy exhausting, so cuddly, cosy items that help with rest are great choices. Body pillows, snuggly throws, fluffy robes, slippers and socks all make fabulous self-care gifts for a pregnant woman. She'll never go anywhere without them.
8. Luxuries To Share (Perfect For A Pregnancy Announcement)
If you're planning a pregnancy party for a friend, it's always nice to add some elegance with luxury gifts for expecting mothers by adding a bottle of beautiful bubbly. Popping and pouring are sure signs of a celebration and make for a truly memorable moment. Even if they can only take a little sip themselves, they can share it around to include everyone in the pregnancy announcement!
9. Sweet Memories & Pregnancy Mementos
Making special memories is what pregnancy is all about, so a lovely pregnancy diary or planner is perfect. Gifts like a beautiful baby journal, classic photo frames or photo albums will make them smile too. You can even turn baby's sonogram into a piece of keepsake artwork!
10. Newborn Baby Sets
There's nothing wrong with giving someone pregnant something for the little one too. A gift basket for a newly pregnant friend can include cute, cuddly things for little ones, and some delightful treats for parents. They'll be even more excited about welcoming baby into the world.
Shower Them With Love With Pregnancy Gift Baskets
Preparing for a cuddly new arrival, especially the very first, calls for a whole heap of new things. Helping to fill the nursery and keep baby kitted out with essentials is high on most parents agenda. But, we think they need some attention and love too while growing a little new life! Our suggestions for the best gifts for a friend who has recently announced they are pregnant will always be a congratulations pregnancy gift just for them.
Browse our stunning collection of mum to be hampers, and you're sure to find something perfect to spoil pregnant friends. There are celebration pregnancy gifts filled with delights to share with the family, relaxing gifts for late pregnancy, and ideas for pampering of every kind. Of course, there are also some delightful newborn baby baskets filled with treats for both Mum and bub just in case that's what they want most. With free delivery Australia-wide, we're sure you won't be able to resist!