Go Nuts For Our Gourmet Hamper Contents
Author: Nikki Barnett Date Posted:19 February 2020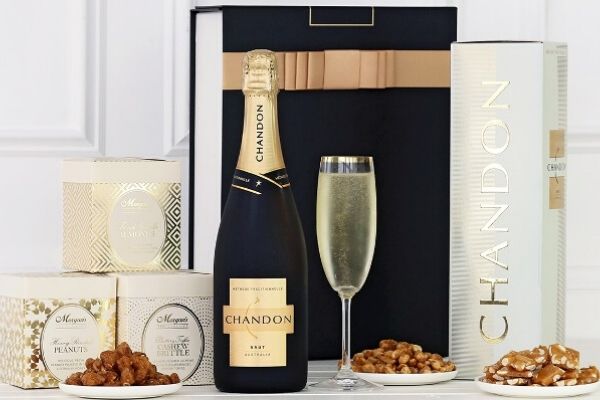 The Hamper Emporium hampers provide a variety of specially sourced ingredients that are selected to complement each other, whichever hamper you choose.
One of our most popular hamper contents are nuts; from creamy cashews to crunchy peanut brittle; savoury nibbles that go perfectly with our selected wines, beers and champagnes. To add to the enjoyment, the nuts come in exciting varieties like the crème brulee roasted peanuts! Very addictive!
Discover Our Gourmet Nut Brands In Our Hampers

So where do we get our delicious nutty hamper contents from? After careful research and lots of fun tasting the products, we decided to include nuts from The Brewer's Nut Co, The Woods Farm and Morgan's.
The Brewer's Nut Co
The company describes itself, as "We Only Mix With The Best', and that fits into our expectations of the exceptional gourmet fare you will find in our hamper contents. Beautifully presented gold embossed packaging and the finest nut blends in Australia, The Brewer's Nut Co offer the perfect selection of nibbles for our award-winning wine, Champagne, beer & spirit hampers.
As another exclusive supplier to The Hamper Emporium, when it comes to quality, we trust Brewer's to create the perfect flavours for our gift boxes every time. Brewer's use only the freshest and best quality ingredients sourced from Australia and the world.
Try the Moët & Gourmet Nibbles Hamper or the Deluxe Ciders Hamper.
The Woods Farm
The rural setting of this sweet farm in NSW produces its own line of artisan nibbles and tasty delicacies that we are delighted to include in our hampers. These mouth-watering treats are among some of our most favourite hamper contents with The Woods farm peanut brittle up there at the top of the list.
Try a real pampering treat with the Moёt and L'Occitane Hamper!
Morgan's
Producing some delicious combinations of nut, fruit and chocolate, who could resist their Toffee Popcorn Brittle with buttery toffee and crunchy peanuts, or the Morgan's Maple and Coconut Roasted Almonds? Both of these tasty delights can be found in the Vintage Moёt Hamper or if you fancy Morgan's French Vanilla Almonds or Cashew Toffee Brittle try the Cape Mentelle Sweet Gourmet Hamper.
What Do You Know About Peanuts?

Peanuts are a popular ingredient to use as a snack to nibble on, to being part of a main savoury dish, but what do you know about them? We thought it would be interesting to introduce to a little more information on this popular food.
Did you know a peanut is not a nut! Nope, it's part of the legume family. That's right; it comes from the pea and bean family and is an annual crop.
The Arachis hypogaea, groundnut or peanut, grows best in warm, sub-tropical temperatures with plenty of water. In Australia, the growing period is best between September and January.
Its botanical name means 'under the soil' and aptly describes how the peanuts grow.
The peanut bush is about 20" high and about 40" wide, that has a yellow flower appear about a month after sowing. These are self-pollinating and quickly fade away after doing so, leaving its ovary base.
The base starts to elongate after the flower disappears, turning into a peg shape that pulls down into the soil. This takes about ten days; once it enters the soil, the 'peg' widens horizontally forming the kernels or peanuts, a process that takes about 10-15 weeks.
The History Of Peanuts
There is archaeological evidence of cultivating peanuts as far back as 7,600 years ago on the slopes of Brazil and Peru. In the USA peanuts were grown to be used mainly as animal food until the early 20th century. China was introduced to the peanut about 400 years ago, where it became a mainstay in Chinese cuisine, more popular boiled or used raw than roasted.
Chinese immigrants to Australia introduced the crop into Queensland during the 1870s gold rush. The fertile volcanic soil around South Burnett continues to deliver the three main varieties of peanut. The Virginia, Runner and Spanish plants.
Virginia has the larger kernel of the three and is the more popular strain.

The Runner plants have smaller kernels and are used in cooking and for making peanut butter.

The Spanish peanut plant matures quicker, and as they have a higher oil content, it makes them perfect for peanut butter and peanut oil manufacture.
Are Peanuts Healthy?
As long as you do not have an allergy to them, peanuts are healthy food. They are a great plant-based source of protein. As a high energy food, peanuts release energy slowly over several hours because of their high unsaturated fat content. They are also high in niacin, vitamin E, folic acid and antioxidants, making them an ideal food.
The Benefits Of Eating Peanuts
Now not only can you enjoy the delectable peanut treats that are part of our hamper contents but you gain extra benefits too!
Peanuts contain the same antioxidants as red wine, so consuming one or the other, or even better, both together, works well at reducing those free radicals that damage our cells.

Consuming peanuts could help prevent gallstones. A 2004 scientific study showed that eating high levels of peanuts reduced the risk of gallstones by 25%.

Peanuts contain copper which is vital for health. The amount in a handful of peanuts is sufficient to provide 47% of the required daily intake of copper.

Peanuts also contain the mineral Biotin and provide up to 88% of the required daily intake from just a daily quarter-cup serving.

The fats in peanuts are not bad for you. In fact, they are packed with healthy heart fats. Similar to olive oil they have 80% unsaturated fat to 20% saturated fat.
Don't forget all our hampers come packed with gourmet goodies and products that are chosen for their quality. These hamper contents are not what you will find in your local stores. Every component of Emporium hampers is thought out, from the mix of products that complement each other, to the beautifully designed gift boxes. Everything that will delight your recipient and make your gift of our hampers that bit more special. Remember also that delivery is free throughout Australia.