Heartfelt Ways To Say Thank You For Your Support During This Difficult Time
Date Posted:23 June 2023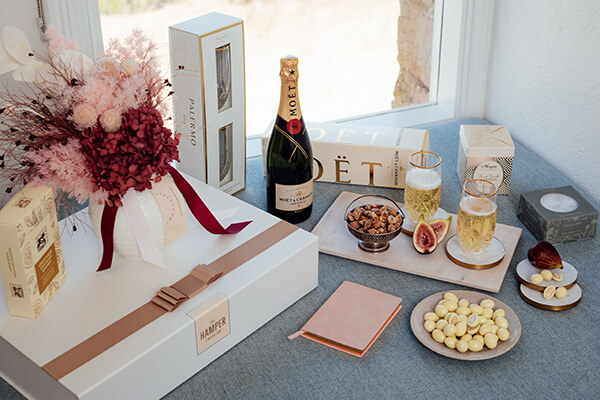 Most people need some support sooner or later when they encounter challenging times. On these occasions, close friends and family members often go over and above to help. Perhaps a caring person cheered you on, offered to take a few things off of your plate, or simply listened and offered emotional support.
Saying "thank you for your kindness and support" can mean the world, as can sending thank-you hampers, but it's often difficult to do when you're overwhelmed and emotionally spent. In this blog post, we'll share some heartfelt ways to say "thank you for your support during this difficult time".
10 ways to repay someone for their kindness and support
Someone's time and attention are two of the biggest gifts they have to bestow on others, so it's important to choose the right words and actions to say thanks. Here are ten ways to say "thank you for supporting me during this difficult time":
#1. Send a thank-you gift
A thank-you gift is one of the best ways to express gratitude, especially if the support you were given was generous and required lots of sacrifice from the giver. A meaningful gift can say "thank you" in a way that words can't – especially if it's the kind of gift someone would never buy for themselves (like a thank-you hamper).
If you're looking for gift inspiration, we recommend any of these three hampers:
Sweet Bites Hamper
As the name suggests, this hamper is full of sugary bites that act as a welcome reward for your helper's sweetness. They'll love Morgan's selection of almonds, Maggie Beer's famous burnt toffee popcorn & cocoa-dusted cashews and vino cotto caramel, Kokao's indulgent coconut slice, and The Woods Farm's caramelised peanut brittle. Selfless acts deserve a sweet taste of good karma, after all.
Chandon With Australian Sweets & Nuts
If you're shopping for the kind of person who appreciates a toast and some naughty nibbles, you can't go wrong with this hamper. Featuring a bottle of Chandon Sparkling Chardonnay Pinot Noir NV, two types of nuts from Morgan's, and some toffee popcorn brittle, it's a gourmet way to reward their kindness.
Chandon Garden Spritz Celebration Hamper
Someone who sparkles with generosity and joy deserves a bottle of bubbly that sparkles with them. This hamper features a bottle of Chandon Garden Spritz with a unique flavour profile of bitters, dried orange peel, and a range of spices and herbs. Accompanying the bottle of bubbly is four varieties of sweet nuts – two from Morgan's and two from Maggie Beer. Give this hamper as a thank-you gift, and we guarantee you'll get an enthusiastic "thank you!" back.
#2. Send a card
A sweet thank-you note or card is an excellent way to express your thanks – and it's a fast exercise in gratitude that almost everyone has time for. Here are five tips from our gifting experts on how to write a heartfelt, genuine message:
Keep it short and sweet – Don't let too many words over-complicate things. A few sentences and some kind words are all you really need.
Be specific – Explain what you're thanking them for and talk about it. Ensure they fully understand the impact their support has had on you.
Reveal your emotions – Be honest about how hard things have been recently and how much you've appreciated their support.
Make it personal – Include their name and write as if you're talking to them.
Avoid being generic - Say thank you for being there in your own unique way. Close friends and family might even enjoy a shared joke.
Go for a handwritten note or card if you can – They'll appreciate the extra effort and personal touch.
#3. Do something for them
Being a great friend means reciprocating and being there for your buddy. Repaying kindness can also generate wonderful feelings and mean the world to some people. You don't have to do anything special or dramatic – you could offer to babysit their kids, walk their dog, run an errand, organise a particularly messy cupboard, or simply cook a meal or two.
#4. Send a video message giving thanks
Video thank-you messages are growing in popularity, and for a good reason, they're personal, sweet, and fun. They're also easy to record – simply grab your family members, hit "record", and pass your phone around to give everyone a chance to say thanks.
#5. Spend quality time with them
Tough times often cause people's closest friends and family members to step up, and if someone you haven't spent a lot of time with proves themselves to be one of your biggest cheerleaders, it's worth investing in that relationship. Maybe you could have them over for a coffee and a brownie, invite their family over for a movie night from the couch, or host a casual backyard BBQ. They'll feel your gratitude and appreciate the invitation.
#6. Pay their kindness forward
Some people don't want to be paid back for the kind things they do for others because they do them to make the world a better, kinder place. If you're close to this kind of generous soul, sometimes, the best way forward is to take your gratitude and funnel it into doing good things for others. That could look like investing more in your personal relationships and being there for people, doing a random act of kindness, or even doing a charity drive for a cause your supporter cares about.
#7. Share your appreciation on social media
If your supporter is an avid social media user, they'll probably appreciate a heartfelt post thanking them for being such a good friend. You don't need to make it mushy or too specific – posting a nice photo of the two of you making memories and captioning it with something like "thanks for always being there" is lovely.
#8. Bake them something delicious
Who doesn't love baked goods? Baking a dozen cupcakes or a tray of brownies (especially if you use Annabel Bower's recipe) is a sweet way to show your supportive friend or family member how much you appreciate their hard work. They'll be able to taste your gratitude with every bite.
#9. Write a simple poem for them
If you're a particularly creative person, writing a poem for someone is a really personal way to say "thanks". Your poem doesn't have to be long or perfect – a simple Haiku or limerick will be appreciated just as much as a sonnet or Shakespearean poem.
#10. Create a piece of art from the whole family
If your kids love producing arts and crafts, you could always ask them to help create a handmade card or a small piece of art as a gesture of appreciation. Your giftee is sure to love it, and it's a great way to teach your kids about gratitude.
How do you thank someone for supporting you in difficult times?
Saying "thank you" when you're going through a rough patch is no easy task. Here are a few ideas on things to say to express your gratitude, depending on your relationship with the person you're thanking:
Thank-you messages for a partner
Thank you so much for stepping up to the plate during this tough time in my life.

Your unwavering support has shown me that I can trust and rely on you through thick and thin. From the bottom of my heart, thanks.

We laugh, we love, we cry together, and when things are tough, I know I can rely on you. Thank you.

Your support has helped me handle one of the toughest periods of my life with grace and reason. Thank you for always being on my team.
Thank-you messages for a friend
You're a truly wonderful friend, and I hope I can repay your kindness. Thank you for your support.

Dear friend, you've been my biggest supporter during this tough period. Thanks for being my cheerleader – your efforts haven't gone unnoticed or unappreciated.

You're a really good friend, and I love you. Please accept this small token of appreciation as a sign of my gratitude.

You've been a real friend to me lately. I just wanted to let you know that I noticed, and I appreciate it more than you know. Thanks for being you!
Thank-you messages for a parent or close family member
Thank you so much for your support with the kids – you've given me a real leg-up.

Thanks for being there. You've always been there for me, and I appreciate you going out of your way to be there for me recently.

You've always been my shoulder to cry on. I don't know what I would do without you. Thank you!
Thank-you messages for a colleague or boss
Thank you for all the support. This has been a challenging period in my life, and it's been such a weight off my shoulders to know that I don't have to worry about dropping the ball at work.

You're a very helpful person, and I'm lucky to have you on my team. Thanks!

Thanks for covering for me in my absence. You're a real asset to the team.

Thanks for being so understanding with me in the past week. (Company) is lucky to have you.
Thank-you messages for an acquaintance
Thank you for your kind words and well-wishes. I'm sure there's lots of good karma headed your way.

I just wanted to say "thanks" and show my sincere appreciation. You've been a lifeline this past week!

You should start wearing a whistle and a yellow top. You're a lifesaver!
FAQs about ways to say "thank you for being there for me"
Saying "thanks for your support during this tough period" doesn't often come naturally. In this section, we'll answer the most common questions about expressing gratitude.
What can you send someone to thank them for their support?
Here are some thank-you gift ideas:
A hamper
A bouquet of flowers
A box of chocolates
A gift voucher
A bottle of wine
How do you thank someone for supporting you in difficult times?
Sending a thank-you card and gift is one of the best ways to say "thanks". If you're looking for some inspiration on what to write in a card, here are some captions you could use:
Helen Keller once said, "The best and most beautiful things in the world cannot be seen or even touched – they must be felt with the heart". Your support for me has touched my heart. Thank you.

You should start wearing a whistle and a yellow and orange shirt – you're a lifesaver. Thanks for all your support recently. I couldn't have done it without you.

The way you treat me during tough times makes me realise that you're what Walter Winchell would classify as a "real friend" – "A real friend is one who walks in when the rest of the world walks out." Let's walk together.
How do you say "thank you for your kind support as always"?
There are many ways to say "thanks", including giving someone a card or present, baking them a sweet treat, taking something off of their plate, sending a video message, making them a piece of art or a poem, and paying their kindness forward.
How do you say "thank you for your kindness and support"?
Here are some ways you can say "thanks for your support and kindness":
Do something for them
Send a hamper
Make a card
Record a thank-you video
Spend some time with them
Create a piece of art for them
Make them a meal
Send hampers straight from the heart at The Hamper Emporium
Saying "thanks" to good friends, family members, and coworkers isn't always easy, but it means a lot to the people who worked hard to support you during a difficult time. In this blog post, we shared ten ways to say "thanks", including sending a card and a hamper. If you're interested in sending a hamper, we recommend one of these popular thank-you hampers:
Sweet Bites Hamper
Chandon With Australian Sweets & Nuts
Red Wine & Sweet Bites Hamper
Moët With Australian Sweets & Nuts
The Ultimate Foodies Hamper
The Hamper Emporium's hampers come with free shipping and a customisable card. They're beautiful and thoughtful, and your giftee will love them.