Heartfelt Ways To Say Thank You For Support In A Difficult Time
Author: Michelle Richards Date Posted:26 May 2022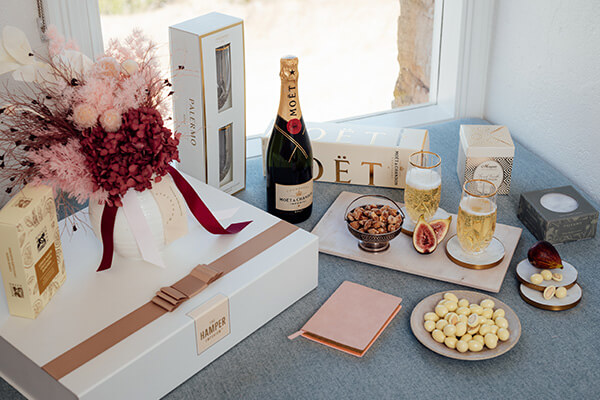 Messages To Say Thank You For Being There
Most people need some support when they encounter challenging times in their life. For many of us, there are occasions when someone has gone over and above to help. Perhaps a caring person cheered us on, offered a friendly hand on our journey, or simply listened and offered emotional support.
The reasons we might need to express our gratitude are almost infinite. From thanking a friend for being there following a loss, thanking coworkers for helping you through a difficult time at work, or for thanking clients for sticking with you during a difficult business period, saying thank you for your kindness and support can mean the world.
Finding the right words to say thank you and show appreciation conveys how deeply their kind gesture has touched us. Small thank you gifts can also be a beautiful way to show gratitude and make them understand the value of their help or encouragement. Whatever you decide, it's sure to make the recipient feel warm and wonderful.
How Do You Thank Someone For Supporting You In Difficult Times?
When someone gives you their time and attention, it's an expression of selflessness. There are many reasons to be grateful, and how you thank them will depend entirely on the circumstances. Deciding on exactly how to express your gratitude in words is well worth the time and effort. It's not really complicated; you simply need to speak from your heart.
Here are 5 tips on how to say thank you for being there with sincerity:
Short and sweet - don't let too many words over-complicate things. A few sentences and some kind words are all you really need.




Be specific - explain what you're thanking them for and talk about it. Ensure they fully understand the impact their support had on you.




Reveal your emotions - say thank you in a genuine way that shows them how you feel. Use heartfelt words that are specifically for them.




Make it personal - include their name and write as if you're talking to them. Add details only they can know about the support they gave you.




Avoid being generic - say thank you for being there in your own unique way. Close friends and family might even enjoy a shared joke.
How To Repay Someone For Their Kindness And Support
If someone goes over and above to show you kindness, it's because they choose to. You're not obligated in any way, but showing appreciation is significant to both parties. Saying thank you for your support during this difficult time can take many different forms. In some situations, especially following a loss or reaching out to say thank you after receiving a sympathy hamper or condolences, a simple message is all that is required. In a business situation, a physical expression of gratitude with a thank you gift for clients will go a long way to showing you recognise and value their support.
For ideas for what suits your situation, you might also like to try one of these unique ideas:
Show your friendship
Let them know face to face just how much you value and appreciate their friendship and support. Sometimes saying thank you and letting them know what a caring person they are is the greatest compliment.
Make small gestures
Repaying kindness can generate wonderful feelings and mean the world to some people. It can be anything from sending flowers or taking them for an impromptu lunch to offering to run an errand or babysit the kids.
Send a video
Video thank you messages are perfect for long-distance family and friends. Whether they pulled you through hard times or made you smile, you can thank them for their help across the miles in a really warm, personal way.

Use social media
If your lifesaving friend uses social media, then posting a lovely compliment is a great way to say a public thank you, especially for a client or coworker. Other connections will see your comment and be able to add their own thoughts and share in the moment.
Pay kindness forward
Often the very best way to repay someone for their help is with an act of kindness to someone else. This way, you'll feel like a million dollars, and one helpful gift is transformed into a network of much-needed, uplifting support.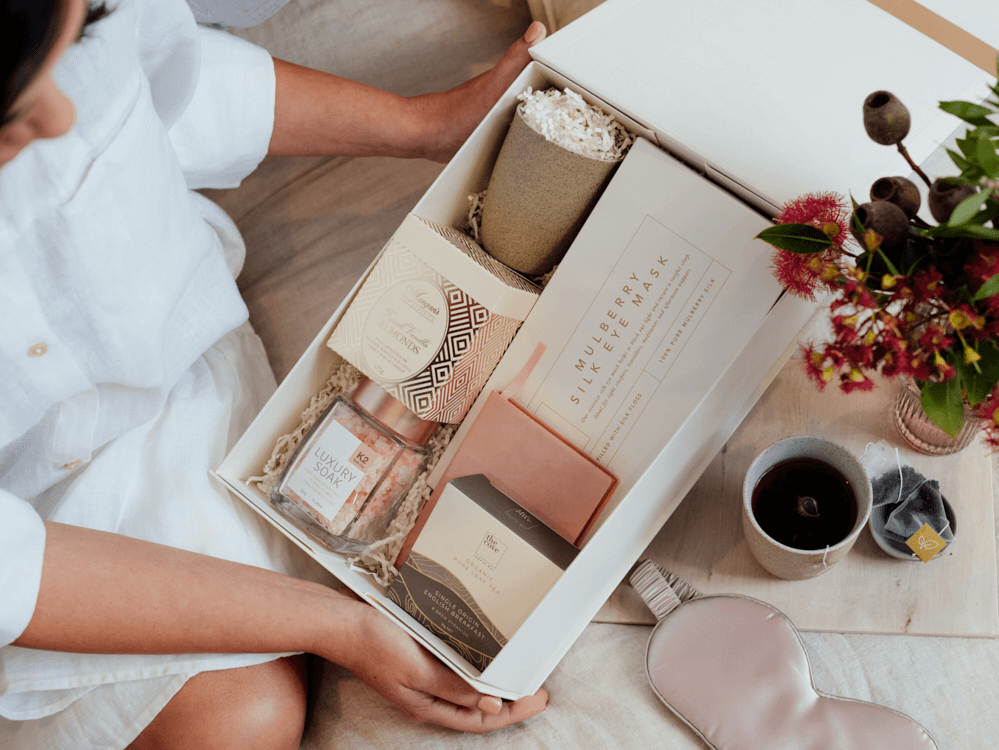 What Can You Send Someone To Thank For Support?
Saying thank you for your kindness and support and showing gratitude is a vital part of most relationships. Thank-you notes have their place, but you may feel they're simply not enough in some special situations. If you've been having a particularly challenging time, a beautiful and thoughtful gift can often express your feelings in a unique way. The perfect appreciation gifts for support will be different for each person, so find out their favourite things and interests.
Here are our top ideas on thank you gifts for support and caring they'll love.

Send your thanks in a memorable way with a package of pampering treats. Gifts that keep on giving are aromatic candles, stress-relieving products and luxury skincare. Few things are more appreciated than some relaxation time.



Inspiring keepsakes are small gifts that make a big impression. Choose anything from a wall plaque to mugs or fridge magnets that put your feelings into words. This heartfelt sentiment is sure to bring a smile every time it's read.



If you can't thank them with homecooked food, treat them to some gratuitous goodies. Choose thank you hampers filled with gourmet foods and cheeses, chocolates, premium drinks or assortments of delicious nibbles.


Gifting a beautiful flower hamper, potted succulents or flowering plants is a caring way to share your feelings. Be sure to choose their favourite colour for a thoughtful thank you gift that will be treasured and enjoyed for years to come.


The best thank you gifts are practical, useful, and show your gratitude in a very personal way. Opt for gorgeous homeware, coffee table books, decorative glassware or anything connected to their favourite pastimes.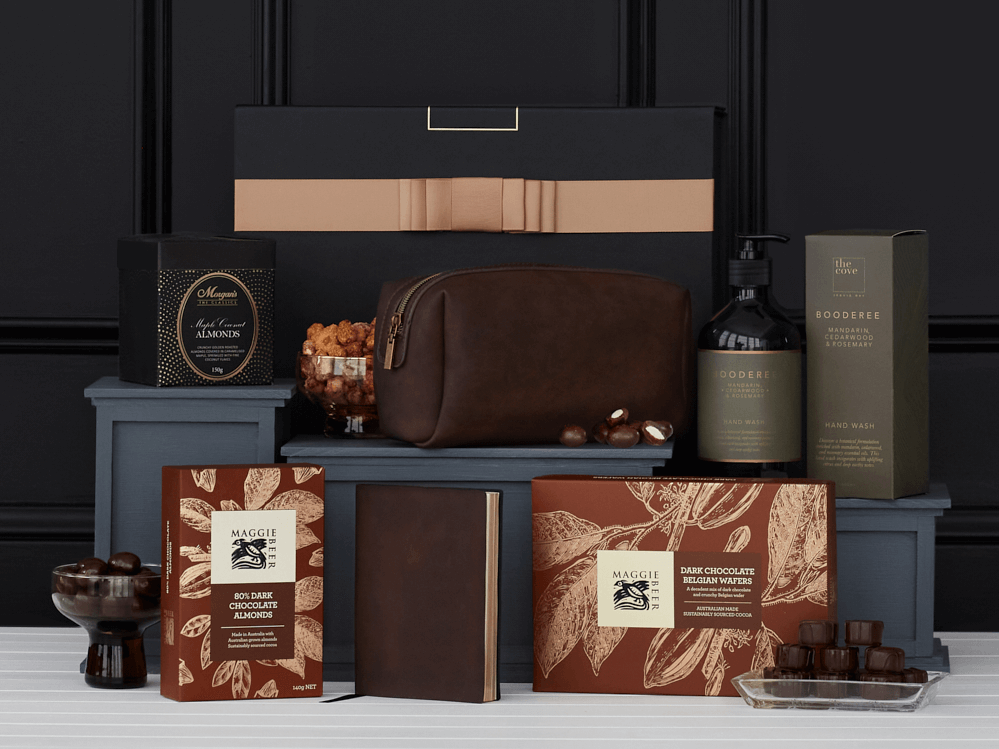 Hampers Straight From The Heart At The Hamper Emporium
What to buy someone to say thank you? When you receive a kind word, a special favour, or loyal support, saying a big thank you is easier than ever. Our handcrafted gift hampers are designed to blend a taste of luxury with beautiful gifts or useful homeware. You'll find boxes of delicious treats, indulgent gourmet food and drinks, and hampers brimming with life's little indulgences. Whether it's for family, friends, your boss or clients, you can show your sincere appreciation and say thank you for being there and saving the day!