Practical Housewarming Gift Ideas To Congratulate New Homebuyers
Author: Michelle Richards Date Posted:8 February 2022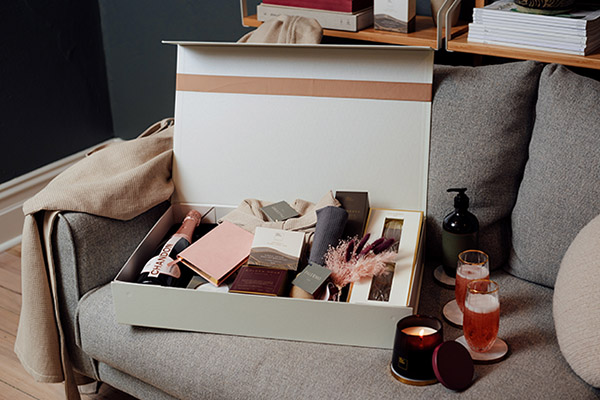 Housewarming Gifts For New Home Owners
Moving to a new home, particularly as a first home buyer, is hugely exciting! It's a completely fresh start with all the fun of planning those personal touches that make it your very own. Not to mention it's an excellent reason for a housewarming party!
The process of moving can also be a frenzy of activity and sometimes overwhelming, too. So, housewarming gift ideas can be much more than a genuine welcoming gesture. They can bring back warm memories, ease the stress, provide useful items and even deliver much-needed food on the day. For someone who has long dreamed of owning their own home, giving them a celebratory champagne and chocolate housewarming hamper to enjoy on their first night in their new home is a magical experience.
How To Choose The Perfect Housewarming Gift
Tracking down precisely the right gift doesn't need to be tricky, though. Whether they like stylish decor, practical personal touches or fun features, there's something that will suit them perfectly. When it comes to housewarming gift ideas for friends and family, cast your net wide and use these seven guidelines to help:
Make it thoughtful and personal

When in doubt choose a gift that's beautiful to look at

Don't overthink it, make it something they will enjoy

Still can't decide? Great housewarming gifts are often useful in some way

Home buyers love a gift that helps them get organised

A gift for the home should reflect their personality

When in doubt, give a housewarming present that offers a little indulgence
Whether they are settling into their very first home or moving to an improved one, they are sure to appreciate a helping hand or indulgent treat. It's a significant milestone event, so there really is no better way to celebrate than with a carefully chosen gift that's inspired and unique.
Most housewarming gift ideas are either personal or practical. However, we've had fun brain-storming some that can combine these two elements and are sure to impress on moving day.
8 Housewarming Gift Ideas That Are Proven To Bring A Smile
Do Kitchen Gifts Make Great New Home Presents?
You can never go amiss with kitchen items, particularly for a new homeowner. Handy tools like storage containers, serving bowls and specialty cookware are functional options which can also be personalised.
Basic housewarming gift ideas like beautiful ceramic pans, guest crockery or crystal glasses are always a hit. Cookery lovers will appreciate specialty items like chef's knives, hand-carved cutting boards or the latest gourmet cookbook.
Outdoor Gift Ideas For The Garden & Yard
Outdoor decorations, pots and gardening tools are a great idea for those with a newly acquired garden or yard. Housewarming gift ideas could include deluxe gardening tools, designer seedlings or pretty terracotta pots.
Décor like mobiles and wind chimes or even a garden sculpture may be ideal for some. Everyone also needs a toolbox or belt in a new home! Provide the basic necessities like a hammer and screwdrivers and include some luxury items such as a sturdy torch.
Relaxing Spa Treats For At Home Pampering
If you are searching for decadent and pampering gift ideas to welcome them to their new home, then relaxing bath and spa treats are a great solution. Bath salts, aromatherapy oils and pure soaps are sure to bring a peaceful moment when the moving chaos is finally over for the day.
Candles and fresh scents always evoke feelings of home and warmth, so rich and subtle aromas should be a winner too. Include those little extras that always go missing during a house move, like flannels, new soft towels or a book of matches.
Luxurious Fresh Snacks To Spoil Hungry Tummies
You simply can't go wrong by gifting some mouth-watering food to keep them going during the move. Whatever they love will not go amiss, from specialty chocolate to crunchy energy bars.
One of the very best housewarming gift ideas is to pack an icebox with delicious sandwiches and cheeses, cakes and luxury desserts. Alternatively, source some scrumptious fresh goodies from the local bakery or why not order a tempting gourmet food and wine hamper? Moving to a new home is hungry work! And there's nothing better than having a bottle of champagne and gourmet nibbles to enjoy on a first night in a new home.
Customised Accessories To Make Home Feel Extra Special
A personalised gift, especially including their name, is a unique way of saying 'welcome to your new place'. You can opt for something that suits their personality from a host of customised items from artwork to cushions and throws.
Adding an individual touch to simple housewarming gift ideas like mugs, coasters or glasses adds a personal touch and a good feeling to the occasion. Any new home also needs a sturdy welcome mat - now that could really be fun customising!
Colours Of Nature
Fresh flowers and green, leafy plants can brighten up any space and add an instant burst of colour and life to a new room. Look for something that will last well and is low maintenance, then add a beautiful vase or elegant pot that can be kept forever.
If they have a garden, then you could even buy a favourite rosebush or baby tree. Lovely housewarming gift ideas like this can be enjoyed and nurtured by everyone over the years to come.
Essential Gift Vouchers Make Fabulous Housewarming Presents
While this may not be your first choice of housewarming gift ideas, vouchers can prove extremely useful to house movers. It is seriously hard mental and physical work! A gift voucher to choose their own hamper, for a spa day, relaxing facial or massage will never go amiss.
Professional cleaning services are another treat that will undoubtedly come in useful after all the unpacking has been done. A thoughtful gift voucher for a tasty home-delivered meal or evening out is also guaranteed to thrill.
A Small Memento
Housewarming gift ideas don't always need to be expensive thoughts. Sometimes just treating them to a bottle of their favourite tipple or bubbly champagne to savour and celebrate with can speaks volumes. A cosy new blanket, faux fur throw or a fluffy cushion are all wonderful ideas.
So are photo frames and albums, candlesticks, books and a hundred other small items. A chunky keyring for their new house keys is a necessity and will always go down well! Homewares hampers with a robe, glassware, and kitchen gifts are another nice idea.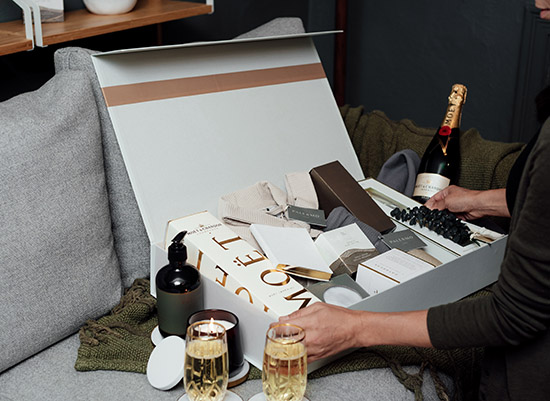 Is A Housewarming Gift Essential?
The best housewarming gift ideas combine practical use with a sentimental thought. Choose an item that also fits their personality and lifestyle and don't worry too much about it.
The most important thing is the thought, and whatever you buy or make will be appreciated. Remember also that the best gift can sometimes be a helping hand on that all-important moving day!
You can find a host of luxury housewarming hampers and fabulous housewarming gift ideas at The Hamper Emporium to get you started today.
We also have a full range of corporate real estate hampers if the person on the move happens to be one of your valuable clients!