How Do You Pronounce Moët?
Author: Michelle Richards Date Posted:30 March 2020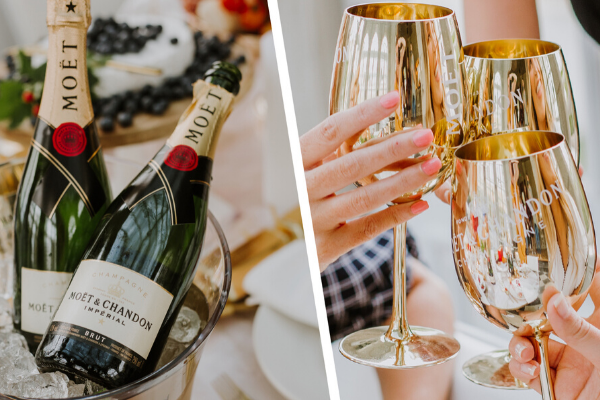 If you're like 95% of Australians you've probably been pronouncing Moët wrong all your life. Moët is French, right? So along with those hors d'oeuvres and escargot, it would be fair to assume that half the consonants would be replaced with a breathy French sigh.
You would be wrong.
Surprisingly, Moët is pronounced with a hard 't' and not a silent 't' as is typical for most of the French language. You could pronounce Moët as mo-wet or even moh-et, but it's definitely not moh-way.
Why is Moët Pronounced Mo-Wet?
The French fine winery Moët et Chandon was established as Moët et Cie (which just means Moët & Co.) in 1743 by Claude Moët. While Claude Moët was born in France in 1683 and his vineyard is in France, his family was of Dutch heritage. Over the generations, they kept the original pronunciation of their family name, and in Dutch, the 't' is not silent.
The Moët winemakers became Moët et Chandon in 1833 after Pierre-Gabriel Chandon married Adélaïde Moët, the great-granddaughter of Claude Moët, and joined the winemaking family.
Need More Help Pronouncing French Wines?
If you want to start expanding your wine knowledge along with your personal wine cellar, it's important to know how to pronounce popular French wines. To start:
Moët et Chandon is pronounced Mo-wet et Chan-dawn
Dom Pérignon is pronounced Dom Peh-ree-nyon
Veuve Clicquot is another popular French champagne. It follows the rules you would expect and is pronounced Verv Kli-koh. Veuve Clicquot is often compared to Moët Impérial as an easy-drinking and fine French champagne.
A Brief History of Moët et Chandon and Their Most Popular Wines
Since Moët et Chandon was established in 1743, it has become world-renowned for producing the best champagne. Today, the House of Moët & Chandon continues to produce the finest quality champagne with vineyards throughout the French Champagne region and wine cellars in Épernay. Moët et Chandon is part of the LVMH luxury group (Louis Vuitton Moët Hennessy) and is the biggest-selling and most popular Champagne in the world. The exclusive winemakers even hold a Royal Warrant to supply their best champagne to Queen Elizabeth II of England, so you know they must be good!
Moët Impérial is the House's iconic champagne and is Australia's favourite celebration wine to toast to a special occasion. It was first produced in 1869 and continues to be the most popular champagne in Australia and around the world. Its unique style is distinguished by its bright fruitiness, seductive palate, and elegant maturity. The Brut Imperial NV Champagne is an exquisite blend of Pinot Noir, Pinot Meunier & Chardonnay – the three grapes that are considered to produce the perfect champagne.
The most famous of Moët et Chandon's wines is their premium Dom Pérignon prestige vintage sparkling wine. Dom Pérignon is always made as a blend of Pinot noir and Chardonnay grapes, and it is always made as a premium vintage champagne. This means the champagne is produced only in the best grape seasons, and only grapes harvested in the same year are used by the vintners to produce the premium vintage champagne.
How Good is Moët & Chandon Imperial Brut Champagne?
The Moët Impérial Champagne is a non-vintage Champagne that drinks incredibly well. It offers a perfect balance between its mineral dryness and creamy, smooth texture with a wealth of ripe fruity flavours. The palate is light and fresh, with a slight floral and citrus sweetness balanced by an underlying acidity. Its fine bubbles and rich flavour puts it on top of our list of favourite champagnes.
How Does Moët Impérial Compare to Other Champagnes?
If you are looking for a champagne or wine gift, Moët Impérial is a genuine French Champagne that will please even the most sophisticated wine drinker. Moët Impérial has a lightness and balance generally only available in more expensive sparkling wines. If you're new to champagne, or you're introducing a friend to the world of sparkling wines, Moët's selection of fine wines is a great place to start. They'll love the smooth buttery and toasted character that derives from the Moët Impérial's long ageing on lees, followed by layered fruit flavours of ripe grapes. Best of all, the delicate bubbles make every glass an experience.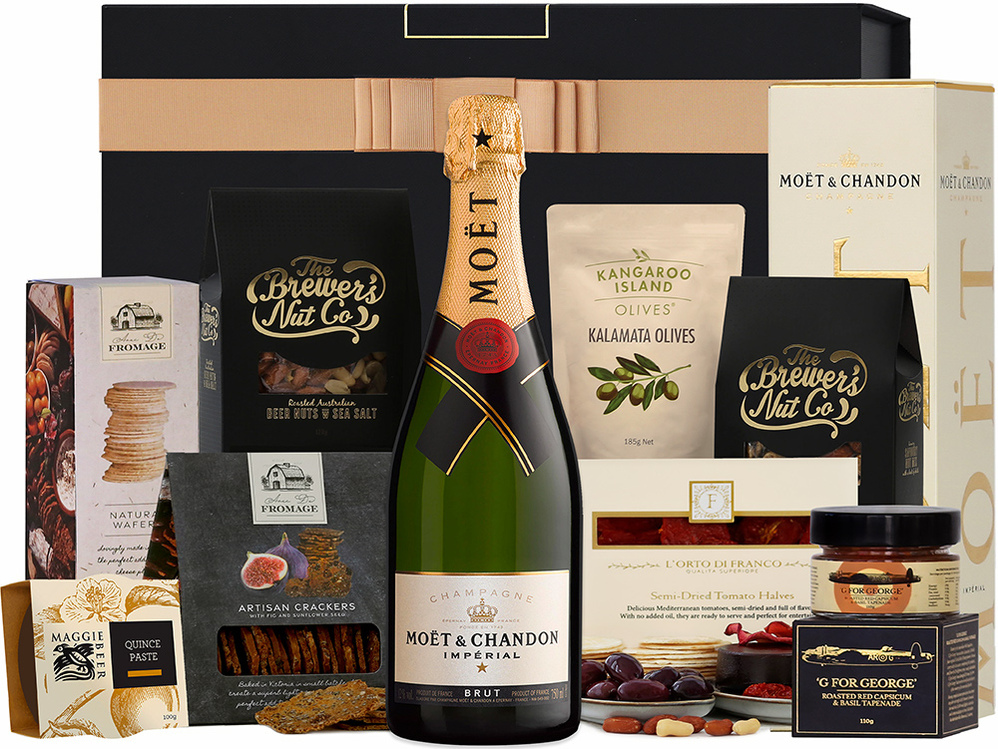 If you are looking for a fine champagne to offer for a special occasion, Moët is a great choice. It's an affordable bottle of bubbly that will impress your experienced wine drinking friends, and its easy-drinking flavour is perfect for an afternoon or evening event. We recommend sending a gift hamper with champagne as a present to anyone celebrating a special occasion. As a gift, Moët Hampers & French Champagne are perfect for a wedding anniversary, Valentine's Day, milestone birthday, to celebrate a job promotion, or a friend's engagement. Now that you know how to say it properly, you can proudly present your wine gift to your friend without an embarrassing French faux pas.
For the best special occasion, gift ideas that include a bottle of wine, browse our gourmet food and wine hampers, or our range of pamper gifts with champagne for something special for your next important occasion.