How To Choose Your Christmas Hampers Online
Author: Nikki Barnett Date Posted:29 September 2020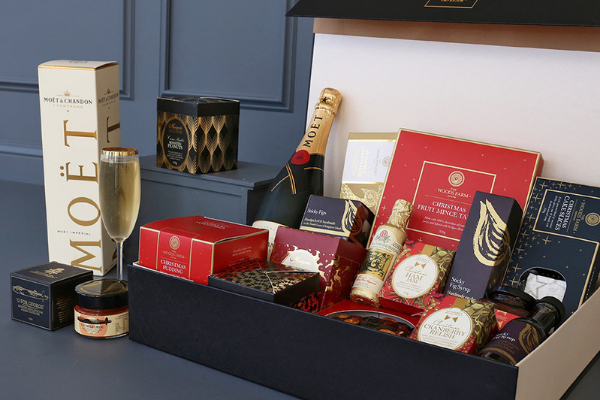 5 tips for finding the best online festive hampers
Yes, it really is time to start that wonderful countdown to Christmas!
This year, more than ever, many will be relying on the internet to send warm wishes, seasons greetings or hugs to friends near and far. Here at the Hamper Emporium, we are already stocked up online and starting to feel that delicious thrill in the air.
Distinctive Christmas hampers are always a great choice since they are overflowing with festive cheer. Delicious and decadent seasonal items, loved by everyone, delivered in beautiful packaging.
There's a flawless gift for clients, workmates, friends and family with so many gorgeous options. Choose from indulgent gourmet food and luscious choccies to lively champagne and pampering packages.
How to choose the right Christmas hampers
We make ordering online straightforward and enjoyable at The Hamper Emporium. But, just in case this is your first time, here are some tips and tricks to make your experience smooth. The perfect festive gifts for the loved ones in your life are waiting!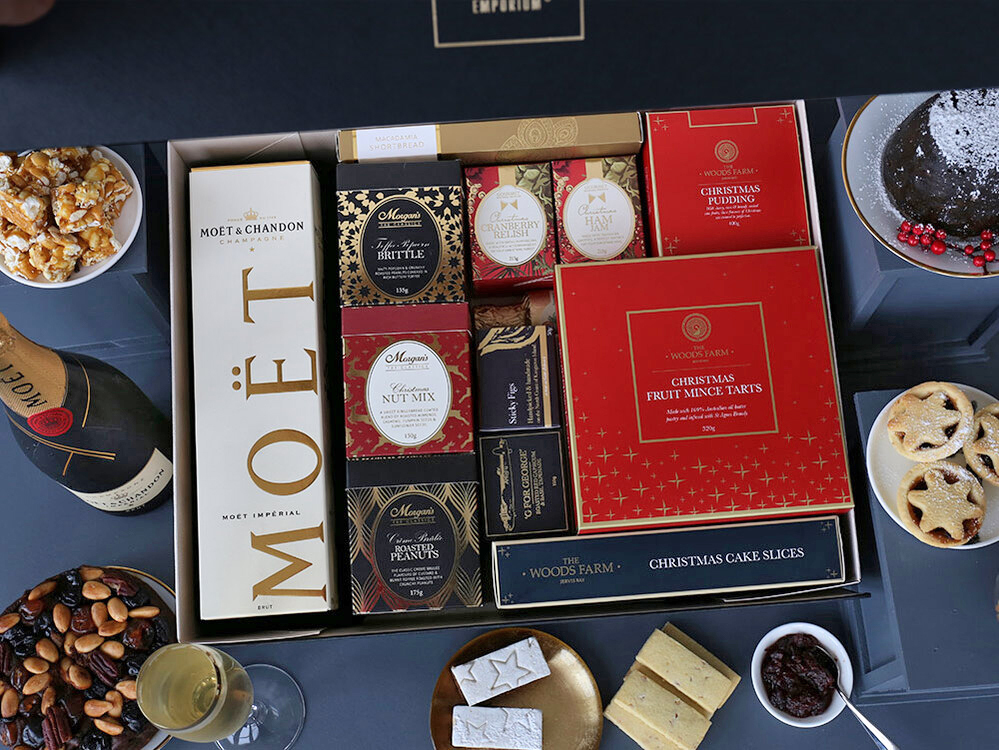 1. Think carefully first
Any gift hamper should be choc-full of goodies that reflect their personality and tastes. Maybe they are a lover of red wine, a beer enthusiast or a champagne connoisseur. A sweet tooth needs lavish chocolates or cookies, and sophisticated tastes need true indulgence and pampering. Choose accordingly, and we will take care of all the mouth-watering and cheery Christmas extras.
2. Mix and match
Are you buying for colleagues, clients or acquaintances? Then it's easy to find online Christmas hampers with a delightful mix of flavours, treats and textures. Choose one which offers a little bit of everything from sweet and buttery to aromatic and savoury items. You are sure to find many festive hampers that have a gorgeous mix of flavours and gourmet delights.
3. Explore the contents
Take some time to browse through the delicious list of mouth-watering contents before you decide. All our Christmas hampers and Christmas gift baskets are bursting with festive cheer, but each one is slightly different. There's no reason to settle for the first one you see. Have fun delving into everything from Woods Farm handmade Christmas cake to Morgan's Christmas nut mix!
4. Adore the presentation
Exquisite contents alone are not enough to ensure a perfect Christmas hamper. The presentation is also important - visual appeal is all part of the experience. We select our products and pack our online hampers with love. Each one is immaculately presented in a stunning black keepsake box with stylish cream paper and gold satin ribbons. You can even add a personalised gift card and note with your joyful festive greetings.
5. Don't be late
Waiting for the last minute to order online gifts is never a good idea during the holiday season. Start your search early; take your time, and make thoughtful decisions. All our sumptuous Christmas hampers are delivered free Australia wide, and you can track them straight to their doorsteps. Think how fabulously tempting they will look sitting under the lights of the Christmas tree!
Spectacular corporate Christmas hamper ideas
Merry Christmas gift baskets are wonderful for clients and colleagues. It's the season to spread joy and love and show them how appreciative you are of their ongoing support. All our online Christmas hampers can be professionally and tastefully branded with your corporate colours and soft satin ribbons. You can also order in bulk and include customised products for that added personal touch. Browse our full corporate range for the ultimate in festive cheer and gift-wrapped delight.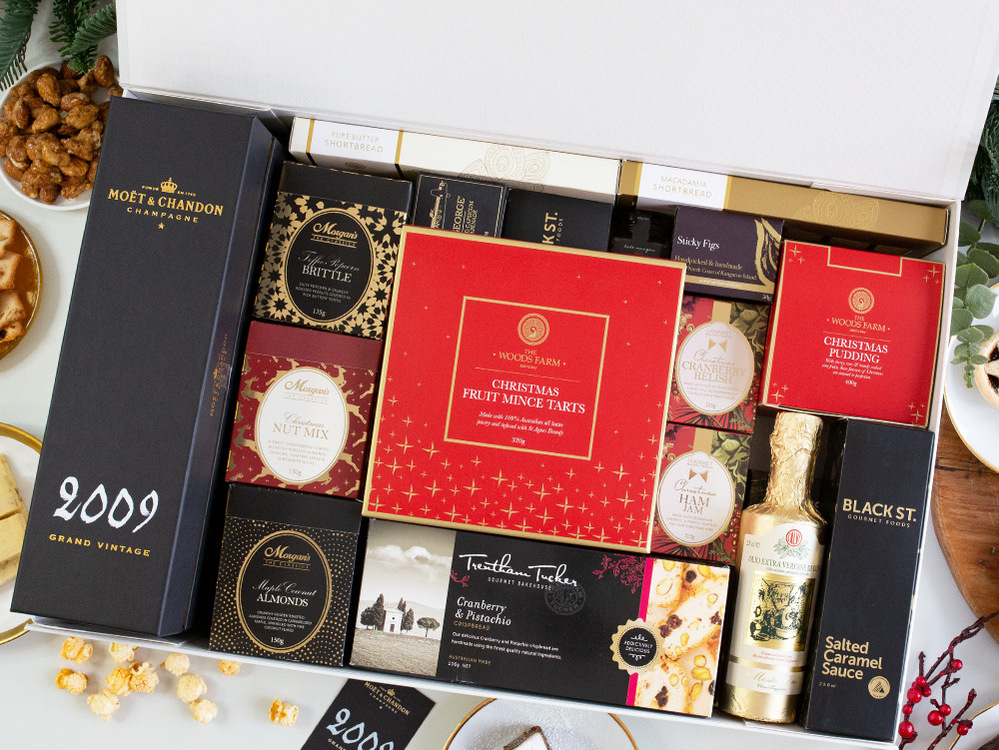 Our top 3 choices of versatile Christmas hampers
Our most popular hamper is a delight for anyone and lavishly filled with favourite nibbles and traditional treats. It features the award-winning Cape Mentelle Cabernet Merlot and an array of artisan savoury and sweet products like Morgan's toffee popcorn brittle. For that magical touch, they will relish the full flavour of festive nut mixes and The Woods Farm Christmas pudding and fruit mince tarts.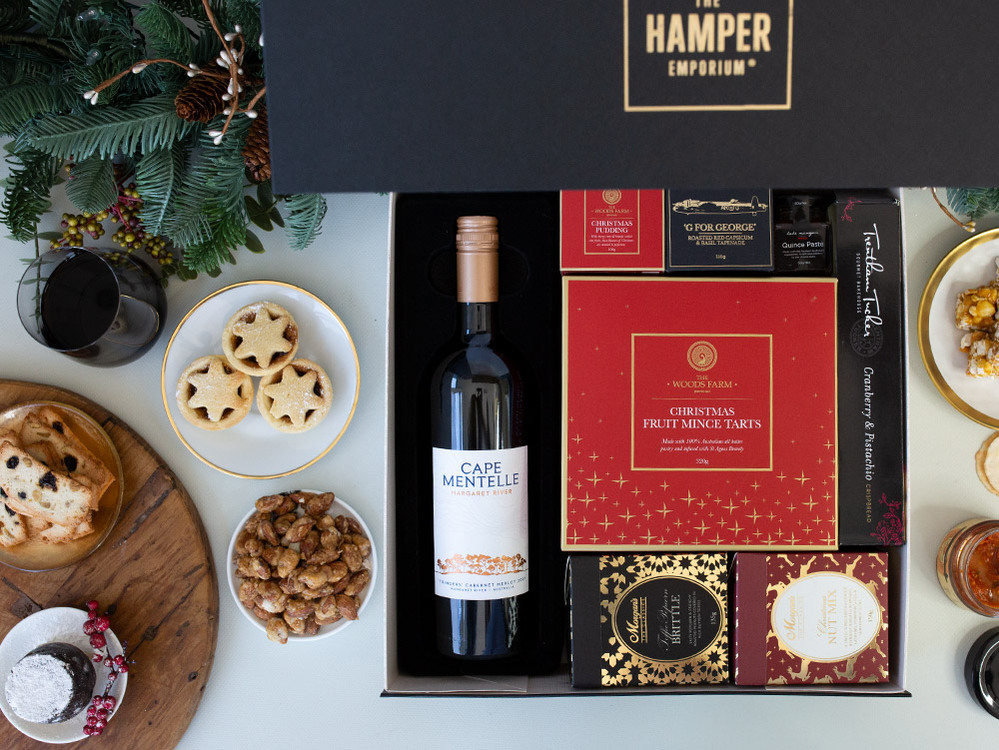 This is a heavenly festive hamper for the foodies in your life. Full of Christmas spirit, there is a glittering bottle of Moët & Chandon paired with a rich, dark Cape Mentelle Shiraz. To complement these are a plethora of gourmet titbits from Kangaroo Island crackers to coconut roasted almonds and flavourful quince paste. Yuletide greetings are added with delicious iced Christmas cake slices and triple choc fudge.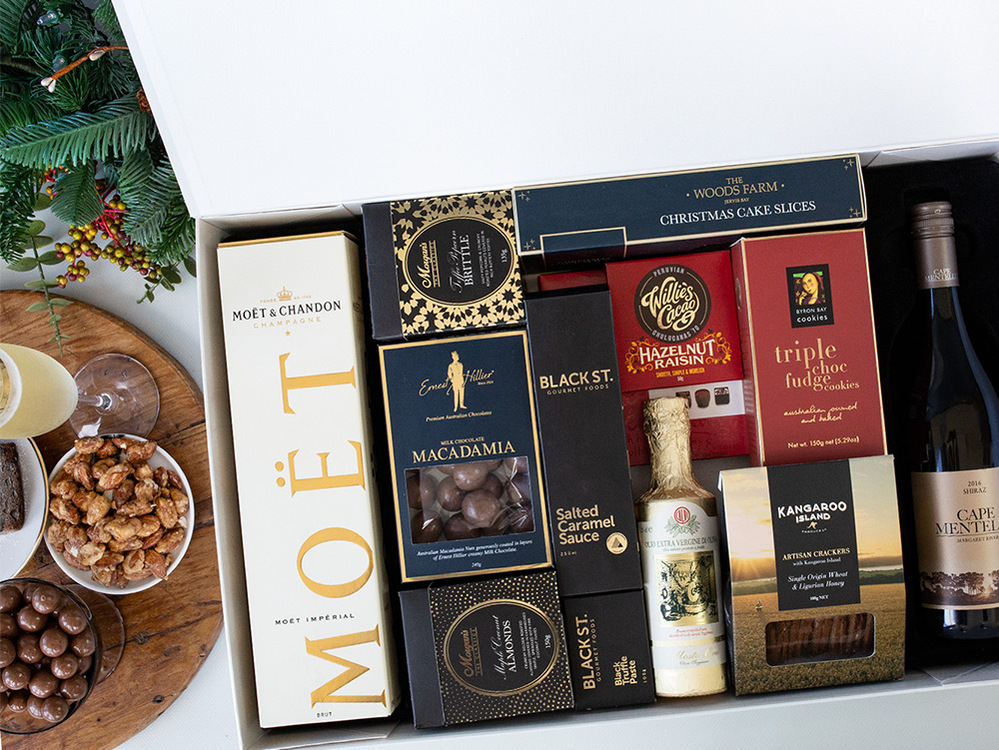 The Celebration of Christmas Hamper
For family get-togethers and office parties, this fabulously festive hamper is a feast in a box. It is simply bursting with delights that everyone will adore and enjoy sharing around. There is a vast selection of luscious chocolates from top brands balanced with salty and peppery savouries. Christmas cake, fruit pudding and a bubbly bottle of Moët & Chandon will make sure the celebration goes with a bang!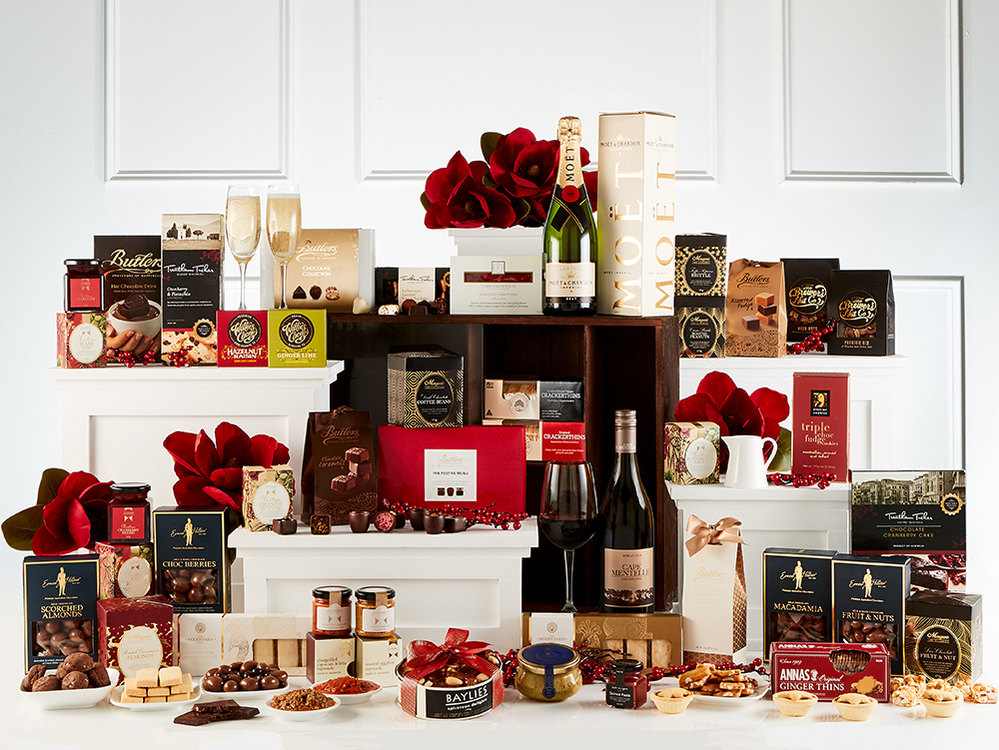 Christmas cheer from The Hamper Emporium!
We try to make thoughtful and informed choices easy online so you can find the perfect Christmas hampers for your loved ones. It's a wonderland of luxurious products, glorious gourmet food and decadent pampering gift baskets. Your recipients are sure to love the joyful gesture, and a stunning festive basket will make your loved ones melt.
Place your pre-order now, and your Christmas hampers will be dispatched in November!