How To Make The Perfect Cheese Board
Author: Michelle Richards Date Posted:9 December 2021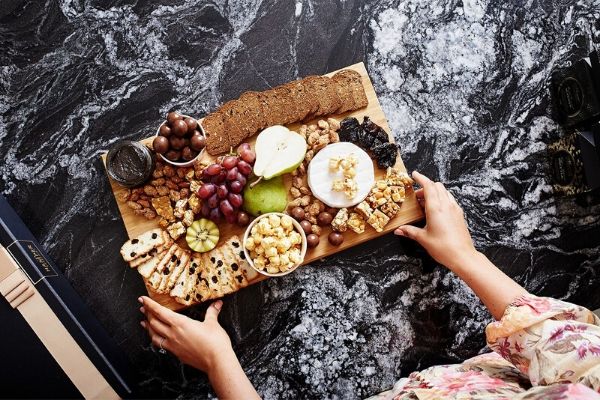 Cheese platter inspiration for your next picnic
There's nothing nicer than gathering with friends for an impromptu picnic. If you want to make your weekends special, grab a picnic hamper and seek out a quiet spot away from the crowds to soak up the sun.
Bring your own fold-out chair and a gourmet food and wine hamper, find a great spot with a view or picturesque scenery, and spend the afternoon with a glass of wine and some great conversation.
Turn your picnic into an occasion to remember with a fantastic cheese board paired perfectly to suit your wine selection. A mixed cheese platter is perfect for entertaining. While a bottle of cab sav and a round of Camembert might be your go-to wine and cheese pairing for a casual BBQ, there's a whole world of wine and cheese boards to explore if you want to try something different.
If you're looking for great cheese board ideas to go with your foodie's gourmet hampers, we'll help with some advice on the best cheeses, nibbles, and Australian wine combinations so you can make your own picnic cheese board. For a ready-made option that includes perfectly paired food combinations, order one of our delicious cheese hampers for picnicing made easy .
How to make the ultimate cheese platter
Creating the ultimate cheese board is all about complementing flavours. You should offer at least five different cheeses with a range of mild to strong flavours.
Good mild cheese options for a versatile cheese plate include Emmental, Provolone, and Bocconcini. In Australia, the ever-popular Tasty cheese offers a nice semi-matured Cheddar that can provide a simple option to start your cheese platter.
For a soft cheese, it is hard to pass up a good quality Brie. Ricotta, Mozzarella, or Feta are other great options for more variety on your cheese plate.
For a semi-hard cheese, Havarti is wonderfully buttery and sweet. Halloumi brings a slightly saltier taste to the plate. A young Cheddar, slices of Swiss cheese, and Edam are other great semi-hard cheese varieties for a mixed cheese platter.
Perfect hard, aged cheeses are a mature or vintage Cheddar, Gouda, Pecorino, or Parmigiano Reggiano. For hard cheeses, it's helpful to pre-cut portions for your guests so that it's easy to grab a piece of cheese without having to put down their wine glass!
Unless you're catering to a crowd of stinky cheese lovers, it's best to only offer one stinky, washed-rind or blue-veined cheese. Good options are a mild Danish Blue, mid-strength Stilton or a strong Roquefort.
If you're putting together a French cheese plate (romantically called un Plateau de Fromages in French) your perfect selection of cheeses is a soft Brie, a hard Comté or a Gruyère, a Chèvre for a goat's milk cheese option, and a Roquefort.
The best accompaniments for a cheese board
Go for variety with flavour, colour, and shape for a really impressive cheese board display. Great accompaniments for the perfect cheese board selection are fresh and dried fruits, nuts, crackers, and either a dip, tapenade, or pâté. Of course, you can't have a cheese board without a perfectly paired bottle of wine! Choose a selection of white and red wines to suit.
If you choose a soft, mild cheese like a triple-cream brie or camembert, the perfect accompaniments are sundried tomatoes, olives, and figs for a rich burst of flavour.
If you're offering a blue cheese, a hard Parmigiano-Reggiano, or other salty cheese on your platter, pair it with something sweet like caramel popcorn or peanut brittle. For fresh fruit, grapes and strawberries are perfect additions for flavour, colour, and creative flair when arranging your cheese board.
Rustic artisan crackers look and taste fantastic. Offer a varied selection of plain crackers to pair with mild cheeses, and a nuttier, texture-rich, grain-based cracker for aged cheeses. The Avec du Fromage Artisan Crackers found in our Nibbles range of gluten free hampers are perfect and make it easy to create a gluten free gourmet cheese board. Crisp Grissini breadsticks or even a fresh French breadstick is another great addition for a French cheese platter.
You can even make your own homemade garlic pesto to make your cheeseboard extra fabulous! This flavourful pesto recipe uses Australian made garlic granules from Kangaroo Island found in our Foodies range of hampers. You might also like Maggie Beer's Kale Pesto recipe.
How to make garlic pesto for an entertaining platter:

Ingredients:
2 cups basil leaves

1.5 tbs KI Fresh Garlic Granules

3 tbs pine nuts

4 tbs lemon juice

1/4 cups grated Parmesan cheese

3 tablespoons extra virgin olive oil

Water

Salt to taste

Black pepper
Method: Combine in a food processor, slowly adding the olive oil to the other ingredients until the pesto is emulsified.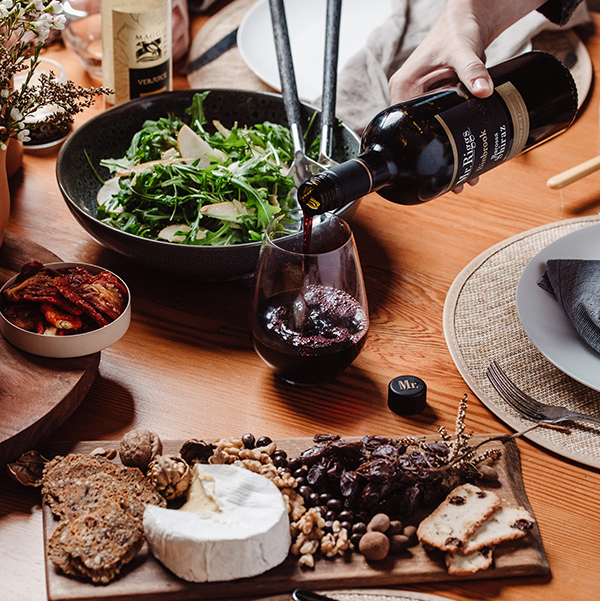 Perfect cheese platter arrangements
For presentation, a solid timber cheese board is essential. A rustic timber board with a long handle is just perfect. Choosing a wine hamper with its own handcrafted wooden wine box with a sliding lid is a fun way to reveal your wine for a gourmet picnic hamper.
While you don't need to fuss over arranging your gourmet cheese platter, presentation matters! Start with your bowls of dip or your small pâté plates on your timber cheese board or large platter. Then arrange your hard and soft cheeses alternating between pale white cheeses and your darker yellow or orange cheese options. Circle or fan your crackers around your cheese. Larger spaces should be filled with grapes, strawberries, or sundried tomatoes for colour. Then fill in the gaps with a selection of nuts and sweet treats.
Pairing wine with your cheese platter
It can be hard to know what wine goes best with each different cheese. The secret of a good wine and cheese pairing is to match intensity. Bold red wines pair best with aged cheeses. An Australian Margaret River Shiraz or Cabernet Sauvignon goes beautifully with aged Cheddar. Delicate, mild cheeses or goat's cheeses pair best with Pinot Noir or a Cape Mentelle Sauvignon Blanc Semillon. For a sparkling rosé or Champagne, a triple cream Brie, Camembert, or Havarti is a delicious accompaniment.
For an easy weekend catchup with friends, The Hamper Emporium's Australian Cheese Grazing Hamper with Shiraz has the perfect mix of cheeses and gourmet nibbles for a picnic plus a bottle of red wine to pair with your cheese board selection. For a celebration with champagne, the Black Truffle, Cheese & Champagne Hamper is the perfect size for a romantic picnic comes with the most decadent selection of nibbles and chocolates. If you want more food and wine hamper inspiration to go with your cheese board selection ideas, browse our range to find the perfect accompaniment for your gourmet picnic. If you're planning a picnic this weekend, we have indulgent grazing boxes that will be just perfect.
If you'd like to learn more about specialty cheeses, read our guide to the Perfect Cheeses For A Cheese Platter Or Charcuterie Board to really wow at your next picnic. And, for the pièce de résistance, our guide to Wine and Cheese Pairings will help you to choose the best wine for entertaining.