How To Plan A Baby Shower That's Truly Special
Author: Michelle Richards Date Posted:15 September 2021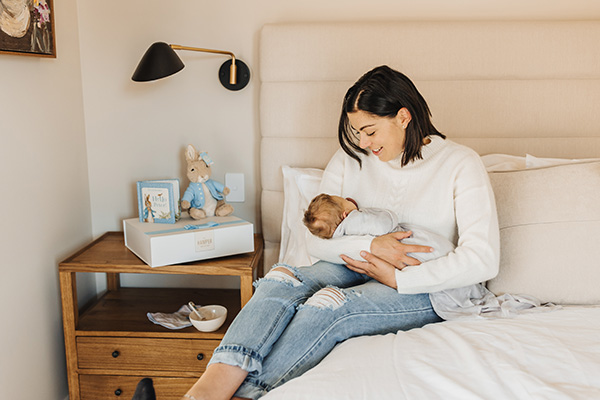 Everything You Need For Baby Shower Ideas
So, the exciting day is finally approaching, and it's nearly time to meet the new bundle of joy. What better time to pamper the mum-to-be and celebrate a new life than with the perfect baby shower!
Of course just the idea of planning a baby shower can be overwhelming, so let us remove the stress with the ultimate guide of how to plan a baby shower.
Even if you're a novice, it's easy to organise if you start planning early. If you're hosting the baby shower, we've included everything you need to know, including tips for venues, themes, menus, fun and games.
Think of this as your handy guide to customising the perfect baby shower, adding those essential personal touches, from invitations to newborn baby shower gifts and baby hampers for mum & bub.
When should you start planning a baby shower?
It's usual to host the baby shower when mum-to-be is between 28 and 35 weeks pregnant. It's the ideal time while she's still got some energy and has a cute bump. This early date also means that she can plan easily, exchange any duplicate gifts, and fill the nursery with gorgeous newborn baby shower gifts.
Getting ready for the bump to arrive is exciting! The mum to be shouldn't be responsible for too much of the planning, so family and friends should start discussing who will organise the shower at the end of the first trimester. The beautiful tradition of holding baby showers has been popular since the baby boom of the 1940s as a way to provide a new mother with all she'll need. It's a lovely idea and the perfect opportunity for everyone to spoil mum and celebrate the beauty of new beginnings.
Why is it so important to hold a baby shower?
As well as being great fun, a baby shower is also productive and can help new parents feel much less overwhelmed. If it's a parent's first baby, the mum-to-be's close friends can offer support and share stories. Relieving anxiety and stress is important, and knowing that loving friends understand and have had the same worries is priceless. The chance to talk and laugh about feelings and experiences goes a long way.
It also gives new parents a helping hand with newborn baby shower gifts and setting up the nursery. Babies need so many things when they finally show their cute little faces and those special gifts can ensure that many essentials are already covered. Gifting essential items, from natural skincare to soft onesies, is just as important as expensive presents. Buying cute baby items is a lot of fun, but don't forget some pampering treats for the new mum too! Creating a whole new person is exhausting, so a mum-to-be pampering pregnancy hamper makes a nice gift for a baby shower.
The Ultimate Checklist For Planning A Baby Shower
Set a budget & date

Find a relaxing venue

Prepare a guest list

Choose a fun theme

Send out invitations

Plan the menu & drinks

Order a scrumptious cake

Think about games & goody bags

List needed newborn baby shower gifts

Assign a photographer

Make a gorgeous guest book

Shop for accessories & treats

Cook or prepare any food

Remember the thank you notes!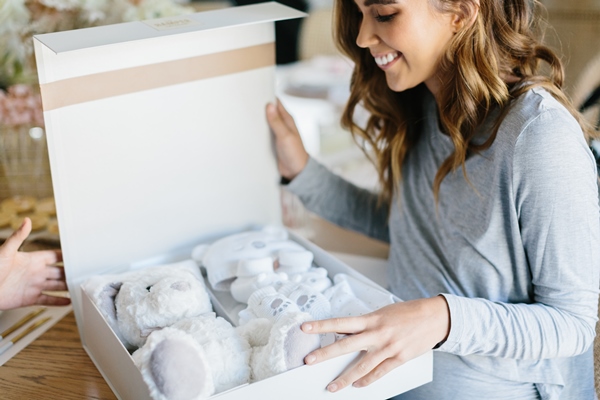 The 5 Most Important Things To Personalise At A Baby Shower
Baby Shower Location
When choosing the venue, think about what the mum-to-be would like. Is she more relaxed in a home setting, or someone who loves the outdoors or brunching at a street cafe? The time of year, weather and budget will also need to be taken into consideration too! Wherever you decide on, if you keep her personality at the front of your mind, and come bearing newborn baby shower gifts, you won't go far wrong.
Here are some popular baby shower location options to consider:
Cosy restaurant - just book brunch and enjoy!

Favourite café - coffee & cakes for sweet lovers

Party venue - personalise with decorations

Scenic outdoor - picnic in a beautiful location

Beach barbecue - guests can bring food to share

Home - private and relaxed with catering on hand!

Spa session - fun and pampering for everyone

Hobby day - art workshop or bowling alley

Farm stay or petting zoo - for some cute baby animals!
Baby Shower Guest List & Invitations
Work closely with mum-to-be when deciding on the guest list and date. Then get down to the all-important personalisation. Make sure the baby shower invitations are in keeping with the chosen theme, whether you opt for printed cards or electronic ones. It's fun to create a Facebook event too, so everyone's on a countdown to the party. When sending out baby shower invitations, you might like to include information about a gift registry or offer options for a group baby shower gift hamper to cover those much-needed essentials and newborn baby products.
Baby Shower Overall Theme
The chosen theme is one of the first steps for planning any baby shower. There are lots of great ideas around, and they usually also reflect the mum-to-be's personality and favourite things. If you know the sex of the coming bundle of joy, you could include that too. The fun theme is then used for everything from the decoration ideas to favours, food, and baby shower gift ideas. The key is to unleash your creativity. Some cute baby shower theme ideas include a circus theme, magical fairyland, outer space, kittens and puppies, flowers and bees, or a fun jungle theme.
Baby Shower Menu, Refreshments & Treats
If you're organising the catering, then baby shower food and refreshments don't need to be complicated or expensive. You can prepare a tempting spread of finger food and light hors d'oeuvres. Design delicious desserts or bake something in keeping with the theme. Guests can even join in and bring dishes to share. Alternatively, you could order a fabulous gourmet hamper of chocolates, tasty treats and tempting nibbles. Don't forget to offer soft drinks, mocktails, and a tipple of bubbly champagne for a toast to the new baby!
Baby Shower Favours, Fun & Games
Most baby showers only last for a few hours but can make memories that last a lifetime. Make sure to take lots of photos, including mum opening all the cute baby shower gifts that have been chosen for her, and arrange some lovely favours for everyone to take home. Games with prizes are often a fun part of the celebration and can range from simple to absolutely hilarious. You should plan between 3 and 5 well-known baby shower games. You can tailor them to the theme, or keep them traditional. The best games to play at a baby shower will be inclusive games to suit parents and non-parents alike, and are sure to have everyone crying with laughter!
Some of the best baby shower games are Baby Bucket List, Baby Bottle Toss, Name That Nursery Rhyme, Celebrity Baby Name Game, and Baby Food Guessing Competition.
Useful Baby Shower Planning Tips
Along with the baby shower checklist, we have compiled some top tips to keep in mind before you start planning. It should be great fun to arrange, and just needs a strategy, some creativity and those wonderful personal touches. Your mum-to-be will have a fabulous time, lots of fun, gorgeous newborn baby shower gifts, and a thousand happy moments to cherish.
Always ensure that the big decisions are made with mum-to-be in mind

Consider her current food cravings and favourite things when planning

Choose fun invitations that give everyone a taste of what's to come

Simple decorations make a huge statement: think balloons, flowers or confetti

Create an informal but festive atmosphere to meet & mingle

Make a centrepiece of the lovely newborn baby shower gifts

Opening gifts can be time-consuming, so do one or two at a time, or make it part of the games

Use pillows, cushions or throws for relaxing extra seating

Take advantage of the internet for ideas and free printables
Our tenth and most important tip is to fully enjoy the planning and your time at the baby shower. Celebrating the next milestone in mum-to-be's life and welcoming a new arrival is exciting for everyone. The fun and joy are only just beginning!