How To Plan Your Own Baby Shower
Author: Nikki Barnett Date Posted:2 March 2021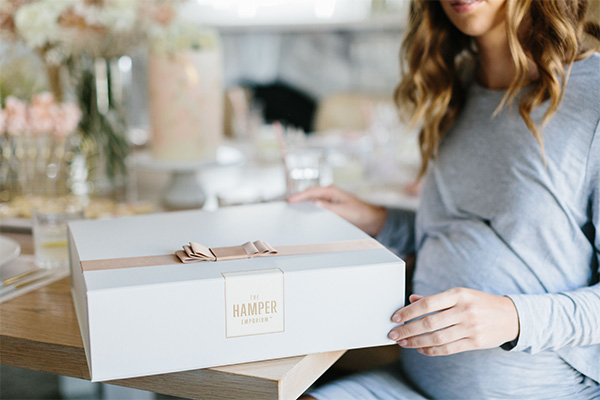 Modern Baby Shower Ideas
With the countdown on to the excitement of your baby's due date, there are so many things to plan. If it's nearly time to welcome baby into the world and meet that cute new personality, then it's time to plan a baby shower—surround yourself with friends and family, enjoy some pampering, and honour a new little life. There's no reason to ask about etiquette and if you should throw your own baby shower. As modern mummas, we know baby showers are about fun, friendship and celebrating a new phase in our life.
Here at The Hamper Emporium, we think hosting a baby shower is a wonderful way to celebrate. Although they're traditionally hosted by friends or family, there's nothing wrong with organising your own baby shower. It can be a lovely idea if your closest friends and family are long-distance and will need to travel to you, or you don't have a local bestie close by. You might also need to take the reins and plan your own baby shower if your closest friends are also new mums with busy schedules.
Getting Ready For Your New Baby To Arrive
The best time to plan a baby shower is at least six weeks before your due date—before you get too tired, and just in case bub decides to come early. A baby shower is a lovely tradition. For new mums it's a wonderful chance to share wisdom and stock up the nursery with cute gifts and beautiful new baby gift baskets. But a baby shower doesn't need to be about presents. If you're planning your own baby shower, make sure your guests know that you value their company and would like to take the opportunity to spend some quality time with them and be thoroughly spoiled before the added pressures of motherhood.
A baby shower is straightforward to organise, even for a novice, and it puts you firmly in control of what you would like to do. You can customise the celebration to include all your favourite themes, menus, and games or keep it low-key and exclusive.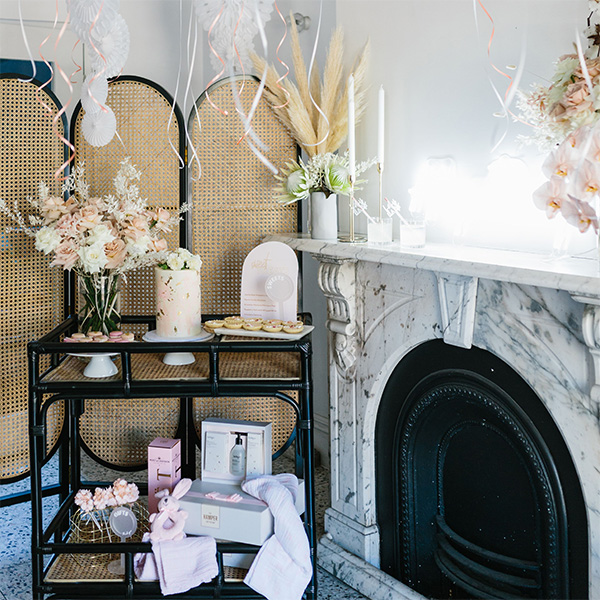 Our Handy How To Plan A Baby Shower Checklist
First off, here are our handy 12 steps to planning a baby shower, so you can pick and choose what to include without forgetting anything!
Set your date and budget

Choose your ideal venue

Make a list of guests

Decide if you want a theme

Mail out the invitations

Plan your food and drinks

Arrange some extra helping hands

Think about fun games and prizes

Order a fabulous cake

List baby shower gifts you need

Assign someone to take photos

Buy a beautiful guest book
How To Plan A Virtual Baby Shower They Will Love
If you're not able to be together with all your loved ones, there are lots of fresh, new ways to give them a baby shower they will remember. Use free online venues like Google Hangouts or Zoom, which can accommodate large numbers of guests. These online meetings can even offer creative decorative baby shower backgrounds and breakout rooms where you can all team up for games!
Baby showers usually last between three and four hours, but virtual alternatives are best kept to around an hour and a half. To fully make the best of the precious time, keep it fast-moving. Here are some fun things you can add to your checklist, so your happy gathering goes with a pop, even though you are confined to your own homes.
Ask guests to send their wishes and hopes for the new baby and turn their sentiments into a fabulous piece of nursery art. Plan in advance and show them all on the day.




Before the event, post out some festive accessories so guests can decorate their rooms. You can choose anything from colourful banners and balloons to sashes and hats.




Organise a theme and ask guests to dress up in a specific colour or item of clothing. You can be as wacky as you want, from sunglasses to their favourite pair of pyjamas.



Choose a refreshment and mail it out so that everyone has the same to toast you and the baby. It can be something as simple as a favourite tea blend or as luxurious as a champagne celebration hamper.



Maximise your time together by skipping the tradition of opening all the lovely gifts. Choose just two or three presents to open and put on a blindfold to choose which.




Opt for some of the many hilarious interactive games available online. You can play together or split guests into teams and use the handy breakout rooms for added hilarity.




Remember to organise some prizes for the champions. Some great options include emailed gift cards or choose small, fun items for online delivery.




Make sure everyone takes photos and records your baby shower as it happens so you can capture every moment. Depending on the platform, it's a simple click and record.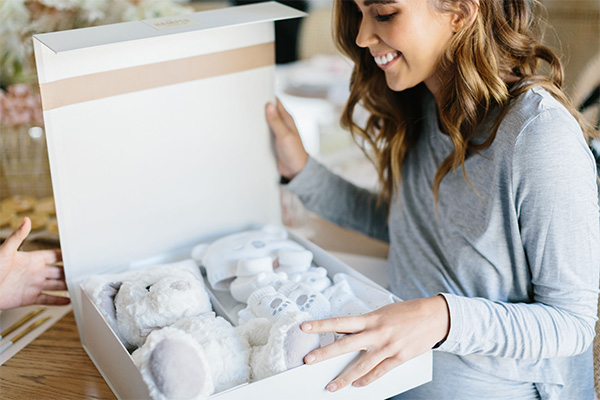 Relax And Choose Planning A Baby Shower At Home
Home is the most comfortable and private space when you're thinking about how to plan a baby shower for yourself. You have total control over the kitchen, and all the guests feel relaxed and know their way around. Just gather some troops to help with festivities and the clean up afterwards.
Set the theme and decor and keep it simple. Baby showers can be as laid back and basic as you want. Focus on a few details like a pretty table, a colour and balloons.



Make mouths water with your favourite gourmet foods, a themed menu or even a takeaway meal. Anything from an ice cream bar to finger foods is guaranteed to be a success.



As an alternative, think about planning a baby shower brunch with your besties. A relaxing spread of breakfast treats, croissants and fruit is an easy menu they will love.




Since you won't be drinking alcohol, think fruity, light and colourful. It's a great idea to set up a DIY bar so guests can make cocktails and mocktails while you put your feet up.




Planning baby shower games at home is easy - you just need something fun to break the ice. Even simple games like baby bingo will encourage guests to feel comfortable and mingle.




Get totally creative with your cake and make it the centrepiece of the day with amazing art decoration. Or make it part dessert or individual cupcakes that they can't wait to eat!




Take your baby shower outside the house if the weather is warm. String up pretty lights, fire up the grill and organise some outdoor games, like a pitch and putt course.




Make memorable gift bags or favours that guests can take away as a reminder of the wonderful day. Think small, beautiful items like candles, scented soaps or jars of sweets.
Remember To Pamper Yourself - It's Your Baby Shower!
Holding your own baby shower has many benefits, and it's really all about showing your excitement and love for your friends. Where, when and how you celebrate is not as important as being together. Even if it's only virtually!
When you're thinking about how to plan a baby shower step by step, don't forget yourself.
Planning a baby shower for yourself should include some pampering, so remember to treat yourself too. Choose a small luxury gift or a relaxing pamper hamper and indulge yourself after the day's festivities. You can even choose something for the baby, and tuck one of our beautiful neutral baby gift hampers away in the nursery.
Your baby shower should begin and end with you so that you have a day you will treasure forever!