How To Propose: Creative Ideas & What To Say
Author: Michelle Richards Date Posted:5 May 2022
The Best Marriage Proposal Ideas From Romantic To Genius
For many couples, the proposal is one of the most memorable moments of their relationship. It's a natural step when you've found your soul mate. Proposing can be a time of great joy and excitement, but it can also be a bit nerve-wracking. After all, you want to make sure that your proposal is perfect. If you're feeling stuck on what to do or how to say it, here are some creative marriage proposal ideas and tips to help you out.
Popping the question can be an emotional public grand gesture or an intimate experience shared just by the two of you. The important point is to make it a memorable moment that you will both enjoy and cherish. Whatever you decide, the very best proposal ideas will capture and reflect your relationship and love story. It's something you will look back on for years to come and smile.
So, get your creative proposal juices flowing with our ideas for both partners. Put your own relationship spin on these unforgettable proposal ideas and what to say when proposing. There's something for every beating loved-up heart.
How Do You Propose In A Unique Way?
Genius proposal ideas need to be well thought out. Don't wing it. Unless you're really set on an impromptu proposal, it's essential to have a plan. It'll help prevent any hitches and soothe last-minute nerves. Before deciding on the theme or setting, it's vital to think about what to say when you propose. These words from the heart are the personal touch that will make the moment perfect and be remembered forever.
Quirky things you adore about your partner




Important moments from your relationship




Personal musings or shared jokes




Fun memories from your journey together




The fantastic future you imagine together




How much you love them!
Of course, you can also simply go with your heart and a straightforward 'will you marry me.' There's no right or wrong way to propose, and no matter how much you plan, it's hard to prepare. If your emotions get the better of you, just go with it. Showing vulnerability can make the special moment even more charming.
What Are The Most Romantic Ways To Propose?
Romance is about the two of you, so focus on all those little things and the unique details of your relationship. All couples have a history and lots of moments for inspiration. Romantic proposals add those lovely touches that celebrate your shared love and joy. It can also help to set the scene for a little romance with a pamper hamper.
Make champagne breakfast in bed and serve it in a glass that says 'Marry me?'



Pack a picnic and propose outdoors in a beautiful spot that holds shared memories.




Decorate the walls with all your photos together and capture this new moment.




Spell out your proposal in rose petals and chocolates.




Be traditional and get down on one knee with a ring.
When it comes to actually popping the question, there are a few things to keep in mind. First, try to stay calm and confident. This is easier said than done, but it's important to remember that your partner will probably be just as nervous as you are once they realise what is happening. Second, focus on what you want to say and why you're doing this. Keep your proposal simple and direct - there's no need for grand speeches or long explanations. And finally, don't forget to actually ask the question! It sounds obvious, but in the moment it can be easy to forget.
How Can I Propose To My Girlfriend?
If you're wondering how to propose to the girl of your dreams, this is a once-in-a-lifetime moment. The right proposal ideas for her don't have to be complicated, expensive or stressful. Just be sure to seize the day and make it as romantic, thoughtful and unique as your relationship.
Set up her favourite romantic movie and pop the question right after it's finished.




Order dinner and hide the ring in her dessert — add some champagne!




Whisk your girlfriend away for the night and fill the room to the brim with her favourite flowers.




Pledge your love on the bathroom mirror and be waiting behind her on one knee.




Decorate the backyard with candles and fairy lights and play romantic music.
How Do I Propose To My Boyfriend?
There's nothing quite so exciting and surprising as changing traditional gender roles. After all, There's nothing to say ladies just have to wait with bated breath. If you're wondering how to propose without a ring, why not seal the deal with a lovely gift as a token of your love?
Buy tickets for his favourite sport or pastime and plan your proposal involving this theme.



If the way to his heart is through his stomach, surprise him with a gourmet hamper or by hiring a private chef.



Take to the water on a boat tour or keep it simple with a canoeing trip on your favourite lake.




Record and upload a series of video messages and make him a romantic scavenger hunt with QR codes.




A romantic staycation and dinner for two is always a simple, relaxed proposal idea at home.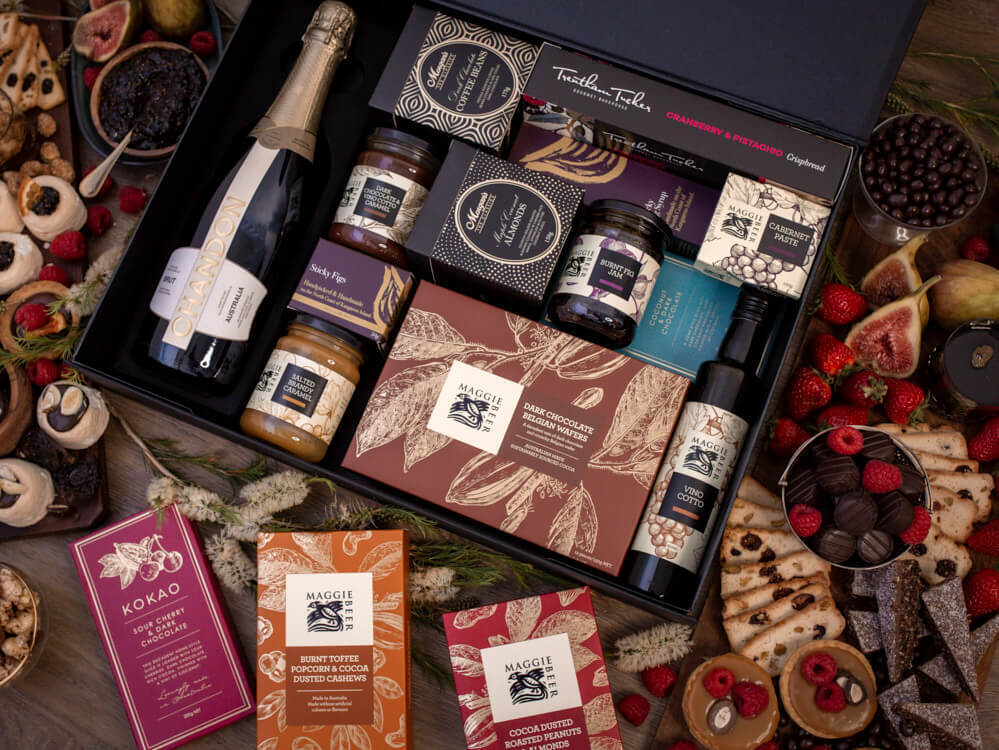 Proposal Ideas That Are Sure To Get A 'Yes'
Love is always an adventure of the most exciting kind, and some of the most unforgettable proposal ideas take place somewhere significant. It could be the place you met, your first kiss or your favourite Sunday park walk. Let the natural beauty and happy memories lend a hand and we are confident you will soon be celebrating with engagement hampers from all your friends and family.

Plan a romantic picnic complete with stargazing and let the constellations answer you.




Watching the beautiful sunrise or sunset creates a magical atmosphere for any proposal.




Take to the beach on a sunny day and propose by writing it in the sand with seashells.




Send them on a fun treasure hunt collecting all their favourite things - including the ring!




Revisit all your greatest memories together, then propose in the place where it all began.
Set Their Heart On Fire At The Hamper Emporium
If a life-changing romantic proposal in the air, any of our simple proposal ideas can be fine-tuned and personalised to turn them into a moment of pure joy. Every couple is unique, so adding the ultimate twist will be surprisingly sweet and memorable. If you need a little something to celebrate with, browse our collection of hampers packed with delicious food and decadent champagne. They will add instant romance and the finishing touches to any proposal idea, whether you're sharing the moment at home or out on an adventure.
Wishing you congratulations and happiness ever after from The Hamper Emporium!