How to Send Gift Hampers to Australia from Overseas
Date Posted:11 May 2023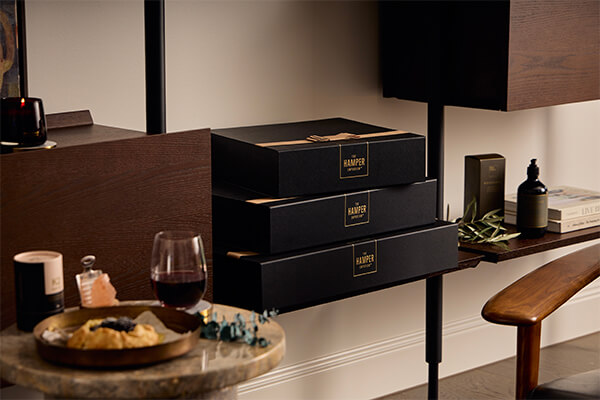 There are so many occasions when you might want to arrange a gift delivery in Australia for a special occasion. While most of our overseas orders are hampers from people in the UK or USA sending a gift to a family member in Australia, we get orders from all over the world.
According to the Australian Bureau of Statistics, 30% of Australia's population was born overseas. The majority of those people were born in England, India, China, New Zealand, and the Philippines. The majority of Australians have extended family members living overseas. If that sounds like your family, you're not alone!
And, as you likely already know, staying in touch by being able to send gifts overseas for special milestones and important occasions is essential. That's where we come in. In this guide, we'll show you how to send gift hampers to Australia from overseas.
How to order Australian gift hampers from overseas
If you're one of the millions of people who want to arrange a gift delivery to Australia, The Hamper Emporium makes it easy!
Our international hamper orders still come with the same great free delivery service that we offer to domestic orders. So, we can deliver your hamper for free. We also accept a range of payment methods that make it easy to checkout using PayPal, AfterPay, or a credit card.
Even better, every hamper comes with a premium gift card, so you can include a personalised message without needing to be there in person. It doesn't matter if you're sending a gift for a birthday, graduation, housewarming, job promotion, Christmas, or any special occasion; your hamper gift delivery will come with a heartfelt message.
So without further ado, here's how to order a gift hamper from overseas:
Browse our wide range of gift hampers and choose the one that would delight the person you're gifting to.
Add the hamper to your cart and continue through to the checkout.
Include a personal gift card message for us to print on the card for you.
Fill in your billing information. You'll receive a normal tax invoice.
Enter the delivery address details.
Pay and place the order. We'll take care of the rest for you.
We offer standard and express delivery options. We will send out your order on the same day if we receive the order before 1 pm Sydney time.
FAQs about ordering gift hampers from overseas
Can I place an order from outside of Australia?
Absolutely! You don't need to live in Australia to place an order with us. Here at The Hamper Emporium, we are delighted to help you send some love from your end of the world to ours. We deliver to any address within Australia and can offer gift card options if you want your gift recipient to have the power to choose their own hamper.
Is it possible to send a birthday gift hamper internationally?
Unfortunately, we can't ship hampers internationally. As each country has its own shipping regulations, we can't guarantee that your hamper will arrive complete and in good condition.
We do offer hampers in New Zealand, however.
Can you send a gift basket from the UK to Australia?
Yes, but we don't recommend it. While you can ship a gift to Australia yourself, it's easier, faster, and more cost-effective to order online with an Australian hamper gift delivery service. Postage costs and delivery times are extreme, and some gifts have even been returned due to import restrictions.
If you're sending gifts to Australia from the UK, USA, India or countries in the northern hemisphere, don't forget the seasons are also reversed! While you might be snuggled up in your winter woollies as Christmas approaches, your Australian friends and family will be looking forward to a cold beer or champagne cocktails on the beach. Likewise, if you're in the mood for a weekend summer picnic, then loved ones down under might prefer a cosy winter hamper or Australian food to enjoy by the fire.
Can you still show corporate appreciation to your partners in Australia?
Yes! We offer a range of corporate branding options, including offering custom ribbons, custom gift cards, and custom branding to make your hamper memorable. You can set up a corporate account and place corporate orders here.
Are there any hidden costs associated with ordering from overseas?
Ordering hampers from overseas doesn't add any hidden costs or change our procedures or prices. It also won't take any longer than an order made from within the country. Here at The Hamper Emporium, we offer free, standard delivery Australia-wide for all orders – even if you order from overseas.
What payment options do you offer for orders from overseas?
We offer a range of payment options for a seamless and easy gift purchase. Payments can be made with Visa, MasterCard, PayPal, American Express, AfterPay, zipPay, or Direct Deposit. All orders will be processed and paid for in Australian Dollars.
The checkout process is easy and quick, and you will receive an email confirmation with tracking details.
Can I place an overseas order using your website?
Yes! Our secure online ordering system is the easiest and fastest way to place an order with The Hamper Emporium. Using our online store ensures you can check that all of the details you are entering are correct, and you can easily browse our entire range.
Our website features a wide range of beautiful hampers to treat those far away. But in this section, we've done some of the hard work for you. Here are some of the best hampers to send to your Australian friends and loved ones:
Moët & Gourmet Nibbles Hamper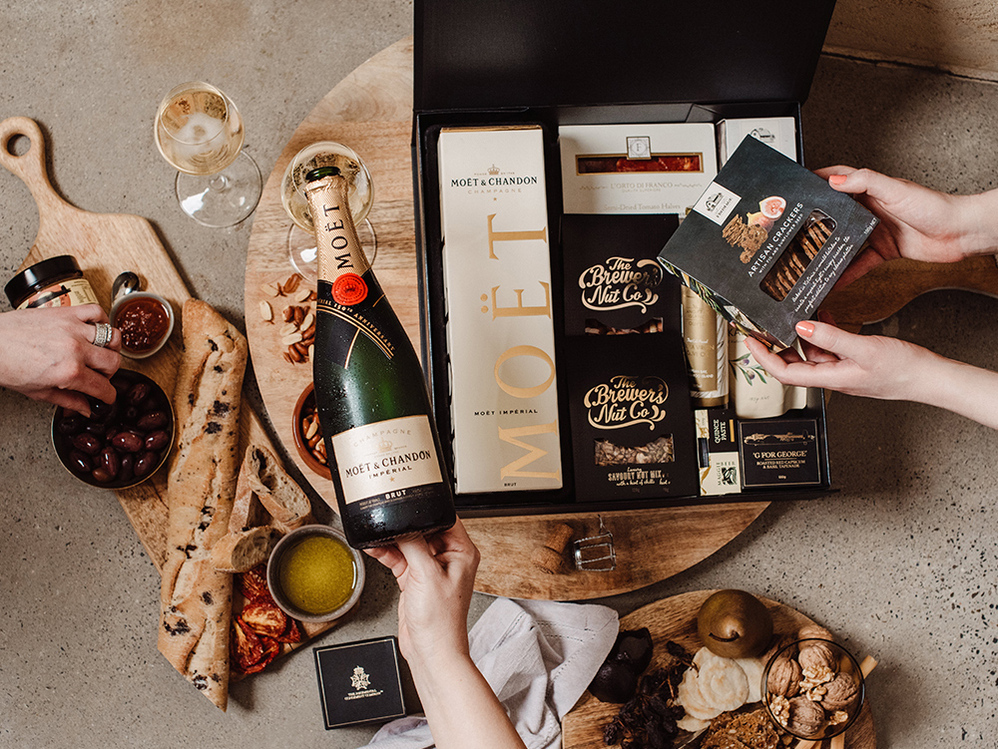 This hamper stands out amidst many gift ideas that are otherwise grand as one of Australia's best and most luxurious gift hampers. The Moët & Gourmet Nibbles Hamper is a bestselling gift basket amongst the ladies. Australia's best selection of artisan gourmet foods compliments the expressive, bright Moët champagne in this hamper. It's perfect for every grand occasion and season.
Beers of Australia Hamper
The Beers of Australia Hamper is a hit with beer lovers. It includes nibbles, beef jerky, nuts, wafers, and more. Each craft beer has a story and history of its own, adding to the unique characteristics of the individual brew. It's a wonderful hamper to explore and enjoy.
Iconic Baby Essentials Hamper With Moët
With our fabulous Iconic Baby Essentials Hamper With Moët, you can pamper a gorgeous new bundle of joy from a distance with all the cotton and pampering essentials and put a smile on the new parents' faces as well. This jam-packed hamper is full of newborn joy and baby shower items your Australian friend or family member is sure to appreciate.
Christmas Indulgence Hamper
If you're not going to be able to see your family overseas for Christmas, a Christmas hamper like the Christmas Indulgence Hamper is a great way to still be there. This hamper, in particular, comes with gingerbread almonds, mince tarts, brandy butter sauce, and more indulgent delights. All of our Christmas hampers come with our free shipping offer.
Sweet Bites Hamper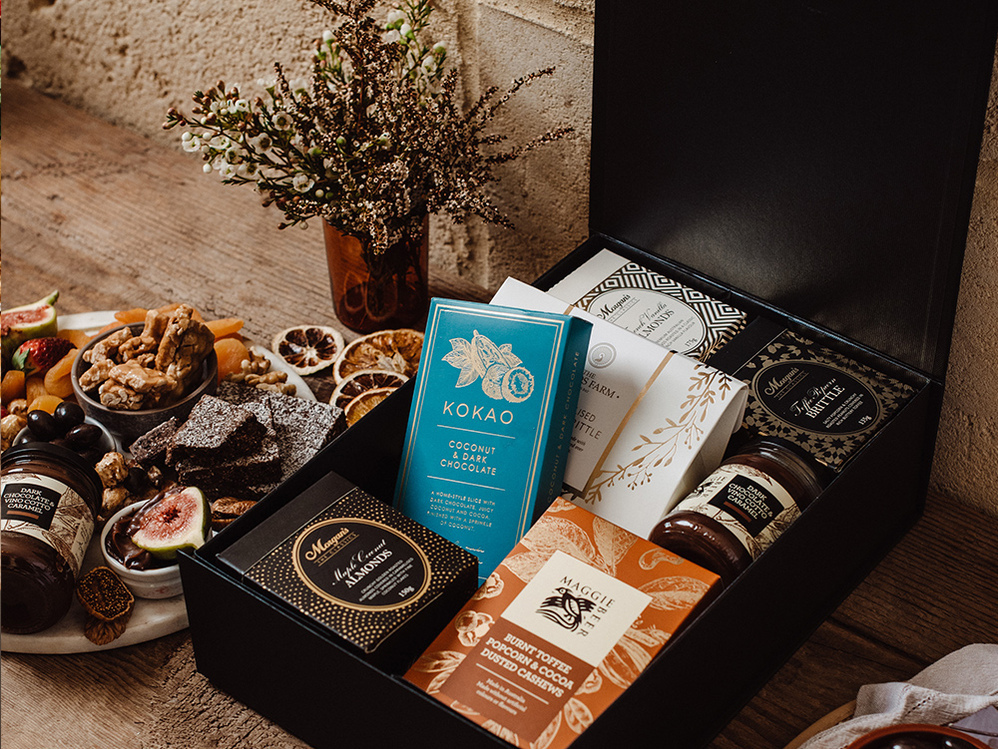 Our Sweet Bites Hamper gives your favourite Australians some delicious sweet treats to enjoy. It's packed with goodies from Maggie Beer, The Woods Farm, Kokao, and Morgan's. It's the perfect gift for a sweet occasion like a housewarming or graduation. We can also ship this hamper to New Zealand.
How to send a hamper to New Zealand from Australia
As there are so many friends and family members over the ditch, we are excited to offer a range of gift boxes that can be delivered to New Zealand from Australia. We can send gourmet Maggie Beer gift boxes, new baby boxes, pamper packs, and more.
Here's how to send a gift hamper to New Zealand:
Browse our gift boxes NZ range and select your recipient's perfect gift.

Add it to your cart and press "checkout".

Fill in your billing details.

Fill in your recipient's delivery details in New Zealand.

Complete the checkout process.
Please note that shipping in New Zealand takes slightly longer than shipping in Australia, so order in advance.
Send some love from afar with a hamper delivery
The Hamper Emporium makes it easy to send a hamper to Australia from overseas. We have a wide range of options that will impress young and old, far and wide. We're also here to help and answer any questions you may have.
With so many happy customers worldwide, we are proud to be Australia's leading source of online hampers. To send one of our incredible hampers to your loved ones in Australia, simply follow the instructions in this blog post.