How to Send Gift Hampers to Australia from Overseas
Author: Nikki Barnett Date Posted:2 September 2021
Sending A Gift Delivery To Australia From Overseas
There are so many occasions where you might want to arrange a gift delivery for a special occasion to someone in Australia. While most of our overseas orders are hampers from people in the UK or USA sending a gift to family in Australia, we get orders from all over the world.
Did you know, according to the Australian Bureau of Statistics, in 2021, 30% of Australia's population was born overseas, with the majority of those born in England and the second highest was people born in India, followed by China, New Zealand, and the Philippines.
The majority of Australians have extended family living overseas, with almost half having one or both parents born overseas. If that sounds like your family, you're not alone! Staying in touch by being able to send gifts for overseas friends to celebrate special milestones and important occasions is essential!
Send Gifts To Australia From UK, USA, NZ & Around The World
If you're one of the millions of people who want to send a gift delivery to Australia, The Hamper Emporium makes it easy! While you can ship a gift to Australia, it's easier, faster, and more cost effective to order online with an Australian hamper gift delivery service. COVID-19 border closures and restrictions make it so much harder to surprise your family overseas with a well-meant parcel of hand-picked goodies. Postage costs and delivery times are extreme and some have even been returned due to import restrictions.
If you're sending gifts to Australia from UK, USA, India or countries in the northern hemisphere, don't forget the seasons are reversed! While you might be snuggled up in your winter woolies as Christmas approaches, your Australian friends and family will be looking forward to a cold beer, or champagne cocktails on the beach. Likewise, if you can't wait for your weekend summer picnic, then loved ones down under might prefer a cosy spirits hamper or gourmet food to enjoy fireside.
How To Order Australian Gift Hampers From Overseas
Luckily, you don't need to live in Australia to arrange a gift delivery. International hamper orders still come with the same great free delivery service right across Australia. We also accept a range of payment options to make it easy to checkout using PayPal, AfterPay, or credit card.
Even better, every hamper comes with an included gift card so you can send a personalised message, even if you can't be there in person. For a birthday, graduation, housewarming, job promotion, Christmas, or any special occasion, your hamper gift delivery can include a greeting card with a heartfelt message.
Can I place an order from outside of Australia?
So, what can you do if you live overseas but want to treat a loved one with a Christmas hamper? Can you send a gift basket from the UK to Australia? Is it possible to send a birthday gift hamper internationally? Can you still show corporate appreciation to those partners in Australia?
Absolutely! You don't need to live in Australia to place an order with us.
Here at The Hamper Emporium we are delighted to help you send some love from your end of the world to ours. We deliver to any address within Australia and can offer gift card options and corporate branding options.
Let us talk you through how to order and send a gift hamper from overseas to your Australian friends, family and business associates.
1. Just browse our wide range of gift hampers and choose the one that would delight someone you care about.
2. Add the item to your cart and continue through to check out.
3. You will have options to write a personal gift card message along the way.
4. When filling out your billing information, you can choose the country of your origin and still receive a normal tax invoice.
5. Finish by entering the delivery address details, pay and place the order.
We offer standard and express delivery and continue to send out orders on the same day if we receive the order before 1pm Sydney time. When Covid restrictions allow, we also offer same day delivery if your hamper recipient is located within the Sydney metropolitan area. Check our current delivery information for current details.
Ordering hampers from overseas does not add any hidden costs to our procedures or prices. It also won't take any longer than an order made from within the country. Here at The Hamper Emporium we offer free& standard delivery Australia wide for all orders, even if you order from overseas.
We offer a range of payment options for a seamless and easy gift purchase. Payments can be made with Visa, MasterCard, PayPal, AfterPay, zipPay or Direct Deposit. All orders will be processed and paid for in Australian Dollars but our website allows for currency selection as a guide for you.
The checkout process is easy and quick and you will receive email confirmation with tracking details. Not long and the special recipient will receive their surprise hamper to their door step with your personal message.
Yes, it is that easy!
Our secure online ordering system is the easiest and fastest way to place an order with The Hamper Emporium. Using our online store ensures you can check that all of the details you are entering are correct, and you can easily browse our entire range.
We have done the handpicking for you. Select from a wide range of beautiful hampers to treat those far away. Aussies love to support local, so choosing a hamper with gourmet treats from Maggie Beer, Kangaroo Island Produce, Morgan's chocolates, and Australian wines is a guaranteed winner.
Amongst many gift ideas, we offer Australia's best and luxurious gift hampers. The Moët Imperial & Gourmet Nibbles Hamper is a bestselling gift basket amongst the ladies. Australia's best selection of artisan gourmet foods compliments the expressive, bright Moët Impérial. Choose the classic champagne or Moët Rosé for something different. Light in body with a deliciously pink tint with amber highlights, this Moët Rosé Imperial is a fantastic wine for summer drinks and lunching, and the perfect choice for celebrating all the great moments in life.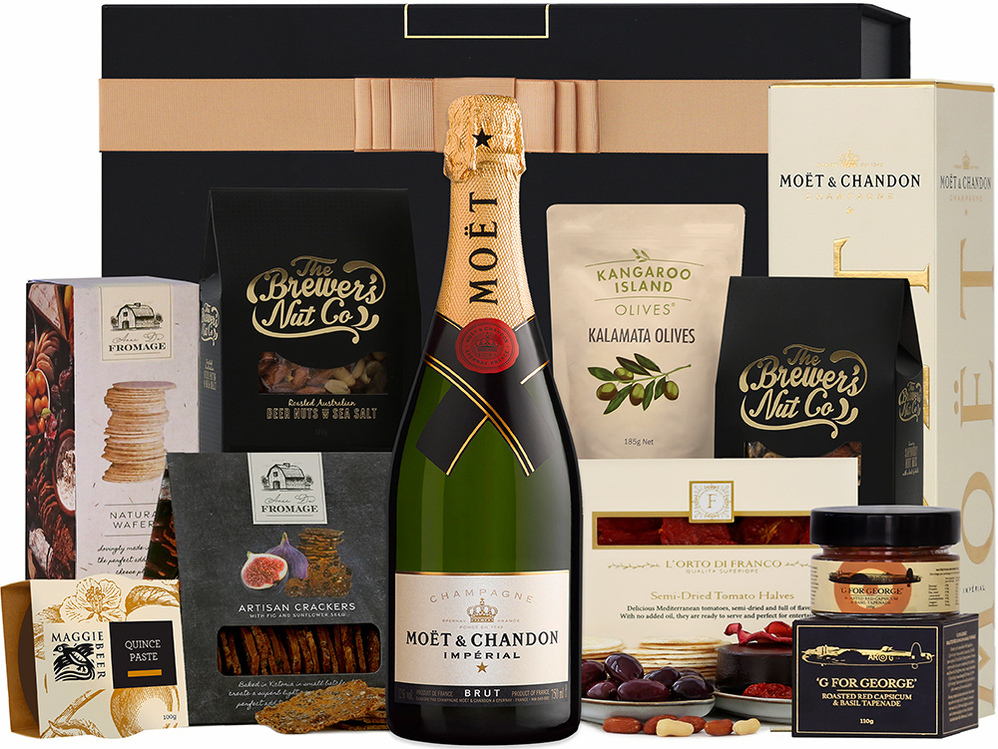 The Beers of Australia Hamper is a hit with beer lovers. It includes nibbles, beef jerky and more. Each craft beer has a story and history of its own, adding to the unique characteristics of the individual brew. It's a wonderful hamper to explore and enjoy.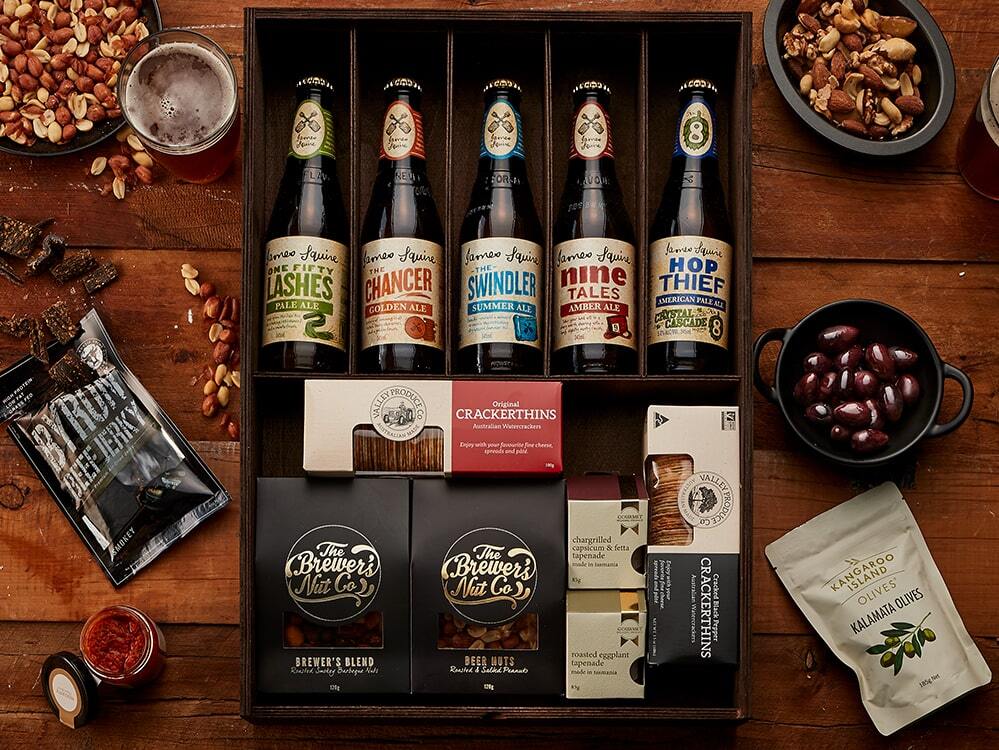 Is your Australian friend having a baby soon but travel restrictions stop you from attending the baby shower or sharing the newborn joy for a while yet? No problems. With our fabulous range of Baby Hampers you can pamper a gorgeous new bundle of joy from the distance with all the cotton and pampering essentials and put a smile on the new parents' faces as well.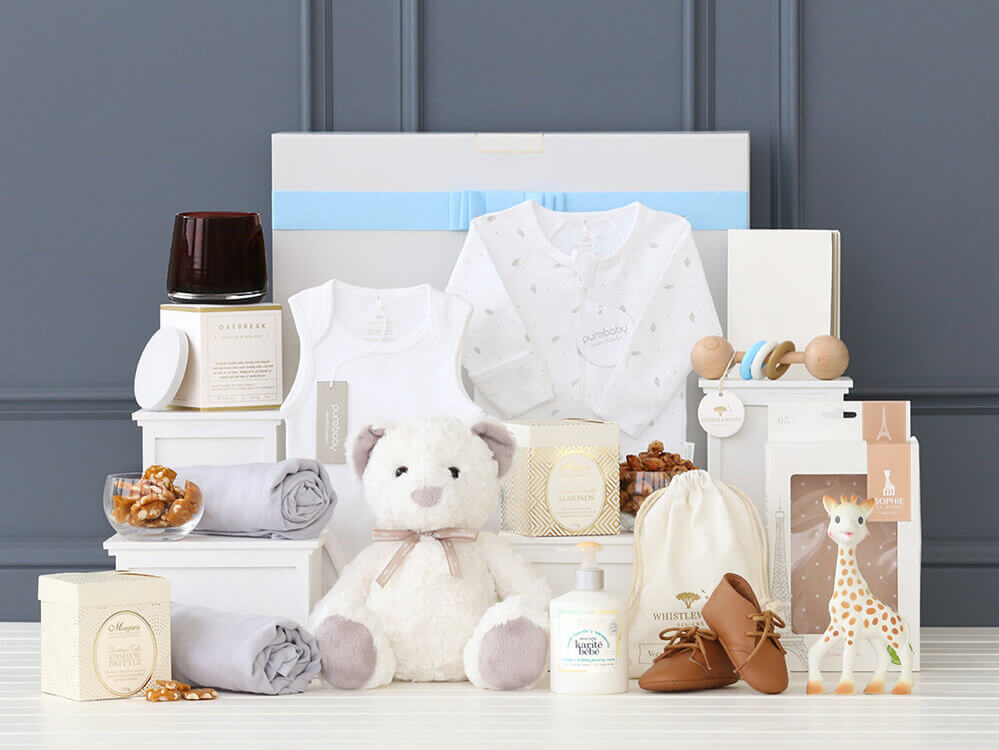 If you're thinking ahead for Christmas and not knowing if you'll be able to get home or visit family in Australia, you can always send a hamper. Christmas will be here before we know it! Christmas is just around the corner and even though you might not spend it with your Australian tribe, you can still send some exclusive gifts and sweet, savoury or wine hampers as the perfect Christmas gift. All of our Christmas hampers come with a free shipping offer. Our Festive Christmas Hampers are the ultimate in Christmas gifting joy. Enjoy all that the Christmas season has to offer with a wonderful bottle of Moët accompanied by an array of Christmas treats that can be shared with family and friends. From premium fruit mince tarts made with all-Australian pure butter pastry to macadamia shortbread and traditional handmade Christmas cake.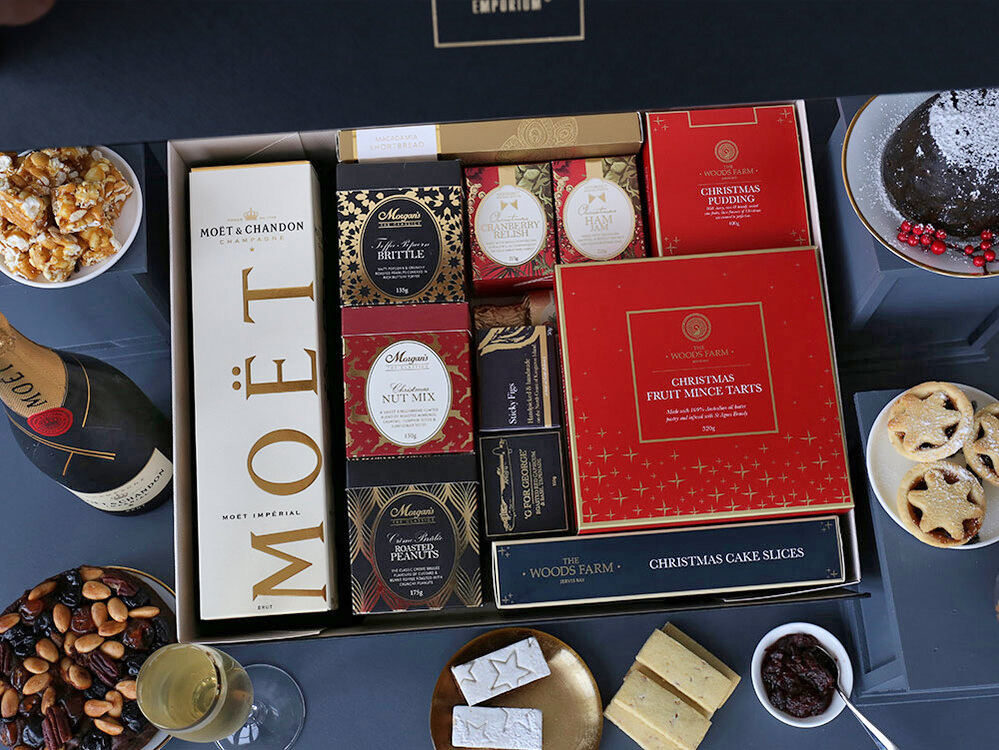 Launching Our Gift Boxes With New Zealand Delivery
With so many friends and family members over the ditch, we are excited to offer a range of gift boxes that can be delivered to New Zealand from Australia. Don't miss out on sending your love to your nearest and dearest in NZ with the best hampers and gift boxes from Australia including gourmet Maggie Beer gift boxes, new baby boxes, and pamper packs. Sending gifts to NZ from Australia is easy with our dedicated all-occasions gift boxes nz range designed for every celebration.
Send Some Love From Afar With A Hamper Delivery
Now you just have to choose. Find a hamper from a wide range of options that will impress young and old, far and wide. We are here to help, assist and answer questions along the way if needed. Use our FAQ or help sections along the way if required. With so many happy customers worldwide we are proud to offer Australia's leading online hampers.