Impress New Clients With A Welcome Gift Hamper
Author: Michelle Richards Date Posted:17 March 2022
Say 'Welcome' To Your Clients Or Guests
All business owners know how difficult it can be to attract new clients and encourage repeat business. Which is exactly why making each and every client and guest know just how important they are is a must-have strategy to keep your business strong and growing. Welcoming gift baskets are the perfect way to offer a big warm welcome in 2022.
We all know that giving gifts to clients is such a vital part of a successful business for every industry from luxury accommodation providers to professional service industries. Everyone likes feeling special, and welcome gifts for new clients can strengthen your relationship and create a lasting impression about your business.
Whether you need branded gift boxes, guest welcome basket ideas, corporate welcome packs, or are looking for last-minute welcome gift basket ideas to impress new clients, look no further!
Woo Your Way To Successful Business Relationships
Like any business, your ultimate goal is creating long-term relationships with customers that will yield repeat business. Clients that keep returning are your bread and butter! Excellent customer relations and keeping guests and clients happy will make your business thrive, so it should be a priority in 2022.
Gifting your new clients is one of the best ways to show that you value them and care about the business relationship. Thoughtful welcome gift basket ideas or high-quality corporate welcome presents, along with personal messages, are an opportunity to show appreciation in a powerful way.
The Benefits Of Welcome Gift Hampers
Here are just 7 of the benefits of welcoming your new clients or guests, but there are many more!
Makes a wonderful first impression

Shows customers you are grateful for their business

Sends a very personal & friendly message

Promotes your business & differentiates you from others

Is a gesture worth talking about, particular on social media

Rewards clients and guests for choosing to join you

Strengthens & nurtures your future relationship
How To Choose A Unique Welcome Gift That Speaks Volumes
From a welcome hamper for guest accommodation, to buying tasteful corporate welcome gifts for new clients, you need a gift to suit all tastes. Buying something relevant that will appeal to all can be difficult as you haven't got to know them well yet. But saying thank you and treating them is a must!
Keeping your welcome gift basket ideas fresh and up-to-date gives you the option of getting creative. There are a whole range of welcome hampers available to suit every situation. It's just a question of navigating through the wealth of options and choosing something perfect for your client or guests.
It also needs to reflect your company, corporate values, or industry niche whether that might be business-casual or luxury pamper. An impressive or elegant personal gift to welcome them goes a long way towards building a long-term relationship.
Think about what will be most appropriate, what they will use, and if a gift to keep is something that will be a talking point. You'll find ideas every guest or client would love, from luxury welcome gift basket ideas to homewares or gourmet food options. Gifting a gorgeous welcome hamper is an ideal and thoughtful way to win over your new clients or make guests glad they chose you.
Welcome hampers are suitable for a diverse range of customers and situations, and everyone is sure to love them. Just think how you would feel walking into your well-earned holiday accommodation to find a gorgeous welcome guest basket, or if your new business associate sent you a thoughtful corporate welcome present!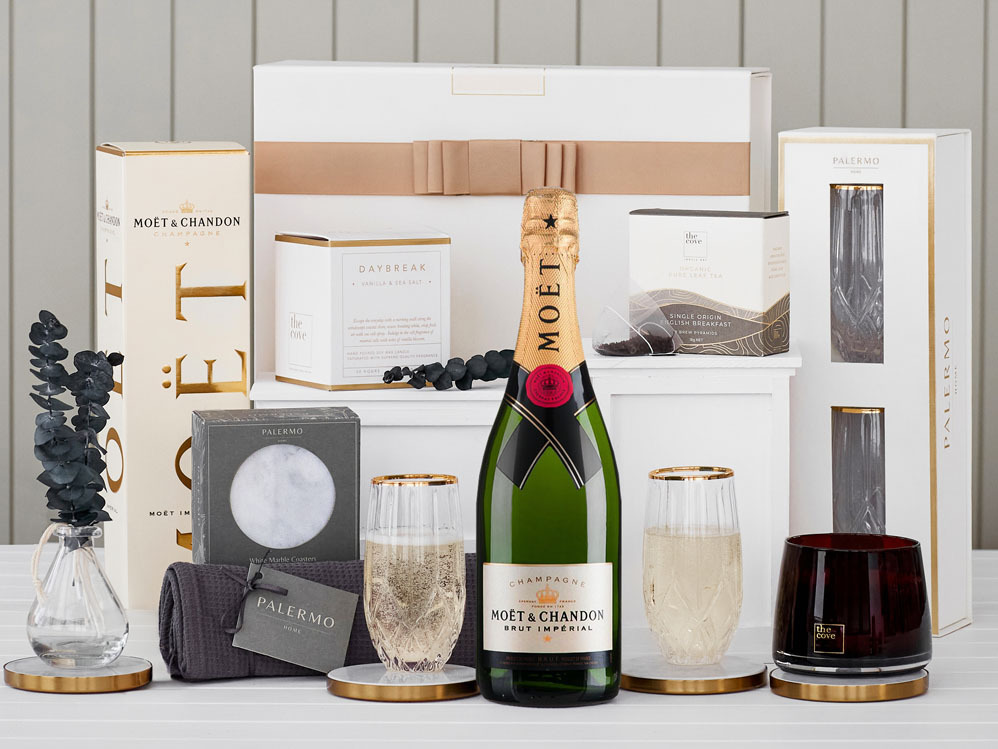 What Makes The Best Welcome Gift Basket Ideas?
High Quality Welcome Hampers Are Best
A feeling of luxury and care is what makes any welcome gift extra special. Your gifts are a complete reflection of your company, so they shouldn't be cheap or look like an afterthought. Whatever you choose should be eye-catching and made with good quality materials. If you send welcome gift baskets or hampers to new clients, that should mean they are packed with impressive gifts, quality products, and the most delicious and tasty food and wine available.
A Welcome Gift For New Clients Should Be Thoughtful
An important part of sending welcome gift baskets as corporate gifts is the amount of thought that is given. It's difficult to know each client personally, but an individual touch to your gift can make a huge impact. It can be as simple as adding a fun item to your welcome gift basket or as complex as designing it yourself.
Stand Out With Personalised Client Gift Baskets
Keeping it personal is also an important consideration when it comes to sending your welcome gift basket ideas. Although it is from your company, it should always include a personal note of welcome, as it's all about creating lasting connections. While you may choose corporate branding as a stylish added touch, always ensure it doesn't distract from the reason you're giving the gift.
Unique Gifts To Welcome Clients or Guests
An individualised welcome gift should be unique to them, the occasion, and your business. Are you welcoming a family, a new graduate, a professional gentleman, or even someone you have worked with in the past? Choosing a unique gift means that it should be ideally suited to the recipient and not appear to be simply an after-thought. Make sure you have a plan in place for gifting new clients and that it always comes from the heart. Receiving a welcome gift basket should be a positive experience for your new clients or guests and make an impact that will be remembered.
Eco-friendly Gift Choices Matter
Pay close attention to where your welcome gift baskets are manufactured and where the products are sourced. Nowadays, it matters about the environmental impact and that of the local economy. Environmentally friendly options are always the best choice when you are making your selection of corporate gifts and welcome gift basket ideas.
Make Your Final Welcoming Choice
A luxurious welcome gift basket should be one that wows your customer and gives them a wonderful surprise.
Here at The Hamper Emporium, we're sure you will find just the right hamper and some fabulous welcome gift basket ideas to impress clients. They are all presented beautifully and brimming with world-class brand names and high-quality gourmet flavours.
There are several options for stylish corporate branding that will contribute to the occasion. Using your company colours, high-quality satin ribbons and customised gift cards will certainly add a touch of class. You can choose your own personal messages on each individual gift even if you are purchasing a bulk order.
We think our welcome gift basket ideas genuinely stand out and will create a lasting impression. So, if you're looking for a way to stand out, go that little bit further to really make and impression. Welcome them on board today with something from our fabulous range of gift hampers!