What Makes Luxury Hampers Luxurious?
Author: Nikki Barnett Date Posted:3 January 2020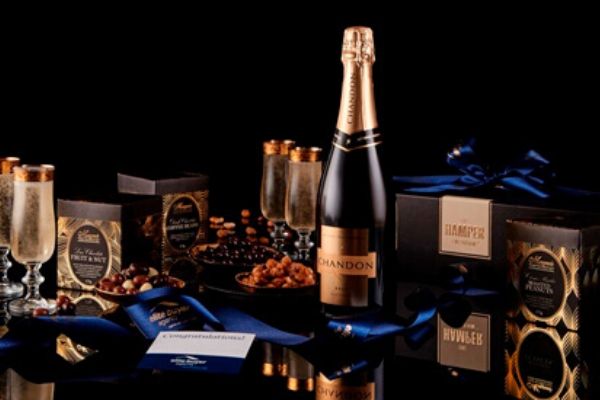 Luxurious - oppulent and stylish: something that gives great pleasure, and is perceived to be expensive.
Luxury goods are often perceived as those products that are not essential, but highly desired and give a feel-good, pleasurable experience. They are also often associated with wealth or affluence, but the nice thing to know is our luxury Australian hampers are available to everyone.
Hamper Emporium provides a range of luxury hampers that will delight and deliver an exceptional experience to receive and to give.
A Luxury Australian Hamper As A Corporate Gift
If you are a business, then our hampers provide the ultimate corporate gift. A gift that shows thought and is extra special as it contains gourmet goods that make them a treat to receive.
Our luxury Australian hampers send the message that your client, customer or supplier is important to you, which is an essential component for building your brand.
We further support your brand building by supplying free double-sided satin ribbon with your logo or company name on, and a complimentary premium gift card, this is a luxury Australian corporate hamper that will not be forgotten.
We also have personalised gifts to add to your hamper that further enhances the significance of the present and establishes you in the mind of your recipient, growing your brand. Our graphics team are always on hand to help you design your custom card to reflect your company.
A Luxury Australian Hamper As A Personal Gift
Giving to our loved ones is a pleasure for the giver as much as the receiver. Our hampers can bring joy and delight to any occasion, be that, birthdays, anniversaries, baby showers, new baby, weddings, kitchen tea parties, for holidays and to say 'Thank you' or 'I Love You'. Whatever the occasion we have a luxury Australian hamper that is just perfect for it.
Our prices will suit any budget, and each one has been lovingly created to bring a sense of indulgence and luxury, be that with savoury nibbles, decadent chocolates, a rich combination of everything. They can also include the fabulous Moët Chandon Champagne or an excellent wine from the renown Margaret River Cape Mentelle Vineyard.
The Touch Of Luxury In Our Hampers
We don't just put anything into our hampers; we want to provide a luxurious gift, one that people will remember. Everything from the contents, to the packing, has been carefully researched and tested before being added to one of our hampers. We want our gift hampers to make people smile with pleasure.
The Gourmet Foods & Gorgeous Gifts Inside
To achieve that luxury element, we have sourced our hamper products from the finest artisans in Australia, Tasmania, New Zealand and Europe. These are not contents you can pop to your local store to purchase, which is why they are that touch more special!
You will find a delicious savoury & pantry selections from:
Brewer's Nut Co

Valley produce

Luke Mangan

Gourmet Regional Produce

Regimental Condiment Co

Black St

'The Figgery' Kangeroo Island

L'Orto Di Franco

Kangaroo Island Produce Co
The gooey goodness of sweet and biscuits from:
Morgan's

The Woods Farm

Trentham Tucker

Byron Bay
The sensual delight of chocolate that is always a luxurious treat from:
Ernest Hillier

Willie's Cacao

Butlers Chocolates
The finest wine, beer, spirits & Champagne:
Drinks in the hampers include the finest Australian craft beers and artisan ciders alongside Margaret River wines, Moët & Chandon Champagne, Glenmorangie Whisky and the exquisite Hennessy VSOP Cognac. These all come together with carefully selected gourmet treats.
The Exclusive, Custom-Designed Gift Box
How our hampers look is just as important as the contents within, to be classed as a luxury gift it needs to convey that message. Your chosen hamper will arrive in one of our attractive and custom-designed gift boxes or handcrafted wooden wine box or beer crate. Each unique and fabulous that makes giving them as a gift all the more special.
A personalised gift card adds that final touch of luxury and our free delivery throughout Australia is also a plus. You can also track your order, know where it is, and when it is delivered.

Hard To Choose, But Here Are Our Top Three Luxurious Hampers
Pure Gold Luxury Food Hamper - $309
Sophisticated luxury, this hamper delivers a gourmet feast for the senses. The fabulous taste sensation of Moët & Chandon Brut Imperial NV Champagne that bubbles on your tongue or the smooth, classy taste of a Margaret River Shiraz set the tone of this hamper. These are accompanied by a selection of delicious nibbles from Australia artisan producers, along with the best chocolates from world-famous chocolatiers.
Luxury Hennessey Hamper - $229
This is one for the whiskey lovers out there. The mellow taste of Hennessy' VSOP' Cognac is combined with a selection of the perfect accompaniments both savoury and sweet. Where you will find Regimental Condiment Co Plain Crackers to smother with delectable Regimental Condiment Co Roasted Capsicum Tapenade or Luke Mangan Quince Paste.
Pop a 'Figgery' Sticky date in your mouth for a moment of pure indulgence or if you are feeling generous share some Morgan's Maple Coconut Roasted Almonds. It's so hard to share the Byron Bay Cookie Triple Choc Fudge Bag - they are a sheer indulgent enjoyment, best kept for yourself!
Ultimate Foodies Hamper with 'Trinders' - $199
The Margaret River Cabernet Merlot scores very highly with renowned wine critics. The dark plum and blackberry flavours meld together perfectly, giving a smooth, slightly oaky taste to this excellent red wine; a bottle that can be enjoyed immediately or cellared for up to 15 years.
This luxury hamper also contains our signature gourmet treats in the fabulous keepsake box. Indulge yourself with Trentham Tucker Cranberry & Pistachio Crispbread, Black St. Gourmet Salted Caramel Sauce, and the gold-foil luxury of mild-tasting Calvi 'Mosto Oro' Extra Virgin Olive Oil. Nibble on decadent chocolates from Australia, South America and Ireland for pure pleasure.

A Range Of Gifts To Suit All Budgets, All With FREE Delivery
The Hamper Emporium offers a large selection of luxurious and indulgent hampers, and they are not extortionately expensive. It's our goal to deliver world-class gift hampers suitable for all budgets. Not only do we form strong partnerships with exclusive brands to ensure we always offer the most competitive pricing, but each and every hamper includes free Australian delivery.
One of our popular luxury hampers, is only $79. A fabulous hamper of Sweet Bites that is a deliciously luxurious gift to give or receive. Mum, daughter, dad, boyfriend, girlfriend, anyone you care about and want to give a touch of luxury to brighten the dull month of January, then this is the hamper for you.