Favourite Mother's Day Gift Basket Ideas 2022
Author: Michelle Richards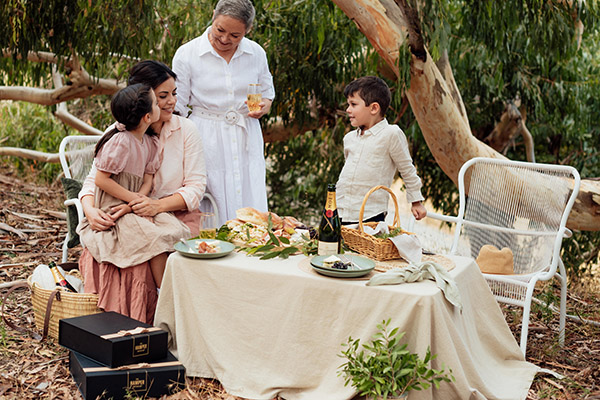 What Do You Put In A Mothers Day Gift Basket?
As the leading Australian supplier of Mother's Day hampers, we know better than anyone what should be put in a Mother's Day hamper to make the biggest impression. If you are looking for inspiration, either for a homemade Mothers Day gift basket, or for ways to choose the perfect gift basket ideas, then look no further than the best-selling women's gift hamper range beautifully designed by the experts at The Hamper Emporium. For the best surprise, we also recommend arranging delivery right to Mum's door.
Mums are givers of eternal love and affection and, as such, deserve your appreciation and gratitude in personalised gifts, hampers and other brilliant ideas to add endless Mother's Day sparkle. Every item chosen for a Mothers Day gift basket needs to reflect your appreciation with a little gift-giving opulence. Wondering how to make a Mother's Day basket and what the best gifts to put in a hamper for mum are? We've got everything you need right here.
List of things to put in a gift basket for Mothers Day
Chocolates - along with flowers, chocolates are the most common Mother's Day gift and are an essential item to include in a gift basket for mum.


Gourmet food - treat mum to something extra special by adding gourmet versions of her favourite snacks to her gift basket.


A bottle of wine - wine or champagne transforms a Mothers Day gift basket into something fabulous and indulgent.


Beauty products - encourage mum to pamper herself by including skincare products or body creams that she wouldn't usually splurge on.


Relaxation gifts - this is a day for mum to relax, so including soothing bath salts or an aromatherapy candle is a perfect Mothers Day gift basket idea.


A gift voucher - A gift card or voucher in her Mother's Day gift basket gives mum the freedom to choose something a little extra for herself.


Mother's Day card - it might seem obvious, but make sure you include a personal note to express your appreciation for all your mum does.
What to put in a Mother's Day hamper for new mums?
For a first Mothers Day gift, first-time mums can be made to feel even more special with either a unique gift basket that includes items for baby, or items focused purely on herself. Include a mix of post-pregnancy pamper gifts, baby items, and sweet treats. We know new mums would be tickled pink with the Iconic Baby Essentials Hamper with Moët, which features an adorable Sophie the Sheridan Sebastian Plush Bear, Giraffe teether, baby clothes, organically made pamper products for baby and mum, a bottle of Moet and Chandon Champagne, and the sweetest nibbles for loving mums.
For a Mothers Day gift basket that only includes items for mum, the L'Occitane Cherry Blossom Hamper is a great idea. It includes a candle, bath soak, L'Occitane hand cream and scented soap, a gorgeous blush pink satin robe, and a feast of different chocolate and sweet nut treas. Spoiling mums of newborn bubs this Mother's Day is assured with the extensive range of gift hamper ideas. Pampering hampers, personalised Mother's Day gifts, gourmet food and Champagne comprise the perfect combination when considering ideal gifts for all new mums.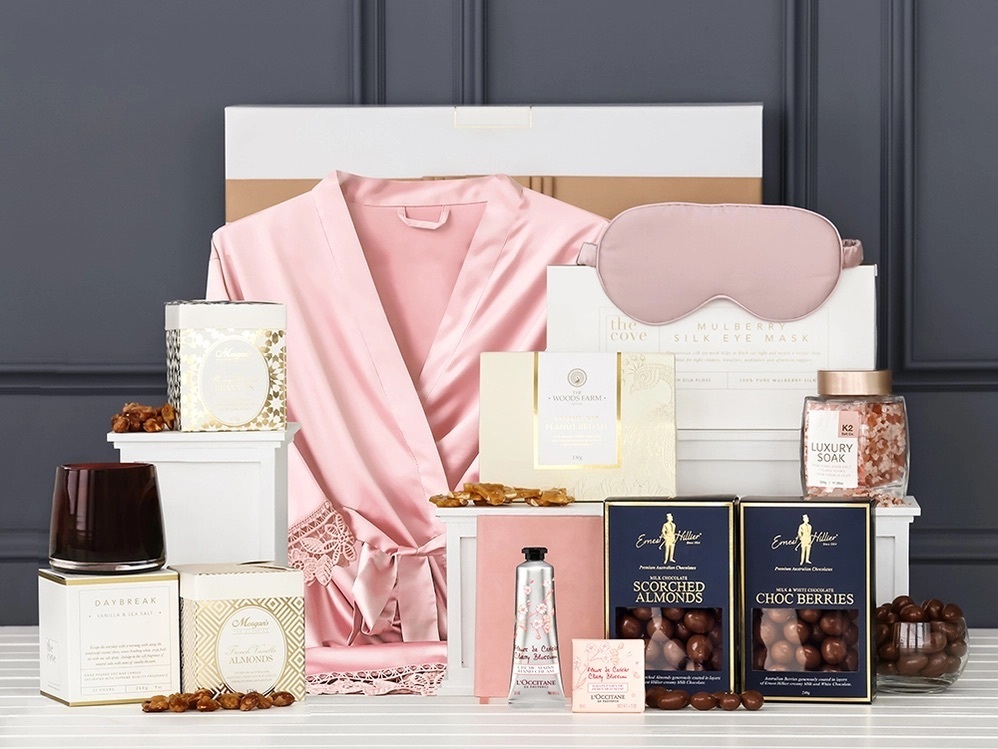 What to put in a Mother's Day hamper for elderly mothers?
Older mums deserve a gift basket that includes all their favourite things. You should include a combination of items that offer a little luxury, things you know she likes, as well as new gourmet food treats she hasn't tried before.
If your elderly mum loves to indulge her sweet tooth, you've come to the right place at The Hamper Emporium. The range of Mother's Day chocolates and sweet gift hampers available online at The Hamper Emporium make the perfect gourmet treats for Mother's Day for older mums. You'll love our gift basket ideas with different combinations of sweet treats that make unique sweet gift selections for grandmothers or older mums.
For a great value gift basket, The Sweet Epicure Hamper includes an incredible range of items from Maggie Beer, Morgan's of Sydney, and Kokao including chocolates, chocolate cake slices, a large selection of sweet nuts, and rich chocolate dessert sauce (designed to enjoy drizzled over dessert but we highly recommend just eating it with a spoon straight out of the jar!).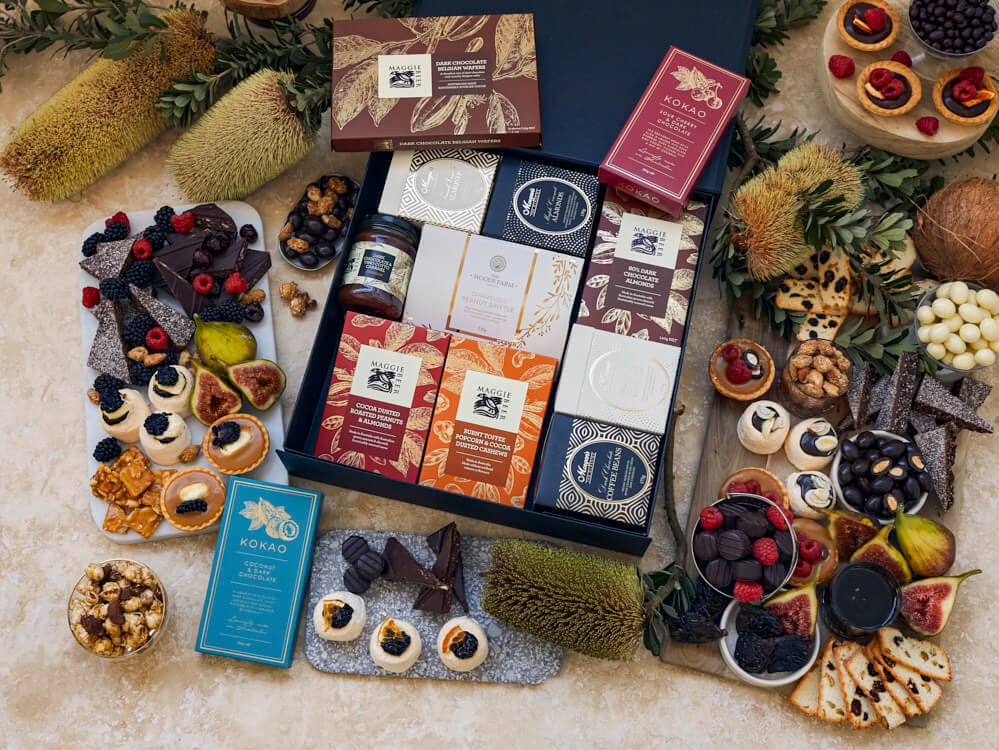 What are the best beauty products to put in a Mother's Day hamper?
Restorative essential oils, nourishing skin creams, and heavenly scented candles and diffusers are wonderful gifts for a Mother's Day basket. Gifts for mums who abide by their beauty regimen are many and varied at The Hamper Emporium. If she cares for her outward appearance almost as much as the inner glow for her beloved children, you could opt for Mother's Day gift hampers filled with top quality beauty products.
For the mum who always loves to look and feel her best, we've included a selection of products from the Nektar and Booderee range of body care and home fragrance as well as cosmetics from Jurlique and L'Occitane in our self-care hampers. The Jurlique Rosewater Balancing Mist and L'Occitane Cherry Blossom collection of beauty bars, hand cream, hand balms and moisturising facial lotions are among our most popular products in our women's pamper hamper range.
Gift baskets that include beauty products will make your beauty queen mum feel amazing and provide a glimmer of summertime glamour. She'll sparkle with a combination of premium beauty products and gourmet treats. Beauty queen mums will also love sipping from 24 carat gold champagne glasses as she enjoys a bottle of Chandon sparkling wine and nibbling on the sweetest nutty treats from Morgan's of Sydney.
What to put in a Mother's Day hamper for a mum who has everything?
For mums who have it all, gifts of pampering luxury or unique keepsakes she will enjoy long after Mother's Day are a nice touch to include in a Mother's Day gift basket.
Nothing says "I love you" quite like receiving a gift that is focused purely on opulence and enjoyment. You could include a plush bathrobe, toiletry bag, luxury skincare items, a combination of sweet treats. For something completely different, make a Mother's Day gift basket for afternoon cocktails. Include a cocktail shaker, a selection of alcohol and mixers, and fun cocktail garnishes.
If you're not sure about the perfect combination of things to put in a Mother's Day cocktails gift basket, we have a range that includes gin cocktails, espresso martinis, vodka cocktails, and more.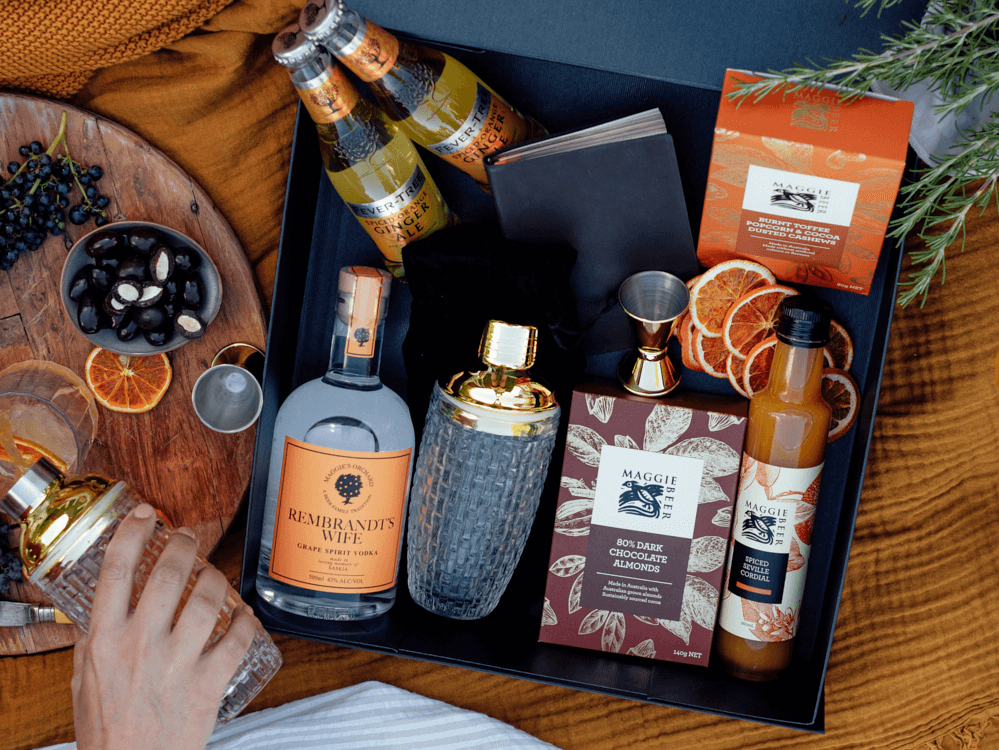 Pressed For Time And Needing An Online Mother's Day Gift Basket?
Every gift hamper offered by The Hamper Emporium contains coveted products of excellence for all tastes. Whether it's supreme skincare and fragrance ranges, plush bathrobes, books and baby toys, Moet and Chandon Champagne, Barossa Shiraz, Australian craft beers, Glenmorangie Whisky, imported and local gourmet produce, delicious chocolates, sweet and savoury nuts, crackers, tapenades and every edible extra, foodies and all discerning clientele will be in seventh heaven with the collection of gifts included in a gift hamper from The Hamper Emporium - each one is brimming with love.
If you can't decide, we also offer an online chat function that provides prompt assistance for all your hamper suggestions and gift-giving decision-making. Your Mother's Day gift baskets also come with free Australia-wide delivery from The Hamper Emporium. Designed to arrive in elegant keepsake gift boxes, your hamper selections come complete with a complimentary gift card, including your personalised message, and all are beautifully gift-wrapped.
Always offering a helping hand and embracing more than 15 years' experience in the fine art of professionally packaged gifts of premium luxury, providing Mother's Day hampers and gift baskets from The Hamper Emporium is forever a pleasure to treasure.