Best Mother's Day Gift Basket Ideas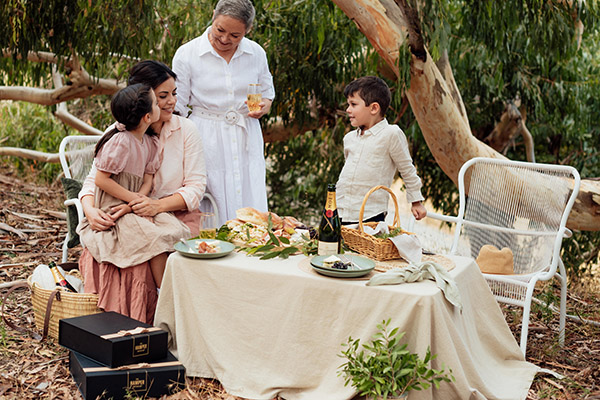 Mother's Day Gift Basket Ideas To Create The Perfect Hamper For Mum
At The Hamper Emporium, we believe that beautiful Mother's Day hampers are a big part of creating a wonderful Mother's Day she'll never forget.
Chocolates, Red Carnations, and fluffy pink homewares might be the classical presents we associate with Mother's Day, but they are a fraction overdone in 2023. So, instead, many children are opting for hampers – a luxurious present that truly spoils Mum.
We believe there's an art to putting together the perfect hamper, and it's taken us years to perfect it. So, in this blog post, we'll share seven Mother's Day gift basket ideas that will ensure Mum gets a hamper that she'll love and cherish. We'll also answer Australia's most common questions about Mother's Day gift baskets.
What do you put in a Mother's Day Gift basket?
Over the past 15+ years, we've come to realise that the best gift baskets contain goodies that make Mum smile and provide a luxurious experience that lasts the whole of Mother's Day.
So, whether you're putting together your own gift box or you're looking for the perfect one, look for these seven elements:
Chocolate or cake – Indulge Mum's sweet tooth with some treats she can devour on her big day.
Gourmet food – Treat mum to something extra special by adding gourmet versions of her favourite snacks to her gift basket. We recommend jams, coffee, sweets, and relishes.
Nibbles – Get Mum something to munch on. We recommend cheese, crackers, and sweet and savoury nuts.
A bottle of wine – Wine or champagne transforms a Mother's Day gift basket into something fabulous and indulgent.
Beauty products – Encourage mum to pamper herself by including a skincare product, a hand cream, a bath soak product, a bath bomb, or a satin robe that she wouldn't usually splurge on.
Relaxation gifts – Mother's Day is Mum's special day, so include goodies to help her celebrate and unwind. We suggest a scented candle, a tea infuser, a coffee mug, or a keepsake (like a sterling silver necklace or a jewellery gift set).
A Mother's Day card – Let Mum know how much you appreciate her with a heartfelt card she can hold on to.
The thing that really ties a Mother's Day gift basket together is the way it's packaged. The best baskets have luxurious, premium packaging that makes Mum feel like a queen.
What Are The Best Beauty Products To Put In A Mother's Day Hamper?
If Mum cares for her outward appearance almost as much as the inner glow for her beloved children, you could fill Mum's Mother's Day gift hamper with top-quality beauty products.
The best beauty products for a hamper or gift basket are the types of products that Mum is unlikely to buy herself. We recommend divine bath bombs, scented hand cream, rich bath soaks, and luxury skincare products (like face masks and serums).
If you're looking for a divine beauty hamper to surprise Mum with, we recommend the L'Occitane Rejuvenate & Pamper Hamper. This hamper includes a range of delectable cherry blossom products from the French beauty brand L'Occitane. It also comes with some tasty snacks so she can kick back and enjoy her spa experience.
If Mum appreciates a good glass of wine, she'll love the L'Occitane Rejuvenate with Moët Pamper Hamper. This hamper includes luxurious L'Occitane products with Moët and Chandon and some delectable treats.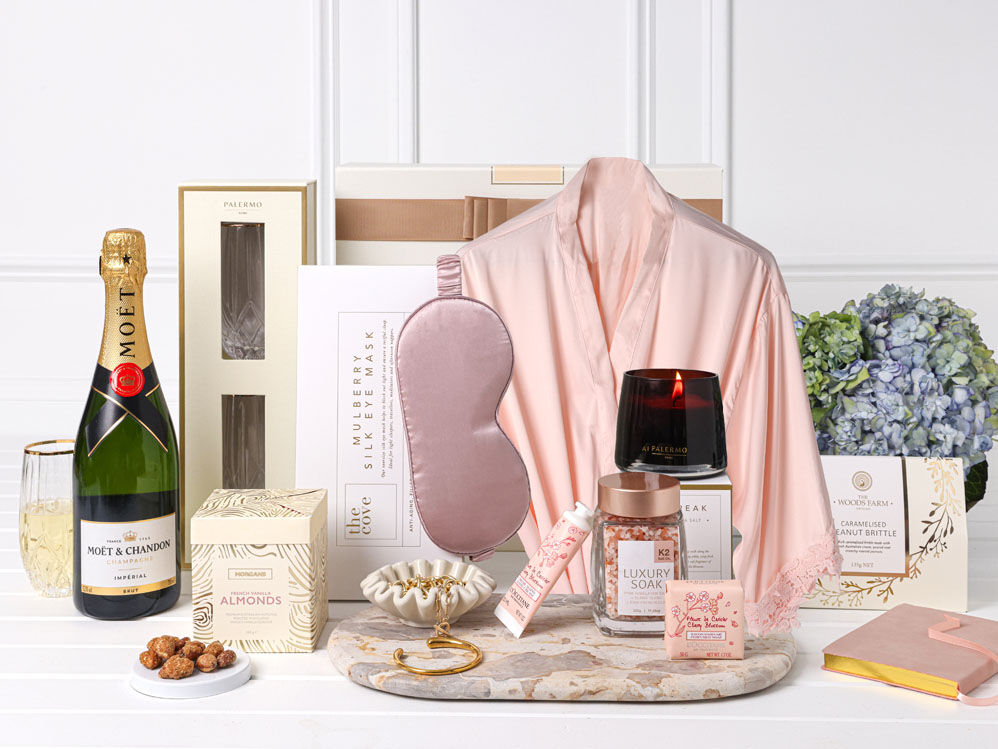 What Are The Three Most Common Mother's Day Gifts?
The most classical Mother's Day gifts are chocolate, flowers (specifically, Red Carnations), and breakfast in bed. Other popular choices include bath bombs, beauty gift sets, wine, coffee, and candles.
Hampers and gift baskets are steadily growing in popularity because they provide a premium, luxury experience that is guaranteed to make Mum feel special. Hampers are also safe bets because if Mum doesn't like one product, there are plenty of other goodies for her to enjoy.
If you're looking for Mother's Day gift baskets with all the classic Mother's Day gifts, we recommend the More Than Flowers Hamper. This pink and perfect hamper comes with an elegant satin robe in blush pink, a bunch of preserved flowers from Everbloome, and some delectable French vanilla roasted almonds that Mum will adore.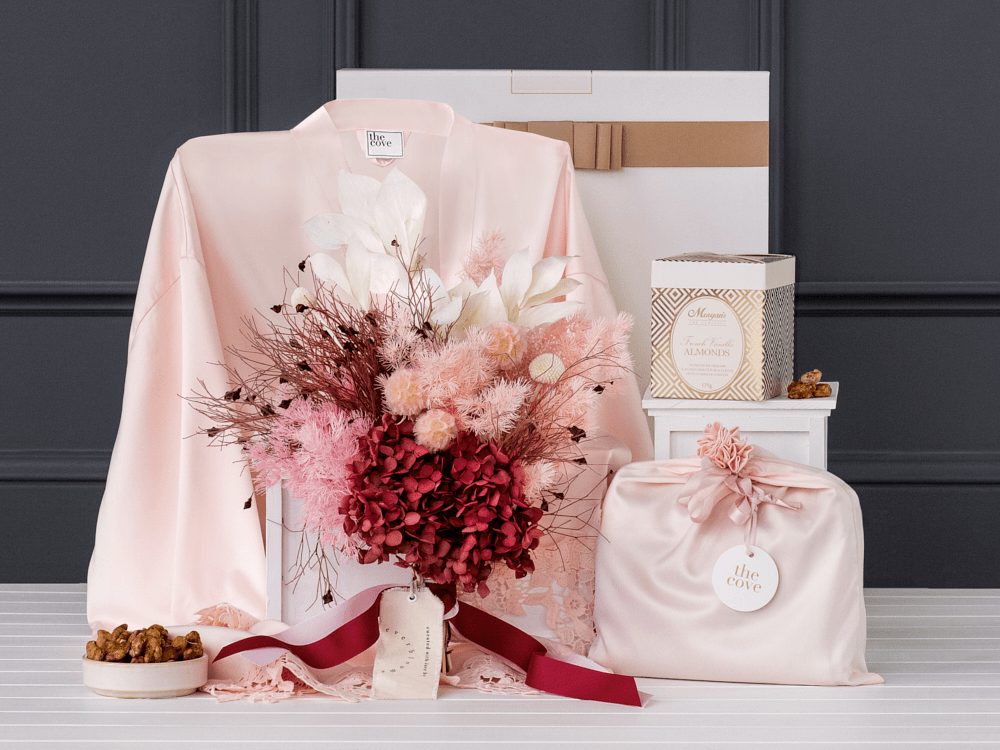 How To Make A Mother's Day Gift Basket?
To make your gift basket really "pop", you need to tie all the gorgeous gifts you got Mum together with some pretty, high-quality packaging and a heartfelt card that shows Mum how much you care.
If you don't consider yourself to be a good gift wrapper or you're pressed for time, we can handle the fiddly stuff for you and ship Mum's present straight to her door in time for Mother's Day. Explore our wide selection of premium, luxurious hampers, and we guarantee you'll find one Mum will adore.
FAQs About Mother's Day Gift Basket Ideas
What Do Mums Really Want For Mother's Day?
Mums want a basket filled with goodies that they can enjoy on their special day. Hampers are the best way to make sure Mum gets a little bit of everything – some sweet treats, some luxury products, and some heartfelt keepsakes she'll hold on to.
What To Put In A Mother's Day Hamper For New Mums?
Her first Mother's Day is one she'll remember fondly, so get her a gift box filled with a mixture of tasty nibbles, post-pregnancy pamper gifts, and baby items. The Iconic Baby Essentials Hamper with Moët is the perfect new Mum hamper – it contains gourmet nibbles, high-quality Sheridan, Pure Baby, and L'Occitane products, and a bottle of Moët & Chandon to help Mum celebrate in style.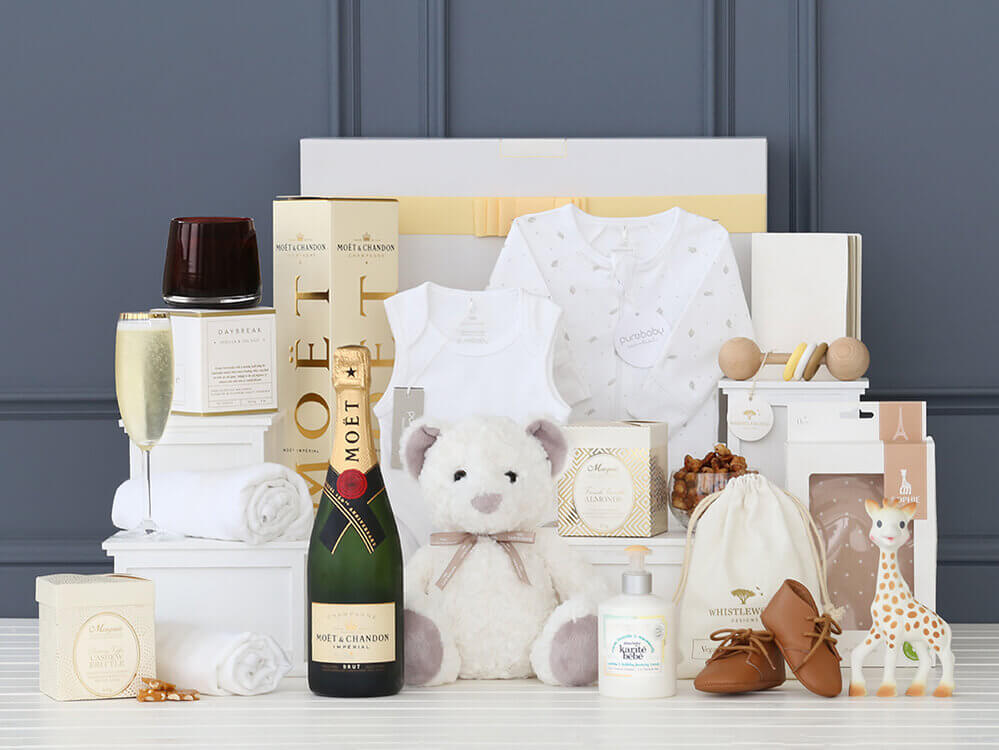 If you think Mum would prefer a Mother's Day basket without baby items, we recommend these hampers:
Or, if you'd rather explore our full range of hampers for new Mums, click here.
What To Put In A Mother's Day Hamper For Elderly Mothers?
The perfect gift for older mothers includes a combination of items that offer a little luxury, things you know she likes, and new gourmet food treats she hasn't tried before.
If your elderly mum loves to indulge her sweet tooth, you've come to the right place at The Hamper Emporium. Mum and Grandma are sure to love the A Touch of Luxury Hamper. It comes with a range of delicious goodies from three of Australia's best artisan producers (Maggie Beer, The Woods Farm, and Morgans).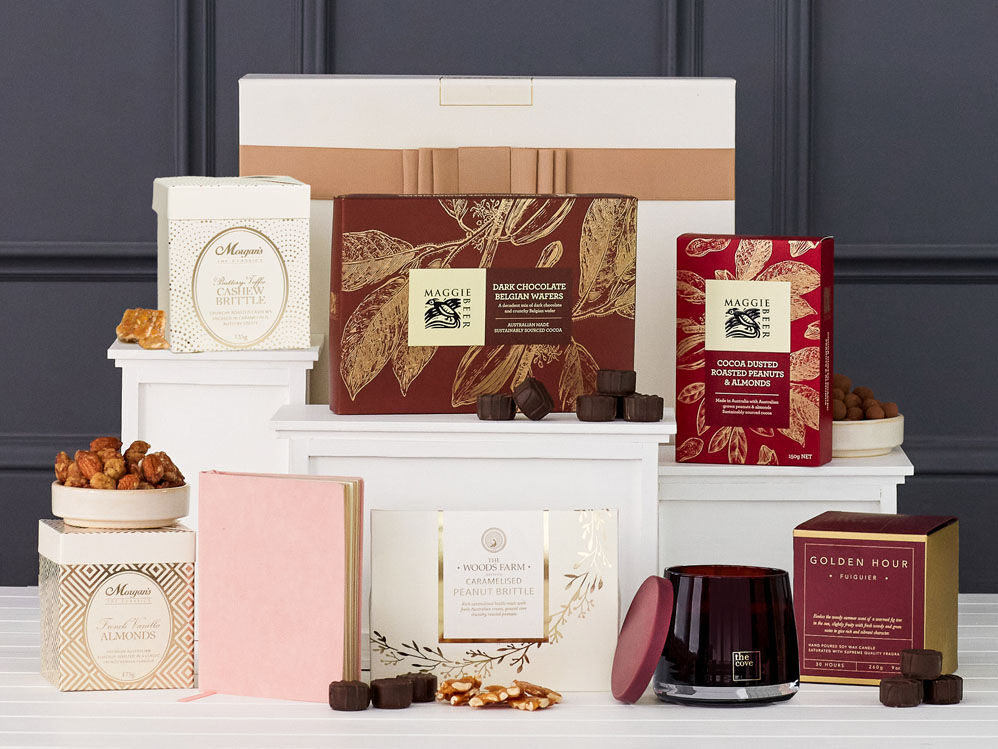 If she prefers salty and savoury treats, she'll love the Gourmet Nibbles Hamper and the artisan nuts, crackers, and olives it comes with.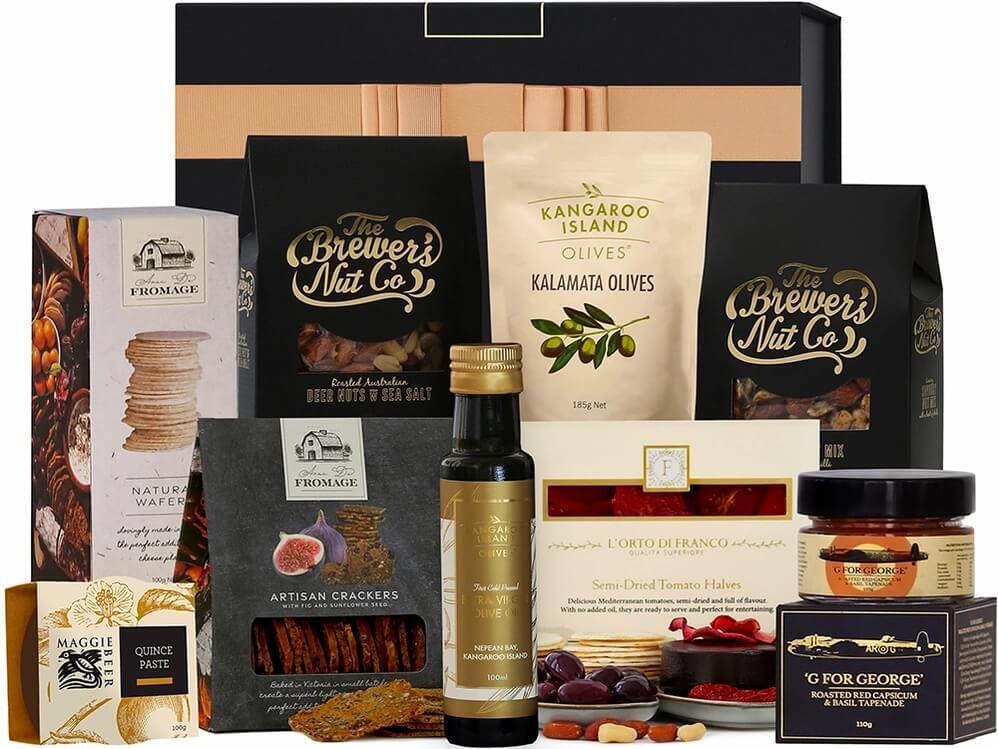 Pressed For Time And Needing An Online Mother's Day Gift Basket?
Mums are the backbone of Australia – the bringers of new life, the glue that holds many families together, and the kind, nurturing souls who'll do anything for the ones they love.
At The Hamper Emporium, we believe that a luxurious gift box is a perfect way to spoil Mum and show her just how much you appreciate her.
And, because we know that you're busy and don't have time to run around the shops to find the perfect goodies for the world's best Mother's Day gift, we've put together a selection of gourmet gift baskets that Mum is sure to love.
Our gift baskets come with free delivery Australia-wide (standard shipping only), and we even provide a free card that you can customise with a sweet message for Mum. Browse our selection and find Mum's perfect pressie.