Motivating Gift Bags for Employees & Staff
Author: Nikki Barnett Date Posted:20 October 2021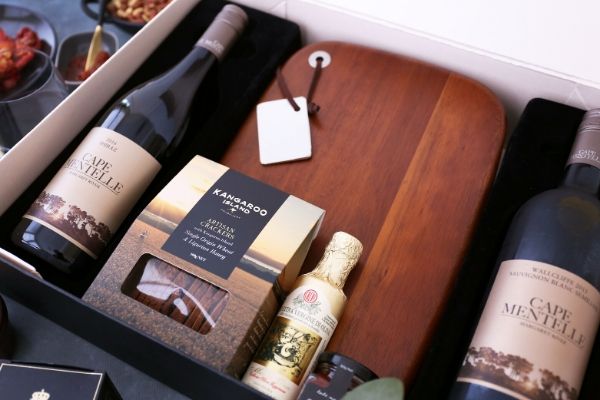 Make staff feel special and create a buzz!
Leading any kind of team, and ensuring they are all individually engaged can be a challenge. Fun and motivation at work open the door to a whole host of benefits from improved productivity to added excitement. We have to play hard to work hard! For an EOFY treat, or in the lead-up to a busy Christmas period, motivational gifts should be on top of your list of ways to best use your staff performance budget.
Recognising employee achievements with motivational staff gifts is a great way to foster relationships and provide recognition. You can tailor them to individual personalities and make them as unique or practical as you want. Personalised notebooks, flowers, chocolates, champagne or a meal for two are all guaranteed to thrill.
At The Hamper Emporium, we think that gift bags add a visible note of fun and are perfect for motivating staff. When the team are working hard, a motivational gift sends a clear message of appreciation. can be personalised to create a real buzz in the office when the gift deliveries arrive!
Even small gestures can have a large impact. Motivational gifts can:
Create a powerful psychological effect

Contribute to workplace happiness

Boost office morale

Refresh and refocus staff

Increase productivity rates

Generate motivation

Provide positive feedback

Help to attract new staff

Aid staff contentment and retention

Show you care
What do you put in employee gift bags to show your appreciation?
We all like to feel appreciated and recognised at work. Rewards, however small, are vital to our morale and create a 'feel-good' factor. There are many ways this can be achieved, from introducing fun activities to running attractive incentives and competitions. Every small action helps to create a cohesive and happy working environment.
Workplace perks, team-building events and reward schemes all have their place. As ideas for recognition, attractive gift bags and gift baskets offer an effective and unique way to give individual staff or teams a real treat to enjoy. Here are just some of our ideas to inspire your creativity!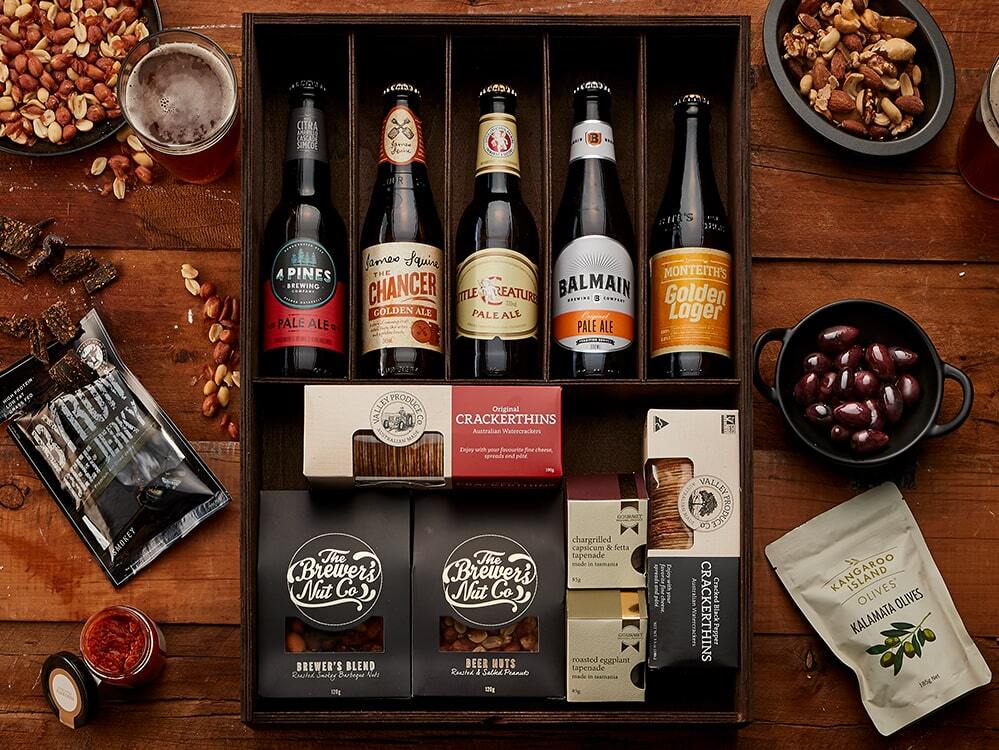 15 inventive goodie bag ideas that staff will love
If you're looking for inspiration, your employees will love the following:
Stationary baskets packed with colourful pens and arty stationery

Technology bags with handy small items like a mini power bank and earphones

Pamper baskets overflowing with essential oils, soaps, scents and luxury

Picnic baskets full to the brim with party food, snacks and drinks

Stress relief bags packed with games, fun stress reliever toys, eye masks or lavender

Shopping baskets full of fabulous gourmet shopping items

Drinks bags filled with mugs, bottles or interesting drinks accessories

Chocolate baskets with a variety of sinfully smooth sweet treats

Laptop bags containing useful electronics from a flash drive to chargers and USB cables

Lunch bags brimming with healthy food or indulgent cream cakes and doughnuts

Gym bags filled with exercise aids, accessories and gym ropes, rings or balls

Oxygen baskets pack with flower seeds, colourful blooms, or green leafy plants

Travel bags with useful items like travel gifts, document holders, sunscreen, and lip balm

Wine baskets with nibbles and crisp white, or perhaps a full-bodied red wine

Personalised team bags for them to use at work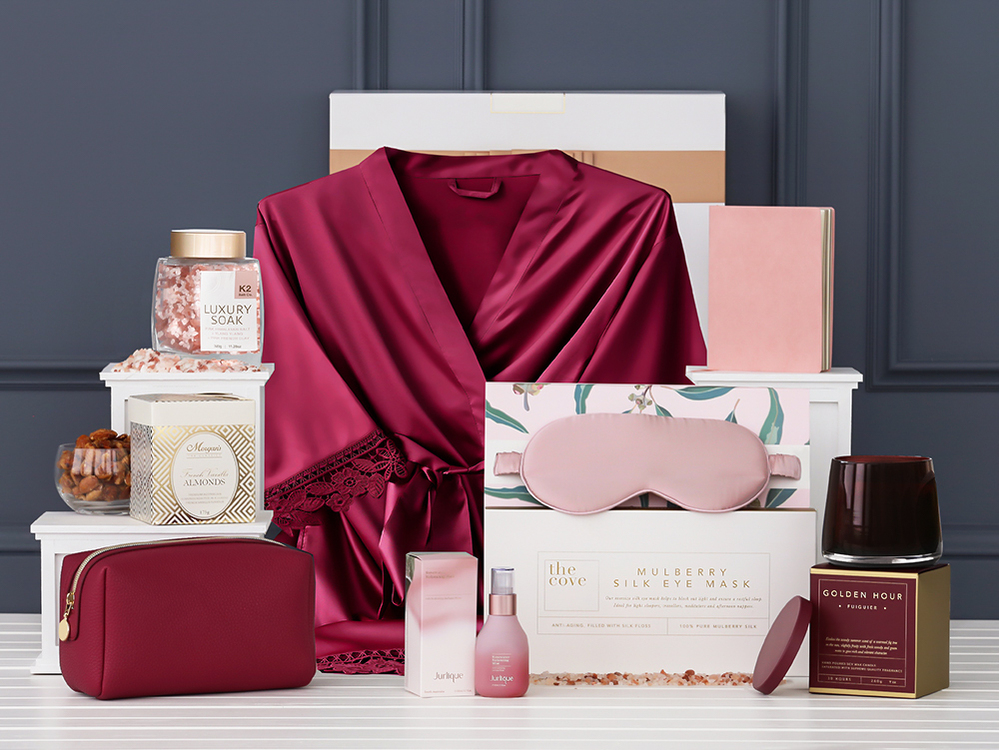 Wow them with gift hampers for special occasions
Individual gift bags for employees are a brilliant idea for most occasions. But sometimes you might be searching for that extra special reward which is when ready-made luxury hampers are the answer. Gorgeous birthday hampers, festive Christmas hampers and cool corporate baskets; we have them all.
They can be perfectly tailored to the occasion, and all come in beautiful keepsake boxes with next day delivery across Australia! From gift boxes Melbourne to gift hampers Sydney, we guarantee some smiles. Whether they're packed with gourmet food, sparkling Moët to seriously pampering products, they are designed to impress.
Here are two of our absolute favourites to give you some food for thought.
Moët Impérial & Gourmet Nibbles
This Moët & Nibbles Hamper is a winner every time and sure to show the recipient just how much they are valued. A selection of crispy artisan crackers tempts the tastebuds with Kalamata olives, fresh tapenade and semi-dried Italian tomatoes. Brewer's savoury nut mix and classic beer nuts make nibbling just irresistible! As a delightful accompaniment, there's a bottle of expressive Moët Impérial for a celebratory drink.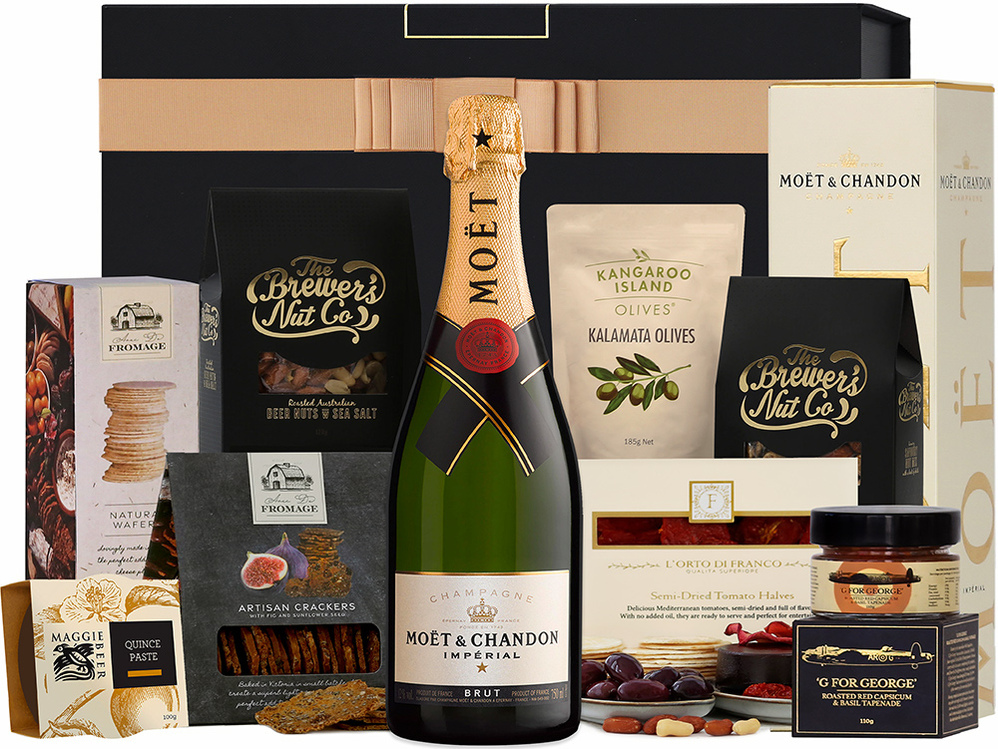 Red Wine & Gourmet Delights
This affordable gift hamper for staff is unforgettable. A rich, ruby Cabernet is a classic blend and an excellent choice for any special celebration. This is beautifully paired with a selection of delectable gourmet treats that will tempt even the most discerning nibbler. Maggie Beer's Toffee Popcorn & Cocoa Dusted Cashews and flavoursome Brewer's nuts add the perfect twist. For white wine lovers, you can switch it to a zesty, mouth-tingling Pinot Grigio paired with an exquisite selection of gourmet treats.
There are so many rewarding ways to demonstrate that you care and inspire colleagues and staff. So why not make a start on your motivational gift bags and send a thank you appreciation gift for staff to your team today?