Hampers That Pamper For A Romantic Start To The New Year
Author: Nikki Barnett Date Posted:8 January 2020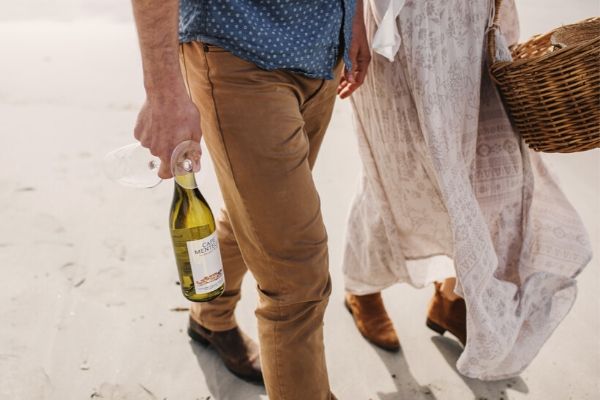 The History Of Valentine's Day & Pampering Someone Special

Every February, we get a day devoted to love, and every year we get the chance to tell those we hold nearest and dearest how much they mean to us. 'Love', such a small word that has so much meaning and impact in our lives, we use it in words we speak, the emojis we send, the actions we take and the passion we feel.
Valentines Day, 14th February, came about around the end of the 5th century. This was when Pope Gelasius 1st replaced the older Roman festival, Lupercalia with it. Lupercalia was a celebration to welcome spring, and it included fertility rites, plus lotteries to pair off women with men!
The association with romance came around the 14th century, and showing how much we care about our partners became de rigueur. On Valentine's Day, we show that care in extra special gifts. The top three Valentine's gift ideas are flowers, chocolates & cards - do you know why?
Flowers became one of the top three around the 17th century. An association going back to the Roman goddess Venus, the goddess of love whose favourite flower was the rose. This flower became linked with strong feelings, and over time lovers gave flowers to show how they felt. A rose being the most popular.
Chocolates were brought back by the Spanish conquistadors from South America. Chocolate not only tasted divine but was known to have aphrodisiac properties both excellent reasons for its continuing popularity. Hamper Emporium pamper hampers always include some exceptional chocolate, some even from South America!
Cards started to become popular following a love poem written by Charles the Duke of Orleans to his wife on Valentines Day 1415. He couldn't be with her as he was locked up in the Tower of London. The trend took off!. All our luxury hampers include a gold embossed card where you can put your poem, thoughts and feelings. We have included some suggestions on what to write on your card if you are stuck at the end of this blog.

Pamper Hampers To Show You Care
There are many ways to show you care, but here at Hamper Emporium, we have researched, listened and learnt what it is you want in our luxury hampers. It is about spoiling either yourself or your loved one.
Yes, you read that right, yourself! We cannot ignore the fact that many people might not be in relationships and while happy being single, it is no reason to miss out on Valentine's Day. Love yourself, treat yourself to a luxury Valentine's Day hamper and revel in the sheer indulgence of being you; eating drinking or using the finest of artisan products.
Both men and women can enjoy the indulgence that comes with a pamper gift from Hamper Emporium we have specially prepared our hampers in beautiful keepsake gift boxes to include everything that shows your love. We also deliver free all over Australia, especially pertinent if you cannot be with your loved ones on this special day.

Pamper Gifts For Men To Know They're Loved
Cape Mentelle & Personalised Leather, this fabulous hamper is sheer indulgence for him from the soft luxurious robe to the sophisticated toiletry bag filled with L'Occitane Savon products for men. Plus, gourmet nibbles and an excellent full-bodied Cabernet Merlot, the Cape Mentelle award-winning 'Trinders'. Making the gift even more memorable there is also a leather keyfob that can be personalised with up to four initials.
Luxury Hennessy Hamper, this is a perfect Valentine's Day gift if your man has a taste for good whisky. The superb Hennessy VSOP Cognac is matched with complementing nibbles that include
L'Orto Di Franco Semi-Dried Tomato Halves

Kangaroo Island Produce Co Artisan Crackers

Regimental Condiment Co Roasted Capsicum Tapenade

Byron Bay Cookie Triple Choc Fudge Bag

Morgan's Maple Coconut Roasted Almonds

'The Figgery' Kangaroo Island Sticky Figs

Plus, much more to spoil him with.
You can also find beer and cider hampers from microbreweries throughout Austalia, plus a variety of excellent wines and let us not forget the chocolate hampers that are a sensual luxury perfect gift for Valentine's Day.

Pamper Hampers For Women To Know They're Loved
Jurlique Pamper Gift Hamper, of course, our hampers can be given at any time to spoil a loved one or just to say you care, but this one is an especially apt luxurious Valentine's gift. Your loved one will adore the iconic Australian boutique skincare range from Jurlique combined with tantalising treats and divine chocolates; all washed down with the best of bubbly, Moët Chandon champagne.
L'Occitane & Moët Hamper, keeping the indulgence factor high is this great Valentines's Day gift packed with the French-made L'Occitane Cherry Blossom range, along with a bottle of Moët Chandon champagne you can find,
Gourmet Regional Produce Apricot & Armagnac Conserve

The Woods Farm Caramelised Peanut Brittle

Morgan's French Vanilla Almonds

The Woods Farm Macadamia Pure Butter Shortbread

Ernest Hillier Pink Handbag Scorched Almonds

Ernest Hillier Berry Chocs Selection

And many more delights for her to discover
Check out the other hampers; we have something for everyone from chocolate hampers to gourmet gift baskets, and everything in-between that will make your loved one feel extra special this Valentine's day.

Ideas For What To Write In A Valentine's Card:
"If you have only one smile in you, give it to the people you love." —Maya Angelou

"Love is being stupid together." - Paul Valery

"Anyone can be passionate, but it takes real lovers to be silly." —Rose Franken

"Love is our true destiny. We do not find the meaning of life by ourselves- alone we find it with another." —Thomas Merton
Prefer Humour to Soppy? Try These,
"If you were a transformer you'd be Optimus Fine."

"If I could rearrange the alphabet, I'd put U and I together." - Anonymous

"Do you have a Band-Aid? Because I skinned my knee when I fell for you." - Anonymous

"I think you are suffering from a lack of Vitamin ME." - Anonymous

"There is no one I'd rather lie in bed and look at my phone next to." - Anonymous
For His Card
"Sometimes I wonder how you put up with me. Then I remember, oh I put up with you. So we're even." - Anonymous

"You stole my heart, but I'll let you keep it." - Anonymous

And I'd choose you; in a hundred lifetimes, in a hundred worlds, in any version of reality, I'd find you and I'd choose you." —The Chaos of Stars
For Her Card
"Come live in my heart, and pay no rent." - Anonymous

"I kind of sort of maybe quite possibly like you a lot." - Anonymous

"You take my breath away. Always." - Anonymous

"Turns out I like you a lot more than I originally planned." - Anonymous