How To Plan And Throw A Killer Corporate BBQ
Author: Nikki Barnett Date Posted:29 January 2020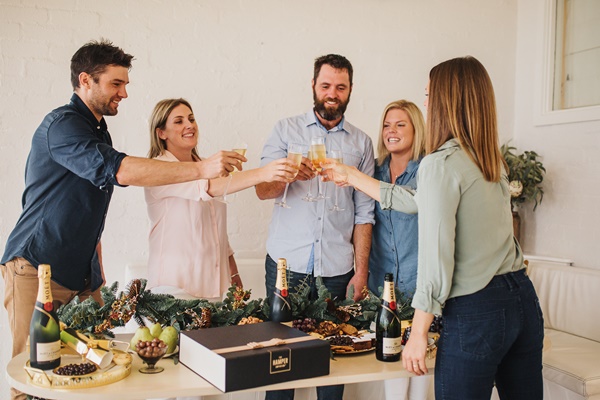 It's been a long, hot summer!
It will be over before we know it, so make sure you take advantage of the last weeks of sunshine.
Most successful companies treat employees to a summer event. It's a great way to boost morale and motivate employees to achieve your 2020 goals. Good food and socialising have untold business benefits!
Catering for corporate events at this time of year is simple and easy to plan. You could choose a formal event or a company picnic with divine corporate hampers, of course, but it's still BBQ season! Hosting a corporate barbie means you can invite colleagues to a relaxed afternoon packed full of delicious food and good fun.
Planning For Ultimate BBQ Corporate Event
Like any corporate event, a bbq takes some time and effort to organise. But don't worry if you're the coordinator, there are some easy guidelines to follow. We are gourmet food experts at The Hamper Emporium, and we're here to help you make an amazing impression. Any of our gourmet hampers are perfect for the tasting table! Hampers or no hampers, with our tips, we guarantee organising your next corporate party will be a breeze!
For a successful and laid-back company BBQ, just follow our six simple steps and everyone, including you, is sure to have an amazing time.
1. Start To Organise Your Corporate Event Early
The sooner you can start planning, the easier things will be in the long run. This way, you will avoid forgetting important details, stress overload or unbudgeted costs that can be associated with catering for corporate events. Decide on the style of your event and whether family or customers are invited. This will, to a certain extent, dictate your budget and venue.
Choose a date that fits in with work and holiday schedules and, if you can, utilise a normal work afternoon as an extra reward. When selecting the ideal venue, try to find one with plenty of outdoor space which is experienced in hosting events. Of course, if you are planning a small gathering or have your own green space, then you are lucky!
2. Catering For Corporate Events - The Menu!
If you are planning to do the catering yourself, then simple seasonal recipes will always win the day. Make sure you have plenty of hotdogs, chicken and burgers, along with fresh summer salads. Remember to have vegetarian foods on hand, if needed, and gourmet corporate hampers for emergency treat supplies!
Chips, vegetable sticks, dips, cheese and other finger foods are superb to start the festivities. Guests can munch and mingle while watching the grill sizzling. Typical barbie fayre is popular with everyone, but you could grill to thrill too. Why not chargrill fruit, let guests make their own mini pizzas or serve something mouth-watering to impress like:
Grilled lamb with red onion chutney

Spiced chicken and charred corn

Tasty pulled pork burgers

Herbed salmon fish cakes

Rum & coke marinated ribs

Prawns with minty lemon yoghurt
Plenty of toppings and condiments on hand are a must too! Get creative with a variety of relishes and spicy chutneys, including variations like mustard coleslaw, guacamole, pickles, spicy salsas and dips. When catering for corporate events, make sure to include favourite desserts too. Keep it simple with caramel slices, chocolate crackle, cheesecake bars and, of course, pavlova or lamington.
3. Keeping Guests Hydrated And Happy At Work Functions
Whether or not you decide to serve alcohol at your event, there needs to be plenty of non-alcoholic cans, water, mineral water and soft drinks to hand. Supplying enough is the key to success whenever you are catering for corporate events! Remember to have enough glasses on hand and add a piece of tape to each with your guest's name. A simple way for them to keep track of their drinks in the barbie rush.
If you choose to offer alcoholic alternatives, then a variety of popular beers, ciders and wines are essential. You could manage the bar service yourself or opt to hire a waiter for the event. As an impressive option, why not have a cocktail bar and entice guests with exotic recipes? Don't forget to order a huge amount of ice to keep bottles and cans cold and refreshing!
4. When Should You Opt To Use Professional Catering?
Catering for corporate events and BBQ's can sometimes take more time than you have. Some venues may not be able to supply equipment, tables and chairs, or other necessary items. Borrowing or renting these things is the ideal solution, but you will need to plan this early. A catering company will take care of all this for you if you have the budget to spare.
Professional caterers can take away the stress by doing menu planning and all food preparation, grilling and serving. Your caterer can also prepare a selection of impressive foods that fit in with any chosen theme. This leaves you and your colleagues completely free to mingle and entertain guests.
5. Team Building Entertainment Is A Fun Addition
Along with delicious food, it's also great to have some entertainment when catering for corporate events, especially those outdoors. If you are planning a theme, then you can tie in lively tournaments, games or raffles which never go amiss at a barbie. It's also a fabulous way to encourage team-building, so remember to have some fun prizes or impressive corporate hampers on hand as rewards!
Why not try one of these enjoyable options:
Arrange a company sports day

Play carnival games like sack races or ring toss

Try fun trivia quizzes and Bingo

Plan a treasure or scavenger hunt

Hold raffles or a fun penny auction

Have crazy dance-offs

Set up a photo booth

Start a team tug-of-war

Hire entertainment like a magician
6. Creative Theme Ideas For A Work BBQ
Once you've decided on a theme, then you can get started on choosing decorations. Catering for corporate events means you can go overboard on corporate branding or go for something completely different. Pick anything from a fun festival to a different country and encourage staff to come dressed for the occasion. Deck out the event with themed party favours, balloons, colourful tablecloths, confetti and flags!
When you are ordering your accessories, take a minute to think about branding too. You could elect to have your company colours or logo on these. It's also a fantastic opportunity to have branded corporate hampers and other items to use as prizes or awards. Music is also a must, so remember to rent speakers and make an eclectic playlist to delight your guests with the barbie vibe.
Like Our Top Tips For Planning A Corporate BBQ? Now Go Enjoy!
An unforgettable bbq event involves extreme fun and enjoyable time socialising with workmates. It can be expensive or simple. When you are planning and catering for corporate events, don't get overly stressed about the small details. Everyone will love the chance to have some time off work!
If you're inviting customers, remember to send invitations well in advance and stock up on some impressive corporate hampers. Take a look at our range of gourmet food and wine offerings today and then start planning!