5 Romantic Ways To Enjoy Australia Day
Author: Nikki Barnett Date Posted:13 January 2020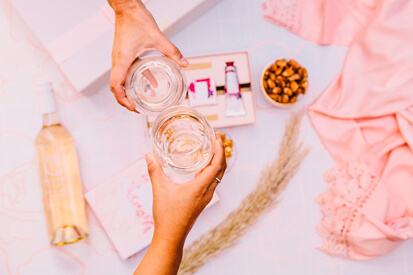 This year, the 26th of January Australia Day is a Sunday, meaning a wonderful long weekend for most people.
As we all know, Australia Day marks the time that the First Fleet arrived on these shores back in 1788. Some people choose not to celebrate, but it is a day we come together as a nation to honour what's great about being Australian, from our many achievements to our diverse society and landscape.
For most, it signals a celebratory BBQ or heading off to the nearest beach for some relaxation time. It's also a time for families and friends to get together and have some much-needed fun and laughter.
Aside from this, we think it's a great excuse for some added romance. A chance to spoil your other half and show them you care with pamper hampers or tempting gourmet food hampers in the lead up to Valentine's Day.
Here are our top 5 ideas for romantic things to do on 26th January 2020.
Host An Australia Day Cocktail Party For Two
For those who like to party, there is no better excuse than demonstrating love for our country. Throwing a romantic cocktail party for two, inside or outside, means you have some quality time with your loved one too! Root out your favourite spirits and mixers, and find some exciting new recipes to make together. Or you can chill the cocktails on ice and mix some Australia Day Punch in advance, so the fun never stops.
Invite your partner to wear national colours and deck the room with blue, white and red shimmering lights and candles. It's a time to embrace your food heritage too, so get creative and serve up some unique takes on traditional favourites. Finally, you will need a background of Aussie classic tunes to set the mood for exchanging romantic gift hampers or thoughtful, personalised goodies.
Soak Up The Sheer Romance Of Nature
Use this extended holiday to fully appreciate the wonders of the surrounding countryside. It's the perfect excuse to escape the buildings and explore the mountains, forests and rivers. Get back to nature and surprise your partner with a memorable and romantic trip, from a full days hike to a leisurely romantic stroll through the local park.
Pack yourself an exotic picnic and supplies of decadent nibbles or energy bars. Add plenty of water and something to toast to life and Australia. Remember to take sunscreen, hats and emergency supplies if you are trekking. Sitting on a hillside and sharing alfresco food, laughter and romantic gift baskets or luxurious chocolate hampers will become a treasured memory.
Share A Dessert & Movie Extravaganza
From our classic buttery lamingtons to a fresh fruit pavlova, we Australians cherish our desserts. The long weekend of Australia Day is the ideal opportunity to savour some old family recipes and try out some new flavours together. Invite your loved one to a sweet cake, cookie and candy extravaganza. Love always blossoms in the kitchen!
Complete the romance by organising a film marathon and enjoying treasured classics together. Even when you've watched them a hundred times, these great gems last a lifetime. Make salty and sweet crunchy popcorn or have a Tim-Tam slam as you cuddle up for movie night and savour the goodies inside your romantic hamper.
Watch The Night Sky For Stars Or Fireworks
There's nothing quite so romantic as stargazing, and Australia offers a breath-taking view of the constellations. We can observe around 100 times more stars than can be spotted from the Northern Hemisphere. Research the best places to go; you usually don't have to travel far to escape light pollution. Treat your sweetheart to a map of the heavens and listen to your favourite tunes.
If fireworks make you believe in magic, then some spectacular shows are held on Australia Day. Sydney Harbour, Melbourne's Federation Square and Perth's Langley Park are all fabulous venues. Check out your local city council and watch the night skies filled with colourful energy displays. End your day with a romantic picnic from one of our gift boxes for couples, added magic to a wonderful experience to last a lifetime.
Embark On A Romantic Adventure Together
If you are an adventurer at heart, then why not plan a romantic break with your partner? Spend the Australia Day holiday driving the scenic Great Ocean Road, enjoying the magnificent views. Organise a romantic trip to one of the superb wineries or take a hot air balloon ride. Soaring above the bushland below and sipping champagne is guaranteed to set your heart racing and ignite romance.
Alternatively, take a complete land break and opt for a water experience instead. Go scuba diving or snorkelling together. Arrange a weekend of water sports, paddle boarding, canoeing or white water rafting! Then hop on a local dinner or sunset cruise and present your partner with a romantic gift basket to complete the action-packed day.
Our Choice Of Romantic Gift Baskets For Him And Her

Of course, romantic gifts are incredibly personal, but we think you can never go wrong with our indulgent and luxurious gift hampers. For him or her, they are ideal for any romantic occasion and are such a lovely gesture.

For Her - L'Occitane & Moet Hamper
Every woman loves French-made L'Occitane products, and this basket has pampering body treatments and a fresh, floral Eau de Toilette. Ernest Hillier chocolate coated liquorice, rich butter shortbread and honey roasted peanuts are just some of the indulgent flavours for her to relish. A sparkling bottle of Moët & Chandon Champagne will create the perfect end to Australia Day.

For Him - Cape Mentelle & Personalised Leather Hamper
For the special man in your life, this is the ultimate in thoughtful and romantic gift baskets. Along with masculine skincare products from L'Occitane, there is a luxurious bathrobe, toiletry bag, and a genuine leather keyring for you to personalise. He can also tuck into salty toffee popcorn and crunchy savoury nuts while you sip the fruity tones of Cape Mentelle Cabernet Merlot together.
So, don't delay your romantic plans for Australia Day - it's not far away, and it will be well worth the effort. You can check out our full range of romantic gift baskets and Valentine's Day hampers today!