Sending A Gift To New Zealand From Australia
Author: Michelle Richards Date Posted:21 April 2022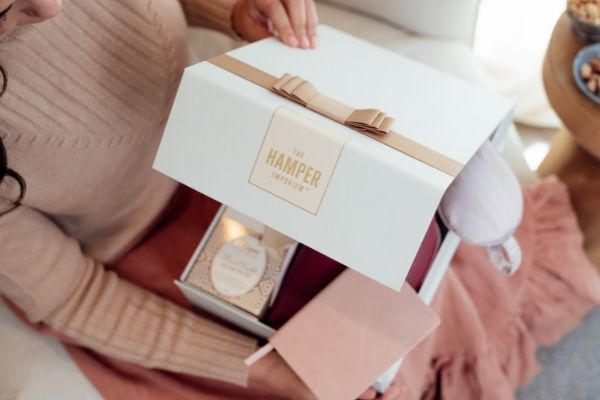 Don't Let Distance Stand In The Way Of A Celebration
Are you missing friends or family over the ditch in beautiful New Zealand? Maybe you have kiwi work colleagues, or your bestie is building a new life as an ex-pat. Keeping in touch becomes even more important, especially when there are milestones or something beautiful like a new baby to celebrate. Sending a thoughtful, memorable gift to friends overseas is an easy way to send your love across the miles.
No matter the distance, the essence of relationships and friendships remains intact if they are nurtured. You enjoy that same warmth whenever you get together, even after years of separation. These relationships with loved ones should be cherished. So, sending a gift to New Zealand is a fabulous gesture whenever there's a celebration.
Here at The Hamper Emporium, you'll find gift boxes for New Zealand delivery brimming with exquisite ways to show just how much you miss their presence in your life. This sweet reminder will wend its way across the sea and instantly melt their heart.
Can You Send Gifts To New Zealand?
Yes, you can order online and send a gift to New Zealand from Australia! As New Zealand is an island nation it's relatively strict about exactly what goods are allowed in and out of the country. Luckily, most food is accepted provided the manufacturer has packaged it, and it's not perishable. The good news is that the goodies in our hampers make beautiful gifts that can be delivered to NZ so you are good to go!
You can send our heavenly chocolate and sweets, gourmet bites, tempting pantry items, delicious nibbles, or baby gifts NZ to your loved ones whenever you choose. Plus, many of our gifts to send to New Zealand also come with pampering products, indulgent skincare and beautiful homeware items in the mix.
Treat Yourself To Tempting Goodies In New Zealand
When you're living or working away from home, food cravings can reach an all-time high. You don't have to wait for someone to send your favourite goodies and groceries; you can treat yourself! Maybe you are longing for Morgan's chocolate, a taste of sticky fig syrup or some of Maggie Beers' infamous farm shop products to spice up your dishes.
The beauty of our gifts to New Zealand is they come with a scrumptious selection of Australia's finest, so you don't need to shop around. They're a convenient and fun way to satisfy your longings and make you feel so much closer to home.
What Can Be Sent To New Zealand As A Gift Delivery?
We understand just how hard special occasions can be when you're far away from your loved ones. Maybe your bestie in New Zealand is celebrating an engagement, or your grandparents have a milestone anniversary. When you want to send birthday gifts to New Zealand, send a new baby gift, or there's a special occasion, we are experts in heartfelt celebrations and sending love across the ocean.
Choose special gift combos
If you think that choosing one thing is not enough of a celebration, then entice them with our chic combo gifts. These blend candles with chocolate, sweet with savoury, and condiments with homeware. There's every variation you could want to make your loved one feel extra special on birthdays or special anniversaries.
Send sweet greetings
Nearly everyone likes sweet treats on any day, even when it's not special! Send them a delicious selection of all-Australian gourmet treats as a gift to New Zealand. You can pick from treats including salted brandy caramel, cherry chocolate slices, and all kinds of favourite candies. Perfect for when you want to send your love in a box.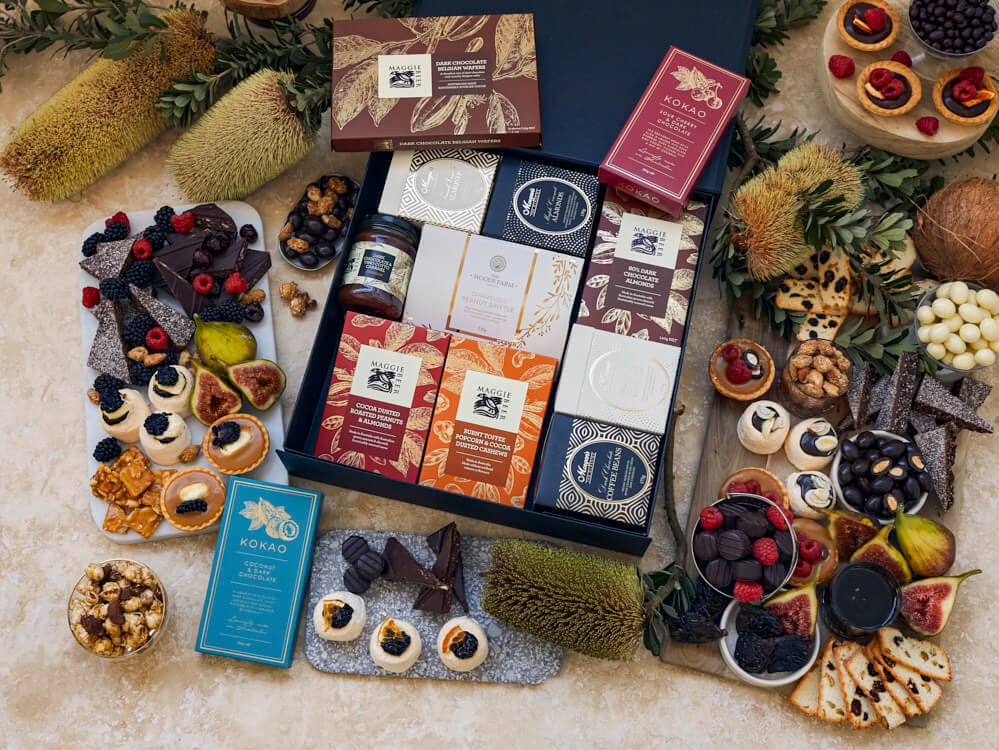 Style their space
These delightful homewares gift ideas are a stroke of genius for friends working from home or as a housewarming gift to someone in New Zealand. Your loved one will receive a hamper packed with goodies to help them settle in and put their feet up. There are handy essentials, luxury accessories and everything they need for the perfect brew.
Offer the gift of bliss
When you know they need rest and recuperation, send a loved one in New Zealand a little something from our wellness range. This collection specialises in beautiful accessories to restore their tranquillity. Think hand poured candles, satin robes, luxury tea and stoneware mugs. They're also superb gifts for hen parties, weddings or moving home.
Something for the boys
Although we know most men adore the gift of food, they also sometimes appreciate a little pampering care. Gifts for men NZ include a range of indulgences so they can unwind and lounge in luxury. Sending skincare and unique gifts from Australia's finest is a beautiful way to celebrate birthdays, Fathers Day for a dad in New Zealand or just because!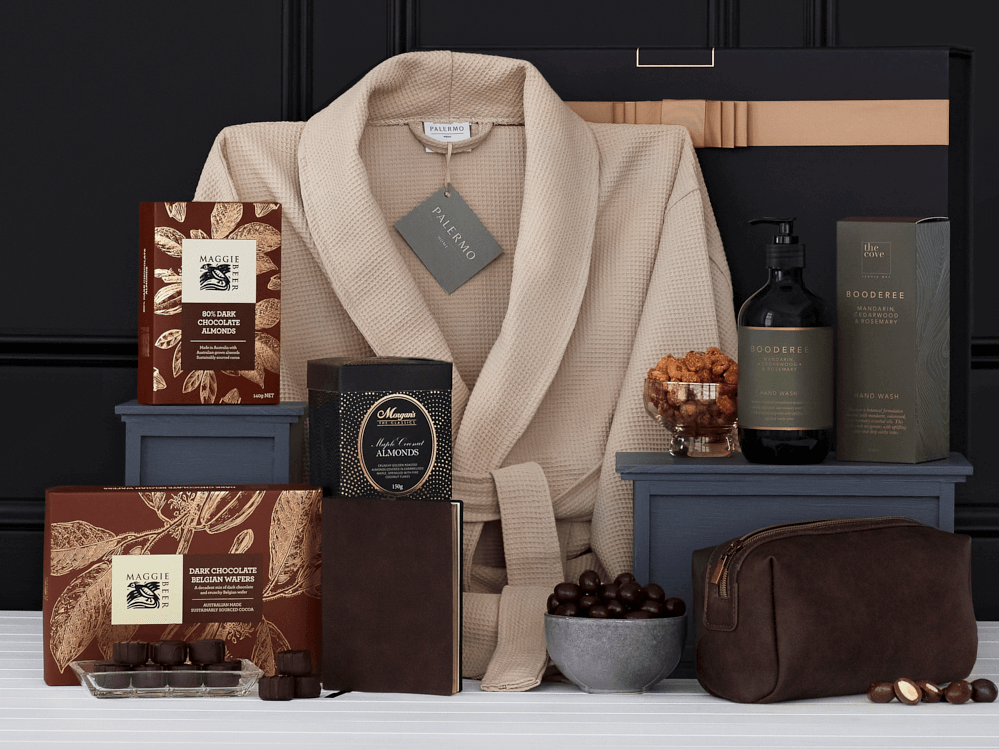 Send the taste of home
When a trip home is off the cards, the next best thing is a beautifully wrapped box filled with Australia's finest artisan products. They're the perfect present for birthdays and all foodies in your life. Packed with crackers, tapenades, and a host of Aussie flavours, they're a perfect balance of savoury and sweet wishes from you to your kiwi friends.
Indulge their senses
Lovers of pure skincare will adore one of our pampering gifts containing Jurlique and L'Occitane goodies. These naturally luxurious products are paired with exquisite small gifts to add to the extravagance and enjoyment. They're thoughtful and elegant gifts for her NZ on any special day, sure to be equally loved at any age. These are our favourite ideas to send as Mothers Day gifts for a mum in New Zealand.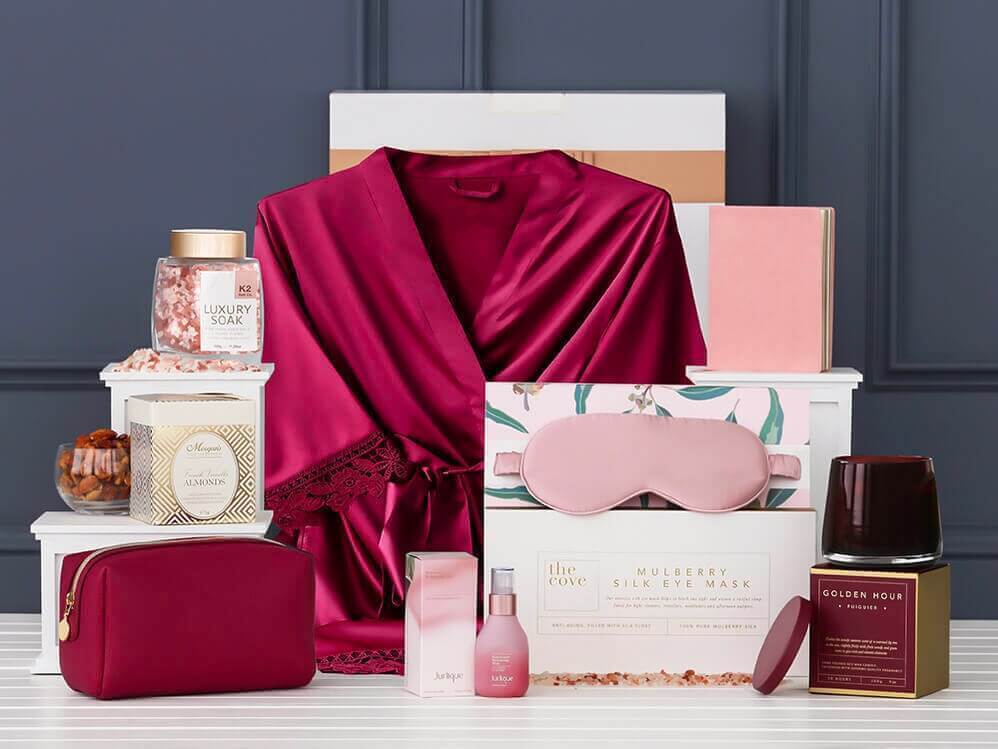 Say it with chocolate
For any occasion at all, and the chocoholics in your life, there are many drool-worthy gift options. Say you love them with Belgian wafers, dark chocolate coffee beans, chocolate covered nuts and a whole lot more. They include everything your loved one needs to take their choccy passion to the next level in New Zealand.
Give bub a cuddle
When a precious new life is on the way, and you can't be there to share the moment, our delightful baby gifts NZ are a joy to receive. Whether it's a baby shower or the day itself, new parents will adore your gift sent to New Zealand from their Australian friends and family. Packed with the softest organic clothes and charming toys and books, baby gift boxes are a wonderful way to say welcome.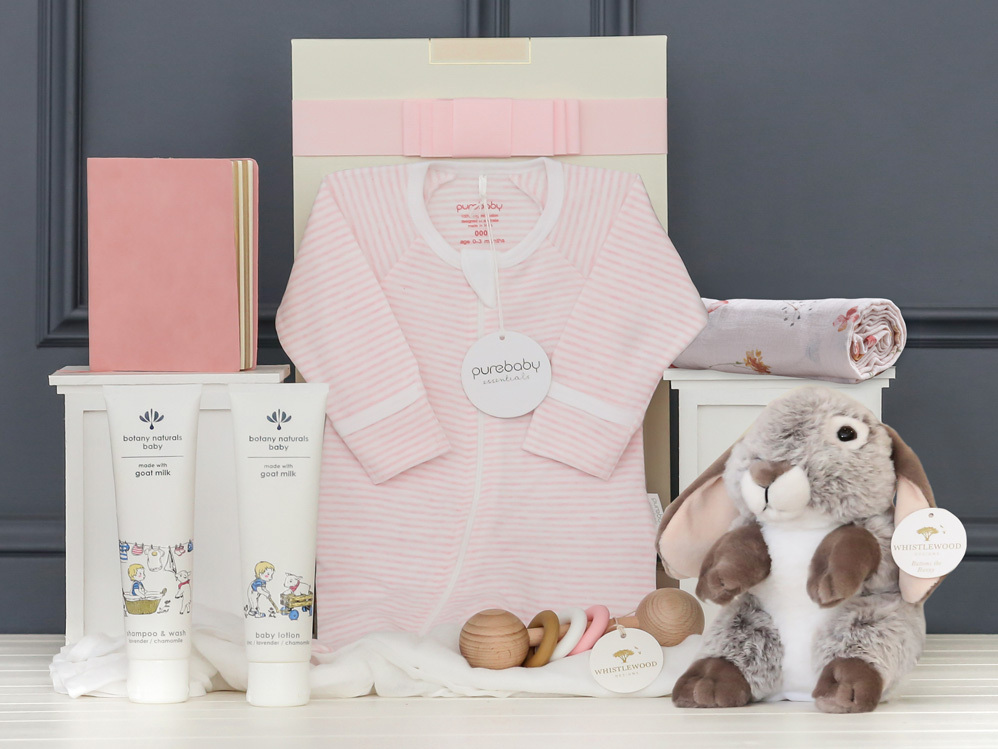 Send Online Gifts To New Zealand From The Hamper Emporium
What can I send to someone in New Zealand? We hope we've answered your question. At The Hamper Emporium, you'll find a collection of indulgences and life's little luxuries that make the distance melt away. You don't have to worry about anything other than choosing your favourite. Whether you want to send a mother's day gift to New Zealand or show someone you never forget them, it's straightforward and fast. Simply enter your recipient's postcode on the Checkout Page to confirm our shipping costs and delivery times. It really is that simple!