Tea Gifts For All Seasons
Author: Michelle Richards Date Posted:10 June 2022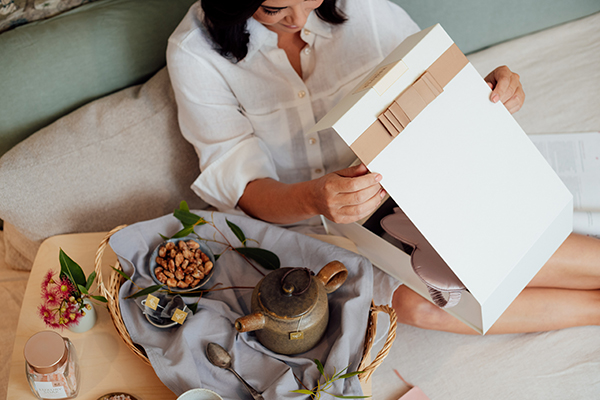 7 Reasons Why Tea Makes A Thoughtful Gift
Tea brings people together. There's nothing quite like catching up with friends or putting the world to rights around a welcoming pot of tea. It can be as elegant as a royal garden party or as carefree as sharing big mugs and biscuits. A cosy pot of tea reminds us to take a break, slow down and enjoy all the small things in life.
That's why gifts for tea lovers are a perfect choice for any occasion. It's much more than just a soothing and restorative drink - tea is love in a cup. Whether they take it with milk, lemon or sugar, tea is decadent, relaxing and sweet, tea is the one beverage guaranteed to bring an immediate sense of peace and calm as soon as the kettle goes on!
Tea drinkers can never have enough varieties of tea, themed items or fun accessories at home. So, let's explore the many tasteful and tasty options for tea hampers and other gift ideas for tea lovers in Australia.
What does it mean to give tea as a gift?
Offering someone a cup of tea may be a simple gesture, but it's a universal sign of welcome. Tea gifting is a culture, and tea at its best is a truly thoughtful gift and sure to delight.
Tea is also known to promote good health and happiness. Drinking tea provides a range of health benefits such as boosting your immune system, fight off inflammation, lower cholesterol, and protect against heart disease. Tea makes a wonderful gift to include in a get well soon hamper for anyone who needs a little health boost.
Here are 7 hand-picked reasons why gifts for tea drinkers are the way to everyone's heart.
Tea brings good health - A gift of tea is widely considered to have a host of hidden health and wellness benefits. The Chinese have been drinking it for wellness for several thousand years!


Tea encourages variety - There are hundreds of types of tea from different cultures worldwide. There's a story behind each flavour and limitless opportunities to explore and discover the perfect blend for everyone


Tea soothes & comforts - Whatever the stresses and strains of life, tea is always a life-saver. Whoever you're buying for, tea gifts are relaxation in a box and a little chance to breathe and chill out.


Tea creates memories - Giving a simple gift of tea with a new mug is practical, long-lasting and charming. Your loved ones will think of you whenever they put their feet up and take a sip.


Tea collectables are fun - There are many ideas for what to gift with tea, along with an extensive list of fabulous accessories. Tea lovers can collect everything from china cups, to tea strainers, and exotic tea blends.


Tea invites friendship - The spirit of invitation is included with any gifts for tea lovers; big or small. It's a chance for the recipient to laugh, cry, reminisce or look to the future with loved ones.


Tea suits all budgets - Tea is an affordable gift with many alternatives for type, amount and producer. With fair trade and luxury tea gift options, there's something for every pocket.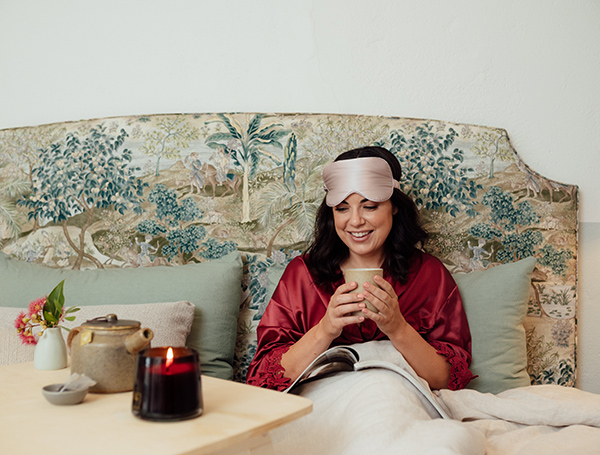 What is a good gift for a tea lover?
Everything about aromatic tea and its accessories is designed to encourage us to enjoy life. It's associated with pleasant feelings, offering a delicious way to wake up a calming ritual throughout the day. Combining beautiful handmade items or unique gadgets with fresh aromatic tea creates luxury tea gifts for any special occasion.
Here are our top tea gift ideas that will stop a tea connoisseur in their tracks.
Automatic tea infuser that steeps tea for just the right amount of time




Classic style tea kettle with an authentic whistle to make brewing fun




Porcelain china tea set for one with matching teapot, cup and saucer




Set of beautiful tea caddies to help store their favourite loose-leaf tea




Iced tea decanter for serving summer's most iconic, refreshing drink




Gift hamper with organic tea and a gorgeous Robert Gordon mug.
What do you put in a tea gift basket?
Tea makes a fabulous centrepiece for any DIY gift basket and an excellent idea for any season. Creative options abound, and there's no end to what goes with tea for a gift they'll love. Whether for tea aficionados or new tea drinkers, simply choose things that will add to the aromatic moment. Choose a theme, colour, or mix and match to create a surprising and delicious crowd-pleaser.
Create an atmosphere
Encourage them to take a tea breather by adding a selection of relaxing accessories like skincare, eye mask, aromatherapy candles, music and books.
Add to the occasion
Tea drinking is a serious ritual, so choose elegant homeware items like coasters, mugs, tea cups and saucers to make it an exceptional event.

Tantalise with titbits
Everyone enjoys a treat with their favourite brew, so boost the flavours with mouthwatering chocolates and treats like biscuits, cookies and preserves.
Start a collection
Make it fun with new accessories or unique ideas to inspire them, like tea sampler packets, cute sugar spoons, tea filter bags, strainers or fun infusers.
Tempt their tastebuds
Fine teas pair beautifully with gourmet food, so choose from sweet and savoury bites, fine cheeses and small luxury condiments for the pantry.
Get refreshingly alcoholic
Tea complements a whole range of cocktails, tall summer drinks and winter warmers, or you can add premium champagne for a deliciously boozy twist.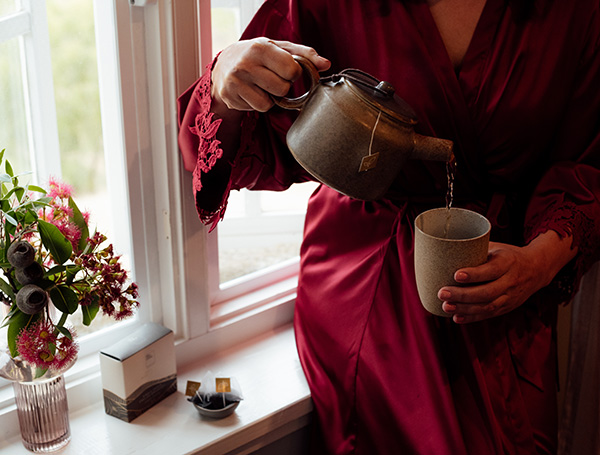 What is an afternoon tea basket?
Also known as cream or high tea, this traditional laid-back feast is usually finger food and scones smothered with jam and cream. An exquisite gift basket brimming with all they need for this highly refined occasion makes a fabulous treat. Choose a simple pairing of breakfast teas with preserves and biscuits. Or go for an elegant hamper brimming with bitesize morsels, wholesome savoury bakes and packets of the best fine teas. Create a lavish afternoon tea basket to take on a warming winter picnic and enjoy an al-fresco spread every tea lover will adore.
Unique Luxury Gifts For Tea Lovers In Australia
If the thought of planning makes your head spin, or you're looking for something extraordinary, then take the easy route. Grab a gorgeous tea hamper filled with exquisite goodies and gifts from The Hamper Emporium. Each one features organic, single-origin fair trade tea hand-harvested on the Thiashola Tea Estate.
Tea lovers will adore the blend of flavour along with thoughtful accessories, pampering items and little treats. Our hampers are fabulous gift ideas for any foodie, too (just add their favourite brew for the ultimate surprise!) and nothing encourages self care more than relaxing with a cup of tea. Tea gifts are ideal winter warmers for enjoying with a good book, to instantly brighten up a rainy spring afternoon, for relaxing summer garden parties, and autumn afternoon teas with friends. Find thoughtful gifts for tea lovers that are perfect for every season at The Hamper Emporium.