The Best Cheese Platter, Ever!
Author: Michelle Richards Date Posted:17 September 2021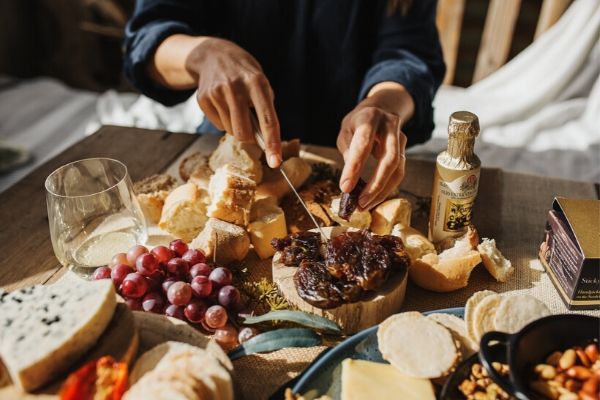 Cheese & Charcuterie Platter Ideas
A long time favourite of dinner parties, the not-so-humble cheese platter gained tremendous popularity through social media sites, especially Instagram with popular hashtags like #cheeseplate or #cheeseplatter. Rediscovered by the Millennials and Gen-Zers the popularity of cheese platters continues with the even more gorgeous and delicious charcuterie boards. Apparently, these snack platters make for trendy pictures, with artful displays of cheese, dried meats, fruits and of course wine. Explore #charcuterie to see for yourself!
We agree! And, now that the weather is warming up, we can't wait to get outside and enjoy our own charcuterie boards and cheese platter picnics. Unlike baked goods and breadmaking, also growing in popularity, cheese platters do not need any complicated preparation time. Yet they provide the satisfaction of creating something unique, to enjoy with friends and family. Be that a dinner party, just drinks or a BBQ, a well presented, well thought out cheese platter makes every occasion special
Australian Cheese Platter Ideas
The cheese platter is of course about the cheese, but it needs to be with the right accompaniments and for that our gourmet range to pair with cheese provide the answer. Packed to the brim with gourmet artisan crackers, relishes and tapenades, they complement a cheese platter perfectly. For a complete selection that's ready to go, our fabulous gourmet cheese hampers just make your cheeseboard pop. For a classic cheese board, we recommend the Australian Cheese Grazing Hamper or if you like some sweet treats on your grazing platter, choose the Made To Share Cheese Hamper.
How do you like to eat your cheese? On its own? With bread? With crackers? With a glass of wine? Do you like fruit and pâtés with the cheese or as a bite in-between to cleanse your palate? Whatever your guests' preferences are, you need to ensure your cheese platter caters to them.
Making A Cheese Platter Or Charcuterie Board
The best finger food platter will include a balanced selection of cheeses, sliced meats, spreads (fruit pastes or pate), crackers, nuts, and fresh produce. The optimum idea is not to overly complicate your cheese platter or charcuterie board.
Keep it simple by not putting together a vast selection, but remembering to combine colours and flavours. Start with a whole wheel of cheese centrepiece, like the matured smokey-ham flavour of the nine months aged Stokes Point Smoked Cheddar, or a jumbo creamy brie. Accompany this with about three or four more different cheeses. Add prosciutto and salami, a selection of both water crackers and flavourful crackers, and your favourite combination of fresh produce.
Cheese needs looking after and nurturing to ensure it is at its best when served, so best to keep it to a few and serve it in the best possible way. Most cheeses need to breath and rest, so take your cheese out from the fridge a couple of hours before serving and place on a wooden board covered with a damp tea cloth. For full flavour, many cheeses should be served a room temperature.
An interesting tidbit, the French traditionally serve cheeses in odd numbers, three, five, or seven! Plus, there should never be more cheeses than guests! The suggested reason for the odd number is aesthetics. In art, a good still-life painting has an uneven number of items, so to have your cheeseboard considered art (thinking Instagram here) keep to the correct etiquette.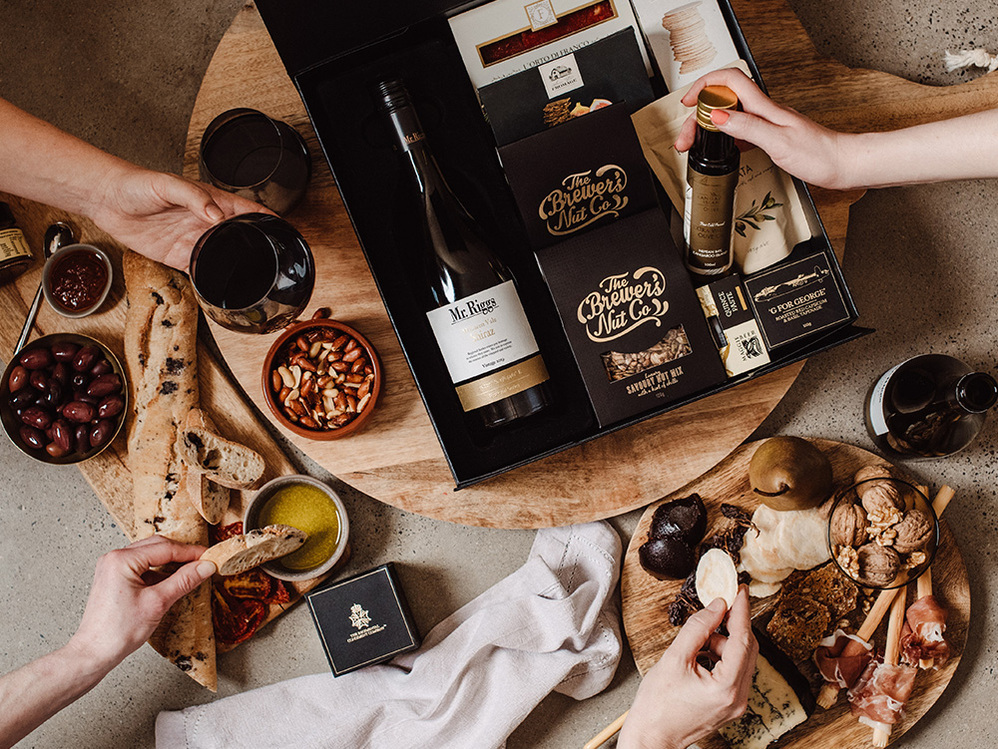 What Cheeses Should You Select For Your Cheese Platter?
How do you go about choosing the cheeses? Russell Smith, the Australian chief judge for the Dairy Awards and an independent cheese expert, suggests a few essential steps.
Keep an eye open for medals. If the cheese has an award that signifies it is quality.
Think about where to shop for your cheese. A supermarket might not have the high-end artisan cheese you want on your cheese platter. It depends on the supermarket, but you can find some good Australian cheddars at the supermarket level like Bega cheddar and the Maggie Beer cheese range. Visit a specialist cheese store, either online or in person, ask for advice and importantly taste the cheese!
Don't err on the side of caution, be brave, bold and adventurous. Try something new, cheese production is on the increase and new and different flavours are being developed that are bringing changes to how we perceive cheese.
Don't buy a load; cheese once opened tends to deteriorate quickly. Buy smaller amounts to enjoy them at their best.
Perfect Cheeses For A Cheese Platter Or Charcuterie Board
Black Pearl - from the Mornington Peninsula, Melbourne
While the exterior of this goat's milk cheese is not particularly attractive, inside the wrinkly, vine ash coated skin is a creamy white delight. The texture is silky and just oozes onto your palate, while the taste is creamy and mild. Black Pearl is aged for one to two week, at this stage, it is light and fresh, but it matures with a more robust flavour.
Maggie Beer's Truffle Triple Cream Brie - South Australian soft cheese
A decadent take on Maggie's signature triple cream brie, and one of our favourites. It has the buttery mouthfeel, well-balanced acidity and decadent texture that makes it the perfect cheese board staple, with the additional earthy flavour of mushroom tones from Australian truffles to enhance the flavour of fruit pastes and crackers.
Gippsland Blue - from the Victoria region
A cheese that offers a veritable feast of flavour and texture, a slightly runny, creamy cheese with a strong yeasty aroma, found inside its natural rind that is speckled with blue-grey mould. Made in the area of Gippsland, this aromatic cheese is from cow's milk that is made in the style of Gorgonzola Dolce, with an 8 -10 weeks period to develop its buttery and sweet, yet also slightly tangy and sharp taste.
Roaring Forties Blue - blown in from King Island
Winner of the Grand Champion Blue Cheese at the Australian Grand Dairy Awards in 2019.
Named after the Roaring 40's winds that whip around the island this blue cheese is a fragrant delight. This creamy and smooth cheese wrapped in a waxed rind is both nutty and fruity that has a sweet flavour leaving you with a lovely aftertaste. This cheese goes well with figs, muscatel grapes, pecan nuts and some special crackers.
Goat on a Hot Tin Roof - a South Australian cheese
Oskjberg and Towerview dairies bring us this pasteurised rindless goat's cheese, with its soft, creamy texture and explosive taste. Infused with Tanami apples, chilli, pepper berry and saltbush it has a herbal yet spicy kick to its flavour. Drizzle some olive oil over it before serving with preferably warm crusty bread to appreciate it fully.
Mandolin - South Australian semi-hard cheese
This cheese, made from pasteurised cow's milk, is smear-ripened, meaning it has a wash of a particular bacteria 'smeared' onto the rind. During the maturation process, it is frequently washed to provide moisture for the bacteria but to remove any mould that may develop. It is also wrapped in vine until it gains a rusty-red coloured appearance.
The cheese is soft and crumbly in texture with a herbal, almost grassy flavour, fresh and a little stringent.
Section 28 Monte Diavolo
Handcrafted artisan cheese 2018 Grand Dairy Awards – Champion Cheese, Flavoured Cheese Category
An ivory-coloured, smooth cheese that is flavoured by native pepper berries, that creates its distinctive Australian flavour. First, you taste the sweet which is quickly followed by a smoky, peppery, herbal aftertaste. This is a definite must for any cheese platter BUT as only made following the native pepper berry harvest you can only get from April to October - not long to wait to though!
Maggie Beer's Bold Blue Cheese - South Australian semi-hard cheese
This is the perfect blue cheese for those who love just a little extra tang, best of all, it's readily available at most local supermarkets. It has a beautifully fresh, cheddar flavour to match its higher moisture content and firm structure. Perfectly aged for a depth of flavour and fruity complexity with just a touch of salt and a melt in the mouth creaminess. Pair this delicious blue cheese with Maggie's Fig and Fennel Paste or Quince Paste for a delicious flavour match.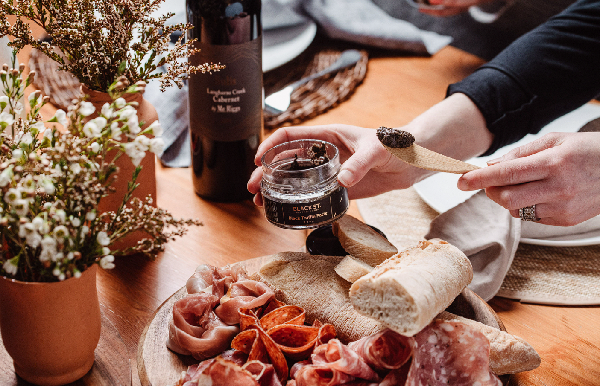 Journey Into The Unknown
Do not limit yourself to the boring, familiar cheeses, experiment, be bold. The increase in the popularity of cheese has seen the proliferation of specialist shops and cheese stalls at farmers markets. Visit them, taste their cheeses, manufacturers love to share their cheeses and will fully educate you as to how they are made and why they are so special.
Whether you choose to start with sweet hampers or savoury hampers, think outside the box when putting your cheese platter together. Add some grapes, figs, apple, walnuts. Serve with some of the extra special crackers we have in our gourmet food hampers and as an alternative buy some fresh sourdough bread and don't forget good churn of butter to complement the cheese. Add a little tang and sweetness with fruit pastes, as well as a salty savoury kick with sliced meats, delicious pate, savoury nuts, olives, and sundried tomatoes. If you're making an entire grazing table for a picnic or family gathering, read our guide to creating the perfect grazing table for more tips.