The Best Chocolate Hampers To Celebrate Her Birthday
Author: Nikki Barnett Date Posted:22 April 2020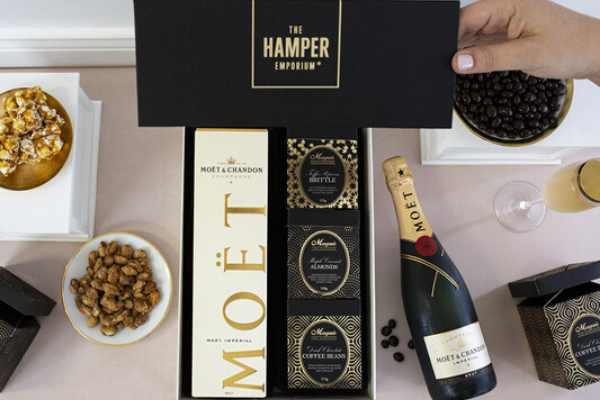 Chocolate Hampers? What Could Be Better For Those Special Days?
In the film Forrest Gump, the protagonist says 'life is like a box of chocolates'. Whether that's true or not, we're certain that life without chocolates wouldn't be quite the same. Chocolates are the one go-to gift that never go out of fashion for any occasion.
Any special day — those between lovers, friends, partners, parents or neighbours — can be celebrated with a chocolate box full of delectable flavours. Our personal favourite is the delicious Butler's box of chocolates found in several of our gourmet sweets and chocolate hampers.
Chocolates are everybody's friend. We are talking here about something a little more special than what you can pick up in the supermarket. Around the world, chocolatiers and producers are listening to what their customers want. This includes how to provide delectable tastes while keeping their products sustainable and eco-friendly. At Hamper Emporium, we want to offer the finest quality chocolates. That's why we have chocolate and sweet treats from some of the finest chocolatiers in Australia and around the world that are just perfect as a birthday gift.
When To Give Chocolates
A bit like a gift card, the gift of chocolates can be very intimate or not personal at all. This all depends on context. Chocolates are the perfect gift for businesses to include in their corporate gift policy. Want to offer your condolences or celebrate a special occasion? Nothing says 'Happy Birthday' quite as well as chocolates (look no further than the A Little Luxury with Moёt Hamper to celebrate her latest lap around the sun). Given as a thank you or a congratulations present, they also go down a treat.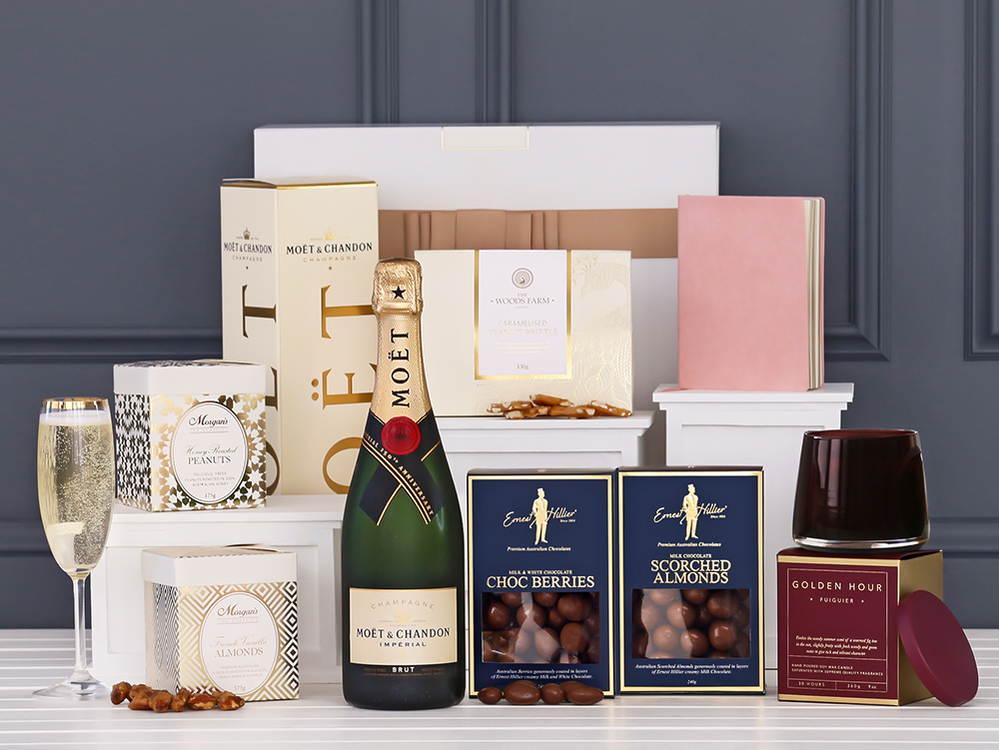 Everything she needs in luxurious birthday hamper.
While chocolates make fantastic gifts to others, don't think that's your only option. Why not treat yourself? Film night or spa night or just in with a book is also that bit better with some chocolate and possible some wine!
A Little Bit Of Chocolate History
Throughout history, chocolate has been seen as a gift from the gods. Quetzalcoatl, the serpent bird god of learning and the wind, was thought to have dropped the cacao beans as a gift to humans as he flew through the skies.
Chocolate is ancient. There is research that indicates it was used as a fermented drink as early as 1900 BCE. Chocolate has also been used as currency; at one point in time in the South Americas, a cacao bean was worth more than gold!
History is not to clear who first brought it to Europe. It is thought to have been given as a gift to Christopher Colombus. We also know that Don Hernán Cortés saw the commercial value and in 1529 brought the beans to Spain.
Chocolate at this time was bitter and nothing like the chocolate we enjoy today, Spanish monks are credited with the development of smoother, richer chocolate than the Aztecs and Mayans enjoyed.
Like anything new, chocolate brought about a lot of debate and controversy. Hailed as a new medicinal cure for many things, the church and some doctors decried its use. Yet its popularity grew although it was only for the royalty and elite. In 1615, Anne of Spain presented her new husband, Louis X111 of France a gift of the exotic 'xoxoatl' or chocolate as we know it, at their wedding.
Chocolate cafes popped up all over Europe and spread throughout the world. In 1853 Cadbury's produced the first box of chocolates and the trend has continued to this day.
The medicinal benefits of chocolate began to be outweighed by health concerns, but recent research has yet again indicated the benefits of eating chocolate in moderation.
Decisions, Decisions, Decisions - What Chocolate Hamper To Choose?
Want to celebrate her birthday in style? Then think big, think chocolate gift hampers, maybe with some bubbly included to make it extra special. Our go for a Pamper Hamper, nothing says pampering like chocolate, but that is not all you will find in our pamper hampers and gift baskets.
You won't find a birthday cake in our gift boxes, but you will find a selection of carefully selected gourmet nibbles and luxury items. Take a look at the contents of the Little Luxury Hamper, and you will find a selection of chocolate from Australia's first chocolatier, Ernest Hillier. You can also munch on a delicious variety of nuts from Morgans.
Enjoy their peanuts gently roasted in Australian honey and Australian almonds given a French twist by being roasted with French vanilla. For the even sweeter toothed among us there is also The Woods Farm, all Australian caramelised peanut brittle.
You will also find The Cove' Golden Hour' Soy Wax Candle, with its lovely summer scent and 30-hour burn. There is also a gorgeous gold-lined notebook in dusky pink. You can also add a bottle of Moёt to make the big day a bit more bubbly! Chocolate and candle hampers are wonderful gifts!
Want to wish your beloved, friend or colleague a 'Happy Birthday' then one of our gourmet hampers would provide a great selection of sweet and savoury nibbles. Go for an overdose of the best in chocolates with milk chocolate, white chocolate and dark chocolate selections from all our top-notch chocolatiers. In our Luxury Chocolate & Veuve Clicquot Hamper you can discover chocolate from around the world:
From Ireland, the gold-box filled with Butlers Irish truffles and fruit cremes.

From Venezuela, you can try the exceptional from 'bean to bar' Willie's El Blanco White Chocolate.

From Australia, Ernest Hillier's Milk Chocolate Macadamias and scorched almonds in chocolate. Or his Chocolate Fruit & Nut Selection and Berry Chocs Selection.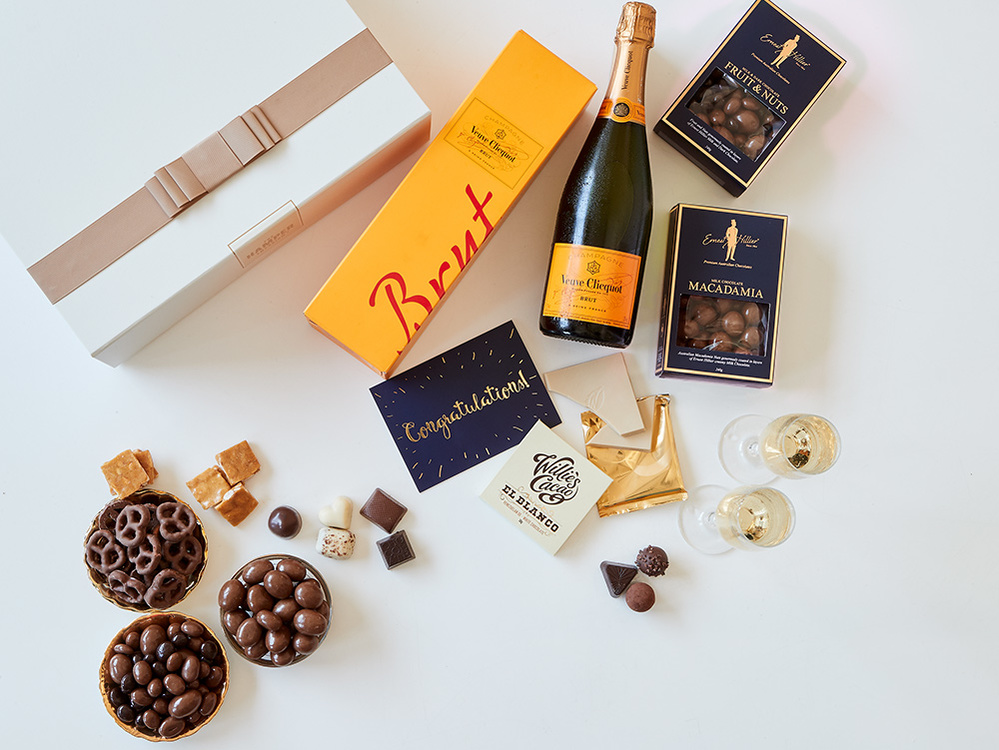 Global delights.
This hamper also includes a variety of pure butter shortbread and peanut & cashew brittles, plus Gourmet Regional Produce Apricot & Armagnac Conserve. Not forgetting a bottle of exquisite white champagne Veuve Clicquot Yellow Label NV Champagne.
You can order online and pay via a selection of online payment options, including credit cards & ZIP and Afterpay. All the hampers come beautifully presented in a keepsake box, and delivery is free Australia-wide.