The Best Valentine's Day Gift Ideas
Author: Michelle Richards Date Posted:17 January 2022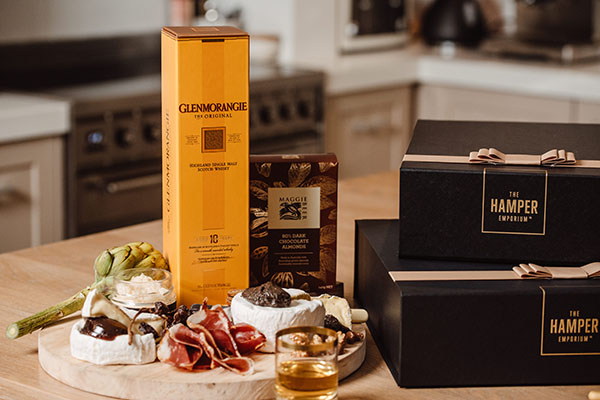 Romantic Valentines Day Gift Ideas
At some point, we've all given or received a present on Valentine's Day that didn't quite live up to our expectations. Whether that's because you'd just started dating, the gift was left until the last minute, or someone believed that off-hand comment about Valentine's Day not being important... (rookie mistake). If there's one year when you really want to make sure your girlfriend or boyfriend knows they are your one and only true Valentine, then 2022 is it.
There is nothing worse than feeling unloved and unappreciated by your other half on Valentine's Day, especially when it is so easy to send a romantic Valentine's gift. If you're not sure what to get for Valentine's Day for your boyfriend or girlfriend, we can help with inspiration for unforgettable gestures and ways to make the day one to remember.
Show your love this year with the most romantic Valentine's Day gift ever for your special someone.
Even if your lover doesn't like a big to-do being made, a wine and chocolates Valentine's Day hamper can be as romantic, thoughtful, or as low-key as you like. Go big with a luxury Valentine's Day gift with champagne, chocolates, and pamper when you really want to wow them. Or keep it simple with an inexpensive Valentine's Day gift of sweet treats for someone you have just started dating.
What is the most common Valentine's Day gift?
Chocolates, candy, and flowers are the most common gifts on Valentine's day for men and women. But the Valentine's Day gift that people spend the most on is jewellery and treating their partner out for a special Valentine's dinner. If you want your gift to stand out, go one step above and create a romantic evening to share. Arrange a gift delivery to create an intimate Valentine's date night complete with wine and pamper gifts. Spoil your girlfriend or boyfriend this Valentines Day with a gift they'll never forget. For a Valentine's Day gift that's better than flowers, a decadent selection of gourmet foods and wine is perfect.
What can be gifted on Valentine's Day with delivery?
Flowers, hampers, and gifts can all be delivered on Valentine's Day for your lover (even if your boyfriend or girlfriend is isolating, Valentine's Day delivery can be contactless and safe). While flowers are an obvious choice, there are a whole range of more original ideas. It's not unusual to spend $100 on a bouquet of flowers at Valentine's Day and, while they look lovely for a few days, the memory soon fades. Instead, we recommend sending a decadent gift hamper delivered as a surprise. Choose one that contains a selection of little treats and luxury gifts that you can share with your special someone.
Take the opportunity to really show them how much they mean to you. If it's your first Valentine's day as a couple, set the scene for many more wonderful years to come. If you're buying a gift for your husband or wife, choose something that shows you are still very much in love. For a luxury Valentine's Day gift delivery, choose from our exquisite range of Valentine's Day hampers and create an evening to remember.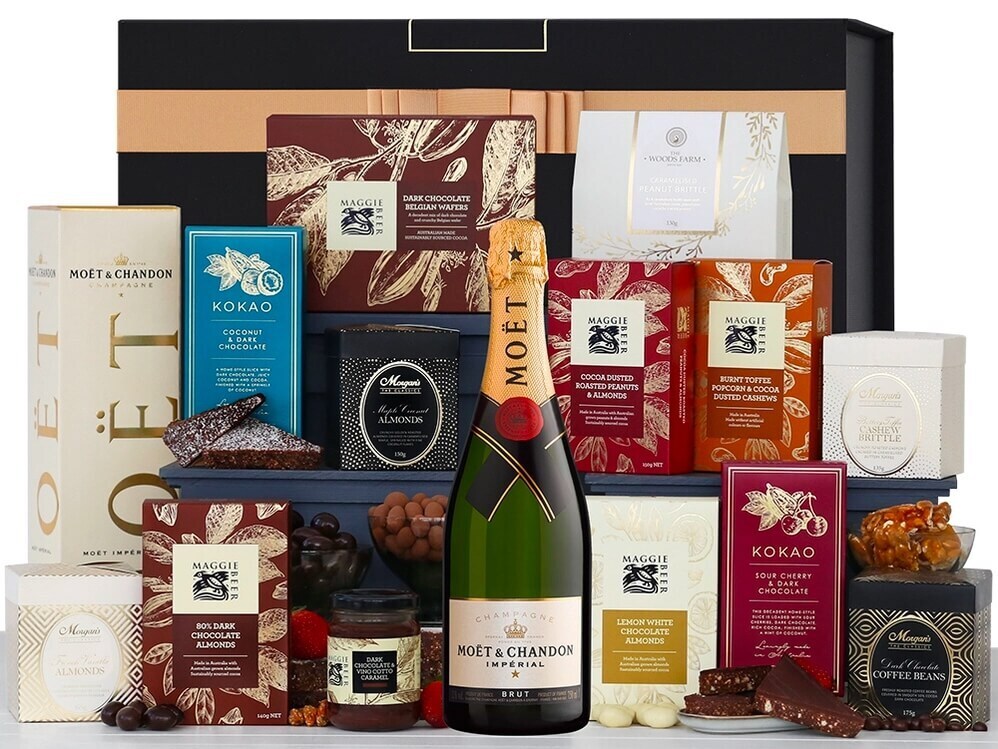 Valentines Day Gifts For Him
It's actually easy to give a Valentines Day gift for men, even the fussy ones! For a guy who loves fine food or top-shelf drinks, go for a gourmet wine and chocolates hamper or lush cocktails or spirits hamper. For boyfriends who love to be pampered, he'll feel properly indulged with a men's robe, wine, masculine skincare, and food gifts. If you're not sure what to get your boyfriend, a safe and no-fail Valentine's Day gift for men is a craft beer hamper with a selection of different Australian beers paired with gourmet snacks and nuts. It strikes the right balance between being an impressive gift that is still very affordable, and is a luxury gift without being cheesy or too romantic if you have not been together long.
Valentines Day Gifts For Her
Women are easy to please on Valentine's Day! She will love anything with chocolates, a candle, or champagne. Even if she doesn't usually drink champagne, this is one occasion when you get extra brownie points for a little extravagance. A larger romantic picnic hamper with a variety of different sweets and savouries plus a bottle of wine to share is a complete experience and gift all in one. Depending on what your wife or girlfriend enjoys, she might like a food gift to share or she may prefer a pampering luxury gift just for her. You can find a range of gift baskets that include a silky robe, bath and skincare products, chocolates, and champagne for an incredibly romantic Valentine's Day gift for her.
How do you make someone feel special on Valentine's Day?
Including a heartfelt Valentines message on their card is a simple way to make someone feel extra special on Valentine's Day. While choosing a unique gift that shows you've handpicked a thoughtful Valentines present just for them will make a big impression, it's the simple gestures like a personalised message that really counts.
When deciding what to write on a Valentine's Day card, it's best to be genuine and speak from the heart. This is the one day of the year that you can wear your heart on your sleeve and express your love with a sweet Valentine's message.
Romantic Valentine's Day messages
"You've shown me what true love is. My heart is forever yours."
"Love is the ultimate journey, and I'm so glad to be travelling with you."
"Sharing love, sharing laughter, looking forward to our happy ever after."
"I never thought I'd find someone that makes me feel the way you do. You're the love of my life - now and forever."
"Thank you for the millions of ways you show your love. I hope this gift makes you feel as special as you make me feel every day."
Short, sweet, or funny Valentine's messages
"Thanks for being you, and for being mine."
"I'm so excited to be sharing our first Valentine's Day together. I hope it's the first of many…"
"There's no one I'd rather be in isolation with."
"I fall in love with you a little more every day."
"I'm so glad we both swiped right."
Send A Little Love This Valentine's Day
When you order a Valentine's Day gift box for delivery online from The Hamper Emporium, you can choose a personalised card during the checkout process. Simply click the box for 'Edit Card Message', compose your romantic Valentine's message, and it will be included along with their gift. To stand out, you can even include emojis and that all-important ❤️ on your Valentine's Day card. If you prefer, you can select a blank card to handwrite your own message.