The Best Wine Delivery For Christmas
Author: Michelle Richards Date Posted:7 December 2021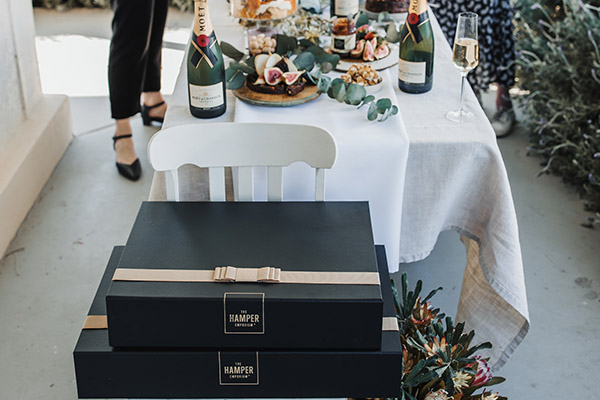 Raise Your Glass To Fabulous Christmas Wines
As we speed towards Christmas and the end of the year, our 'to do' lists seem to keep growing. There are menus to plan, orders to make, gifts to buy, and a hundred other things to think about on top of an already full schedule. Plus, for lovers of wine, there's one more vital festive ingredient that needs close attention for that perfect celebration - choosing the best wines for Christmas!
The options can be overwhelming, from lively everyday easy drinking favourites to complex Australian blends that rival the very best wines in the world. So, the team at The Hamper Emporium have decided to try to make things a little easier when it comes to choosing your wine menu. Here's our festive wine guide for the season, including food and wine pairing tips and some fun extras like wine delivery and gifts for wine lovers.
We hope our Christmas wine guide will enhance your drinking experience, but remember it's Christmas! It's a time to be with friends and family doing what you want and drinking what you like. Have your all-time favourite wines delivered and enjoy. Christmas and New Year is a colourful celebration - whether it's white, pink or red you'll find your favourites in our range of wine hampers!
Christmas Wines For Perfect Food Pairings And Fun
What type of wine goes with Christmas dinner? Well, your chosen menu is an excellent place to begin, but your guest list is important too, as everyone has their favourites. If you're planning a wine delivery for Christmas, deciding how much and which to buy begins with some basic tips.
Cheeky Champagnes
We think champagne goes well with pretty much everything! You'll need a few bottles of fizz, especially if you're planning for New Year too. As it's the festive season, treat yourself to something special like Moet or Verve, which are classics to savour. Not only is it the perfect toast, but champagne can pair well with all sorts of foods, from hors d'oeuvres to desserts. So whether you're planning lobster or roast turkey, it will bring out the flavours and can be enjoyed throughout the entire meal.
Sparkling Wines
Any Australian sparkling is a good substitute for champagne, a great party choice, and makes every food taste better. If you're starting the day with scrambled eggs or smoked salmon, then bubbles are an excellent choice for setting the festive mood. The slight acidity and refreshing taste is perfect for salty oysters and seafood, meat, cheeses, and almost every snack. Playful enough for a spontaneous get-together and the go-to choice for formal dinners, you'll want to have a few bottles in your wine delivery!
Elegant White Wines
A classic choice for the Aussie staples of prawns, oysters and seafood, well-rounded white wines are essential. If you've run out of champagne, they're the ideal substitute and will satisfy everyone, especially on a hot summer's day. Choose something dry and aromatic, from smooth sauvignon blanc to chardonnay or riesling. As the best white wine for Christmas dinner, try the pure flavours of Mr Riggs pinot grigio. It works well as a starter wine and is delicious with the fresh, light flavours of any summery Christmas dishes and salads.
Sparkling or Still Rosés
If you're planning Christmas lunch outside in the sun, starting festivities with rosé is a bit of a novelty and the way to go. Washed down with prawns or crayfish, it's a pairing made in heaven. For an elegant toast, try a fruity and festive Chandon rosé to get the party started. If you're having a barbie, then choose one to sip before you really start drinking! Mr Riggs Fleurieu Peninsula Rosé is a great crowd-pleaser. Its subtle strawberries and cream flavours make it a refreshing choice that suits most menus.
Fruity Big Reds
For a traditional dinner with all the trimmings, rich, flavoursome reds need to be on your wine delivery. For a really good red wine for Christmas dinner, think Australian shiraz or cabernet with beef or lamb and pinot noir with turkey. If it's glazed ham on your table, it's time to serve either rich tempranillo or malbec. For a light and fruity, easy to drink red wine, try Ponting cabernet sauvignon. It's a silky smooth, generous wine that will satisfy everyone's tastebuds, including those avid wine critics.
Sweet Fortified Wines
For the best dessert wine for Christmas pudding or pavlova, fortified wine is an excellent way to go. If your dessert is light, a late-harvested semillon or riesling will pair deliciously. For rich, decadent flavours, fortified wines from Australian regions like Rutherglen are perfect. Whatever dessert you choose, nothing is nicer than a glass of rich, fruity port. Penfolds is a great choice; aged and smooth, and the ideal match for mince pies too. Round off your meal and carry on sipping it as the afternoon or evening winds down.
The Secret To Festive Fun Is Gifting Alcohol
What is a really good wine for a gift? We think any bottle of wine is perfect gifting, plus, nobody likes to arrive at a party empty-handed. A good way to identify the best wine for Christmas gifts is by thinking about the recipient's preferences. Every wine lover has their favourites, but even oenophiles are always ready to try something new. Just know that when your wine delivery arrives, they will always open that bottle!
Whether you choose festive bubbly or not, go for something from one of Australia's fabulous vineyards. They produce some of the most popular wines in the world, and for very good reason. They are incredibly quaffable and easy to drink! Generally, men tend to gravitate towards red wines, while white is definitely more refreshing for summer. If you can't decide, it's simple to choose a wine gift pack that has both.
Personalise your Christmas wine gift with a fun note like, "I hope this delicious wine adds sparkle to your dinner. If you've already bought too much, it can be stored for five years to add extra depth". This takes your wine gift to the next level and shows how you've taken the time to find something they'll love.
Luxury Wine Delivery From The Hamper Emporium
For something that little bit extra special, our wine gift hampers include premium wines and champagne of all kinds. We have wines selected from Australia's most loved wine-producing regions as well as vineyards as far away as France. For any wine lover passionate about pairing, our wine delivery is guaranteed to impress.
Along with their favourite tipple is a gourmet selection of produce, from artisan crackers and nibbles to rich chocolate and delicious pantry items from Maggie Beer. They will relish every mouth-watering bite whilst savouring every last sip. Take a wine tasting tour of our fabulous wine gift sets and choose from reds, whites, rosé, sparkling, French champagne and after dinner drinks.
The festive season is a time for giving, and nothing is nicer than receiving one of our luxurious Christmas wine gift packs. Any festive wine delivery Sydney and Australia-wide is delivered for free directly to their doorstep with $9.95 express delivery available for a limited time.