Tips For Creating The Perfect Grazing Table
Author: Michelle Richards Date Posted:22 March 2022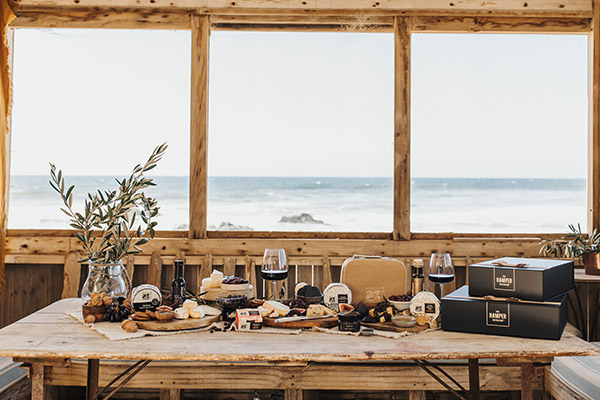 Gourmet Sweet & Savoury Grazing Table Ideas
A colourful grazing platter really is a feast for hungry eyes. For family get-togethers and entertaining guests, grazing tables are easy to prepare, simple to present, and look absolutely incredible. Your table will be overflowing with a rich array of fresh flavours and exquisite goodies to nibble all day.
The team at The Hamper Emporium love nothing more than grazing tables, platters, plates and boxes. Big or small, a good grazing platter is a guaranteed crowd-pleaser. So, we've compiled our fun grazing table ideas and top tips on different ways they can be adapted. Create show-stopping and irresistible grazing platters that will wow everyone.
Our new range of cheese hampers are ideal as a base for creating stunning grazing tables.
What Is The Purpose Of A Grazing Board?
Grazing boards bring people together! By offering the perfect selection of sweet and savoury finger foods in a combination of a cheeseboard spread and charcuterie platter, a grazing board offers enough variety that everyone will find their favourite nibbles. The whole world loves finger food, and we love an indulgent cheese board even more. Grazing boards offer variety and contrasting textures, sweet and tangy surprises, and mouth-watering experiences. With some straightforward tweaks, you can invent your very own gastronomic delight whatever the occasion.
The best grazing board ideas combine the simplicity of cheeseboards with the versatility of charcuterie to produce a powerfully tempting mix of food and flavour. There's no perfect recipe for a DIY grazing table either. You can add all your favourite snacks and nibbles to produce a feast for everyone to share.
The trimmings are then what can really take your grazing table to the next level. Add in a collection of dips, relishes, pickles, veggies, olives and nuts in a myriad of attractive colours. Whatever your tastebuds are craving, from fresh fruits to chocolate bites can create a platter to remember. Of course, you don't need to have everything but choose a few favourites to make your plate appealing to your guests.
What Food Do You Put On A Grazing Table?
Anything you want! The super thing about grazing tables and entertaining boards is that they're quick to prepare and don't take a huge amount of effort. The foods you choose for your grazing table just need to be good quality, fresh and colourful. Seasonal produce, tasty cheeses, spiced meats, veggie sticks, antipasto, delicious dips, sweet fruits, crunchy crackers, and fresh bread sticks all have their place.
How do you style a grazing table? Forget formality and traditional settings. Get creative by using wooden platters and boards for your main ingredients and spreading them across the centre of your table. Use smaller bamboo bowls, dishes and pots for your chosen dips and other trimmings.
You can even raise some food above others or separate different choices into sections or colours. Use whatever you have on hand, including cake stands, wicker baskets, and tins, then add some chic champagne glasses for nibbles to complete your stunning landscape. The best grazing board ideas mean creating a spread of eye-catching gourmet chaos.
When catering to a crowd, individually themed grazing plates for a grazing table make it easy to arrange your nibbles. For a more intimate gathering, combination grazing platters with a bit of everything are perfect to share around.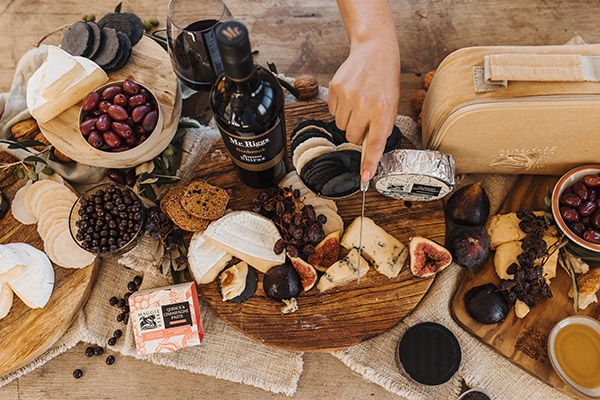 What Do You Put On A Grazing Plate?
If you're making several individual grazing platters, make sure to include a little of everything for a maximum tastebud appeal. Crowd-pleasing colours, choices, tastes and textures form the basis of any distinctive platter. What makes it irresistible to everyone is the collection of mouth-watering options. Here's our top grazing table food list, but you can be as creative as you want. The foods you choose should all bring your grazing plate to life! These are the grazing plate essentials:
Tasty cheeses
A selection of cheese is usually the focal point of any grazing platter. Choose different textures of both soft and hard varieties together with mild and highly flavoured options. Brie, crumbly cheeses, and tangy blue cheese selections are wonderful.
Chic charcuterie
Fill larger gaps on your grazing platter with succulent cured meats. Anything goes, from traditional Italian antipasti to roasted meats, ham, salami or smoked sausages. Pâté is another easy grazing platter option.
Delicious dips
Distribute your chosen dips in small pots around the grazing board for dunking. Hummus, pesto, tapenades, chutneys, sauces, and sweet fig or honey will all combine for a fabulous taste explosion.
Artisan crackers
Crisp crackers, French sticks and specialty breads are all matches made in heaven with grazing plate ingredients. Try sweet crispbreads, crunchy biscuits, figgy fruit rolls, water crackers, or warm sliced pitta bread!
Sweet and savoury nibbles
Pack any small spaces with the finishing touches and enticing nibbles and titbits. Olives, tomato, roasted nuts, chocolate coated nuts, grapes, colourful berries and slices of juicy fruits are perfect.
How Do You Make A Grazing Box?
Savoury grazing boxes are all the rage right now, and they're great fun to prepare. Think of them like a small cheese and charcuterie appetiser board overflowing with goodies. From family feasts to grazing boxes for one, they're the perfect addition to any day out and also make great gifts. Our savoury hampers are the perfect base for grazing boxes for a picnic. Here's some more ideas for our favourite appetisers and finger foods to include in a savoury picnic grazing box.
Hard and soft varieties of cheese

Cured meats like ham, sausages, or pate

Antipasto like olives and sundried tomatoes

Spicy nuts or savoury nibbles

Dips, relish, chutney or pickles

Condiments, spreads, or fruit pastes

Crackers, crisp wafers, and bread selection

Fresh and dried fruits or berries

Veggie sticks like carrots and celery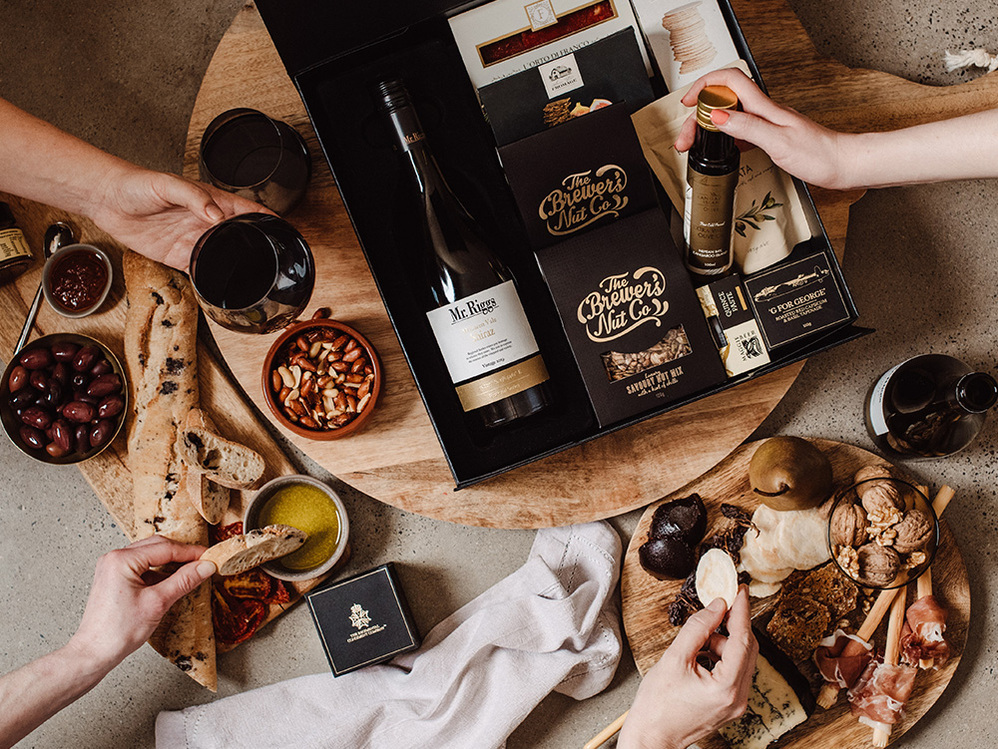 What Do You Put In A Sweet Grazing Box?
Sweet grazing boxes can also be appetising options, guaranteeing a no-fail dessert option. They're excellent grazing board ideas to feed a crowd and perfect for individual grazing boxes too. You can go for all-around teeth aching sweetness or add in some tangy fruit and spiciness for a lovely balance. Our sweet hampers are the perfect place to start, but here are some more appetising ideas for what to include in a dessert grazing box.
Chocolate brownies, bars or slices

Sweet crispbreads or shortbread biscuits

Homemade truffles or candied popcorn treats

Green and black grapes left on the vine

Cream cheese, sweet jams, or sticky fig dips

Fresh strawberries and chocolate dipping sauce

Dried cranberries, apricots, or pears

Mini cheesecakes, fondues or marshmallows

Bitter dark chocolate coated coffee beans
Create Gourmet Grazing Boxes With The Hamper Emporium
If you want some decadent grazing table ideas, then browse our range of heavenly gourmet food hampers and fresh cheeses that arrive via chilled delivery. Host a fabulous get-together with grazing boxes that include exquisite products and pantry items to add a little flair to your spread with ease. When you want to impress with delicious flavours, these mouthwatering luxuries are the ultimate in culinary genius.
For a decadent picnic or intimate gatherings, our stunning wine and cheese hampers are the perfect choice to order for yourself or send as a gift. They include everything you need for a distinctive grazing platter, including a selection of the finest Australian cheeses, nibbles and artisan crackers. You'll even find timber boards, cheese knives and bottles of premium wine to raise a toast to your show-stopping grazing board!