Tips For Planning A Luxury Staycation At Home
Author: Nikki Barnett Date Posted:9 September 2021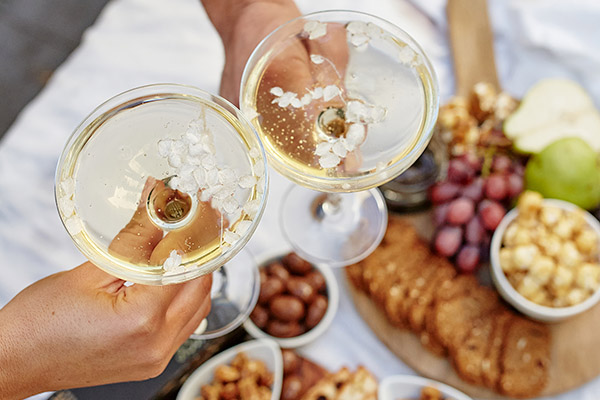 How To Make A Staycation Relaxing, Unforgettable And Fun
Everyone loves the thought of taking a holiday. It gives you time away from your usual routines, all while helping you unwind and reconnect with yourself and those around you. Vacations are all about relaxing and recharging your batteries.
However, after all the money spent, do you ever feel under pressure to have a great time? The sun must shine, the excursions must be exciting, the accommodation and food must be perfect. Plus, you really want to relax but feel compelled to go out and explore. This is precisely why staycation ideas at home can be one of the best ways to really unwind and have fun.
A little planning is essential, or you'll end up working and catching up on household chores. Staycations are a perfect blend of luxury and affordability and can be a total treat if you do it right. So, recreate those feel-good vacation vibes, order in that staycation luxury hamper and give your home a resort makeover!
Why Choose A Staycation Over An Actual Vacation?
While you can still dream and make plans for new adventures and trips, a staycation has many benefits. You can enjoy the fun and laughter without much of the cost, stress and planning. Plus, your furry friends get to come too!
It's a stress-free option - There's no dreaded packing or having to remember everything you might need and you can revel in the comfort of familiarity.


Total flexibility - If you need to alter your plans for whatever reason, you can change on the fly and organise fun things daily or at short notice.


No time changes to factor in - You won't have to deal with jetlag that the first few days of vacation sometimes brings, so you're ready to hit the ground running.


It costs less money - Cutting out flight and accommodation costs means you can make killer savings and ensure your staycation meets all your R&R criteria.


It's eco-friendly fun - If you're trying to do what you can to reduce your carbon footprint, then staycations are a fantastic way to contribute to the environment.


You can always go home - When it comes to unforeseen circumstances, you're always close to home and can make new plans for the next day.
Planning A Staycation That Is The Perfect Holiday Getaway
Your staycation can be anything you want, from simply chilling at home to filling each day with fun activities. Make it feel extra special by trying things that excite you and adding a little luxury into every day.
Get in holiday mode - be totally enthusiastic and don't think of it as just staying at home - focus on all the possibilities, innovative approaches and the thrill of doing things differently.


Choose your budget - do this first to help you structure your staycation and activities. Use any spare money to spruce up your bedroom or yard and give your home a resort makeover.


Make a wish list - jot down everything you'd like to do and figure out which ones you can't do without. How to vacation at home is all about priorities and those decadent little touches.


Book venues or events - plan any tours or day trips early, so you're not disappointed. For staycation ideas during lockdown, explore the world of online virtual tours and exclusive events.


Buy luxury supplies - you'll need to buy essentials, so be sure to choose the best. Gourmet food, chilled drinks, delicious nibbles and pampering treats are all part of your staycation!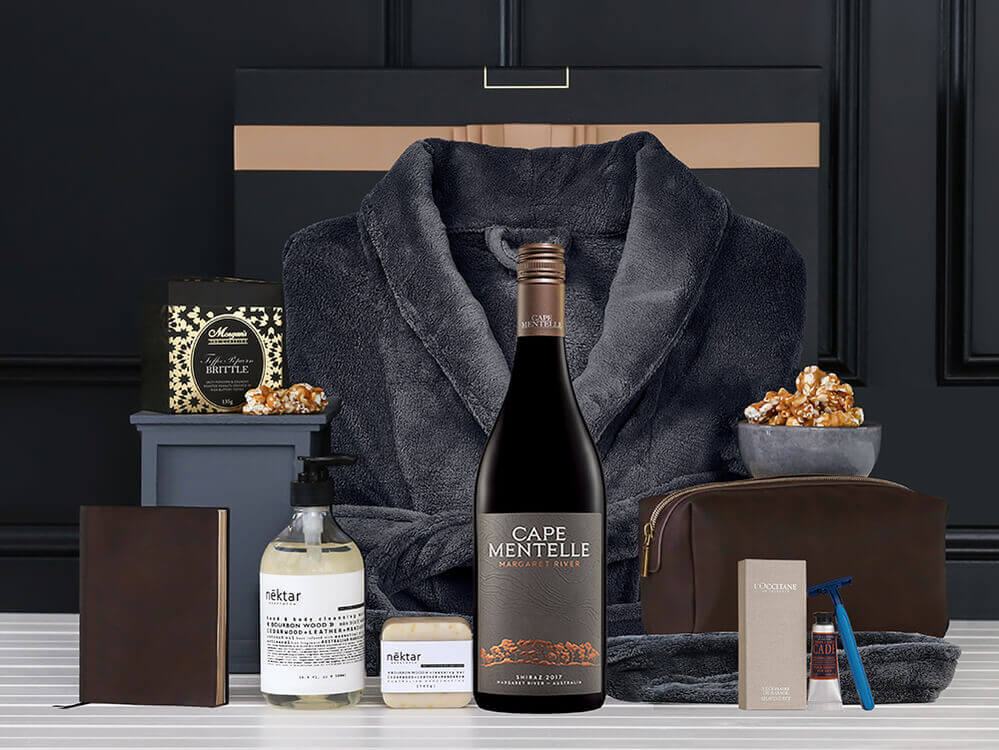 How To Vacation At Home And Make Sweet Memories
How do you make a staycation special? Set up your spaces in advance, turn off those mobile phones, savour some indulgencies and prepare for a magical time. Here are some fun favourite ideas from The Hamper Emporium team.
1.Enjoy dining outdoors
Take advantage of the weather and spend more time outside, especially at mealtimes and in the evenings. If you have the budget, get new outdoor furniture and accessories or create a fun space for cooking, entertaining and relaxing with the family.
2. Add outdoor accessories
A welcoming hangout for your staycation might mean sprucing up the deck, planting colourful blooms or creating a cosy reading space. Get more relax time outside in nature by installing a hammock, heater, fire pit or a tree swing for the kids.
3. Create some Zen
Part of the reason people like hotels is the relaxing, clutter-free areas. Get rid of items you don't need so you have space to rearrange your home. Update sofa cushions or bed linen, add fresh flowers, and you'll instantly feel relaxed by the welcoming space.
4. Revamp your garden
Make your backyard vacation-friendly by adding exotic plants to brighten up the area. You could instal a rock fountain or a small pool, so you hear the calming sound of flowing water. Remember to string up some twinkling lights for those romantic alfresco dinners!
5. Have daily themes
The secret to how to vacation at home is to keep things interesting by choosing themes for each day. Get creative with your interests or travel the world with different destinations. Go cultural, learn languages, take photos or host a cruise. It really is a staycation adventure!
6. Order in some luxury
Since you need to relax, cooking will immediately remind you you're at home. Plan sumptuous meals every day but opt for that leisurely vacation feel. There's nothing nicer than tasty gourmet food hampers or those takeaway meals you're always dreaming about.
7. Create a home resort
If visiting your favourite spa is out of the question, then stock up on soothing supplies. From refreshing bath salts to calming essential oils, create an unwinding haven. Choose scented aromatic candles to infuse the aroma of foreign shores right there at home.
8. Let loose and enjoy
It's your time to take a breather from daily life, so don't hold back. If you want to nap endlessly, binge-watch movies, or catch up with loved ones virtually, then do it. Set up a tent in the garden, savour picnics indoors, read books and indulge your every little staycation whim.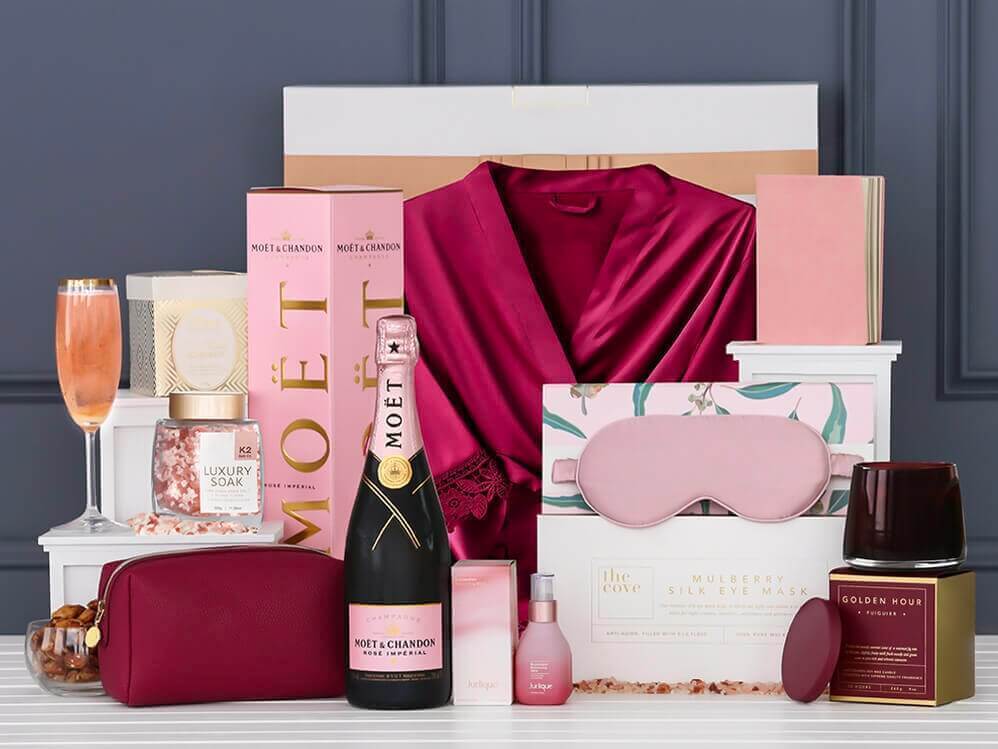 Luxe Staycation Gift Baskets From The Hamper Emporium
Still wondering how to plan a luxury staycation at home and make it an event to remember? Then browse our range of luxury hampers for some gourmet and pamper inspiration. There are decadent cocktail hampers, gourmet food and wine, and even champagne or craft beer hampers. If some R&R is your ultimate staycation goal, then treat yourself to a pamper hamper to help you set the right mood. Each one will add to the fun times and make your staycation extra special.