Wedding Gift Hamper Ideas During Social Distancing
Author: Michelle Richards Date Posted:28 June 2021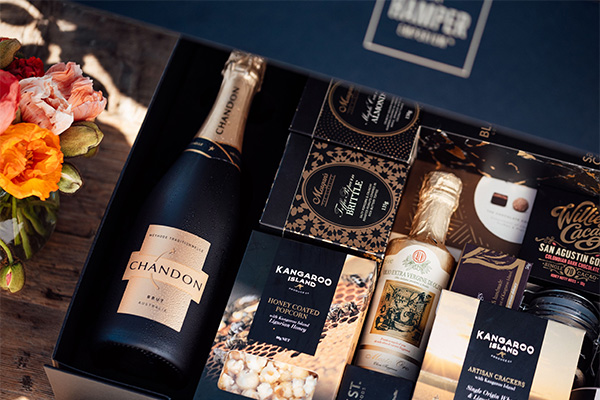 Wedding Gifts When You Can't Attend
We got through last year and thought we were back to normal but, with new restrictions imposed, weddings aren't quite the same at the moment. With Coronavirus social distancing restrictions suddenly imposed on weddings, many couples have either been forced to cancel their wedding, postpone their celebrations, or drastically reduce the number of guests who can attend.
While all is not lost, and the happy couple can still enjoy their special day, the majority of couples will definitely be feeling disappointed about not being about to share their day with friends and family. Even though it may not be possible to have that big fairytale wedding at the moment, that doesn't mean that the wedding day is any less important. If anything, now is the time to really come together and make a wedding extra special by showing the engaged couple that everyone is wishing them well. Group video calls and awesome isolation wedding hamper gifts will let them know they are not alone, even if all guests can't attend their wedding.
Helping your friend get their dream wedding despite COVID-19 restrictions might be tricky, but the Hamper Emporium is here to help. If you're looking for inspiration for ways to help make a friend's wedding day extra special when their nearest and dearest can't attend the service, finding the perfect wedding gift is a great place to start.
Ultimate Wedding Gift Guide For Coronavirus Weddings
We love to be surprised with unexpected gifts on a special occasion! And a wedding is no exception. If your friend's big wedding has turned into an intimate affair without many of their friends in attendance then they might not be expecting wedding gifts. Ordering the perfect wedding present online and having it delivered before the wedding day is a beautiful way to remind your friend that you will be at the wedding in spirit if not in person.
For an even more special wedding gift from absent loved ones, contacting other wedding guests and combining to get a luxurious gourmet gift hamper for weddings is the best way to let the couple know that you will all be thinking of them (and hopefully watching via livestream!).
Gourmet food and wine hampers full of sweet and savoury treats and a celebratory bottle of wine make the perfect wedding gift to spoil the bride and groom. Our Pure Gold Luxury Foodies Hamper is a great couples gift with a bottle of red and a bottle of white wine, chocolates, plus a selection of sweet and savoury regional Australian produce. As a bonus, you'll be helping to support Aussie businesses when you give a gift with Australian made artisan nibbles and treats. If you want a gift basket that includes champagne, they'll love the Ultimate Foodies with Moët Gift Hamper to toast to their wedding.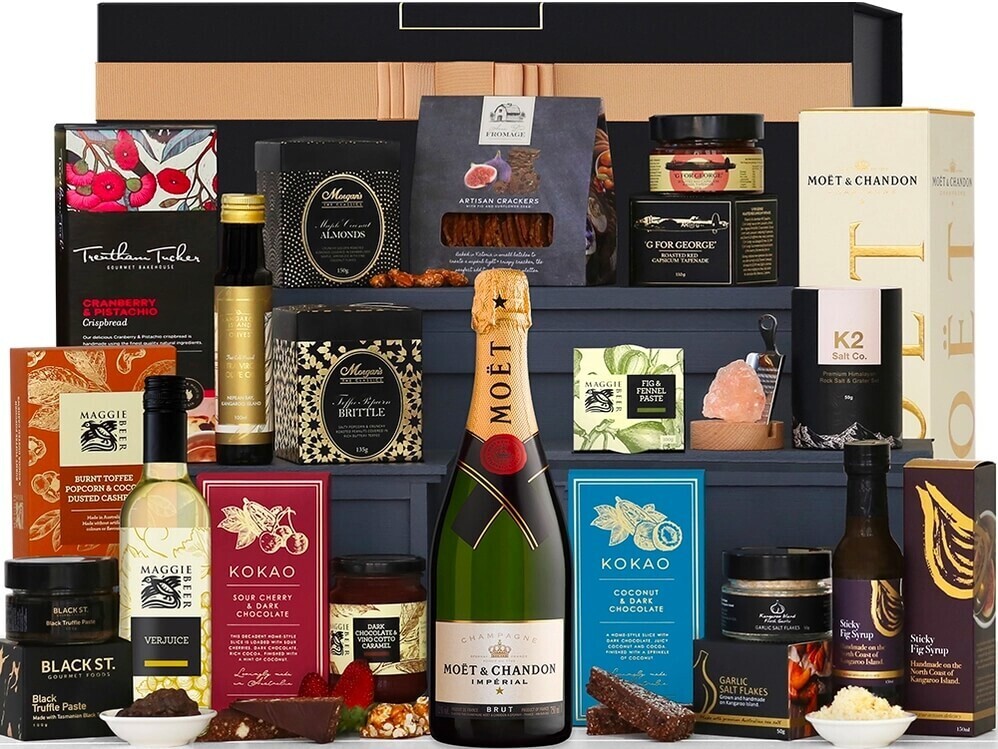 Our Ultimate Foodies with Moët Hamper is pure indulgence
Thoughtful Wedding Gifts For A Cancelled Wedding
While limits on social gatherings have made weddings difficult to plan, it's especially disappointing for couples who have had to cancel their wedding because of COVID. Many not-so-happy couples with family who were planning to travel from overseas for the wedding have had to make the decision to cancel or postpone their wedding indefinitely. For the bride and groom, their old wedding date will bring a mixed bag of emotions.
If your friend is feeling stressed or uncertain about what will happen with their wedding plans, surprising them with a special gift is a great way to lift their spirits. On the original scheduled date of their cancelled wedding, make sure to send a gift or a thoughtful note to offer your love and support. A simple 'thinking of you' note that acknowledges their disappointment while also congratulating them on their yet-to-be-confirmed wedding date is a great way to remind them that their wedding will happen soon and you'll be there to share it with them.
A beautiful gift basket for the couple to share on the day is a sweet gift from you that they will appreciate. The Veuve & Sweet Foodies Hamper includes a delicious selection of sweet nibbles and a bottle of French champagne to toast to the future. If the bride is feeling especially disappointed, one of our best-selling pampering self-care gift boxes for women is sure to cheer her up. A wedding gift to wish them a happily ever after will be appreciated, even if they have had to postpone their celebrations. If you need more ideas for a thoughtful gift for a friend who has had to cancel their wedding, browse our range of gift baskets to find the perfect gift inspiration. Whether it's beautiful gifts or just giving your friend or relative a call, now is the time for a little extra love and thoughtfulness.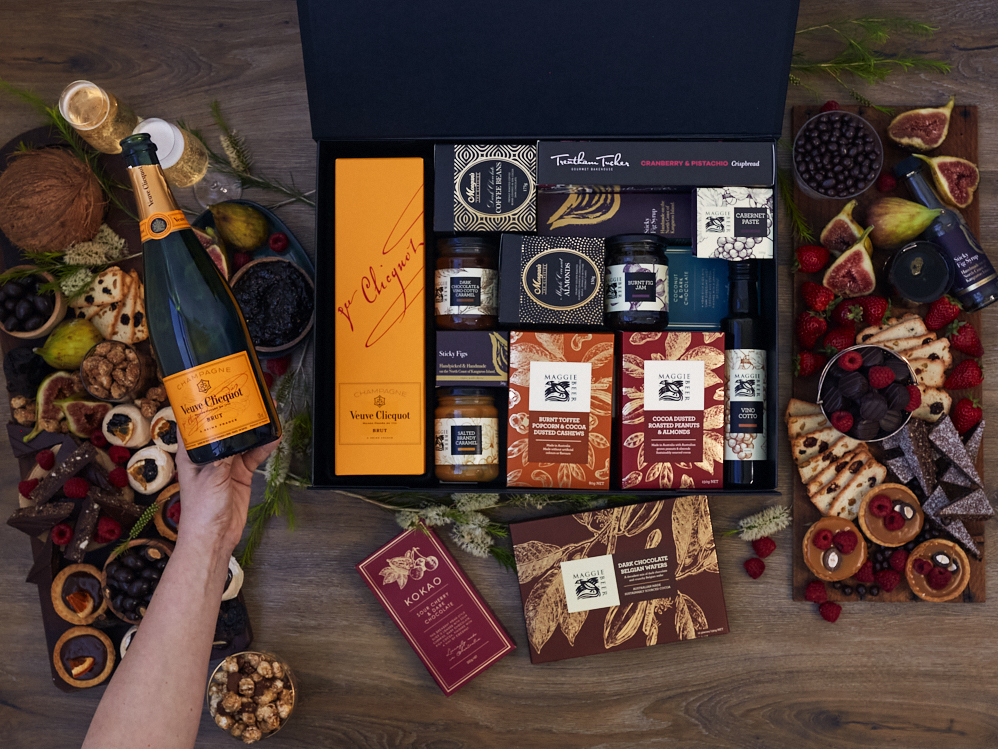 Celebrate with our decadent Veuve & Sweet Foodies hamper
Celebrating From Afar With The Perfect Wedding Gift
Weddings in the time of Coronavirus are certainly different, but the sentiment is still the same. We all want to wish the engaged couple the absolute best and send them into their marriage knowing they are loved. While in-person attendance might not be possible, with technology and some imagination you can still make it a day to remember.
If you need ideas for a way to celebrate with the bride and groom, you could arrange something special with the immediate family or those that live locally and are able to attend the wedding. They would love to include extended family and friends by setting up devices at the wedding location so everyone can join via zoom or skype. Surprising them all with the premium Classic Celebration Hamper would be a wonderful gift. With a feast of chocolates, savoury nibbles and sweet treats to share, this luxury gift box comes in a handcrafted wooden box just perfect as a keepsake wedding gift.
Our Classic Celebration Hamper offers a luxury approach to gifting
It's easy to order a wedding gift hamper online if you can't attend. You don't need to spend a fortune to send your best wishes to the happy couple with a beautiful wedding gift basket. Choose the perfect gift hamper for a wedding online at the Hamper Emporium. While we don't expect any significant delivery delays due to COVID-19, we recommend ordering your wedding gift hamper with a little extra time to spare to make sure it gets to the happy couple in time. Note that it is against the law to sell or supply alcohol to a person under the age of 18 years. For all gift hampers with alcohol included, please ensure that the recipient is aged over 18 years and is available to receive the gift basket on delivery.