What Are The Best Corporate Gifts For Christmas?
Author: Nikki Barnett Date Posted:8 October 2020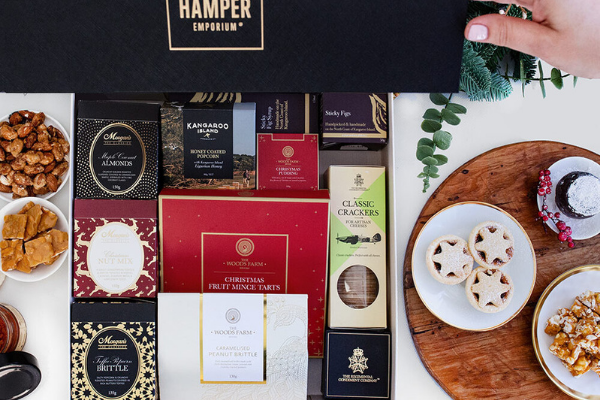 5 awesome corporate Christmas gifts full of cheer
The time has come to think about Christmas gifts, especially this year's best corporate gifts.
Yes, we know it's only October, but there are lots of reasons why starting soon is vital. Christmas always comes early at The Hamper Emporium, and we are already geared up and ready for our favourite time of the year!
Planning your office party, annual campaigns and Christmas giveaways is the fun part of marketing. Surprising your clients, employees, partners and suppliers by spreading some festive cheer is the ultimate.
Today, we are offering some ingenious suggestions for the best corporate gifts, along with our own fabulous Christmas hampers, of course. We promise not to disappoint!
Why the best corporate gifts stand out
Any promotional gift, especially at Christmas, is a creative and cost-effective investment. They can help you stand above your competitors and gain real advantages in your marketplace. So, how exactly do you choose the best corporate gifts to celebrate the festive season?
Select items that are suitable for all ages, and both men and women, regardless of their business relationship with you.

Look for a company that provides bulk ordering and has enticing special early bird offers.

Packaging and presentation are especially important at Christmas, so choose the very best.

Ensure you don't invest in highly perishable items that won't travel well. You want them to be as beautiful when they arrive as when you sent them.

Even when you buy for large numbers, keep individual gifts thoughtful and original.

Choose a company that provides professional and stylish corporate branding with a festive touch.
Remember to make the lead up to Christmas an exciting and fun time for your staff too. By giving thoughtful corporate Christmas gifts, you will make them feel appreciated, valued and recognised for their hard work. This simple act can improve staff motivation, morale and teamwork.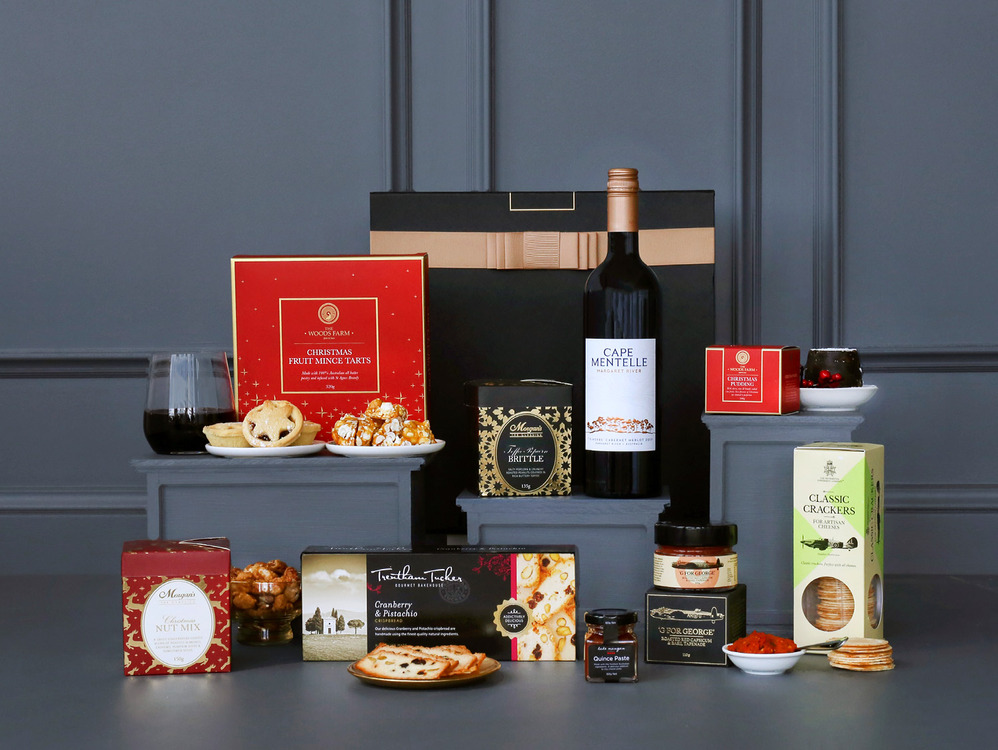 5 gift ideas brimming with fun and festive spirit
It's essential to ensure that corporate gifts for Christmas have a personal touch, so always add your own season's greetings. Include a lovely gift card and a heartfelt handwritten message to make them feel the joy of Yuletide. Keep any corporate branding sophisticated and subtle too, and never compromise on quality.
When it comes to the best corporate gifts for Christmas, choose distinctive, unique gifts and don't skimp on those important finishing touches. You want to create the thrill of expectation and festive excitement!
So, without further ado, here are our top 5 suggestions for corporate gifts for Christmas that are packed full of festive cheer.
1. Christmas surprise stockings
Christmas stockings make fascinating and fun Christmas corporate gifts. Make packaging, wrapping paper and the stockings themselves as bright, cheerful and festive as you can. Think about your chosen gifts and pick different sizes to suit. Brand and customise them or print fun messages for that added festive feel. Then add your corporate gifts and pad them out with delicious seasonal treats or humourous items. Whatever you choose, everyone will enjoy the surprise!
2. Christmas gizmos and gadgets
Not many companies have a budget for the best corporate gifts that stretches to AirPods Pro, but there are lots of affordable options. Choose smaller items that everyone can use from portable phone chargers and smartphone sanitisers to USB sticks and wireless key finders. If you want to gift something unforgettable, then unisex laptop bags are a superb idea, or all the small trimmings that go with them. Or what about something quirky like vibrating alarm clocks? There's a world of wonderful gadgets out there!
3. Christmas wine bags
Any bottle of excellent, top-quality wine is guaranteed to score as one of the best corporate gifts for Christmas. They are designed to impress both clients and colleagues as most people enjoy a bottle of delicious wine on Christmas day. Specialist wine shops and hamper companies usually have some excellent offers during the season too. Get creative and wrap them in colourful wine bags, then personalise with their name, your logo, and a lovely Christmas wish. Perfect Yuletide cheer!
4. Christmas cheer hampers
Gift baskets are one of the most versatile and very best corporate gifts for Christmas. That's not because we are biased either! Our Chandon Sparkling Christmas Hamper, for instance, is literally brimming over with festive cheer. Each one is full of delightful treats and seasonal goodies that everybody loves. A beautifully wrapped and presented gourmet hamper with delectable treats, bubbly champagne or mouth-watering chocolates is synonymous with Christmas.
5. Christmas life experiences
What better idea for corporate Christmas gifts than the experience of learning new skills? Everyone has pastimes, hobbies and passions that influence their lives, and Christmas is the perfect time to take up something new. Choose membership cards or classes, from photography and cooking to arts, crafts or even public speaking. For the ultimate corporate gift, a thrilling experience day will be the most exciting and magical gift they receive this Yuletide!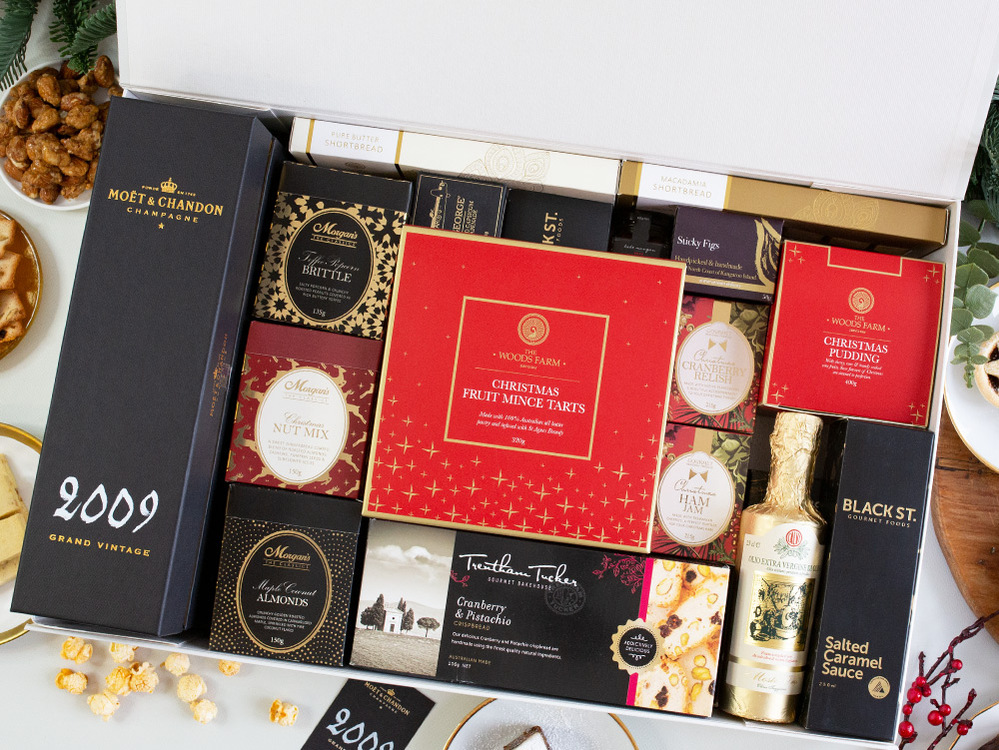 Be an early bird and start your Christmas shopping!
This year, why not choose The Hamper Emporium to personalise and perfect the best corporate gifts for Christmas? We adore our pampering and indulgent hampers, and they make perfect gifts for sending good wishes and festive cheer to clients and staff. If you want to add tasteful corporate branding, we can do that too!
Get started today by browsing through our full range of jolly corporate Christmas gifts, all free Australia-wide delivery. There's an early bird offer, and Christmas will be here before you know it!