Whisky Vs Whiskey. What Is The Difference?
Author: Michelle Richards Date Posted:22 June 2022
Whisky is a perfect combination of glowing warmth and soothing flavours.
For those who just enjoy the tipple and know very few facts about this popular 'wee dram', we at The Hamper Emporium have been doing some research.
The whisky world is packed full of interesting facts and fascinating figures. From single malts to blends and bourbons, there's also a whole host of different flavours to discover. And, if you're wondering why the name is sometimes spelt 'whisky' and other times 'whiskey', then you are about to find out.
Of course, we have also chosen some of our enticing top whisky gifts and whisky hampers, so that you can try them out for yourself!
Where Does The Name Whisky Actually Come From?
The word 'whisky' comes originally from the Gaelic word 'usquebaugh', or 'water of life'. Nowadays, true whisky is only produced in Scotland and whiskey comes from Ireland and many other countries. During the late 1800s, Irish producers wanted to differentiate their drink as the Scottish whisky was thought to be poorer quality. What a difference the years bring, as today, Scotch is one of the most revered spirits in the world.
Traditional Scotch whisky is normally made from distiller's beer, created by fermenting barley in exactly the same way as beer. It can actually be made using any grain, however, the traditional Scottish whisky that you will find in our delectable whisky hampers always uses malted barley. Whisky is then matured for many years in real oak barrels. As the final result can vary, it offers a diverse range of depth, flavour, character and general attraction.
Different Types Of Whisky To Tickle Your Tastebuds
Irish Whiskey - made from a malt mash and distilled in casks for 3 years

Scotch Whisky - uses malt or grain and aged in oak barrels for 3 years

Japanese Whiskey - uses similar distilling methods to Scotch, with a similar taste

Canadian Whiskey - contains a high % of corn, so smoother and lighter in colour

Bourbon Whiskey - American-style, made from 51% corn and aged in new oak

Tennessee Whiskey - technically a bourbon, but with a distinct difference

Rye Whiskey - produced in America using 51% rye and distilled like Bourbon

Blended Whiskey - a blended mix of whiskeys and grains with low-cost production

Single Malt Whisky - must be produced from one scotch at a single distillery
How We Choose Our Whisky Gifts And Whisky Hampers
For treating your best customers or that special someone, we have selected the premium taste sensation of Glenmorangie for our Whisky hampers. This is one of the most famous brands around, founded in 1843 in the Scottish Highlands. Glenmorangie whiskies are multi-award-winning, and their single malt whiskies are consistently at the top of sales worldwide.
Smooth, rounded and with a fabulous flavour, the producer uses the tallest stills in Scotland and hard water from Tarlogie Springs. The casks are made from white American oak to complement the overall flavour of the whisky, which are first used to produce bourbon in Kentucky. They also only use their casks twice to maintain the flavour's complexity and depth. So, now you know why we select Glenmorangie for our luxurious Whisky gifts!
10 Fascinating Whisky Facts To Impress Your Friends
No one actually knows who invented the very first whisky

Whisky production started in Scotland way back in 1494

There are 7 regional whisky producers including Japan and India

The oldest whisky is more than 150 years old and holds the Guinness World Record

Nearly 2% of whisky evaporates from the barrels every year - known as the angel's share

Life starts at 40 for any Scotch whisky which must be at least 40% ABV

An average tot of whisky contains 64 calories, much less than a banana!

The popular Jack Daniels is not actually a Bourbon, but a true Tennessee whiskey

The world record for the largest bottle of whisky is 228 litres

One of the ingredients of Tabasco sauce is whiskey and it is aged in barrels used to make Jack Daniels
Stock Up With An Enjoyable Investment
A delicious bottle of distinctive whisky can retain its aroma and taste for more than 100 years. As it can be kept for so long, a good high-quality product will appreciate in value. Some connoisseurs even use this method as an interesting alternative to holdings or property!
However, we are sure most of you just want to enjoy the rich flavour yourself or gift it to someone special. That's why our whisky hampers are thoughtfully packed with delights to impress and complement this distinctive tipple. From luscious flavours like Kalamata olives to tasty quince paste and crunchy savoury chilli nuts, prepare for a taste sensation.
Our Glenmorangie Whisky Tasting Hamper is a great way to start on your journey of discovery. One of our most popular whisky gifts, it contains four different world-famous whiskies, each offering a unique blend of perfectly-balanced flavours. Smooth Glenmorangie Original and spicy Glenmorangie Lasanta are joined by a sensual Glenmorangie Quinta Ruban and the distinctive Glenmorangie Nectar. This beautiful whisky hamper makes an extraordinary and distinctive gift for all who want to experience a choice of flavours.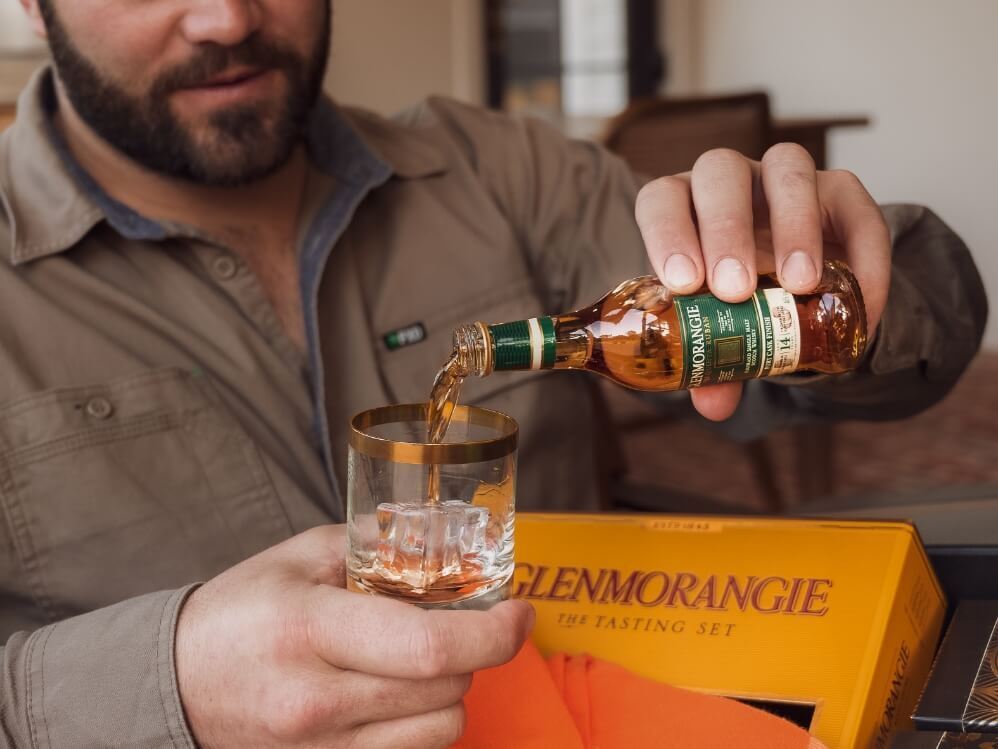 Whisky experts will love the beautifully presented Glenmorangie Lasanta. With flavours of fig and sweet honey, this 12-year-old single malt whisky makes a simply sensational whisky gift. To complete the sense of occasion, there are Kangaroo Island olives, Calvi Italian olive oil, artisan crackers and a selection of Morgan's and Byron Bay sumptuous biscuits and sweets.
The Glenmorangie Quinta Ruban is another great choice, with its creamy, smooth single malt Scotch. Sticky figs, semi-dried tomatoes, capsicum tapenade and quince paste are just some of the delights packed into this fabulous whisky hamper.
As with any Hamper Emporium gift, you can add a special thought with a personalised message on your free gift card. Choose something special for a Father's Day hamper with whisky, a retirement gift, an anniversary, or a lavish corporate whisky gift with branded ribbon to impress an important client. .
Take a look today and make that special someone extra happy!