Why Friendships Are So Important For Your Wellbeing
Author: Nikki Barnett Date Posted:24 March 2021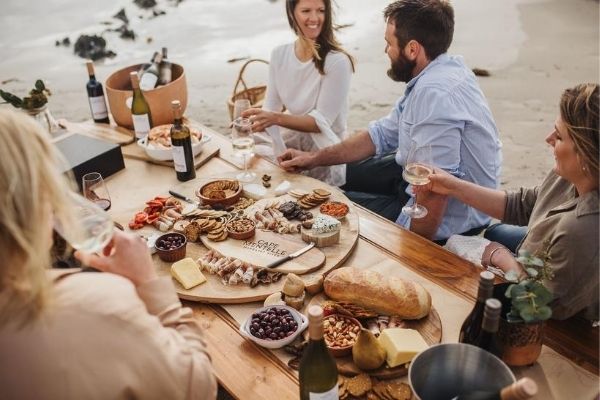 Friends improve your overall health and enrich your life
Most of us know the basics of good health, from eating a nutrient-rich diet to exercising every day. But not everyone knows that friendship and health are linked too. The marvellous health benefits of friendships are well documented and are even cited by the World Health Organization. They can drastically affect mental and physical health and have a significant impact on our overall wellbeing.
Here at The Hamper Emporium, we never underestimate the worth of a good friend or the power of a stunning gourmet food and wine hamper to show them you care. If you have a cherished friend who is close to your heart, then it's important to let them know with words and gestures. Your gifts for important friends should be something to cherish.
So, why exactly are healthy friendships so important, and how do the positive effects of friendship contribute to our wellbeing?
The importance of having friends in our everyday lives
We choose many different types of friendships during the course of our lifetime. Some are transient, others long-lasting. Our network of friends will include those who are considerate and empathetic, while others may show their affection in a more uncompromising way. We love them anyway!
But, the real benefit of having dependable friends is that each of them will take you outside your comfort zone at times and make you feel more confident. Their love, help and trust develop your mental and physical capacity in multiple ways.
Friends push us to interact with love
The people we share our lives with show us every day how to have relationships, from making conversation to forgiving wrongs. Any relationship is first founded on friendship and shared values, teaching us how to relate to others, even when they share a different perspective on the world.
Being with friends means we don't just share our thoughts and talk with them, we constantly learn from them too. Our inner circle of friends encourages us to make new acquaintances, expand our horizons, and find out what makes different people tick. They push us to grow while providing a completely safe space for us to be ourselves.
Friends make us positive and strong
Friendship psychology studies show that one of the biggest benefits of friendship is that it aids our overall physical health. Buddies help to keep our bodies and minds in shape just as much as a healthy diet and exercise routine. They actively help us to deal with stressful situations, and with making positive lifestyle choices, allowing us to rebound from any trauma that much more quickly.
The importance of good friends spills over to our mental health too, as their influence keeps us strong when times get tough. Some studies even suggest that our friends with positive views can impact on our outlook and life outcomes. Generally, we are more positive and happier when we actively choose happy people to spend our free time with!
Friends combat loneliness or helplessness
Our closest friends also help us during those lonely times that sometimes engulf us all. They teach us how to accept help and kindness with gratitude. Sometimes, they also make us reach out when, typically, we would not ask for help. Painful times call for best friends and make us appreciate them even more.
Friendships can move in and out of our lives, and although they won't all last forever, most bring something unique and special to treasure. The biggest reason why friendships are important is that we are forced to learn more about ourselves. The key to loneliness or feeling helpless is to find just one friend who really understands you.
Friends bring a richer quality of life
The importance of friendships in our journey through life should not be underestimated. Great friends and wellbeing go hand in hand. These important relationships can also change our value system and add greater meaning to our everyday lives. Spending quality time with great friends fills our time with fun, laughter, new experiences, great conversation and genuine support and caring.
If we ever do fall on hard times or suffer a loss, our circle of friends are on hand to lend a helping hand and put things firmly in perspective. On successful occasions, they are cheering the way to our good fortune. Loyal, down-to-earth and positive people around us makes us more mindful. It reminds us that life is about so much more than just living.
Strengthen your inner circle for social wellness and health
We hope you see that the influence of our close friendships spills over to our social wellbeing and general health. If you want to experience a long, healthy life, filled with laughter, then it's time to focus on your inner circle. Identify those three to five close buddies and start to strengthen your bonds. You'll soon benefit from all the wonderful things that come with them. Emotional, mental, physical, and even spiritual benefits are all there if you take the time to reach out. Make exciting plans that connect you in deep, meaningful and memorable ways.
Fill your life with unconditional love and fun
Why is it important to keep in touch with friends? Well, our family may love us because we are family, but our friends choose us and love us without condition. The best ones expect nothing in return and will be there whenever we need them. Whatever the situation, close buddies are there to support us. Our best memories are those shared with these amazing people.
Many of the most joyous and interesting times in our lives are with friends, and they are always an instant mood booster. So, send a simple invitation and look forward to some quality time together. If you can't be together, then show your love with a fabulously indulgent pamper hamper that will bring joy. Strengthen the bonds that bind you and help to enhance your health and well-being at the same time.