Why Hampers Make The Best Gifts For New Parents
Author: Katharine Ahern Date Posted:2 November 2021
Send your love to mum and bub
If you've just received news that a friend or close family member is expecting a baby, sending a baby announcement present is the best way to share their joy at the happy news. Send your love and congratulations to the excited parents with a gorgeous baby gift basket delivered straight to their door. Our specially selected range of baby gift baskets are perfect to give as a present at a baby shower or when you first visit a new baby.
If you're looking for baby gift ideas, baby hampers are wonderful presents for new parents because they come with a little bit of everything. Newborn baby gift hampers should be created with the perfect combination of essential baby gifts and beautiful keepsakes. Plus, don't forget Mum! You should choose the perfect gift for new parents with the finest hand-picked selection of quality baby clothes and toys, stunning keepsakes, and cute baby gifts that mum and bub will treasure.
Baby shower gift baskets for new parents
Baby hampers are the perfect gift to give at a baby shower. Gathering with the expectant parents and loved ones at a baby shower to celebrate the upcoming birth of a much-awaited baby is lots of fun. Talk to the new parents' friends or extended family and see if other guests want to pool their gift money to buy an extra special baby hamper from everyone. Buying one luxury Baby Essentials Hamper packed full of gorgeous baby gifts makes it easy to be sure the new parents get the things they need. Even better, they'll get all those special little extras to make them smile. If the parents don't know if they are having a boy or a girl, or are keeping it a surprise, gender-neutral hampers are fun gifts to suit newborn boys and girls.
Best gifts to include in a baby hamper
In 2021, the most popular things to include in baby gift boxes are classic baby gifts like cuddly teddies, plush toys, baby rattles, books, a baby mobile, teething rings, baby blankets, wraps, baby clothes, booties, and bibs. Organic cotton clothes or wraps, and natural baby products are also very popular baby gifts. Including a special keepsake is also a nice touch. Of course, Mum will love some sweet nibbles or a bottle of champagne as an extra treat just for her so a baby hamper with champagne is always going to impress.
The best thing about baby hampers from The Hamper Emporium is you know they each include only the finest baby products and pampering gifts for the new mum. Every newborn gift box from The Hamper Emporium has been created with the perfect combination of essential baby products, keepsakes, and thoughtful gifts for the new parents. Best of all, our baby hampers are beautifully presented to make a fabulous impression! You can choose the style of hamper you know the new parents will appreciate.
Why gender-neutral hampers are perfect
If the new parents have just announced their pregnancy and you'd like to order a special gift online to congratulate them, hampers make the best gift. A gender-neutral baby gift hamper will be a wonderful surprise that you can send even before baby is born. Gender neutral hampers with sweet baby themes, like childhood favourite Peter Rabbit, will be loved by parents and baby.
Book themed baby hampers that come with a selection of baby essentials plus a popular baby book are a delightful way to welcome a new baby. Baby hampers that include a book are perfect gifts from a grandparent or other close family members. As baby grows up, you can read your special book gift to baby every time you visit. Having a special bedtime storybook that you share together is a beautiful way to create memories from your earliest days together.
Send your love to the new parents
Baby announcement gift hampers and newborn gifts are the ideal way to send your love to the new parents if you live far away from the expectant family or are not able to visit. If the new parents are not having a traditional baby shower or you're not able to attend, arranging a gift hamper delivery is a thoughtful way to send your love. Keep in mind, you don't have to send a baby basket with things just for the baby. You can choose a gift specifically for the new parents. A grown up celebratory gift hamper full of food and wine for the parents to enjoy together will be very appreciated!
At The Hamper Emporium, we understand how important it is to stay in touch with loved ones. With baby gift hampers and special celebration Mum & Bub Hampers you can still welcome a new addition to the family even if you are not there in person. There's nothing more exciting than news of a new baby! Our fast delivery means we can have your gift basket delivered to the new parents as soon as you get the news. We even have personalised gift cards, so you can include a special message as a keepsake to go with your baby hamper. Our free premium embossed personalised gift cards can be kept by the family as a memento of the welcome gift you sent for the baby. Even if you all share a Zoom call to congratulate the new parents, it's still nice to have a special card or keepsake.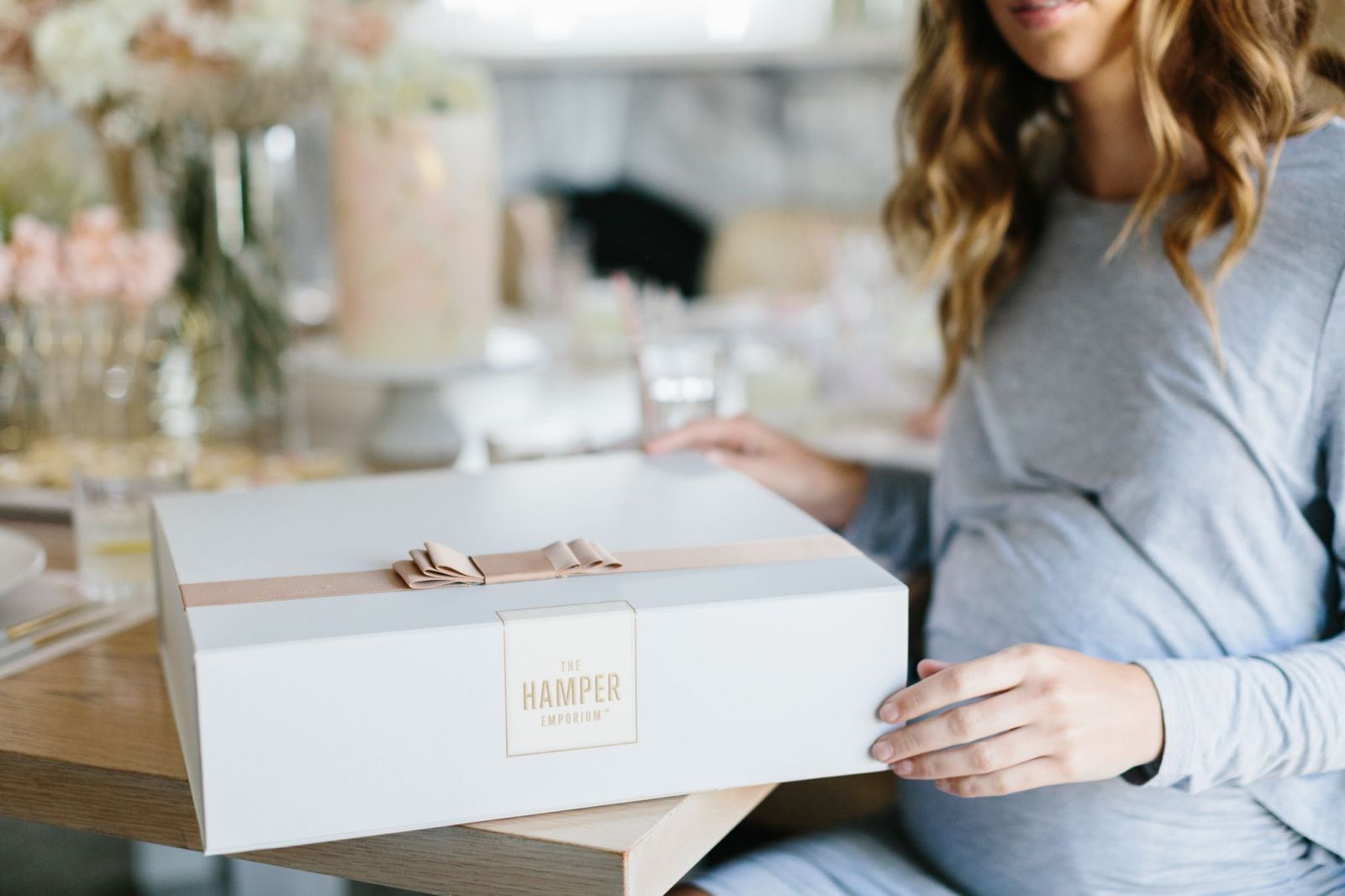 Order Mum & Bub New Baby Gift Boxes Online
Choosing a gift to celebrate the birth of a new baby is easy when you send a baby gift hamper or a new mum pamper pack. The Hamper Emporium offers luxurious baby gift baskets at an affordable price. We also offer free delivery for all hampers over $99. Just choose your favourite hamper, write a sweet message to go on the card, enter your delivery details, and we'll take care of the rest.
The gorgeous range of baby gift baskets from the Hamper Emporium makes it easy to choose a special gift to celebrate a pregnancy announcement or the birth of a baby. Order a baby gift hamper online and be the first to congratulate the new parents and send your love to welcome their new baby.