Why Is Giving Chocolate As A Gift A Great Idea?
Author: Nikki Barnett Date Posted:3 June 2020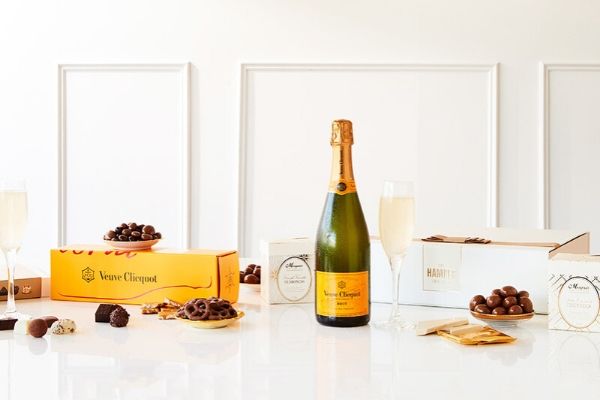 Everyone loves chocolate
If you're struggling to choose the perfect gift and don't want to settle for a gift voucher, chocolate is your answer. Chocolate is the perfect gift for any occasion. Chocolate is suitable as a gift for a celebration, to congratulate, to say thank you, to offer condolences, and for the best wallowing commiserations and break-up parties. A chocolate gift can be wonderfully intimate or completely professional. You can send chocolate to your best friend, your lover, your mum, a colleague, your boss, a staff member, the kids' footy coach, or your awesome divorce lawyer. There is no occasion that would not be improved by a luxury chocolate gift hamper.
Romantic chocolate gifts
It goes without saying that giving chocolate as a gift is a great idea for Valentine's Day. When people think of Valentine's Day gifts and special anniversary surprises, they automatically think of chocolate, flowers, love hearts, and teddy bears. Giving a gift of premium, decadent chocolate is the perfect way to spoil someone you love.
What's even better than a chocolate gift basket? A Moët & Chandon Vintage Champagne and Chocolate Hamper. There is no better way to say 'I love you' than with a romantic gift basket that includes wine and chocolate to share with your lover. Make it an anniversary to remember with a truly indulgent gourmet gift.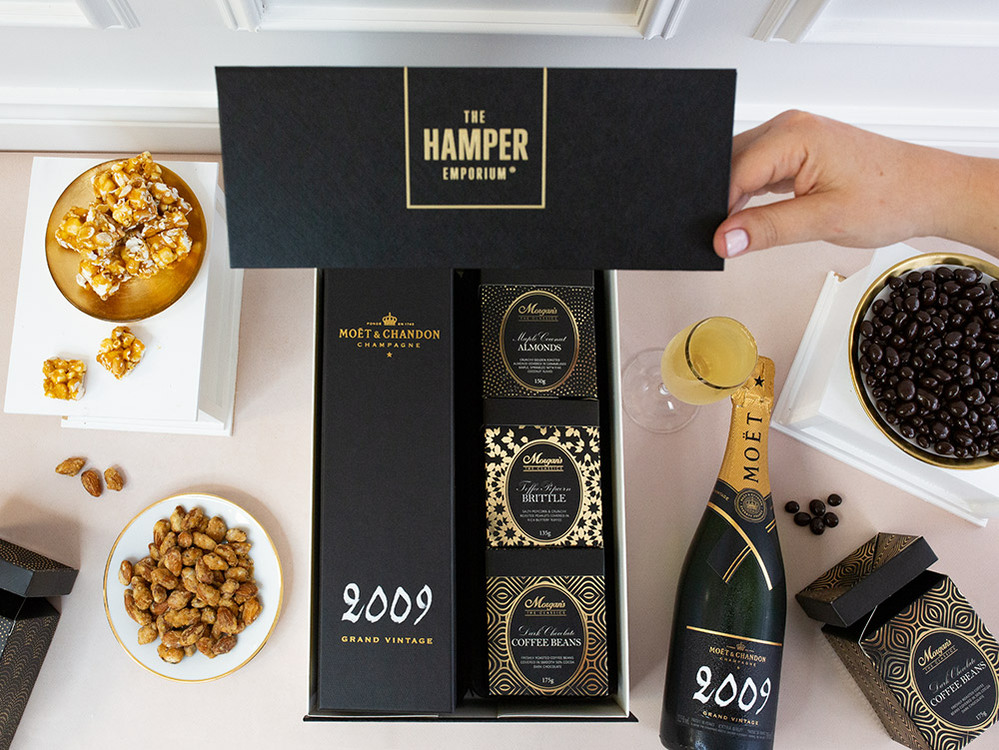 How to choose the perfect chocolate hamper for every occasion
Chocolate doesn't have to be a romantic gift. Wine and chocolate hampers are lovely, impressive gifts to send to family members who are celebrating a birthday or other special occasion. Choosing a hamper that includes a combination of sweet treats, savoury nibbles, and chocolates is a great idea when organising a gift delivery for someone if you don't know what they will prefer.
Chocolate also makes a great gift for Mother's Day. Choose a chocolate hamper that includes a pampering gift for mum to really make her day. For something a little different, you could choose a gourmet treat like chocolate-coated coffee beans or quality chocolate truffles. Unique chocolate treats and artisan gifts are something your mum might not buy for herself, so they are extra special to receive as a gift.
Including some scrumptious chocolate treats for a new mum when you give a baby gift is also a lovely idea. The best baby hampers for mum and bub should always include chocolate!
You can never have too much chocolate at Christmas time! Forget the candy canes. If you need gifts for several family members or friends, shop online and organise a delivery service of chocolate straight to their door. Including a bottle of red wine makes for some extra Christmas cheer. Or a light refreshing white wine is a wonderful accompaniment for a summery Christmas picnic.
You can also give a chocolate gift basket as a thank you gift for your child's teacher at the end of the year. It's not hard to think of great gift ideas for teachers when you browse the affordable range of chocolate hampers at The Hamper Emporium.
Corporate chocolate gift baskets
Chocolate gift baskets are perfect for an EOFY thank you gift for staff and clients. Make a lasting impression. Send a beautifully presented, luxury chocolate gift hamper packed full of quality ingredients from world-class brands to the people most important to your business.
For branded chocolate boxes and corporate gifts, contact the team at The Hamper Emporium. We can help you choose the best corporate gifts. We can deliver thank you gifts to your clients including wine and chocolate settlement hampers, celebration gift baskets, Christmas hampers, and end of financial year staff gifts. Our corporate hampers are delivered free of charge Australia wide. The Hamper Emporium has office locations in Sydney, Melbourne, and Brisbane with all our hampers packed and shipped from our Regents Park location in Sydney. Our specialised corporate customer service team will be happy to help you find the best way to show your staff and customers how much you appreciate them with gorgeous branded gift baskets.
View our corporate gifting page to get a tailored quote or to find out more about our range of corporate hampers, branded ribbons, and custom gift tag options.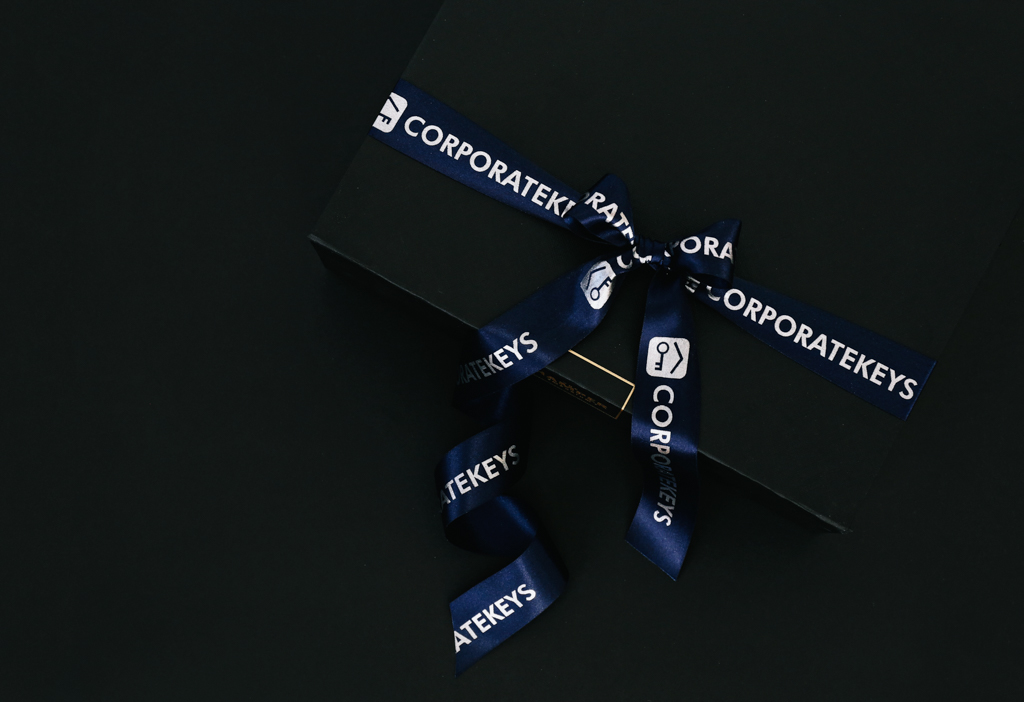 Hampers for every occasion
Hampers and gift baskets make choosing a gift easy. The Hamper Emporium offers only the finest products in every one of our carefully curated gift boxes. If you're not completely sure what to get for a special occasion gift that needs to impress, a gourmet food hamper or a gorgeous wine chocolate and wine hamper is guaranteed to please. Chocolate hampers will impress even the fussiest family member. Share the joy with a gift of premium chocolate for your next special occasion.
Need a gift in Sydney delivered fast? The Hamper Emporium offers same day delivery gift baskets in Sydney. Because our hampers are packed in Sydney, our professional and speedy team can get your chosen gift delivered on the same day or next business day throughout the Sydney metro region.
We love supporting locals. The Hamper Emporium specialises in Australian made products from Aussie companies including Ernest Hillier Chocolates, Morgan's Fine Foods, Kangaroo Island gourmet foods, The Brewer's Nut Co., Margaret River vineyards and more. We are your best choice for Sydney gift deliveries and premium Sydney hampers.
Send your love with the finest quality chocolate hampers and gourmet gift baskets in Sydney from The Hamper Emporium.