Wonderful Welcome Basket Ideas For Guests
Author: Michelle Richards Date Posted:27 June 2022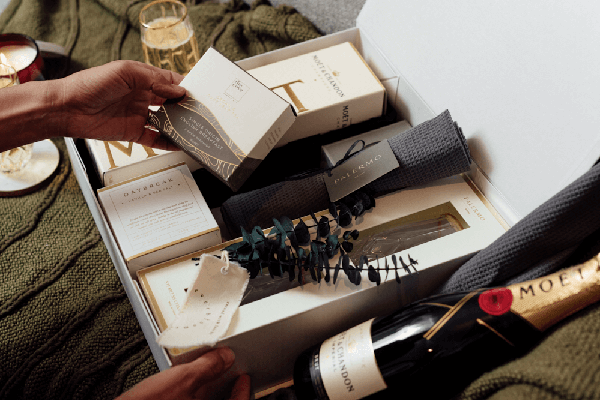 Create A Warm Welcome For Your Guests
One of the simplest finishing touches to make visiting guests feel warm and welcomed is an unexpected gift on arrival. A hotel or holiday house welcome basket is a thoughtful way to welcome your guests and start their vacation off with a positive experience. Holiday welcome baskets are especially nice for guests visiting for a special occasion, for regular VIP clients, or guests travelling for business.
When you welcome guests into your home or holiday rental, the first thing you want them to see is your gift basket of goodies. Whether your out-of-town guests are coming to stay overnight, you need inspiration for Airbnb gifts for a holiday cottage you rent out, or you need a good choice of luxury hotel welcome baskets to keep your guests happy, we have ideas that will suit. Why not spoil your guests? Show them how much you love having them stay with our handy tips!
What is a welcome basket for guests?
A welcome basket is a gift that may be given to out-of-town guests when they arrive at someone's home or holiday house. A nice guest hamper or guestroom basket is a gift box collection of snacks and drinks, or small essential toiletry items they might need during their stay. They can be as simple and sweet or elaborate and luxurious as you want to make them.
Choosing what goes a welcome guest hamper will usually depend on your relationship, budget, their possible expectations, and how long guests will be staying. The thing that makes a guest welcome basket special is that it's totally optional and not a requirement or expectation. So, when guests receive one, they know they are more than welcome.
How to make guests feel welcome?
Some of us may be lucky enough to have a guest room to set aside for their visitors. Others will be busy trying to turn the living room or kids' bedroom into a welcoming space. Whether it's the sofa for a night or a room for the weekend, guest welcome basket ideas are the ultimate welcoming experience.
While friends and family who are coming to stay won't expect an overly fancy hostess welcome basket for guests, a little welcoming gesture goes a long way to making their stay more comfortable. Overnight stays for guests are a fabulous way to catch up late into the night and share a leisurely brunch the next day. It's lovely to give them a memorable experience with little extra touches they aren't expecting.
What do you put in a welcome basket for house guests?
Even friends and family can be naturally hesitant about how to find things they need and when it's appropriate to ask for something they've forgotten. So, providing them with some handy homeware essentials and small treats is a charming gesture. It will make guests feel extra special, relaxed, and totally welcome.
No matter how you style your gift, a few guest welcome pack ideas are staples and should always be included as a rule of thumb. Some great ideas are travel-size toiletries, guest towels, drinks and snacks, your Wi-Fi password and the remote control for the TV. If they've travelled a long way, or had to travel light, then a welcoming bottle of wine alongside their essential toiletries will make settling in for the evening feel effortless.
Here are some simple ideas for the basic essentials that will put them in the mood for a totally relaxing and enjoyable stay.
Overnight essentials
Lay out a tray with basics and things they might easily forget. A hand towel, some lovely hand and body cream, toothbrush and toothpaste, mouthwash, soap and tissues will always be appreciated.
Drinks & snacks
Ensure your guests can nibble without having to ask, especially if they're arriving late. Favourite treats, biscuits and chocolates, or crackers and wine will make them feel at home when settling in for the night.
Breakfast & beverages
Nothing makes a guest feel welcome more than their favourite coffee, tea or hot chocolate ready for the morning without having to wake you. You could even choose their own tea or coffee mug, protein bars and juice, or some delicious jams or cereals.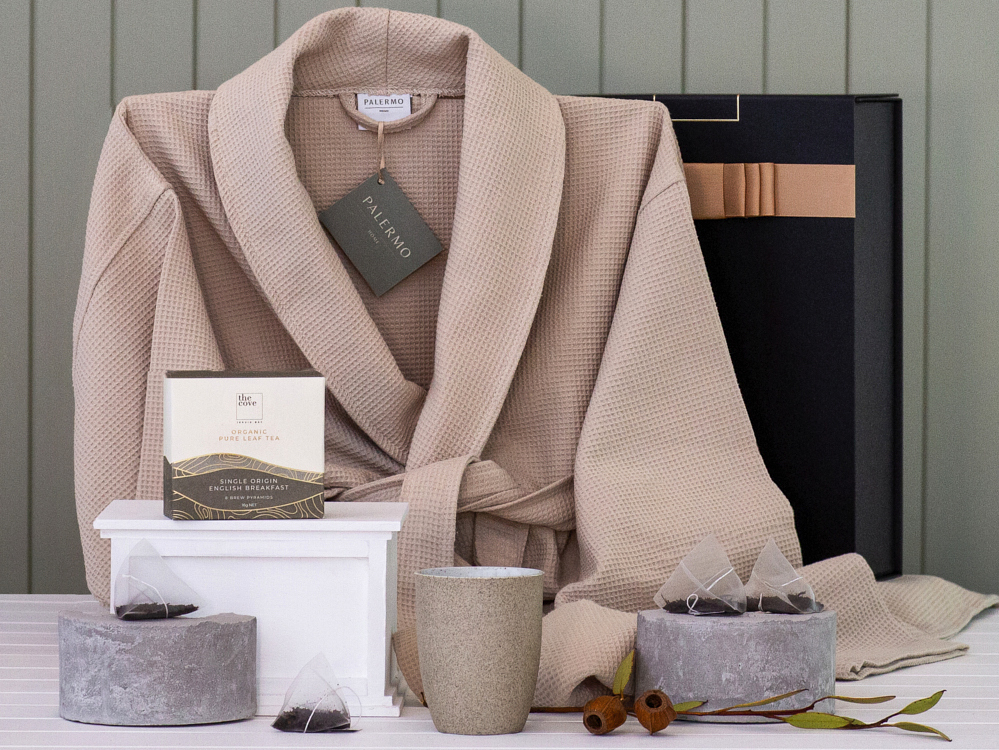 What do you put in a welcome basket for hotel guests?
Whether it's a beach house, a vacation rental, hotel, Airbnb, or bed & breakfast stay, your paid guests will also appreciate a personal welcome. It's important to put some thought into the vibe your guests will get when then first arrive. A hotel or holiday home welcome hamper makes a great first impression that often sets the tone for their stay.
From a gourmet hamper to luxury homewares gifts they'll appreciated, the right welcome basket for Airbnb or holiday home guests can shape their expectations for the rest of their stay. In addition to the basic essentials that you might leave for house guests, here are our suggestions for what to leave for Airbnb guests or vacation rentals.
Luxurious touches
If it's a special visit, and your guests have said they are booking for an anniversary or birthday, there are plenty of items to spoil them with. Honourable mentions are a bottle of premium wine, scented candles, champagne and glasses, or chocolates.
Relaxation Aids
Show guests they don't have to jump out of bed early by leaving them something to read in your welcome basket. Magazines, an easy-read book, or a crossword puzzle will help them unwind.
Local Delicacies
No welcome basket for house guests is complete without a little taste of local gourmet products. Leave them a sample of goodies from the area or give them a cute souvenir instead.
In-room spa essentials
Turn their holiday into a 5-star experience with home spa hamper or gift basket full of pampering luxuries. Include a cosy robe, fluffy slippers, bath soak, luxury skincare products, relaxing pillow spray, and all the little luxuries to help your guests relax.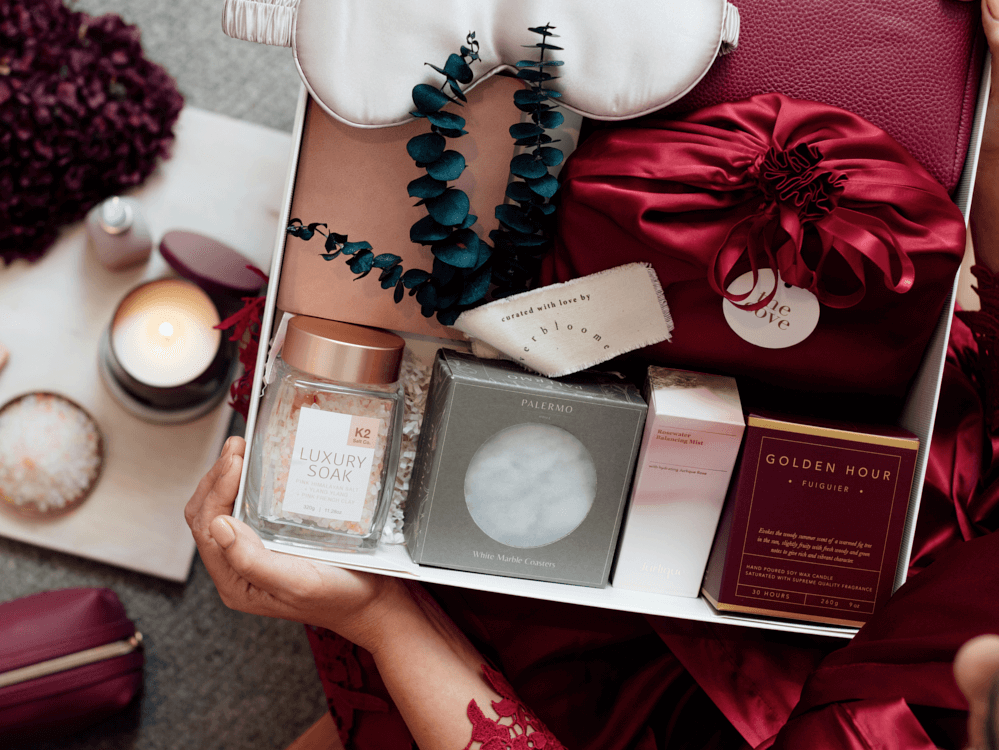 Tips for putting together the best guest hampers
Here are 8 tips and tricks to keep in mind:
It's very likely your guests will be arriving late at night or after a long drive hungry and ready for a drink. Always be sure to include some tasty snacks or mugs brimming with cookies, snacks, chocolate, and other little treats.




Guests might not have time to shop, so bakery bread, croissants, butter, jam or preserves and fresh eggs will ensure they can whip up a delicious breakfast on their first holiday morning. Or why not add a gift card to a local cafe?




Couples enjoying a romantic break and parents alike are sure to appreciate a nice bottle of special wine. Pair it with beautiful glasses and a selection of nibbles to set the relaxing scene for their holiday.




Cheese, crisps, chutneys and artisan crackers are popular choices for most people. They're perfect any time of the day and will give guests a grazing board before or after they explore their new surroundings.




Concentrate on local flavours so guests can experience the local culture. Include pantry items like honey, tapenades, maple syrup and olive oil or go for fresh local-grown produce like fruit and vegetables.




If your holiday home is close to the coast, include items that encourage guests to enjoy it fully. Your beach house welcome basket ideas could include a beach bag, sunhats, sun cream, lilo or inflatable beach ball.



Ask about specific dietary needs to make sure your welcome gift is tailored to suit, such as a gluten-free hamper, non-alcoholic gift basket, or a vegan hamper.



When you know guests are celebrating a special occasion, it's nice to add to the event. Surprise them with a beautiful bottle of bubbles, a DIY cocktail kit, or pampering treats that will make their stay even more fabulous.
Your Guests Will Rave About Hamper Emporium Goodies
Whether you need luxury gift hampers to wow your guests, or a cosy welcome basket with relaxation in mind, The Hamper Emporium range is packed with all the best welcome gift ideas for an Airbnb or house guest. There are vibrant and varied hampers that will not only make guests feel welcome but will also make a statement. So, why not browse our collection for the perfect combination? These small gestures are a great way to give loved ones or guests the complete 5 star hotel treatment and be an epic host. It's a beautiful thought and a surprise they will never forget!