Cheese Hampers

---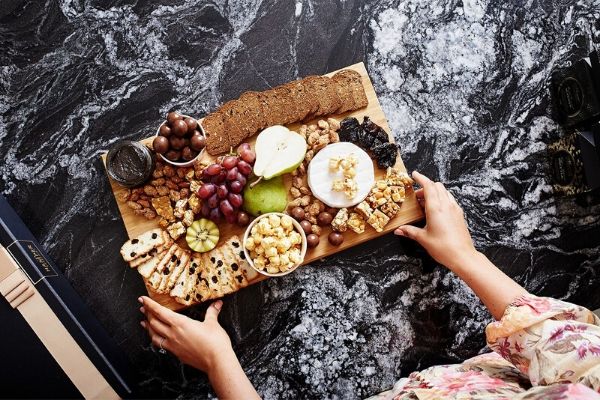 Cheese platter inspiration for your next picnic There's nothing nicer than gathering with friends for an im...
Read Full Post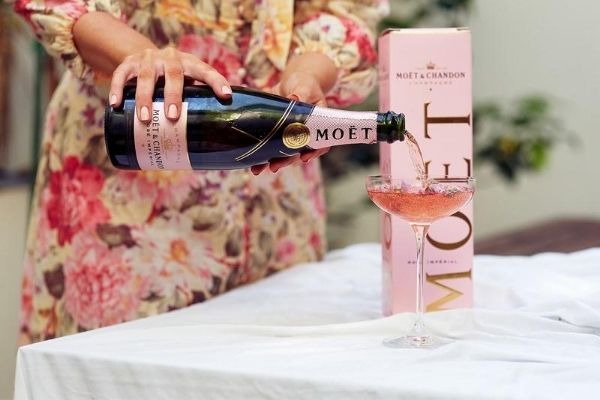 Choose the best wine for your cheese platter If you're ready to become a cheese and wine connoisseur, ...
Read Full Post
Cheese hampers Australia
The Hamper Emporium's range of cheese hampers comes with decadent, irresistible cheese from Maggie Beer, plus gourmet accompaniments. Depending on the hamper you select, your gift recipient will get blue cheese, brie cheese, camembert cheese, truffle triple cream brie, or cheddar cheese from Maggie Beer.
Our hampers come with free shipping and a premium card.
Explore our range of cheese hampers today and treat your loved ones to luxury cheese.
FAQs about cheese hampers
In this section, we'll answer your top questions about cheese hampers.
Can you put cheese in a hamper?
Yes! Cheese is a fabulous addition to a gourmet food hamper or grazing box. The only thing you need to consider when adding cheese to a hamper is how the cheese will stay cold. But this issue is easily overcome – just remove the cheese from the hamper and refrigerate it until it's time to give it to someone.
How are your cheese hampers delivered?
Your cheese gift pack or hamper will be delivered using chilled delivery – meaning it will be packed into a refrigerated truck and delivered to your door cold. Our cheese hampers are also packed into special insulated packaging to keep them nice and cool.
We deliver on most weekdays.
Can you send a cheese gift pack in the post?
We wouldn't recommend sending a cheese gift box through the post as it will be travelling at room temperature. Delivery vans can also get very hot, so your cheese may spoil (even if your package is only travelling locally). If you want to give someone a cheese hamper, we recommend purchasing a hamper through us because it comes with chilled delivery and insulated packaging.
What do your cheese hampers include?
Our cheese hampers include a range of goodies, including:
Australian cheese
Chocolates
Crackers
Nuts
Wafers
Olives
Pastes
Olive oil
The kind of accessories people need when enjoying picnic hampers (a chopping board, knife, or cooler bag)
Red wine, sparkling wine, and champagne
Do any of your cheese gift baskets include a cheese knife and board?
Yes! The Complete Cheeseboard Hamper has a Laguiole Cheese Knife and a Maggie Beer Solid Teak Cheeseboard. It also comes with pastes, crackers, wafers, olives, cheese, and wine. It's the perfect gift for the gourmet grazer in your life.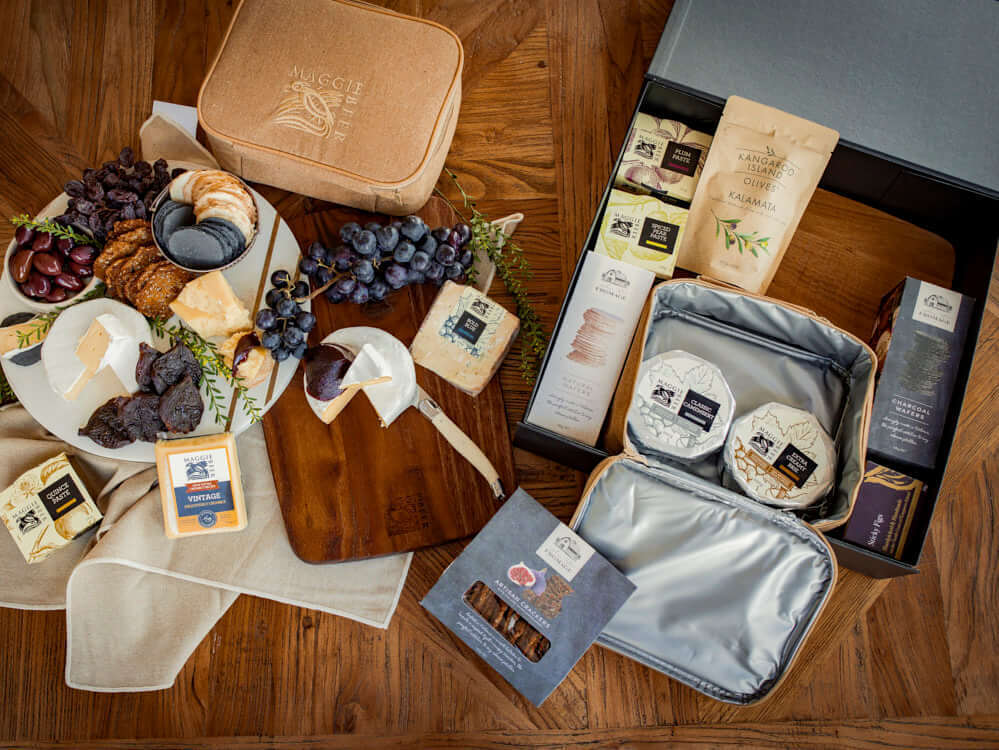 How long will my cheese hamper last?
The non-perishable goods in our cheese gift boxes can last for quite a while, assuming they're unopened. Please check the best-before date on the packaging and refrigerate as needed.
Each cheese will have a best-before date stamped onto it. Please eat your cheese before that date (they're pretty irresistible, so that won't be hard). Cheese that's left in the sun or at room temperature for a while may spoil before the best-before date. So if your cheese looks or smells funny, you might want to get rid of it.
Does my cheese hamper need to be refrigerated?
Yes! If your cheese hamper isn't going to be eaten straight away, we recommend refrigerating it. The last thing anyone wants on a big day is for their favourite cheese to spoil before they can eat it.
Where do you deliver cheese gift packs to?
We can deliver cheese hampers to Sydney, Melbourne, Brisbane, Adelaide, the ACT, and selected regional areas. Check our gift delivery page if you'd like to know if we can deliver to your suburb.
All our cheese hampers are available to purchase online (including from a different state or outside of Australia).
Treat your loved ones to unforgettable cheese hampers
The Hamper Emporium's cheese gift hampers are thoughtful and delicious gifts that your friends, family members, coworkers, and loved ones are sure to appreciate. They're packed full of gourmet Maggie Beer cheese, artisan nibbles, wine and champagne, and other irresistible goodies.
Our hampers come with free delivery and a premium card. All cheese hampers are delivered with chilled delivery so they stay nice and fresh.
Explore our range of cheese hampers now.