Chocolate Gift Hampers
Send a decadent chocolate hamper to someone special. Our quality chocolate boxes and sweet treat hampers will wow your friends and family. Choose from our amazing range of milk, white, and dark chocolate options, as well as delicious chocolate truffles, fudge cookies, choc coated nuts and more. Order online for your chocolate gift basket delivery and create an occasion to remember with our indulgent and luxurious chocolate hampers.
Whether it's a chocolate gift basket, or a luxury wine gift hamper filled with wine & chocolate delights, at The Hamper Emporium, all sweet hampers and chocolate box gifts include free standard delivery, with express delivery options, and same day shipping in Sydney. Our chocolate hampers come with a free personalised gift card and are beautifully presented in a custom keepsake luxury gift box. From the moment one of our chocolate gift hampers arrives at the door, your recipient is guaranteed to be impressed by the style, elegance and pure indulgent luxury that you've had delivered - just for them.
---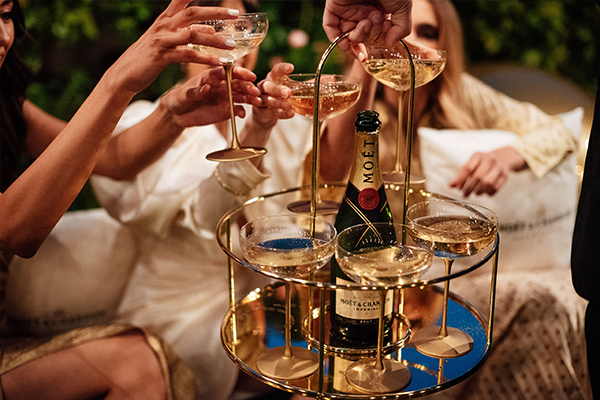 Celebrate Their Life With A Birthday Event To Treasure Milestones birthdays are those momentous occasi...
Read Full Post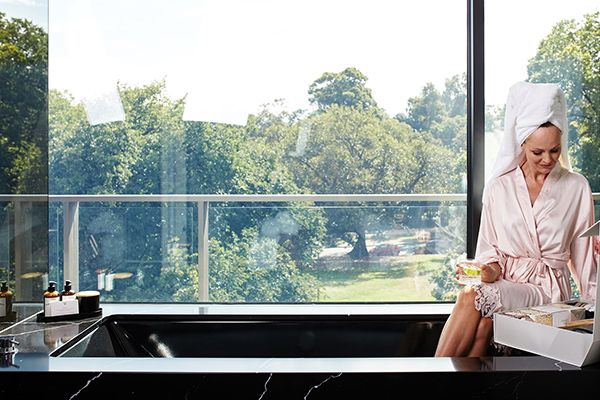 Why A Luxury Lifestyle Is Within Everyone's Reach Are you yearning to live the 'good life'? Well, all...
Read Full Post
Chocolate Gift Hampers
A melt in your mouth chocolate hamper gift box is the perfect present for any occasion, Deliver joy with chocolate hampers from Australia's most luxurious dessert hamper range. The Hamper Emporium offers a selection of chocolate gifts paired with Australia's best wines, champagne, or with a range of artisan sweets that will truly delight even the sweetest of sweet tooth gift recipients. Ordering personalised chocolate gift boxes online that include their favourite treats is the perfect way to send your love. We've spent over a decade sourcing the world's best chocolate to give as a gift and create Australia's favourite chocolate gift boxes with free delivery. Say 'I love you' with a chocolate hamper.
Chocolate Gift Baskets and Sweet Hampers
What makes the best gift for any occasion? Chocolates and sweet gifts of course, especially at Christmas! In all our years as Australia's hamper experts, we've delivered thousands of chocolate gift baskets, and without a doubt, they continue to be some of our best sellers. Each of our special occasion chocolate hampers include beautifully presented chocolate assortments, confectionery, and gourmet treats. We work with some of the world's finest chocolatiers such as Butler's and Willie's Cacao to ensure that every choc-filled mouthful is smooth, creamy and decadent.
Our gourmet chocolate baskets also include Australia's finest chocolate from Ernest Hillier. This premium Australian chocolate brand was founded in 1914 and brings over a century of chocolate making experience to Australian customers. When sourcing the finest gourmet chocolates for our hampers, we love finding innovative artisan producers. Our true favourites are the tried and tested gourmet chocolate producers who have stood the test of time. Our selection includes fine quality chocolate boxes, biscuits, gourmet chocolate truffles, chocolate coated nuts, sweet candies, Byron Bay choc fudge cookies, peanut brittle, honey popcorn, toffee, and luscious melt-in-the-mouth shortbread.
Over the past decade as Australia's leading chocolate hamper producer, we've discovered something we think you'll be happy to hear - Chocolate Hampers are always a favourite! Knowing this makes it so easy to send the perfect gift for every occasion because we haven't discovered a single occasion where a chocolate gift hamper hasn't been well-received.
Best Gifts For A Chocolate Lover
We all know someone who is a chocoholic! Sending a delivery of chocolates is always a special gift for a chocolate lover. But a beautifully presented chocolate hamper is so much more impressive as a gift than a single box of chocolates. Whether it's the perfect chocolate birthday gift hamper, a festive chocolate Christmas gift basket, a Champagne and chocolate gift box for a congratulations gift hamper, an Easter chocolate delivery, or Valentine's day chocolate hamper, we have unique chocolate gifts for your occasion. If your recipient has a sweet tooth or is a fan of anything covered in chocolate, our chocolate hampers should be your number one gift idea. For our corporate customers, chocolate gift boxes are the perfect way to show appreciation. Order online and send a chocolate delivery for a staff gift hamper to bring a smile to their face and show your appreciation.
What Do Australia's Most Loved Chocolate Hampers Contain?
The best chocolate hampers include a variety of different chocolate gifts. Our favourite chocolate items for a gift basket include chocolate nuts, a box of chocolates, truffles, decadent chocolate bars, and gourmet flavours. The most important thing to include in a birthday chocolate hamper is the premium quality chocolate itself. We don't include just any chocolate in our gift hampers, we've spent many years testing and trialling (it's a hard job!) such a wide range of chocolate brands that we feel that our current chocolatiers are simply the best on offer in Australia and around the world. When it comes to luxury chocolate hampers, we're proudly Australia's best.
What Luxury Chocolate Hampers Are Available at The Hamper Emporium?
At The Hamper Emporium we take pride in offering our customers Australia's biggest range of chocolate gift hampers. Not only are our sweet hampers packed full of cocoa delicacies but they are absolutely packed full of luxury gifts, gourmet sweet biscuits, and perfectly paired savoury nibbles too.
Even on a budget you can send a luxury chocolate nut hamper with our Sweet Bites Hamper that includes a delicious chocolate assortment. This affordable chocolate gift basket is divine. Don't settle for a cheap chocolate gift box when you can give premium quality sweets to delight with a box of smooth Butlers chocolates, a selection of chocolate coated fruit and nuts, scorched almonds smothered in creamy chocolate, caramelised peanut brittle and even some salted caramel sauce.
What Are the Best Chocolate Hampers Australia?
Since we offer such a large selection of chocolate hampers to choose from, it is often difficult for customers to decide what the best chocolate hampers are. Each of the chocolate gift baskets at The Hamper Emporium are designed for a specific type of recipient, so the best chocolate hamper for your occasion and recipient will match his or her personal preferences.
We have chocolate hampers containing additional products such as champagne and sparkling wine, but also gourmet nibbles, sweet biscuits, pantry items, and a whole lot more. So, whichever chocolate gift you choose from our chocolate hamper collection, your recipient will never be disappointed.
For lovers of dark chocolate, we recommend choosing a red wine and chocolate gift basket with treats like dark chocolate coated coffee beans or Willie's Cacao hazelnut and raisin 70% cocoa dark chocolate bar. Or for a celebration, choose a champagne and chocolate gift box to impress. A special Valentine's day chocolate hamper makes the perfect romantic gift for a boyfriend or girlfriend. Our sweet chocolate and candy gift boxes are also perfect as gourmet Easter chocolate gifts.
Why Are Chocolates So Popular In Gift Baskets?
Chocolate hampers are popular because they are so versatile. You don't need to be a chocoholic to enjoy a decadent chocolate gift hamper. Chocolates have often been described as the food of the gods, and for good reason! Whether you like Cadbury chocolate, smooth milk chocolate truffles, white chocolate or luxury dark chocolate, there is something special about receiving a chocolate gift basket. Each different kind of chocolate has its own distinct flavour that people crave.
Chocolate is also known for its uplifting effects on one's mood. Giving chocolates as gifts never fails to put a smile on someone's face, especially with our gift baskets containing luxury gourmet brands and a delicious selection of treats. You can give chocolate for a celebration, but our range also includes gift baskets suitable as chocolate get well soon gifts and chocolate relaxation pamper gifts. Pair your chocolate gifts with something unique to personalise your hamper. Choose a candle chocolate hamper with robe for a thoughtful gift, or choose wine and festive foods for a happy occasion.
What Chocolates Can I Expect to Find in The Hamper Emporium's Gift Baskets?
There are many types of delicious chocolate, including dark chocolate, milk chocolate, and white chocolate, as well as different recipes and flavour combinations to further excite the palate. Each of our Chocolates and Sweets Hampers offers a variety of chocolate bars from some of the world's most renowned chocolatiers and candy makers.
Many of our chocolate hampers come with luxurious treats from Butlers Chocolates, an Irish brand known for its assortment of truffles, fudge, toffee, chocolate bars and other chocolate products. The company was founded in 1932 and now has Chocolate Cafes in various countries.
Ernest Hillier Chocolates is one of Australia's most loved chocolatiers. Founded in 1914, it was Australia's first chocolate manufacturer. Based in Melbourne, Ernest Hillier is now Australia's oldest privately owned chocolatier with the company's product range including over six hundred different chocolate products. Our favourites include their range of chocolate nuts and choc coated fruits and berries. In each of our chocolate gift baskets you will also find more fine chocolate products from Australia and around the world from companies such as Byron Bay Cookies, and Willie's Cacao of Venezuela.
What Other Foods Come in The Hamper Emporium's Chocolate Gift Baskets?
To make our hampers extra special, we've included other tasty sweets, nibbles and candy from Australian gourmet producers like Kangaroo Island Produce Co., Trentham Tucker, Black St. Gourmet, The Figgery, The Woods Farm, Baylies Epicurean Delights, Morgan's Fine Foods and Gourmet Regional Produce Co.
We love to surprise gourmet foodies with special treats like candied nuts, luscious sticky figs, truffle paste, salted caramel sauce, honey popcorn, rich buttery toffee and roasted Australian peanuts, indulgent cranberry & pistachio crispbread, and a world of gourmet flavours to complement their chocolate treats. Our chocolate and biscuit gift hampers are especially popular as birthday gift baskets and for Mother's Day.
If you are looking for the perfect combination of luxury chocolates and cosmetics, the L'Occitane Pamper Hamper makes a gorgeous chocolate gift for her for a birthday, Mother's Day chocolate hamper, anniversary gift, or Valentine chocolate gift basket. This chocolate pamper hamper is a specially designed luxury women's hamper that includes luxurious skincare plus a specially selected range of chocolates just for her to savour. She'll enjoy every mouthful of the exquisite selection of chocolates from Ernest Hillier, Morgan's, and Willie's Cacao.
Does The Hamper Emporium Provide Chocolate Gift Baskets with Wine or Champagne?
Everyone knows that there's only one thing better than chocolate - and that's chocolate paired with luxurious wine or delicious Champagne. We stock a wide range of both red wine and white wine from some of Australia's most awarded wineries. We source our wine based on the ratings from renowned James Halliday to ensure that delicious, smooth, flavour-filled wines are used in our luxury chocolate and wine hampers.
Wine and chocolate hampers are a favourite for special occasions like Mother's Day and Father's Day chocolate gifts. Red wine foodies hampers include a mix of sweet and savoury treats including chocolate. We can also deliver wine and chocolate gift baskets with only sweet treats for a pure chocolate indulgence.
Luxury Chocolate and Champagne Hampers
Some of our most luxurious chocolate hampers are those that include a bottle of champagne or sparkling wine. The decadent Chandon Sweet Epicure Hamper and Moët with Australian Chocolates & Nuts are two of the best wine and chocolate gift baskets for a special occasion. Inside these hampers, recipients can find a collection of champagne and chocolate treats, or sparkling chardonnay and sweet treats which all blend into a beautiful gourmet experience.
Gourmet lovers are not the only recipients who will appreciate a luxury chocolate and champagne gift basket. Wine lovers will enjoy the chance to experience the wonderful palate and exquisite bubbles of one of the world's best champagne when you send a Luxury Chocolate & Veuve Clicquot Hamper. For a special occasion, there is nothing finer than toasting with a glass of French champagne.
Is a Chocolate Gift Basket from The Hamper Emporium a Suitable Birthday Hamper?
Each of our chocolate gift baskets would make an excellent birthday hamper. Everyone would love to receive a delivery of a delicious selection of chocolates on their special day. Our chocolate hamper range includes gifts for all ages and for men and women. Choose something from our range of chocolate gifts that you know they'll love. Popular chocolate gift baskets for her include our Chandon Celebration Hamper and L'Occitane Cherry Blossom pamper hamper with robe and skincare gifts. A favourite men's chocolate gift basket is our Ponting Wine with Chocolates & Nuts Hamper. If he enjoys cricket, chocolate, and Australian shiraz, this is the perfect birthday gift hamper for him.
To ensure your birthday hamper with chocolate stands out from the rest, you can take advantage of a free gift card, which can be selected during the checkout process, and be sure to personalise your gift with a heartfelt message.
What Are the Best Chocolate Hampers Melbourne?
Our Melbourne recipients are connoisseurs of fine foods and love our chocolate gift baskets too. If you want to surprise a chocoholic in Melbourne, you certainly cannot go wrong by choosing our decadent chocolate gifts Melbourne and surrounds. We offer next-day chocolate delivery Melbourne and express options throughout Victoria. In these gift baskets, customers can find their favourite chocolates such as Butlers Irish chocolates and Willie's Cacao, but also Australia's favourite Ernest Hillier and a selection of other treats.
Of course, our range of sweet hampers Melbourne contains more than just chocolate. In our extensive dessert gift basket range, customers can find a great selection of Australian gourmet foods from brands such as Kangaroo Island Produce Co., Baylies Epicurean Delights, and even Black St. Gourmet. Our range of Melbourne chocolate hampers is suitable for anyone with a love of gourmet foods!
Naturally, our chocolate gifts Melbourne can also be appreciated by the avid wine or champagne collector when you choose a wine and chocolate gift. Our range of Melbourne hampers includes chocolate paired with products such as Moët & Chandon, but also Cape Mentelle, Ponting Wines, and more.
What Are the Best Chocolate Hampers for Sydney?
The Hamper Emporium also stocks amazing chocolate gift baskets for Sydney delivery. Lucky Sydney residents can get same day chocolate gift box delivery or click and collect. Like our other chocolate gift hampers at The Hamper Emporium, these hampers contain the finest chocolates from premium brands such as Willie's Cacao, and Ernest Hillier. Of course, there is much more left to discover, so be sure to check out some of the other delicious nibbles available in these hampers if you're looking for chocolate gift inspiration in Sydney.
We simply love delivering chocolate hampers to lucky recipients across Australia. We're so proud to be considered Australia's best value luxury gift hamper online store. With online shopping available 24 hours a day, you can browse when convenient, compare our range of chocolate gift basket options, and order your chocolate hamper with free delivery across Australia.