Hamper Emporium's Beer Gift Baskets and Hampers That Are Suitable for All Special Occasions!
Author: Nicole Adler Date Posted:9 March 2017


If you do not know what to obtain for a special occasion, we at the Hamper Emporium could help you out. Our range consists of several gift hampers that could be used for many special occasions, making sure that you always have the right gift at hand. To discover these versatile gift hampers from our range, please read through our overview of gift hampers below!
The Microbreweries of Australia Hamper
Recipients always appreciate a nice bottle of craft beer, which is why our hamper designer regularly creates gift hampers with the finest selections of Australian craft beers. One of our gift hampers that is filled with remarkable, Australian craft beers is the Microbreweries of Australia Hamper, which celebrates the Australian craft beer industry.

Inside our Microbreweries of Australia Gift Baskets, recipients will find some of the finest Australian craft beers; this includes Burleigh Brewing My Wife's Bitter, Murray Craft Brewing Co. Angry Man Pale Ale, Lord Nelson Three Sheets Pale Ale, Bridge Road Brewers Pale Ale and Feral Sly Fox Summer Ale. Each of these beers can be drunk throughout the year, although some beers can be more suited for the summer months. These gift baskets also contain a tremendous selection of nibbles, which means there is always a nice beer tasting experience available for your recipient.
The Beers of Australia Hamper
If your recipient finds regular Australian beers more appealing, they may prefer one of our Beers of Australia Gift Baskets. Inside these gift baskets, recipients can find classic Australian beers such as Monteith's Golden Lager, Balmain Pale Ale, Little Creatures Pale Ale, Mildura Brewery Mallee Bull Beer and James Squire the Chancer Golden Ale. Like our other gift baskets, these beers are also complemented by numerous gourmet treats.

To ensure our Beers of Australia Hamper is as versatile in flavour as our other beer hampers, our hamper designer decided to add the most flavoursome treats possible. Therefore, recipients receiving this hamper as a gift can count on delicious nibbles from Morgan & Albert's, Baylies Epicurean Delights, Jack's Black Label, the Native Australian Chip Company and more.
The ANZAC Ciders Hamper
When you mention beer, you must mention cider as well, because this close beer relative is also a favourite amongst our Australian recipients. In our range of hampers, you can find a dedicated cider hamper that may delight your cider-loving recipient, more specifically the ANZAC Ciders Hamper.

Inside the ANZAC Ciders Hamper, you will find some classic ciders nobody can refuse; this includes Monteith's Crushed Apple Cider, Matilda Bay Dirty Granny Cider, Saxton Pear Cider, Barossa Cider Co. Squashed Apple Cider and the Somersby Double Press Cider. Like all other hampers in our range, these ciders were selected because of their superior quality and characteristics, meaning that your recipient will have a cider ready throughout the year.

The ANZAC Ciders Hamper also contains our traditional beer nibbles, which complement the ciders in this hamper remarkably well. Therefore, customers can once again count on brands such as Morgan & Albert's and Baylies Epicurean Delights. However, our ANZAC Ciders Hamper also includes some international delights, including brands such as Gaea. So, if your recipient likes ciders and some spicier delights, be sure to choose the ANZAC Ciders Hamper as a gift.
The Premium United Nations of Beer Hamper
One of the most popular beer hampers in our range is undoubtedly the Premium United Nations of Beer Hamper. Inside this exquisite hamper, the recipient can find beers that have acquired the title of "Best Beer in the World" in the past; this includes Menabrea Birra Lager, La Trappe Blond, Hoegaarden White Beer, Chimay White Trappist and Bitburger Premium Beer.

Considering the renown of the beers inside the Premium United Nations of Beer Hamper, we recommend gifting this hamper to any beer lover or connoisseur. Each beer has unique characteristics and some wonderful tasting experiences to offer, so make sure you choose this hamper if your recipient is known for his good taste in beers!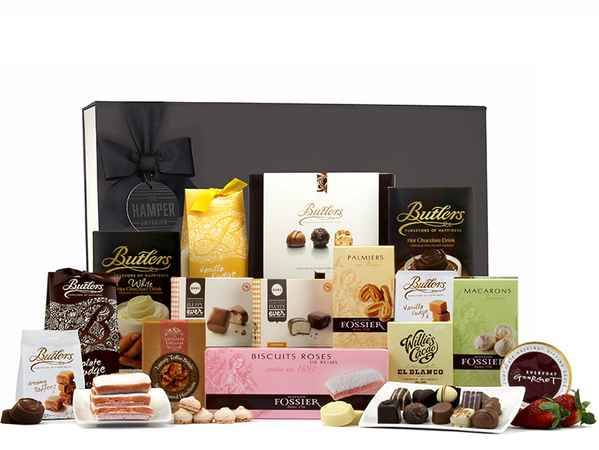 The Corona Beer Hamper
The best beers in the world don't always come from beer countries such as Belgium or Germany, because one of the better beers in the world is obtained from Mexico. Corona Beer has been a sought-after brand for many years, and has become synonymous with a refreshing experience during the hot summer months.

To ensure the recipient gets a full gourmet experience with our Corona Beer Hamper as well, our team has selected Australian and Mexican nibbles to complement the beers inside. Therefore, recipients can expect to see brands such as La Morena and Gaea, but also Kangaroo Island and the Brewer's Nut Company. With such a selection of versatile treats, the personal taste preferences of your recipient will not matter, because there is always something your recipient will enjoy thoroughly.
Don't Forget Our Chocolate Hampers
When you need a versatile gift, but your recipient is no lover of beer, you could consider one of our chocolate hampers instead. Inside our chocolate hampers, you will find delicious chocolates from the world's best chocolatiers; this includes Butlers Irish Chocolates and Willie's Cacao.

Many chocolate hampers at the Hamper Emporium also include a bottle of champagne, wine or shiraz. However, customers can also find chocolate hampers without any alcohol. Therefore, our valued customers can always find a great selection of chocolate hampers that matches their recipient perfectly.
Other Beer Hampers You Might Like
The beer hampers mentioned above are the most popular beer hampers in our range, but this does not mean there aren't any other beers waiting to be discovered. The Hamper Emporium has a remarkable range of beers available, so no matter if you are looking for craft, international or Australian beers, there is always a suitable choice at the Hamper Emporium.

Do you have a question about the beers we included in our hampers? Or do you require more information about the nibbles in our hamper range. Do not hesitate the contact the Hamper Emporium for more information. We will be more than happy to assist you.