What to Put in a Gift Basket for Your Boyfriend?
Author: Emily McWaters Date Posted:19 July 2018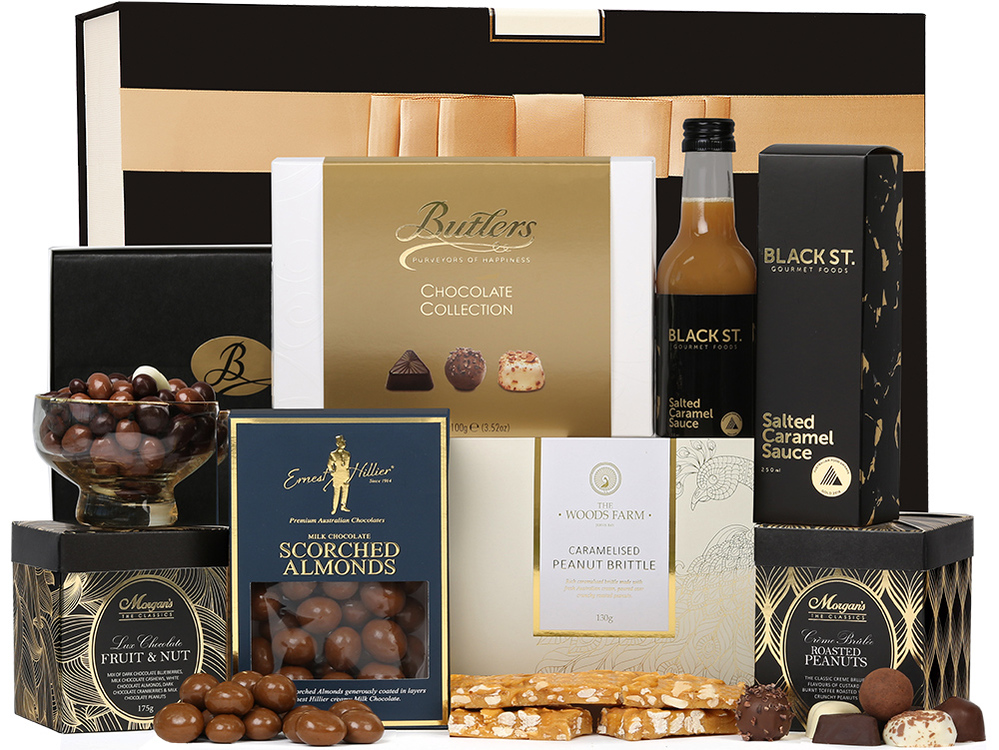 Getting your boyfriend a beautiful gift basket can be one of the most thoughtful gifts. At the Hamper Emporium, customers can find many gift baskets suitable for your boyfriend, which takes some of the stress of creating the perfect gift basket away. But what goes in one of our boyfriend gift baskets? Read on to learn more!
What Goes Inside Chocolate Gift Baskets for Boyfriends?
Many men enjoy a nice selection of chocolates and it is certainly true that the love of the man goes through the stomach. Therefore, choosing one of the chocolate gift baskets from the Hamper Emporium could be the perfect present for a special occasion.
Chocolate gift baskets suitable for boyfriends can contain a variety of chocolates. It may include pure confections from the world's finest chocolatiers; this includes Butlers Irish Chocolates, Willie's Cacao, and even Australia's own Ernest Hillier. However, our chocolate gift baskets can also contain chocolate-covered treats, which means your boyfriend can enjoy all chocolate delights for his special occasion.
Some of the chocolate gift baskets at the Hamper Emporium contain a bottle of bubbly too; this makes the gift baskets in question a lot more romantic. So, if you want amp up the romance with a cool gift, be sure to take advantage of these hampers.
What Goes Inside Christmas Gift Baskets for Boyfriends?
Christmas gift baskets should also be a serious consideration, since these types of hampers contain a large selection of the finest gourmet nibbles.
Naturally, Christmas gift baskets always contain a selection of Christmas-themed items. Of course, if you choose one of our Christmas gift baskets for your boyfriend, you must look for the perfect combination of Christmas and romantic items.
At the Hamper Emporium, you will find many Christmas gift baskets with romantic gifts as well as Christmas-themed options. So, be sure to look for combinations including the finest French champagnes, chocolates, as well as some handmade Christmas cake.
What Kind of Birthday Gift Basket Should I Get for My Boyfriend?
If your boyfriend is celebrating his birthday, you could also consider a gift basket. Of course, gift baskets for birthdays are usually different than the ones for the holiday season, so there is a larger range of different gift baskets to choose from.
When you buy a gift basket for a birthday, it can be a good idea to look at Hamper Emporium's gourmet gift baskets with a lovely selection of wine, champagne, and even whiskey. Each of these options is suitable for a man's birthday, it all comes down to his personal preferences.
The Hamper Emporium stocks some of the world's finest wine, whiskey, and champagne labels, so you can put all trust in your decision. When you look at our range of gift hampers, you can find labels such as Bollinger, Moet & Chandon, Glenmorangie, Jameson, Cape Mentelle, and much more. Choose the one your boyfriend enjoys the most and let him enjoy his favourite release with a nice selection of gourmet treats.
Naturally, the gourmet treats inside our birthday gift baskets are also obtained from the finest gourmet brands; this includes Australian as well as international gourmet brands. So, when you browse our gift basket collection, you will find brands such as Kangaroo Island, Baylies Epicurean Delights, and many others.
Can I Get a Valentine's Day Hamper for My Boyfriend at the Hamper Emporium?
The Hamper Emporium also provides a lovely selection of seasonal hampers; this includes special occasions such as Valentine's Day. If you are looking for the perfect gift for Valentine's Day, then you will find it in the Valentine's Day section.
Our range of Valentine's Day gift baskets contains a lot of romantic products; this enables you and your boyfriend to enjoy the products inside the gift basket together. Most of our Valentine's Day hampers contain items such as chocolates and gourmet nibbles, but we usually include a lovely bottle of bubbly too.
Much like the other gift baskets at the Hamper Emporium, we offer Valentine's Day hampers with wine, champagne, whiskey, and even beer from a variety of labels and brands. So, make sure to check them all to find the best choice for your boyfriend for a romantic occasion.
Why Should I Choose a Gift Basket from the Hamper Emporium for My Boyfriend?
There are many advantages to choosing a gift basket for your boyfriend at the Hamper Emporium. Firstly, we can provide the sharpest prices for premium products, even those products from renowned labels such as Veuve Clicquot. You would not get these prices when you create the boyfriend gift basket yourself, so why not take full advantage of the lovely selection of gift baskets that have been made by our experienced team. Check out the full catalogue today and find the perfect gift for your boyfriend!