Where Can You Buy Gift Baskets?
Author: Nicole Adler Date Posted:19 July 2018


Australians can find several places to buy their gift baskets for special occasions, but none provide the premium quality and large amount of choices like the Hamper Emporium. If you want to get more familiar with Hamper Emporium's large range of gift baskets, be sure to read our information overview below.
Does the Hamper Emporium Provide Birthday Gift Baskets?
A birthday is one of those special occasions where you can use a birthday gift basket. The reason why birthday gift baskets are an excellent choice can be found in the hamper content, because you are giving your recipient multiple gifts for the same special occasion!
Gift baskets are usually a good choice for customers who do not know their recipient's personal preferences that well. However, customers who know their recipient's preferences also take advantage of our hampers, since the Hamper Emporium only uses the finest Australian and international products inside its gift baskets. So, you will not find a better gift for your recipient's birthday.
Does the Hamper Emporium Provide Baby Gift Baskets?
The Hamper Emporium has a stunning collection of baby gift baskets, so customers will not leave empty-handed if they require a gift for a baby shower, birth, or a christening. Our baby gift baskets are packed with some of Australia's biggest baby brands; this includes the likes of Pure Baby, Marquise, and many others.
We must mention that the baby gift baskets from the Hamper Emporium do not solely contain gifts for the baby, because some of our baby gift baskets also contain presents for the parents. Naturally, this proves useful for special occasions such as baby showers and christenings.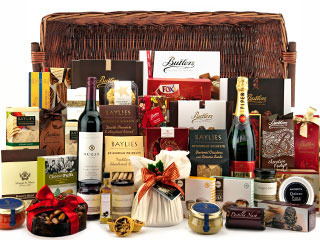 Does the Hamper Emporium Provide Chocolate Gift Baskets?
One of the most appreciated gifts in Australia is undoubtedly a lovely selection of chocolates. Fortunately, customers can count on the Hamper Emporium and its outstanding collection of chocolate gift baskets.
The chocolate gift baskets from the Hamper Emporium are packed with premium chocolate brands; this includes chocolate brands from within Australia, but also some international chocolate brands loved by consumers across the globe. So, when you browse our collection of chocolate gift baskets, you can encounter chocolates from outstanding chocolatiers such as Butlers Irish Chocolates, Ernest Hillier, and Willie's Cacao.
Of course, the chocolate gift baskets from the Hamper Emporium are not only filled with pure chocolate confections. Our hampers also contain items such as chocolate chip cookies, chocolate-covered fruits, and much more.
Does the Hamper Emporium Provide Christmas Gift Baskets?
We love the holiday season at the Hamper Emporium, so customers can certainly count on an extensive range of the finest Christmas gift baskets. Our Christmas gift baskets always contain a delightful selection of holiday season gifts; this includes anything from traditional shortbread, sweets and chocolates to an exquisite Christmas wine and champagne.
The Christmas gift baskets at the Hamper Emporium are not only used as individual gifts during the holiday season, they are also obtained by businesses who want to advertise their business with an important business relation or a client.
To make our Christmas gift baskets extra special for businesses, we provide customers with an outstanding corporate branding service. When using this service, businesses can add corporate ribbons, gift tags, and even engraved gifts that will make their gift basket stand out from all the rest.
What Other Special Occasions Can I Find Gift Baskets for at the Hamper Emporium?
The Hamper Emporium has an extensive range of gift baskets for many special occasions, so your options are not limited to the special occasions we mentioned above.
One of the other special occasions we provide special gift baskets for is Mother's Day or Father's Day. For this special occasion, we create a dedicated range of Mother's Day and Father's Day gift baskets, each containing specialist gifts for mum or dad.
The Hamper Emporium also has a delightful range of anniversary gift baskets. Inside these gift baskets, customers can usually find a celebratory bottle of bubbly, complemented by countless gourmet treats. So, with one of these gift baskets, the happy couple can celebrate the special occasion together.
There are many other gift baskets to discover for special occasions. So, if you need a gift for another special occasion, be sure to check out the range on the Hamper Emporium website.
How Does the Hamper Emporium Guarantee Superior Quality?
The Hamper Emporium does not only hand-select each of the products going inside their gift baskets, the warehouse team also does a manual quality control for each basket that leaves the warehouse. So, when the final product makes it to the customer, the customer can always count on superior quality.
Do you have a question about any of our gift baskets? Or could you use some gift advice from our experts? Get in touch with the Hamper Emporium team for assistance.