Where Can I Buy Chocolate Gifts Online?
Author: Nicole Adler Date Posted:22 February 2018


The Hamper Emporium is the perfect place to buy chocolate gifts online. Our catalogue contains various chocolate gift hampers, containing some of the finest milk chocolates and sweet treats. Curious why our chocolate gift hampers make the perfect gifts for all special occasions? Read on to find out!
What Sweet Treats Can I Find in the Chocolate Gift Hampers at the Hamper Emporium?
Chocolate hampers at the Hamper Emporium do not only contain milk chocolate, because there are many sweet treats to go around as well. The sweet treats we include in these hampers can usually be combined with chocolates. Therefore, our range commonly contains sweet nut mixes, biscuits, and even specialty treats such as shortbread.
To get a full overview of the sweet treats that can be included in the chocolate gift hampers at the Hamper Emporium, we suggest checking out our range of chocolate gift baskets. By doing so, you can uncover what makes our hampers stand out from the rest, but also find that one perfect match for your recipient.
What Milk Chocolate Is Included in the Chocolate Gift Baskets of the Hamper Emporium?
Even though our hampers are packed with milk chocolate, customers can get our chocolate gift baskets for more than just milk chocolate. Our chocolate gift hampers contain anything from milk chocolate to white chocolate and dark chocolate. Customers can also find chocolate-covered treats in the chocolate gift hampers, which means they contain everything the chocoholic needs for an unforgettable experience.
The chocolates in our christmas gift baskets australia make the perfect gifts for chocoholics, since the large variety and diversity of flavour appeals to even the harshest chocolate critic. Of course, the massive selection of chocolates are also perfect gifts for gourmet lovers and foodies, because who does not enjoy a premium chocolate selection on their table?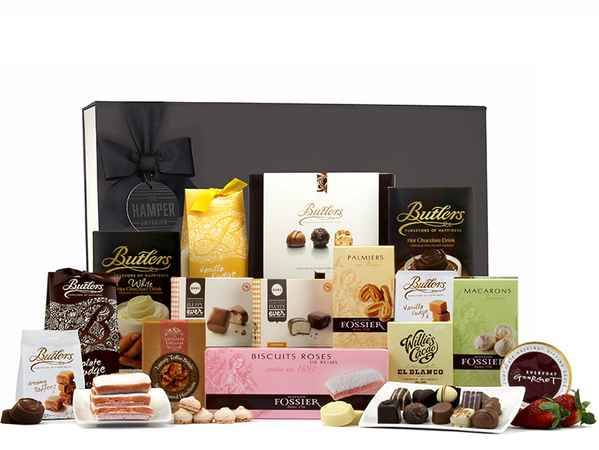 What Are Some Commonly Used Chocolate Brands in the Hamper Emporium's Gift Baskets?
Quality is important for our chocolate gift baskets, so the Hamper Emporium only uses the finest chocolate brands for its hampers. Commonly used brands at the Hamper Emporium include Ernest Hillier, Willie's Cacao, and Butlers Irish Chocolates.
The individual chocolate brands used at the Hamper Emporium are selected for good reason, because each of the brands is known to provide their unique view on chocolate-making. Ernest Hillier is known for its artisanal Australian chocolates, while Butlers Irish Chocolates provides some of the creamiest confections in the world. Then there is also Willie's Cacao, an exotic chocolate manufacturer providing chocolates that appeal to more adventurous chocoholics.
Of course, pure chocolate confections are not the only treats that make our chocolate hampers, because chocolate-covered treats are important too. One of the brands in our hampers that provides these types of treats is Morgan's, an Australian gourmet brand that also provides other sweet treats for our finest gourmet hampers.
Are All Chocolate Hampers Perfect Gifts for Special Occasions?
If your recipient is a true chocoholic, all chocolate hampers at the Hamper Emporium can be the perfect gifts for all special occasions. You could gift them for Christmas, birthdays, anniversaries, Valentine's Day, and any other special occasion you have in mind.
How Does the Hamper Emporium Ensure the Quality of the Chocolates Is Maintained from the Warehouse to the Customer?
Chocolates are susceptible to temperatures, so the Hamper Emporium takes extra care where the storage of chocolate hampers are concerned. We also aim to keep our hampers as fresh as possible, so customers can enjoy the premium quality of chocolates and treats they deserve.
When a chocolate hamper is stored in our warehouse, it is stored under the correct temperature. The chocolates inside the hamper are also packaged appropriately, this to prevent certain environmental factors damaging the quality of the chocolates.
Of course, maintaining the quality of the chocolates inside our hampers does not stop at the storage of our hampers, because it also includes their transport. The Hamper Emporium ensures that each hamper is packaged properly, preventing any damage to the premium chocolates along the way. Of course, our courier also takes great care when transporting your premium chocolates to your doorstep.
Could I Use Chocolate Gift Baskets as Corporate Gifts?
Chocolate hampers make perfect gifts for individuals, but also for corporations and businesses. Since most people adore chocolate, one of our chocolate baskets could be a safe choice for you to advertise your business. If you decide to use a chocolate hamper with some corporate branding, be sure to check out the numerous corporate branding options available at the Hamper Emporium. Available options include corporate gift tags, ribbons, engraved gifts, branded gift vouchers, and much more.
Do you have an additional question about the chocolate hampers available at the Hamper Emporium? Or could you use some help choosing the perfect hamper for your recipient? Get in touch with our chocolate hamper team for more information.