How to Make a Candy Gift Basket?
Author: Nicole Adler Date Posted:19 July 2018


Do you need something special for a special occasion? Why not create a candy gift basket or obtain one of the candy gift baskets from the Hamper Emporium? Below, we have listed the different types of gift baskets that could include candy, but also some useful tips on how to create your own! So, be sure to read on for some valuable gift basket insights.
What Are the Main Things to Remember When Creating a Candy Gift Basket?
One of the most important things to remember when creating a candy hamper is the fact that your candy hamper must be colourful. Ensure you choose many colourful options; this will make your candy gift basket stand out and make it look appetising at the same time. Of course, do consider that the colours inside the hamper should match the special occasion too. For example, you will use more red and white colours during the Christmas season. However, for birthdays you can use more diverse colours, from pink and yellow to white and even purple.
What Candy Can I Include in Chocolate Gift Baskets?
If you have never made a candy gift basket before, it is a good idea to start with something simple like a chocolate hamper. The chocolate gift baskets at the Hamper Emporium are great examples to get you started, since our chocolate gift baskets contain a combination of pure chocolate confection and chocolate-covered treats.
There are countless chocolate confections and candy you could include in chocolate gift baskets. At the Hamper Emporium, we only use the finest brands for our collection of chocolate gift baskets; this includes Ernest Hillier, Butlers Irish Chocolates, and Willie's Cacao.
When you create a chocolate gift basket, you can include a nice bottle of wine or a bottle of champagne as well. At the Hamper Emporium, we use champagnes from the finest French champagne houses; this includes Moet & Chandon, Bollinger, and Veuve Clicquot.
Can I Include Candy in Baby Gift Baskets?
Baby gift baskets can contain candy. Even though the baby is too young to enjoy candy, a lovely selection of candy is bound to be appreciated by the parents, especially the new mum who could use a delightful treat for herself.
In addition to a nice selection of candy, baby gift baskets can contain more suitable gifts for the parents. Baby gift baskets can also contain a good bottle of champagne or a bottle of sparkling wine. It all depends on the preferences of the parents.
Of course, baby gift baskets also contain a lovely selection of baby products, so do not forget to add them. There are many baby gifts you can include in baby gift baskets, but some of the most popular are growsuits, comforters, and hooded towels. Still, you can use your own creativity when it comes to picking baby gifts.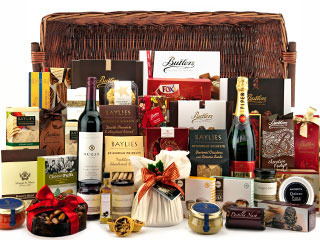 What Candy Should I Include in Christmas Gift Baskets?
When you create Christmas gift baskets, you can add a lot of candy! The holiday season is the perfect time to indulge, so there are many things you could add to make your Christmas gift baskets stand out from all the rest.
Of course, adding candy to your Christmas gift baskets must meet some requirements. For example, the candy you add must match the holiday season theme. Therefore, always check for flavours that are associated with this time of year; this can include fudge or cranberry.
When selecting candy for your Christmas gift baskets, you are not obligated to choose Christmas flavours alone. The packaging of your candy could also create a beautiful theme. Ideally, you want some candy with a Christmas-themed packaging, although these can be a little harder to find on their own. If you find it difficult to find your recipient's favourite candy in a Christmas theme, you can always go for the basic Christmas colours such as red, white, and gold.
Since the holiday season is also the time of year where your recipient will indulge, we also recommend adding some variety inside the gift basket; this much is clear when you look at our exquisite selection of pre-designed Christmas hampers. So, in addition to candy, make sure to add some gourmet nibbles too; this can include some crackers and matching relishes.
Should I Get My Candy Gift Baskets from the Hamper Emporium?
Customers often find it is more advantageous to buy a candy gift basket from the Hamper Emporium. Not only can we offer more affordable products by buying our candy in bulk, we also take care of the presentation from beginning to end. We can even deliver the candy gift basket to your recipient directly, so customers can experience total peace of mind. Check out our collection of the finest candy gift baskets today and get your recipient the ultimate present!